New England 2004
This page recounts our first lengthy trip in the Rialta - hence it has a lot of content that is of interest only to other Rialta owners.

View 2004 New England in a larger map with points of interest table of contents
Leaving Toronto , mid-day July 2, intending to head to Nova Scotia, we made our way in the Jefferson Campervan to Kingston, ON, where we stayed in Lake Ontario Park – reasonably priced, overlooking the water; you can walk into town almost entirely along park walkways.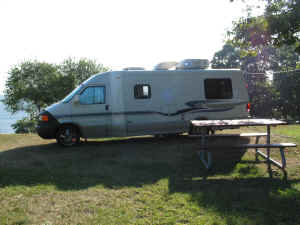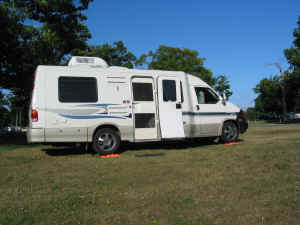 Got TV – on my Toshiba P25/P20 laptop, with built-in tuner. I've been investigating satellite , but for the time being we've decided against it – we like to camp underneath trees too often. And we prefer not to have TV too accessible. Electronic crack, y'know.
Everything is working fine on the Rialta- fridge remains stone cold in all 3 modes ( we learned from our EVCs the importance of pre-cooling, filling with precooled items and leveling a Norcold, and have the 10-pack of Lynx Levellers); both a/c's perform flawlessly. We went to the CAA (Canadian AAA) and picked up a new breakdown triangle with flashing LEDs as well as reflectivity, and a couple of those quasi-vacuum air compressor bags that we might use to compact laundry.
Next day we decided to change plans & head into the USA and loop through the Adirondacks. After a lengthy wait at the border, we filled up & ate "all day breakfast" at Longways Diner, just north of Watertown, which didn't live up to its memory from previous trips. Once we entered the Forest Preserve, we found all the state-run campgrounds full (550 sites between 3 campgrounds), so we ended up staying at a private campground east of Tupper Lake that had seen better days. They "preferred if you didn't use their washrooms" and "no longer had a dump station" :-(.
Of Rialta Interest Only :In this campground we had our first run-in with the shower drain filter. Never having found the 1" hose washers, we were at the mercy of the pump filter; after about an hour of gymnastics, frustration and fuming, approaching the filter both from under the seat and from under the closet (we have an HD), we got it off & cleaned it. Next time we think it will take 5 minutes. (Two nights later we found the hose washers in the campground store & now have them installed :- ). We were pleasantly surprised at how functional the shower is – after 14 years of traveling in poptop VWs – both Westies & Winnies – we are used to c/g showers. When we purchased, we figured the Rialta shower would be a last resort , but find it very usable and will use it often. No luxurious long showers, but more than adequate…Taylor's tip of the day: to save the conditioner step in the shower (whatever that is – I say : "conditioners – we don' need no stinkin' conditioners…") – use Infusium spray-on/leave in conditioner. BTW, we found that suction cup devices don't work well in our HD – too many textured surfaces – but we did attach a Walmart 4-soap dispenser on the left mirror in the washroom – sticks like glue – we filled it with soap, Taylor's shampoo, Taylor's moisturizer & my shampoo, for which, in honour of the Deutsch component of the Rialta, I used the provided label : "pflegespulung". We also attached a suction dual toothbrush to the side of this dispenser – also a big hit.
Next morning we drove through Saranac & Lake Placid, crossing into Vermont at Crown Point. We made our way down small highways through Middlebury to the Green Mountain National Forest, crossing it along Rte. 125. We stopped in Hancock at the Hancock Hotel, which has been there since about 1788. Great food & I tried a Vermont microbrew – Blackberry Wheat. Thor was allowed to dine with us on the expansive porch. We then headed from Rochester over the recently-paved Bethel Mountain Rd. to Rte 12 (after taking a wrong turn in the mountains amidst visions of the Vermont Chainsaw Massacre – the GPS didn't have these roads & the AAA map only half of them), heading North to Allis State Park, where we garnered the last spot – next to the washroom. We walked the Bear Lair trail, which was interesting, but it ended at the Picnic area, which was off-limit to dogs; of course the park ranger was there, and even though we were only going to cross the parking lot , not the picnic grounds, (the "no dogs" sign was at the border of the parking lot & the picnic grounds) & even though it was 8 PM and there was no one in the picnic grounds, he told us we had to walk back some road and figure out how to return to our campsite. This is only the second time I have seen Vermont officials "in action" and I can only say that so far they get the Thor the WonderPoodle "Most Anal" Award – somewhat out of sync with the friendly reputation of the state.
Next morn we pulled out and headed up the tiny Rte 65 east from the campground – until we met up with a picturesque scene – a village on a quiet river with a…FLOATING BRIDGE !!… yes, the bridge surface was barely visible in the center of the torrent – each third closest to the banks was submerged. On top of that, there was a sign – max 6000 lbs. Thanks to Baldy, I am very aware of weights, and decided not to test the "conservative" nature of the bridge weight assessment, and made one of the many "not-quite-a-U" turns of this trip (henceforth known as the "Rialta U Turn"). On that note, we have found the Rialta very manoeuverable – driving, parking and turning almost as easily as our previous Eurovan Campers.
Heading along Rte. 2 east from Montpelier (local radio stations obviously having no sense of French pronunciation), we did a Rialta U Turn at Cabot, where we visited Goodrich's Maple Farm, a family-run maple-tapping and processing operation for over 150 years. The owner gave us a tour & a talk and we bought a goodly amount of maple syrup, which is so pure that – well, "elixir of the gods" comes to mind… They only sell direct – from their on-farm store or online. Rather amusing, actually, that we bought a truckload of it, since we are Canadian and, well, are kinda known for our own maple syrup; but what the heck, this stuff is "imported" and almost bears my surname on the label (I'm a "Goodrick"). Goodrich Maple Farm
We headed through St. Johnsbury, stopping at Anthony's Diner (we are aficionados of this fine example of Americana – seriously). Heading into New Hampshire (NH), we made for Mt. Cannon RV Park – when we got there, we discovered it was 7 sites overlooking a parking lot ( we had envisaged 7 sites at the top of a mountain overlooking grand White Mtn. vistas – oh well…). We headed for a nice private c/g (Crazy Horse) in Littleton after motoring over to Shaw's Food Market (who gave us a temp "super saver" card, so we get all the discounts while travelling!),
Of Rialta Interest Only :then to WalMart where we picked up an RV 30 amp extension cord and a 42 pocket "over-the-door"closet organizer. About $12. Had to cut the organizer because it was too long, too many pockets. I now plug the Rialta cord into my surge guard, the surge guard through the a/c hole, then the ext cord into the surge guard. Saves a lot of cord threading, without drilling and cutting the body of the Rialta. The closet organizer hangs from the hanger rod & has a bunch of pockets – 3 across – and in these pockets I place small electronic adaptors – FRS, my cell, Taylor's cell, Garmin GPS, Blackberry, Canon camera, the list goes on– yep, we're gizmocentric.
Next morning we went into Littleton, where we breakfasted at, yes, the Littleton Diner, which may just have the best corned beef hash known to man. Littleton Diner We checked email at the library, bought stoneground flour at the old gristmill on the river. Heading out we passed a sign outside a farmhouse "venison for sale" – we did a Rialta-U-turn, but passed on the venison after deciding it looked too much like Larry, Darryl & Darryl might live there :-). We must be aging…
Passing through Bethlehem, a former "Grand Hotel"/Railway resort town, we continued on into the White Mountains, driving the scenic Crawford Notch to North Conway. Here we have a campsite right on the Saco River, so we decide to stay 3 days. Not sure if we'll ever see Nova Scotia this trip. Built a fire & cooked up some steaks. Next day we toured around – took the Conway Scenic train ("well-behaved" dogs allowed) to Bartlett – not too exciting, I'm afraid.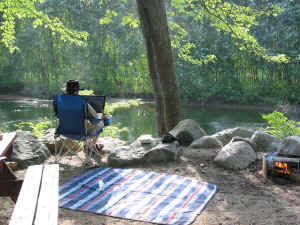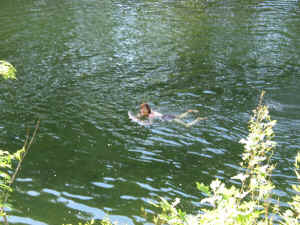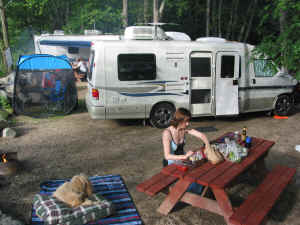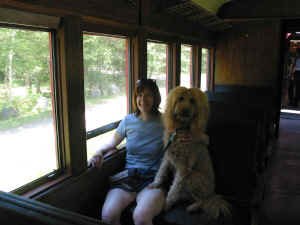 Went to an outlet mall, a cultural event necessary on any trip south of the border. Bought some "Artisanal Sausages" from a local shop which proved to be excellent fare. Here we set up our instant screen tent, replete with folding chairs & roll-up table.
Of Rialta Interest Only :We have the trunk set up nicely – 3 snug-fitting clear plastic tubs from Walmart on the passenger side - one 12" high (tools & vehicle), two 6 " high (camping & utility); the screen tent, 2 folding chairs, folding table & cab reflectix in the center; in an open spot between these sections we fit our flashing LED safety triangle and Lynx Levellers; on the drivers side we have the jack, ceramic heater, water hose, surge guard & electric cords. We also used "city water" for the first time, with a pressure regulator in line. The second day it rained (no leaks!), so we stayed in & vacuumed. Taylor had brought a hacksaw, hand-drill and shelf elements for under the sink, but discovered she had miscalculated the shelf width. Tomorrow we'll find a Home Depot and have half an inch sliced off, then we'll have a more usable space under the sink. We also discovered how much usable storage there is under the dinette seats; we don't have a rock collection, but we do have purchases! (maple syrup, anyone?) This is the first time we folded up our memory foam mattress & bedding & used the dinette – a refreshing change; we simply placed the mattress & pillows between the rotated front seats and the dash.
Plenty of room. We cooked up a breakfast of eggs, stoneground flour pancakes, Vermont maple syrup, Shaw's maple-cured bacon (baked in the oven !), NH Artisanal maple/apple breakfast sausage – well, I'm sure there's a theme there… Then I actually pulled out my bass guitar & small amp & played (quietly) in the dinette for an hour. Got a phone call from my neighbour, telling me a tree had fallen down in our ravine out back of the house - over 3 properties right onto a garage a street over; called my tree guy to take care of it and returned to the Wonderful World of the Rialta :-)
Leaving Conway we took small highways to the Brunswick, Maine area, where we stayed in a fantastic little campground – Orr's Island Campground, just off Rte. 24 ( Orr's Island Campground ). We had a spot overlooking a picturesque bay and went for a couple of walks. We went for supper just down Rte. 24 at Cook's Lobster House on Bailey Island, easily parking the Rialta in the lot. Again overlooking a picturesque bay – and the food was sehr gut! A tad expensive, but this place has joined our list of top 20 restaurants worldwide.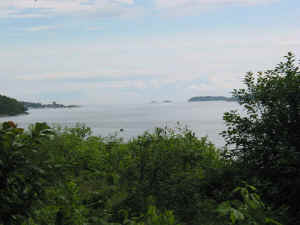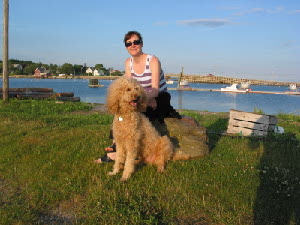 Unfortunately, we couldn't get our spot at Orr's Island camping for more than one day, so we spent the next morning going up & down Maine coastal roads, but were unable to get a spot that turned our crank, so we moved on down the coast, stopping for Lobster roll (overpriced) and a few Outlet Malls. This strip of Maine coast is way too touristy for us, totally unlike the area north of Portland. Taylor went to a Home Depot in Portsmouth, NH, where they cut the under-sink shelves to the right size. We went to a Shaw's – we've been shopping there ever since they gave us a temporary Shaw's card that gives us the discounts – this month they seem to have Marques de Caceres Rioja on for 33% off ( my first bottle of M. de Caceres I bought at a gas station rest stop in Spain – while freecamping- the cashier told me it was good choice – Taylor was rather dismissive of this at the time, but I figured the guy had been drinking Spanish wines for about 40 years & was probably a better barometer than Hugh Johnson !). Then we baptized the Rialta with its first night of camping sauvage. We tried a Walmart in Seabrook,NH; we saw "no overnight camping" signs, so we asked inside – apparently the town has an ordinance & we would likely be rousted in the middle of the night, so we left (wonder if the other 4 RVs there made it thru the night?). Had a restful night at a NH rest stop just north of Mass on I-95. We were parked next to 2 huge class A's – the Rialta sure looks tiny in that context ( & here we are thinking how massive it is compared to our former VW campers :-).
Next morning we decide to do a drive along the NH coast highway, so we head south – after a few miles we have a machine gun aimed at us, along with murmurs of "I think they're lost" – the highway came to an abrupt end at a nuclear station, and we had a little taste of "homeland security", albeit a friendly taste. But we thought better of acting on the impulse to ask for a picture with them... The armed guards gave us directions and we were on our way, with Thor enjoying an illicit romp on the beach.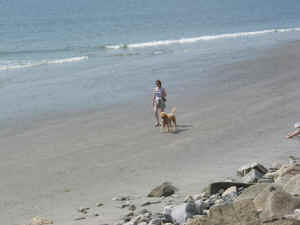 We drive back Portsmouth way, where I check email at a Kinko's, then head up small NH highways to Weir's Beach, in the Lake District, where we had camped in a Westfalia & gone to a drive-in around 1995. Somewhere around here we also saw our first Rialta, on the lot of a VW dealer who sold them along with the standard VW complement of vehicles. We were unable to find the dealer, but we did camp and go to the drive-in, with a double feature of Spiderman2 & White Chicks - and moguey drive-in burgers and assorted dishes. Luxuriating in a truly retro moment of ultimate tackicity…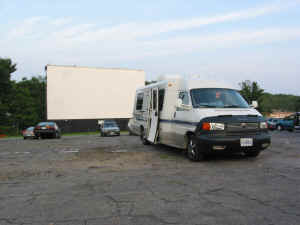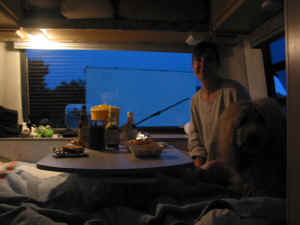 En route to Weir's Beach we had phoned a friend and decided to pilot the Jefferson Campervan to Amagansett, L.I. to meet him for a Hot Tuna Acoustic concert on July 15, 4 days hence. (Hot Tuna is one of my musical icons, stemming from their 1968 inception as a bass&guitar blues spinoff from Jefferson Airplane ). The Canadian Maritimes are becoming a dim echo on this trip.
Leaving Weir's beach, we take another small highway towards Rochester, seeking a barbeque smokehouse we discovered on a past trip (never found this time, alas - but on our return found them on the web:Yankee Smokehouse ) and looking for Beranger's VW, which is on the VW/Rialta service list.
Of Rialta Interest Only :I'm coming up to my 5000mi./8000 km service & thought I'd get them to change the oil. Well, they will work on Rialtas, but not if it requires a hoist. They told me just to take it to any truck service station, after buying a filter. Now I had already bought a filter in Toronto to carry with me (at our largest VW camper dealer, although not a Rialta dealer, but is on the Rialta service list). Cost me CDN $38. with tax (USD about $29). I knew from the list that our American cousins paid USD 13-14 or so. So I decided to buy 4 filters @ 14.50 apiece in NH (no sales tax, after all). They were different than my Toronto filter. I checked the part # - different. At both dealers I had gone to great lengths to specify the year, model, engine that I had, knowing that the filters had changed. I checked my Bentley CD ROM – I also have VAG-COM, BTW- but couldn't find oil filter part #s. I phoned VW to ask for the correct part # - they said they would have to phone a dealer for me to get that! Ludicrous, I say! I marched back into Berangers armed with the Toronto invoice, asking them to double check the 2 part #s. They were correct, Toronto was wrong (they printed out the ETKA page for me). So now I merely need someplace to actually change the oil.
Departing Rochester, we more or less head towards Mystic, CT , thence to the New London ferry to L.I. According to their phone line, I should pay $2.25 per foot. Not bad, really. On our way to Long Island Sound, somewhere around Thoreau's Walden Pond, Taylor saw a blue camping sign, and we ended up in the not-so-dog-friendly-but otherwise-fine Wyman's Beach Campground on "Long Sought-For Pond". Think we might stay a day or two.
Well, next morning we watch TV weather on the laptop & see that unremitting rain is moving north from Maryland, so we ditch the L.I. idea & head back up into NH, the NY replacement destination joining the Canadian Maritimes in "dim echo" status.
Of Rialta Interest Only: We head for Concord, NH, where there is a Walmart Supercenter, thinking they can change the oil – but, alas, no lube section. Heading a little east, we run across Gary's RV Centre – they are on the Rialta service center list, and can do it, but won't have a hoist available anytime soon; I vaguely remember that Winnie was supposed to have some arrangement with Jiffy Lube, so get directions to the nearest one on Loudon Rd.. After protestations of "we don't do VW", "we can't drop the plate to get access to the filter" (I told them mine is an 04 and had the cutout), "we don't have the filter" (I had 'em in spades ), they did agree to do it, mainly through the efforts of a "K. Hamilton", an employee who made an extra effort to make it work, over the objections of another employee who didn't seem to want our Rialta in there. We put in synthetic, and were on our way within half an hour.
We headed on up the freeway to Littleton, where we re-embarked on a "small highway" tour, following the Connecticut river north. We stayed in a very nice campground, the Mountain Lake Campground in Lancaster, NH, overlooking a mountain pond. They take fresh-cooked muffin orders for pickup the next morning… ( Mountain Lake )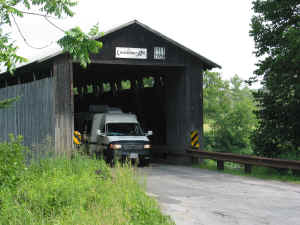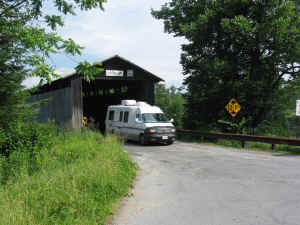 Heading north again the next morning, Thor the WonderPoodle became frantic at the sight of a deer on the highway, for which we stopped. He is used to cows & horses, scanning the horizon for them regularly, but the movement patterns of the deer obviously engendered the firing of a different set of synapses in his brain. We used a very small border crossing into Quebec. On the US side there was a furniture factory – apparently this town is the birthplace of Ethan Allan furniture – odd.
Poutine! : Once in Quebec, the mountains were less omnipresent, the landscape more pastoral & cultivated. We headed for Warwick up small roads, in search of the birthplace of poutine. ( Poutine 101 CBC Poutine Movie ). Now we had seen a documentary piece on the birth of poutine & knew there was diner somewhere in Warwick where it originated. We were determined to have our "heart attack in a bowl" right from the source. Exactly like Ponce de Leon & the fountain of youth, but different J. So we asked (thank god for my atrophying mandatory high school French) a couple of natives – vaguely heard the name "Lachance" and "Le Lutin Qui Rit", but were no nearer our poutine. So we marched up to the door of the Warwick Historical Society. Closed. Starting to feel like Nick Broomfield, I next walked up to the desk at the local library and explained my quest in broken French. The librarian explained in perfect French, that Lachance was dead (at 86, and apparently not from a poutine-induced heart attack) and that Le Lutin Qui Rit was no longer in existence. But the local dairy had a restaurant/cheese shop which served authentic poutine; it was great, and I live to tell the tale. As well, their soft ice cream was the best I ever had, and we picked up a bunch of different local cheeses, all stellar and proclaiming their ripeness whenever we opened the fridge door over the next couple of days.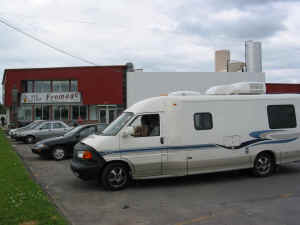 Heading north to Trois Rivieres, we drove up the north bank of the St. Lawrence until we found a campground on the river in Neuville. Ensconced in our Rialta, it began to rain that night. The news featured stories of flooded towns in Quebec & Ontario, along with a 4 day rain forecast. In the morning we awoke, decamped and moved the Rialta a foot off the lynx levellers. It sank into the soft earth. Issuing forth like a band of Vikings from the campground office came Mama–owner and her niece, armed with old barbeque grates & wooden boards. After some rocking, pushing & judicious grate positioning, we were out of the quagmire & on the road. Looked like a good time to return to Toronto, 8 hours away. We could always pick up another week later on. Stopped at Lake Ontario Park in Kingston again for one last night , at the VW dealer to get my oil filter money back, and then we were home … from our trip to Nova Scotia!