SHIPPING
2010 RUMOUR NOTE: Recently I have heard that a bond of sorts amounting to 30% of vehicle value is being assessed at the port. I have heard this specifically in reference to Bremerhaven, as a measure to combat black market vehicle sales. The bond is returned as long as the vehicle is re-exported within a specified time. I suggest you get this clarified before arranging shipping. That is all I know, so check with your shipping agent for further info.
**********************************************************************
June 2007: A call to the very competent freight forwarder we used in the 1990s - (unfortunately the business has been sold), revealed that the Rialta could just be squeezed into a "high cube" container.
Most motorhomes do not cross the Atlantic in a container. They won't fit, so they go roll-on/roll-off (RORO). There are a number of issues to deal with using RORO, including getting the RV to a port, a higher risk of pilferage and damage. I have never shipped this way, so I refer you to other sources for information. I did, however, research it & found it to be more expensive.
A lot of people are emailing me asking about shipping cost.
Roughly, this is what I found in June of 2007:
From Toronto in a High Cube container (nothing higher or wider than a Rialta will fit in a container, BTW). 1650 CDN + 600 for $40k marine insurance(1.5% of value of the vehicle -optional -also available is total loss only at .75%) + about $400 in port fees in Bremerhaven. So total was 2650 CDN or about 2400 USD at the time I shipped.
I also got quotes for roll-on roll-off out of Baltimore or Newark to Antwerp - they were about 2400 USD for the shipping alone - then add insurance & port fees plus the risk of pilferage of contents. In addition, I'd have to drive it to the port and fly back.
Return Shipping: Roughly, this is what I found in August of 2014:
Shipped from Rotterdam to Montreal in a shared container. Total was about $4200 CDN$, which included shipping, marine insurance, destination port fees & $600. for a Customs inspection in Montreal. If Agriculture Canada had chosen to steam clean it, it could have been $1200 higher (I did steam clean it in NL, but that does not guarantee no government steam cleaning upon arrival). I recommend avoiding Montreal if at all possible.
And thus we proceeded.
The propane tank must be empty; gas tank 1/4 full. If going roll-on/roll-off, the shipping companies advise not to leave anything loose in the RV - due, unfortunately, to the possibility of pilferage enroute. (Additional note: others have dismissed this as an overblown concern. I've encountered people with direct theft experience, others with none. YMMV)
Here's a few pics from the container loading. It was VERY tight loading into the High Cube Container. Mike & Louis from the shipping company had to climb out of the open driver's side window, up to the roof and crawl over the top to a waiting forklift at the rear (The same in reverse in Bremerhaven - the Rialta is too low, being front-wheel-drive, to crawl underneath). We taped blankets to the sides to protect the camper. The yellow tie-downs in the pics were ratcheted from the Rialta to the container structure and wooden blocks were nail-gunned to the floor of the container around the wheels, in order to keep the Rialta fixed in place for the journey.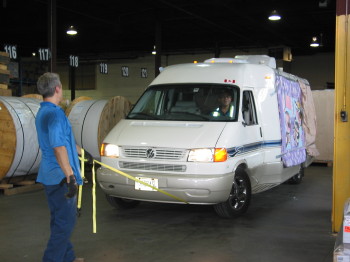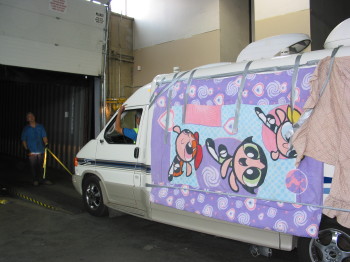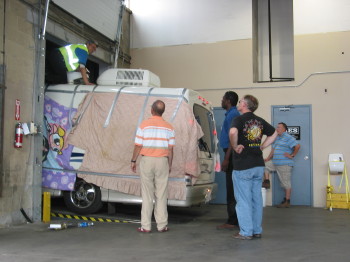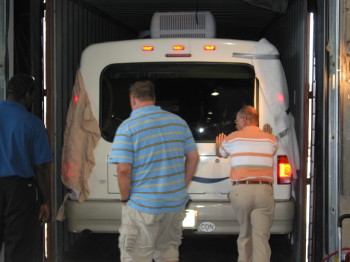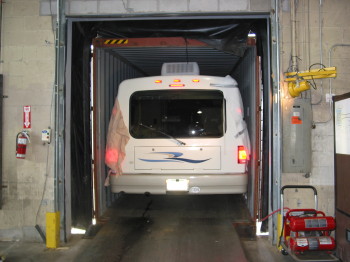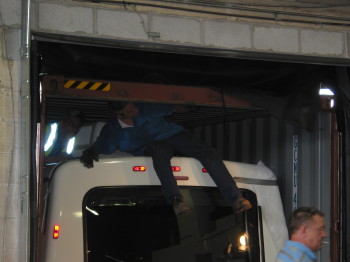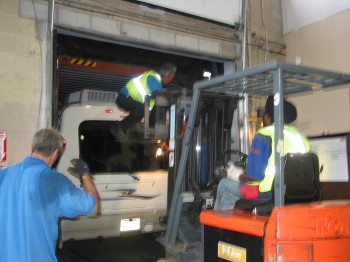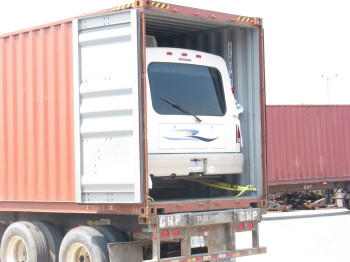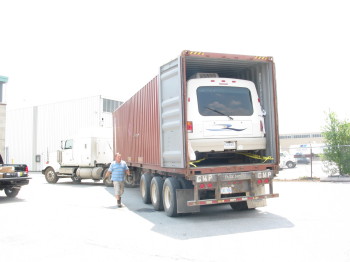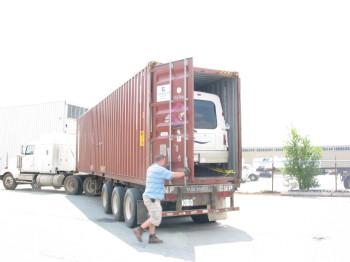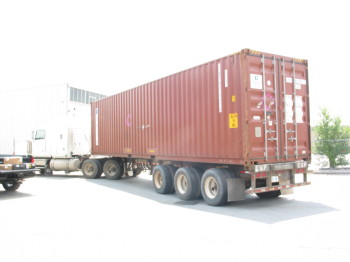 UPDATE JULY 16 - Reinhard has confirmed that the container is on the ship (photo below is a stock image :-), half way across the Atlantic, and should arrive in Bremerhaven as scheduled on July 22nd. I have everything, except my Green Insurance Card from AIG, which was mailed July 2nd - I had them mail another one on Friday the 13th :-( and it arrived today, July 18. Note: The first one came after I flew out - around July 25!)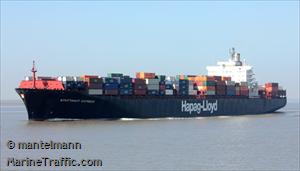 UPDATE JULY 24: I arrived in Hamburg on time on the 23rd. My car rental turned out to be snazzy black Peugeot convertible - diesel but with plenty of acceleration regardless.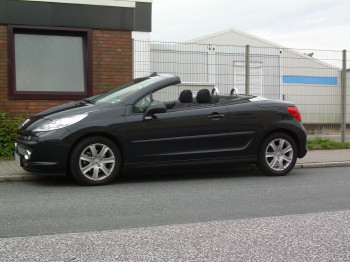 Drove to Bremerhaven - the Rialta would not be unloaded until the next morning, so I came to the yard on Tues morning at 8. Watched them unload it from the container, the battery needed a boost, I put the side mirrors back on (the van was too wide to fit into the container without removing them), paid my port fees, then drove it off to Customs (Zoll) for minimal paperwork and am now on the road!
Here's some shots of the unloading in Bremerhaven (the Rialta made it through virtually unscathed - a testament to the thoroughness of Reinhard at AAMCO in securing it for shipment):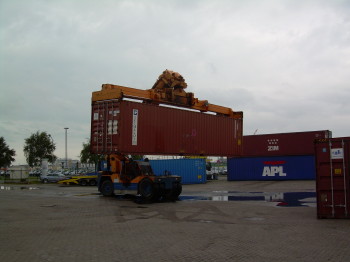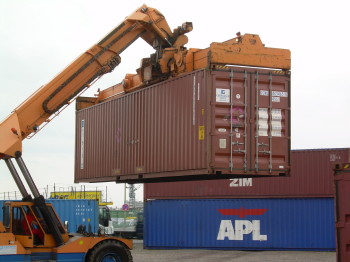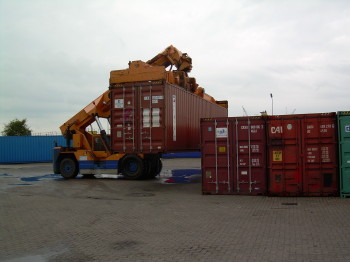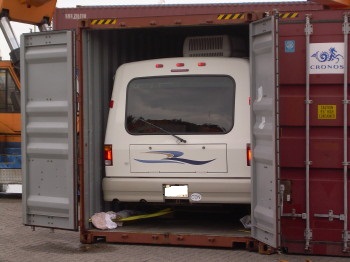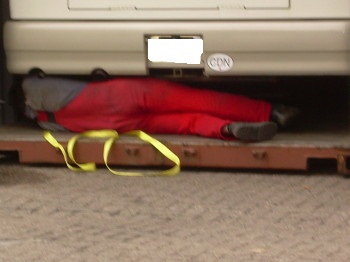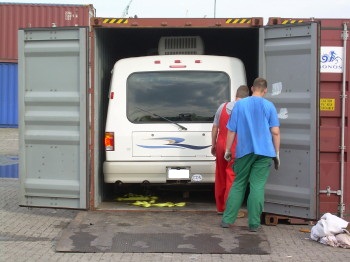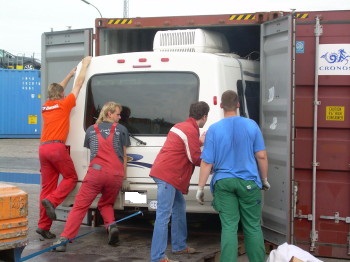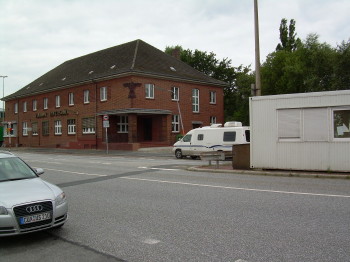 ****************************************************************
We also shipped two Westfalia campers over for our travels in the 1990s, a white one in July of 1992...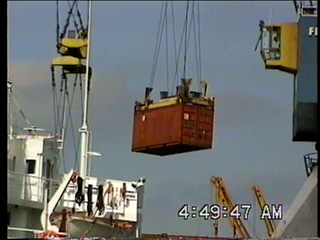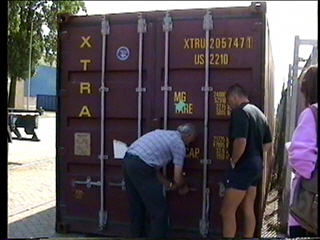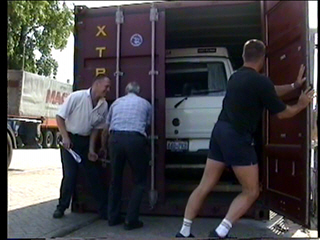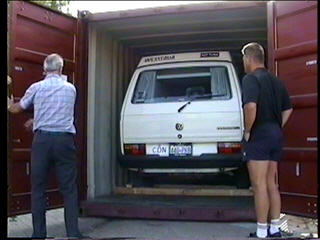 ...and a blue one in September 1997: