Summer 2007 Page 1
Page 1:Germany Page 2:France/Germany

View 2007 in a larger map with points of interest table of contents
Notes on how to use the maps, if you wish to do so:
1) you can zoom in to any area of the route using the "+" & "-" icons.
2)You can change the map to satellite picture view by clicking on "Sat" - & then zoom in for a birds-eye picture of the area.
3)Or you can click on one of the balloons and zoom in using the prompts that will pop up.
4)Click on "View larger map" link located below the map. This will bring the map up in a new window, with a column containing all the points of interest(some with comments). You can click on the points to take you right to a particular sight.
OFF TO KASSEL... to get over jet lag and to visit Documenta 12. Documenta is a contemporary art festival that occurs every 5 years in this smaller German city. We have been to Documentas 8,9,10, and now 12. Here's few pics from Kassel: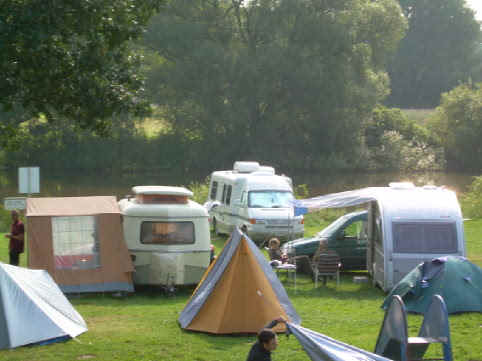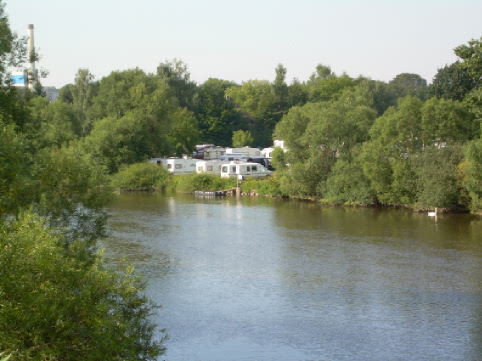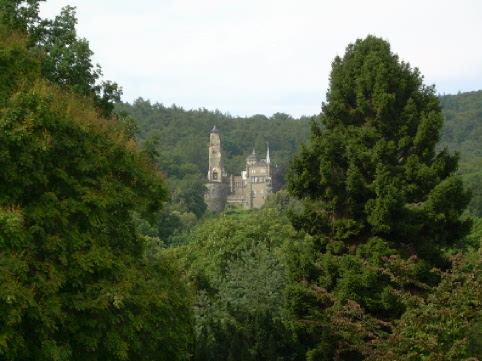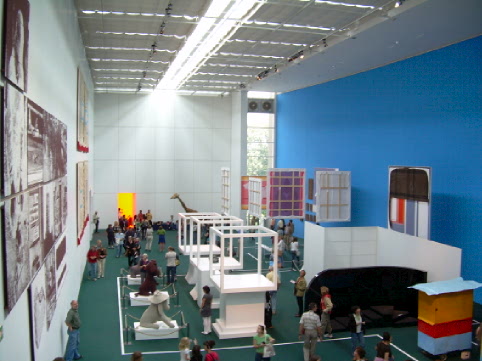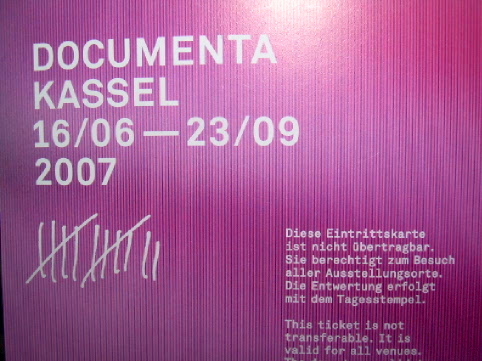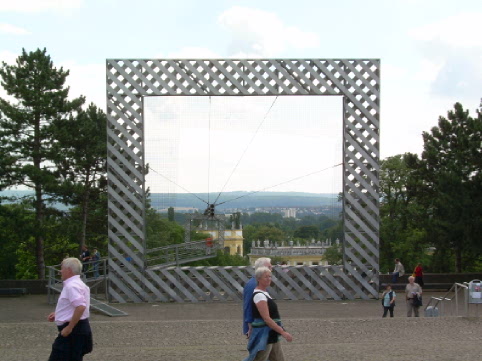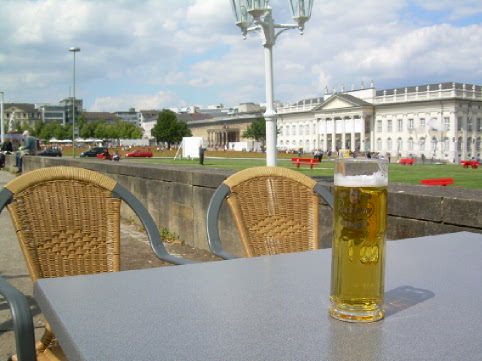 FRIDAY JULY 27: I drive to Frankfurt to pick up Taylor & Thor the WonderPoodle. Thor isn't too crazy about flying in a crate across the ocean, but then he isn't too crazy about being left in Canada either - we've tried both and there is no right solution. This time we elected to bring him (paperwork has increased since 2004 - we actually needed to have his import papers certified by a Canada Dept. of Agriculture vet and needed to rent a microchip reader to carry with us, since his chip predates the current Euro ISO standard. Contrary to popular misconception, there is no quarantine for Continental European countries).
We leave Frankfurt for one of our favourite spots - Bacharach am Rhein, and manage to get the last spot available right on the Rhine River (there's a boule tournament on this week, so it's fuller than usual). Bacharach is very picturesque town right on the Rhine- famous for its Weinfest in the fall, it still retains its medieval walls, towers and two castles. And of course, "gutes essen und trinken"! We'll stay here 2 days, leaving with a couple of bottles of their famous white wine.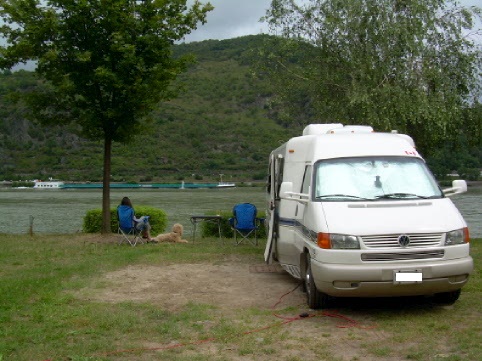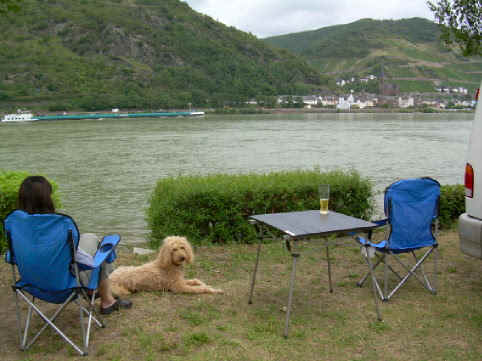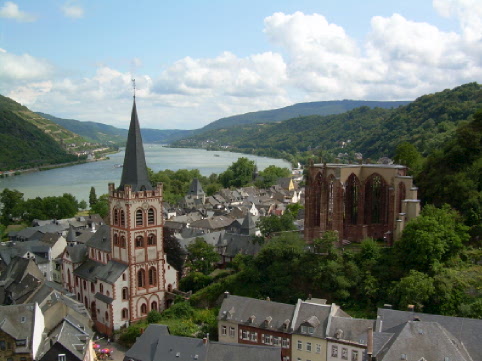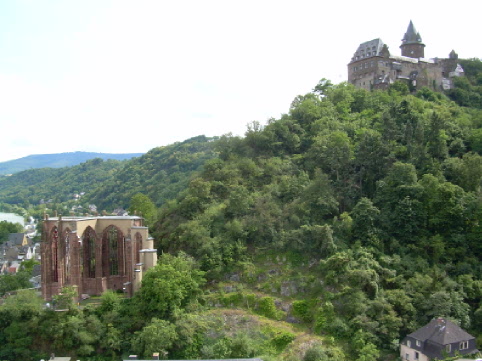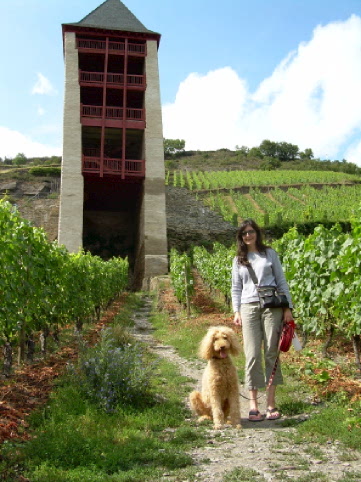 Sunday JULY 27: We leave Bacharach around noon for a leisurely drive up the Rhine to Koblenz - a peaceful route along a winding river valley with vineyards and castles around every corner. At Koblenz we turn southest and drive along the somewhat smaller Mosel River - an area renowned for its wine (predominantly white).
First stop is Cochem for mittagessen und eiskreme - they like Thor so much they named an inn after him :-)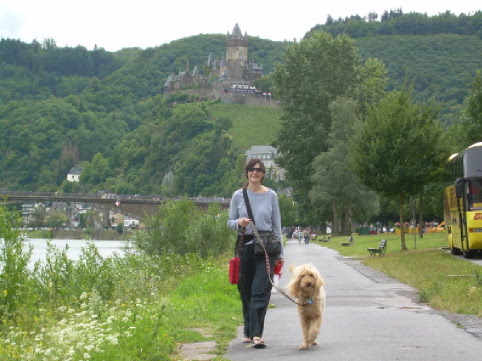 Next we drove 20 km along the Mosel, stopping for the night at Ediger - a tiny town that had an inexpensive stellplatz for motorhomes set up right on the river. We wandered into the town and found a virtually intact medieval set of half-timbered houses and a host of small wineries. Came back to the stellplatz to sit by the river, watch the swans, have some local wine and chat with the Dutch travellers next door long into the night.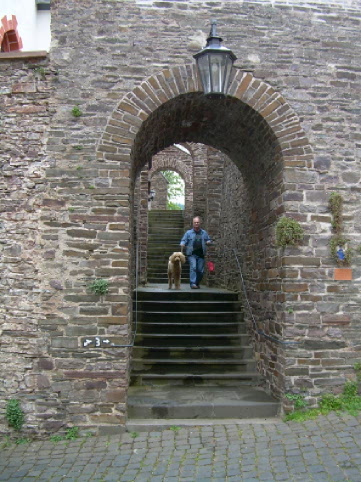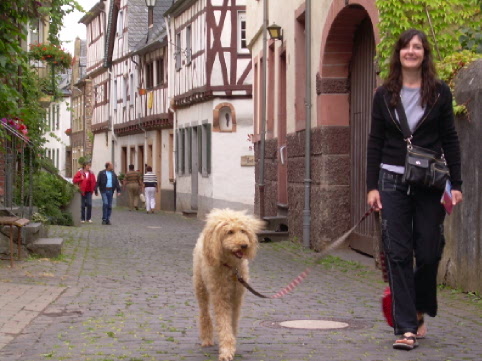 Summer 2007:
Page 1:Germany Page 2:France/Germany