Greece 2019 Xmas
Our flight from Toronto was delayed, resulting in a 4 hour delay in our arrival. KLM gave me a meal voucher and I also tried out their lounge in Pearson.Odin weathered the flight just fine and Kees picked us up in the Hymer.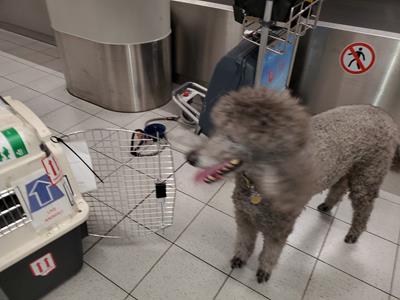 Odin led us to NordZee for Kibbeling, but it was closed for renos, much to his disconsternation.
After 2 days in Velsen-Noord at Camping van Veen, Odin and I set off for Bamberg. We arrived just at dusk and did a first shopping at the Real – including Glühwein with traditional Glühwein glasses! Then we parked in the stellplatz and walked along the canal into Bamberg zentrum (about 25 minutes). There was a Christmas market ongoing, which we passed through ...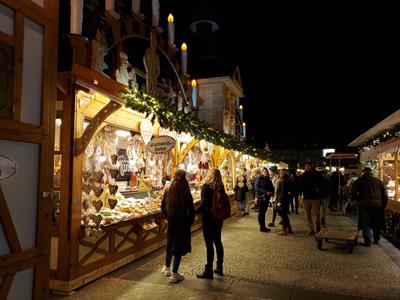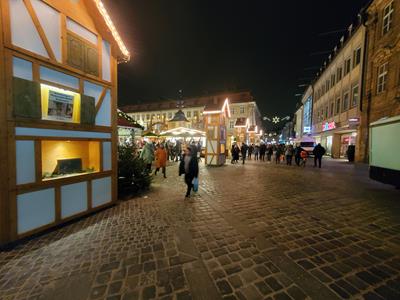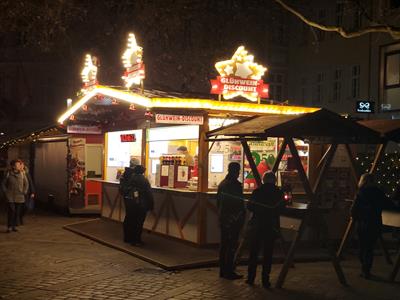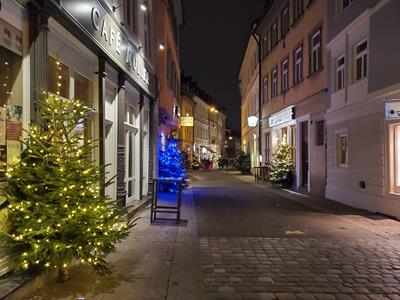 on our way to Schlenkerla, where we dined on Schweinshaxe, dumpling, sauerkraut und Rauchbier.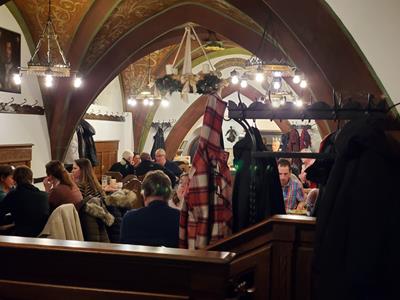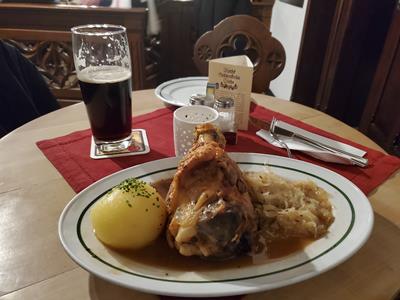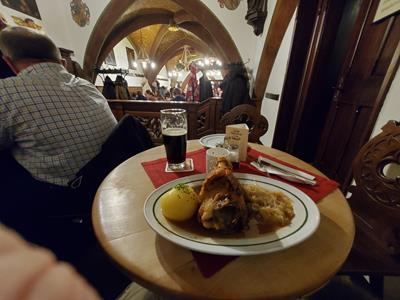 Next morning we left early, checking out a few places for Schneider Tap 5 (Hopfenweisse) to no avail. We circled east around München to drop down towards Innsbruck just south of Rosenheim. Then we crossed the Brenner toll pass and took toll roads through Italy to just south of Verona, where we took a SS road to Castelguglielmo, staying the night in a stellplatz with all facilities, including electric, at no charge.
Next day we drove a couple of hours to Ancona, located the Minoan ferry office, then spent the night right on the beach at Marina de Montemarciano, just north of the port.
Next day we dropped into an Auchan in Ancona, then boarded the ferry to Patras. We had a pet cabin all to ourselves. I brought in the kettle, some wine and a Poulet Roti. Good set up for a guy and his dog! Once the sun rose, we spent a lot of time on the open deck, which had an open air bar with tables, watching the coast of Albania, then the Greek Isles glide on by.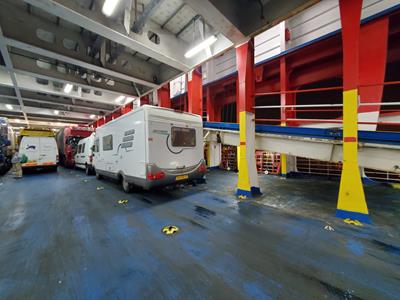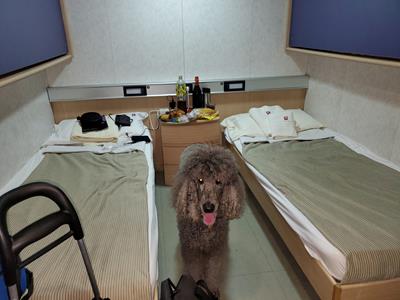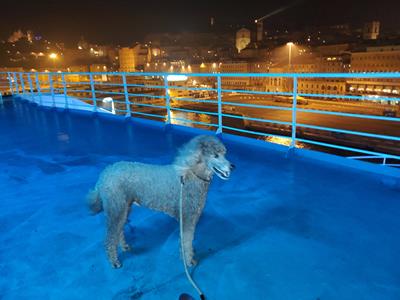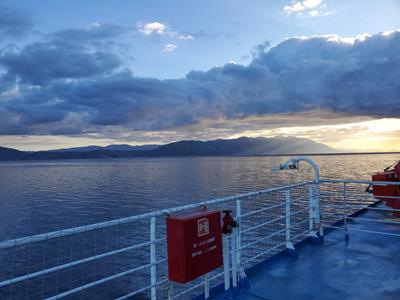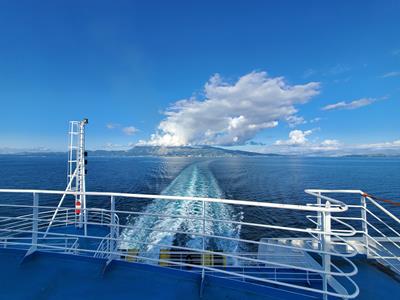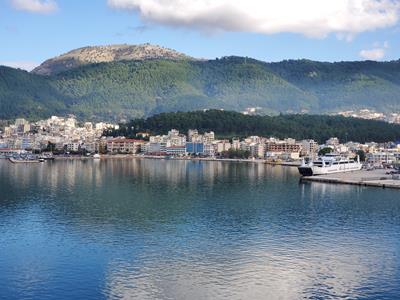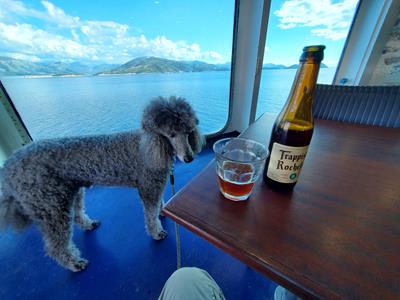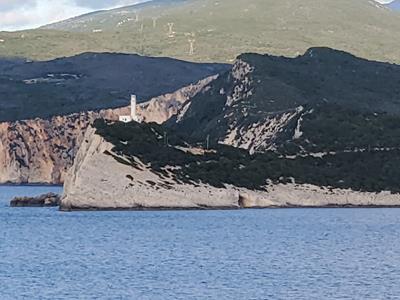 The guiding of vehicles was seamless and professional, not the chaos I have read about online. The Minoan staff were friendly and helpful.
We landed in Patras, just after dark and I headed 30 km straight to a Park4Night location overlooking the bay of Corinth at Paralias, Rododafni.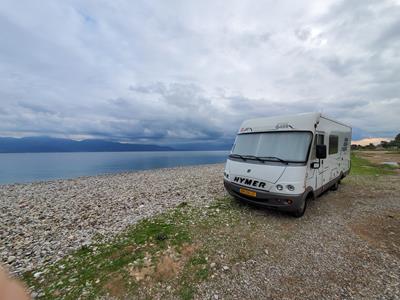 Next day we took a combination of toll highways and the Old National to go around Athens, waiting for Taylor perched on the water at Porto Rafti, a few kms from Athens Airport.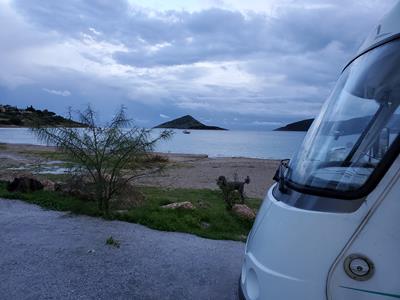 Taylor arrived after an uneventful 2 flights, broken by a sojourn in a lounge at Schiphol. We found easy parking in P1 at the airport (height barrier 3.3m). Odin went absolutely ballistic when he saw Taylor emerge!
We returned to Porto Rafti for the night, picking up a Poulet Roti at Sklavenitis supermarket.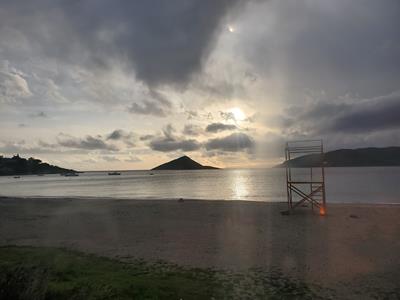 Next morning we headed north, mostly on toll roads, to Meteora. We stayed the first night right in Kalampaka, dining at an unassuming taverna with excellent food, Yamas Taverna. Fried Feta, pork steak and sea bream with Greek beer.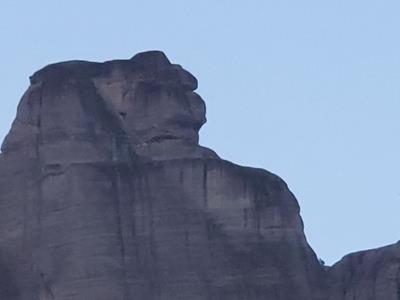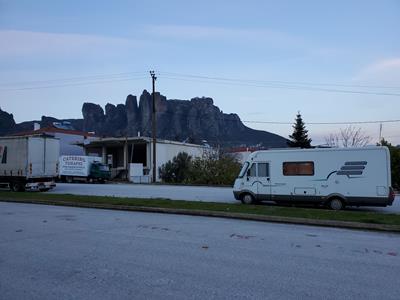 Next day we toured the Great Meteoron monastery and the Rousanou Convent, as well as driving the roads to view the others. Holy Trinity, which was also on our list to visit, was closed for renos, and Vaarlam was closed on that day. That night we freecamped alone right next to Vaarlam, waking up the next day to a mist shrouded tableau.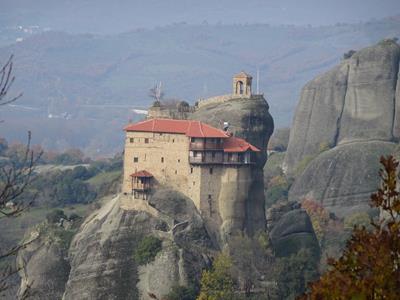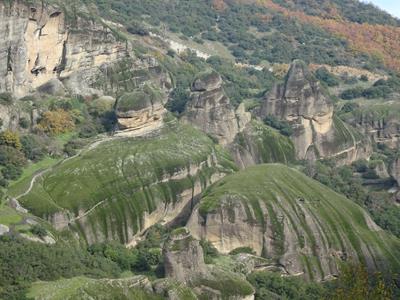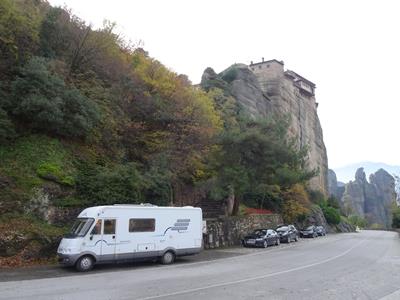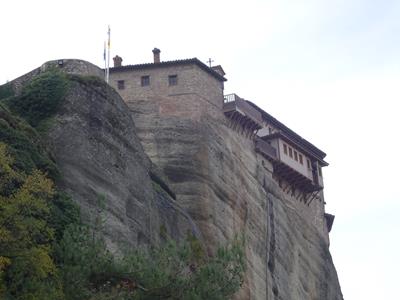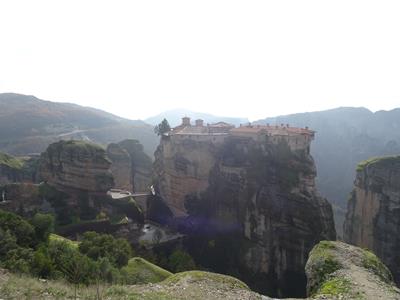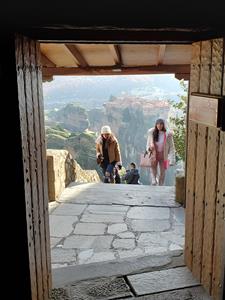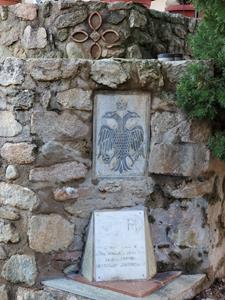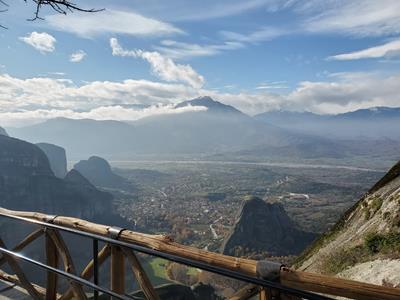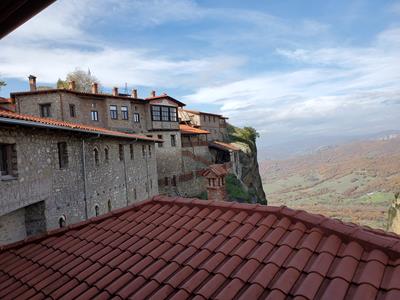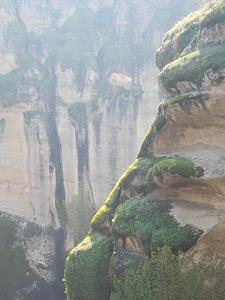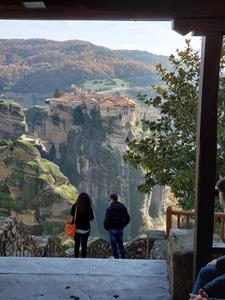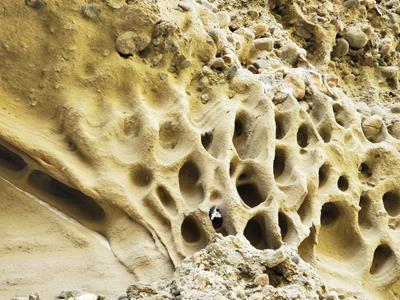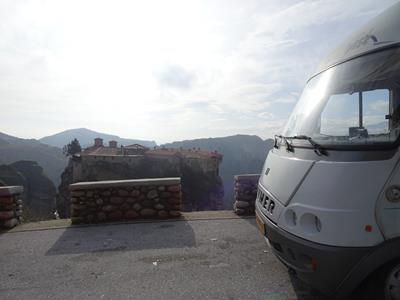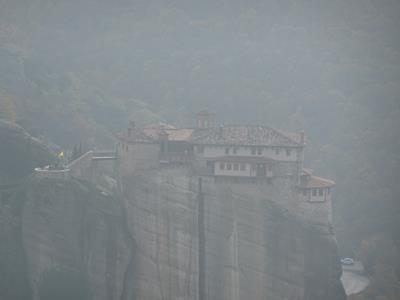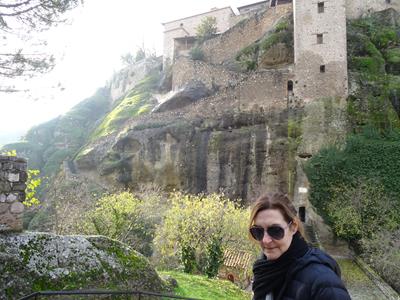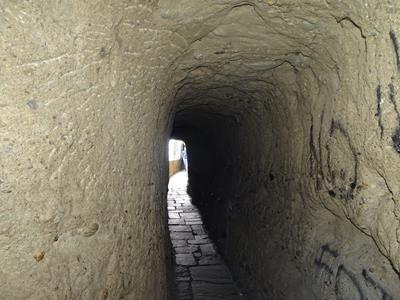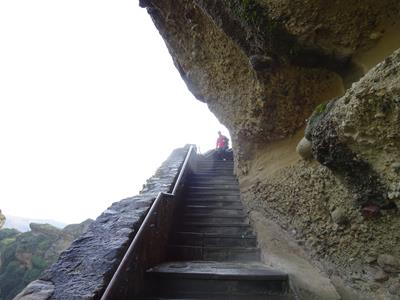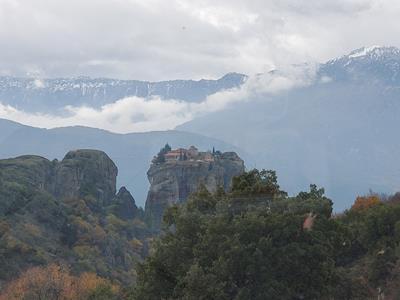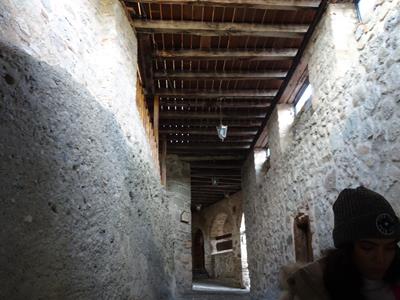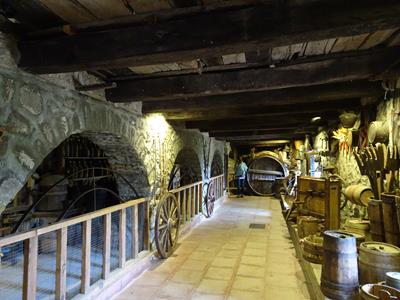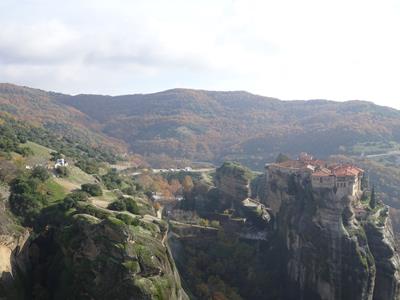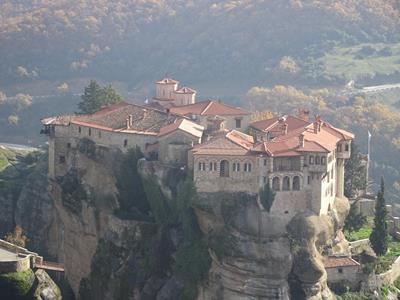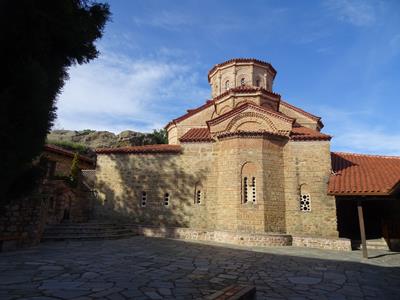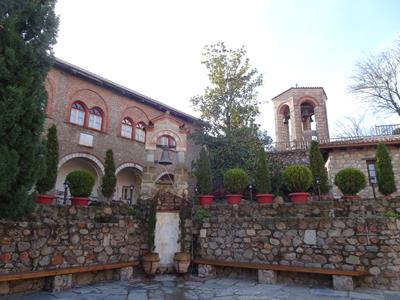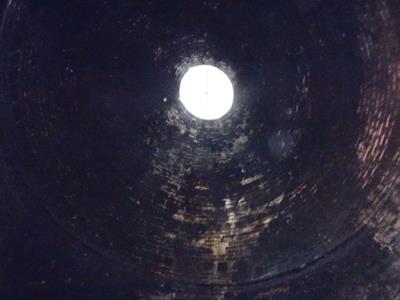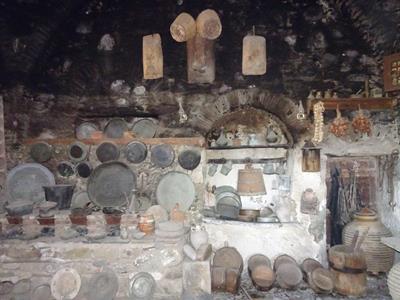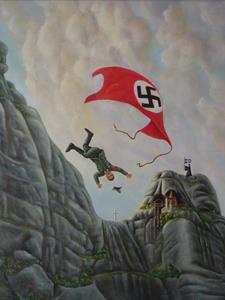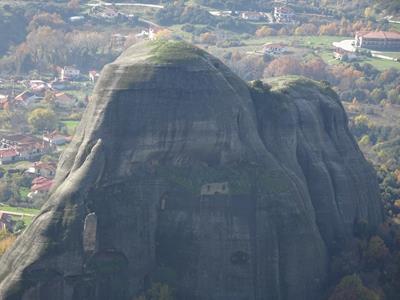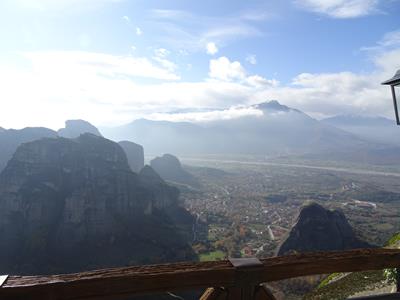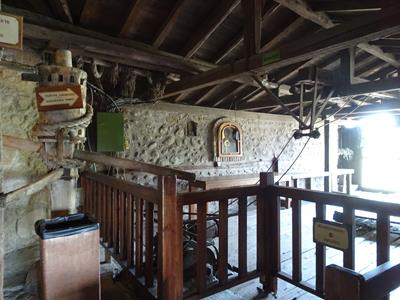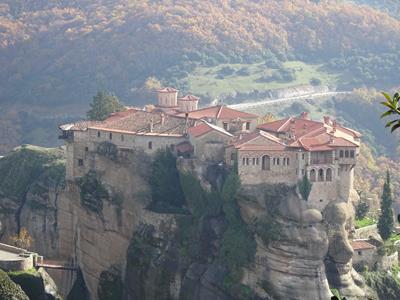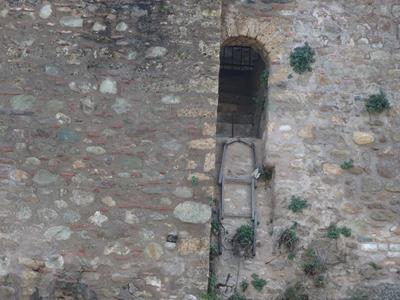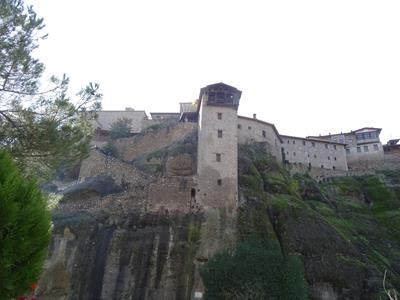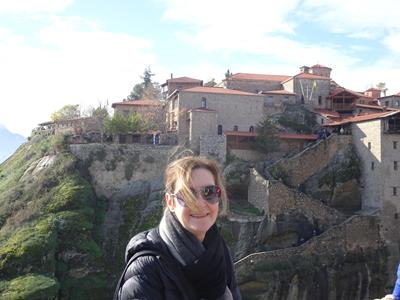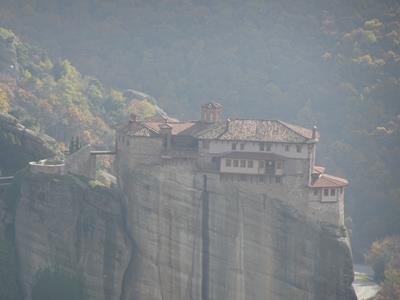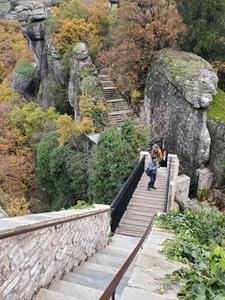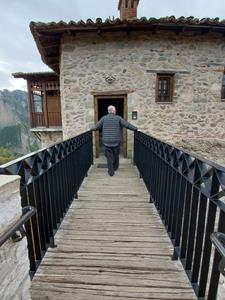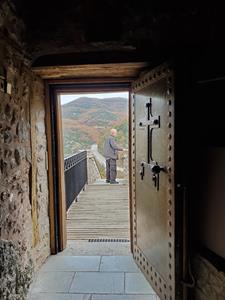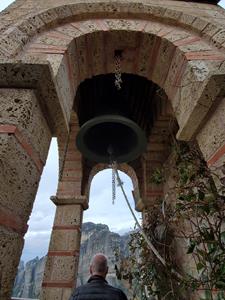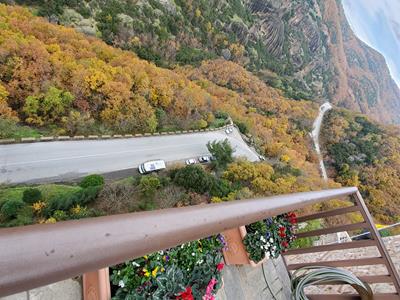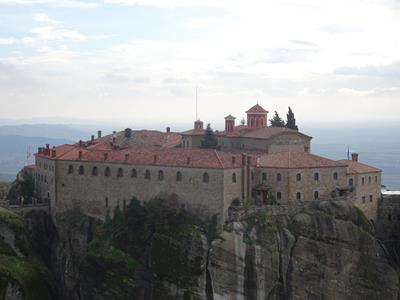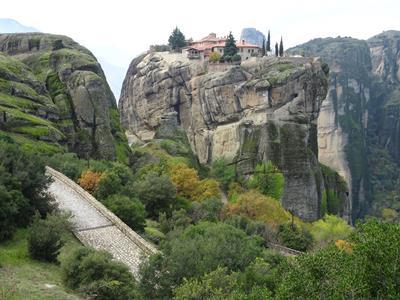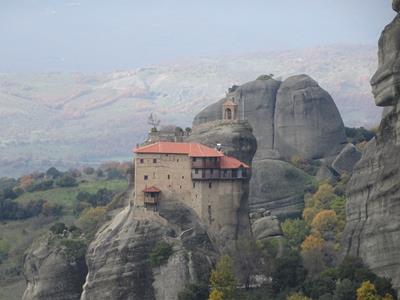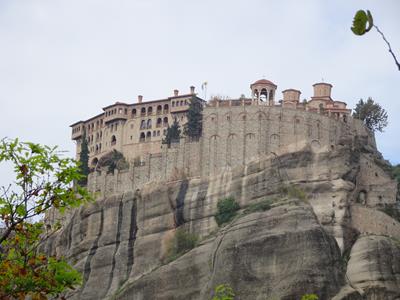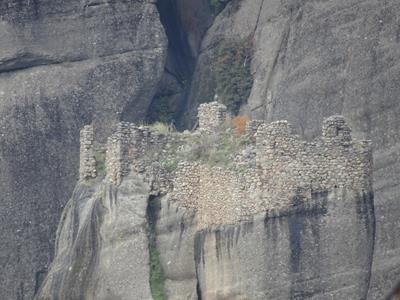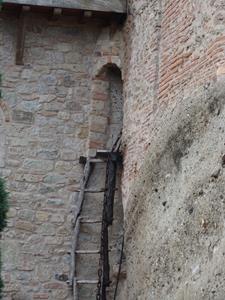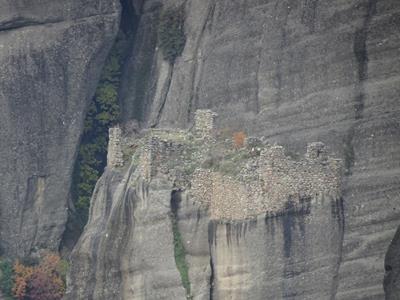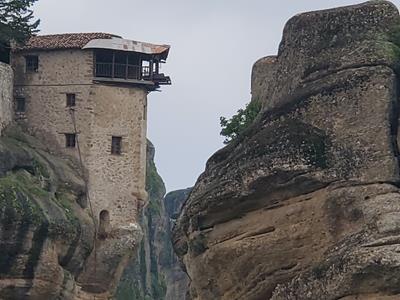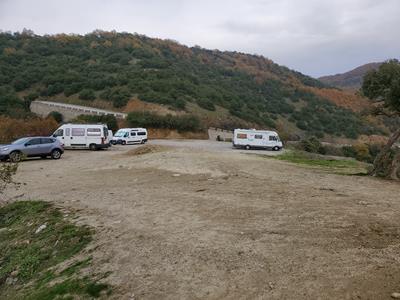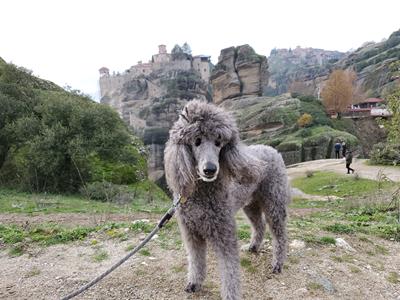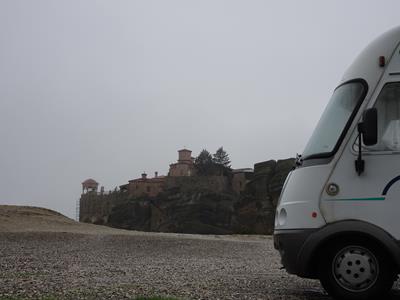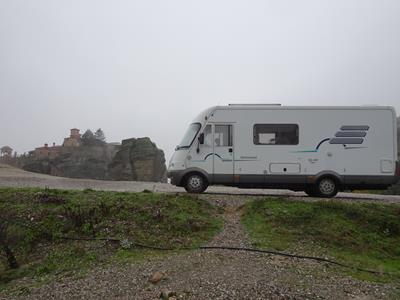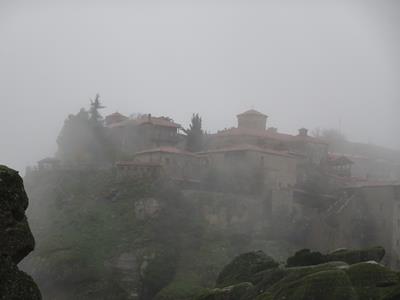 A rainy day, we headed south to Delphi, finding an OK freecamp 100m from the entrance. Next morning we toured the archaeological site.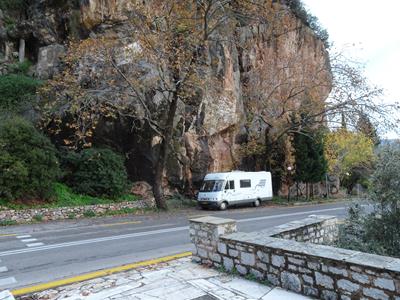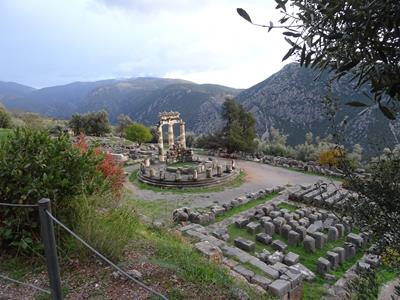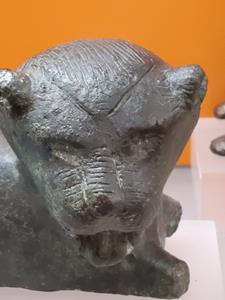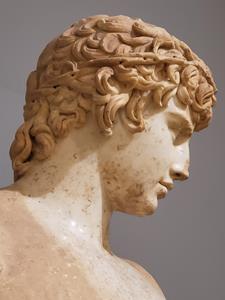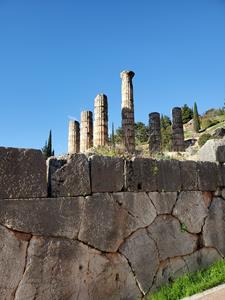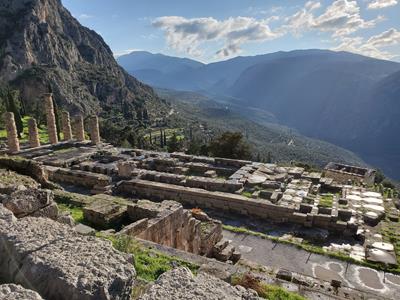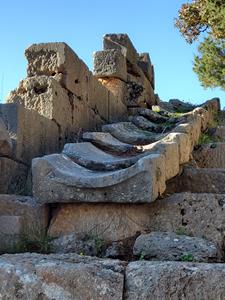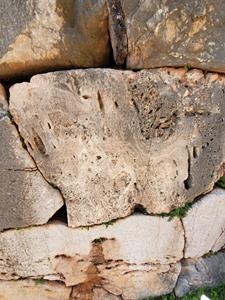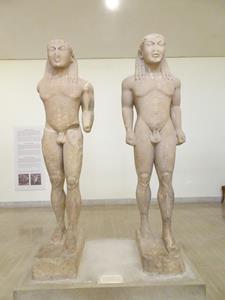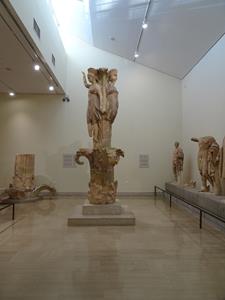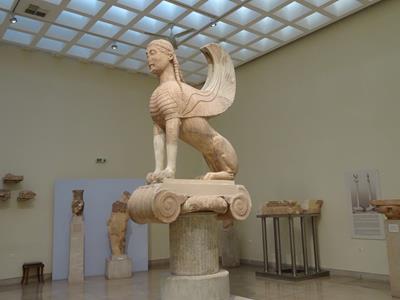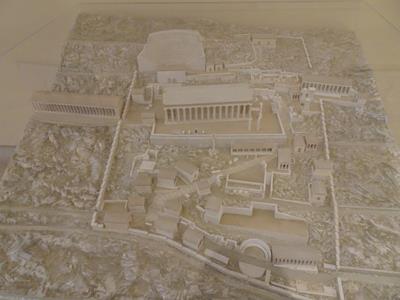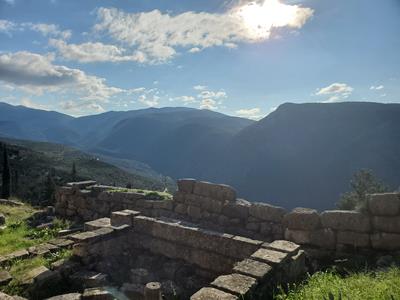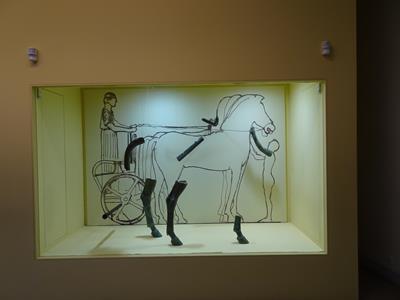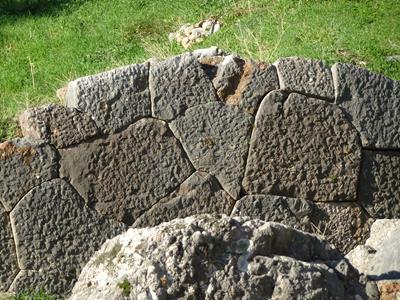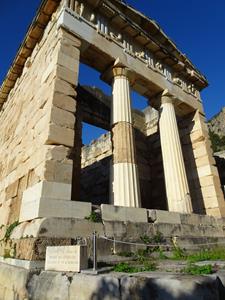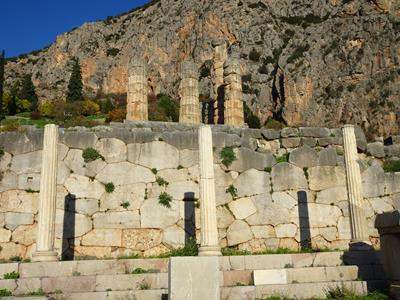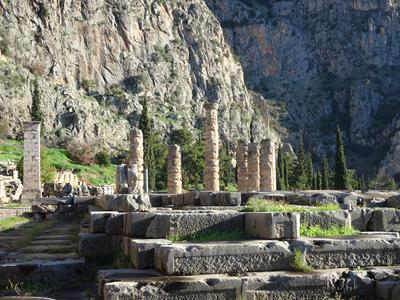 From Delphi we travelled west along the north coast of the Bay of Corinth to Nafpaktos, where we again freecamped overlooking the Bay, walking into the centre around the fortified harbour, serenaded by a passing marching band, complete with Santa, and surrounded by an array of Christmas lights. Met a number of very friendly locals.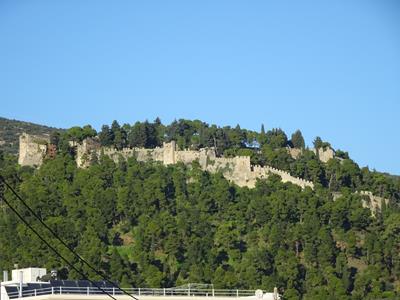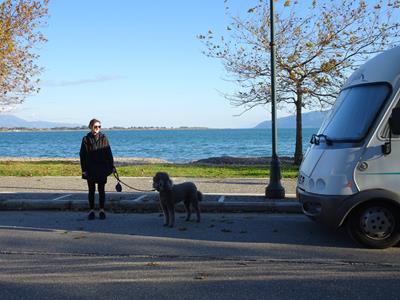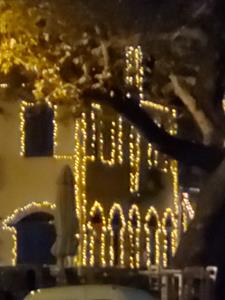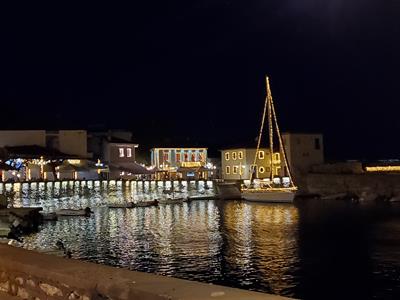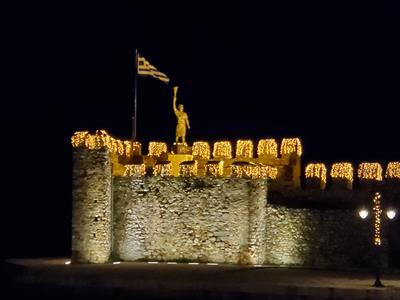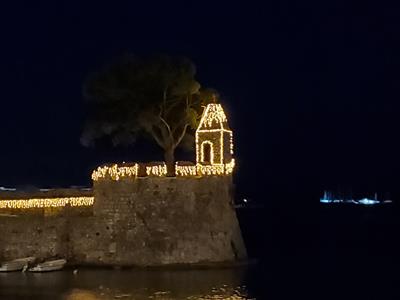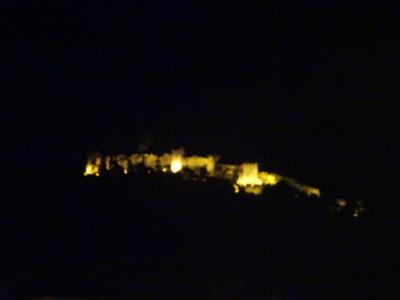 Next day we went up to Nafpaktos Castle, which stretches from the crown of the hill, in a series of 5 enceintes, right down to the harbour. Well worth the visit!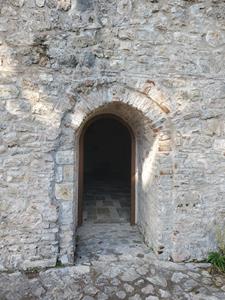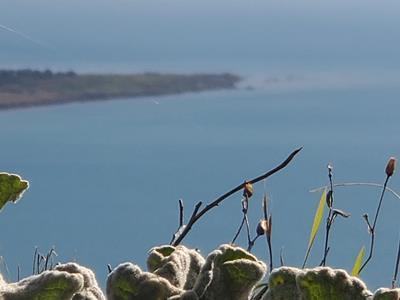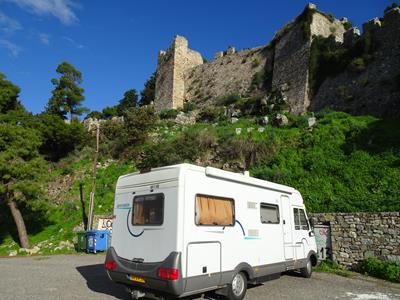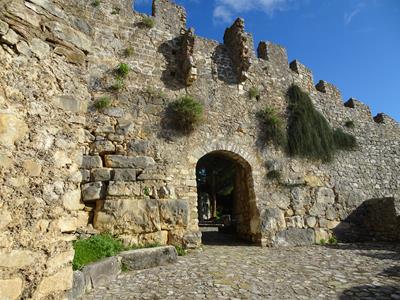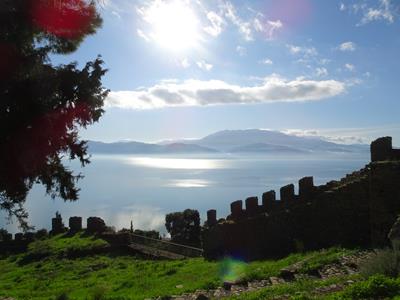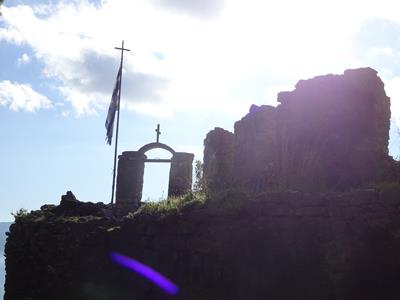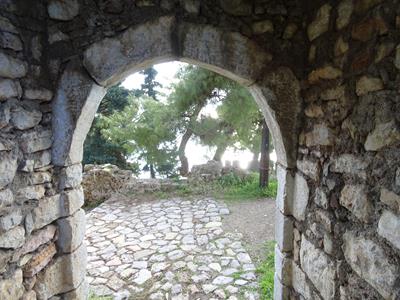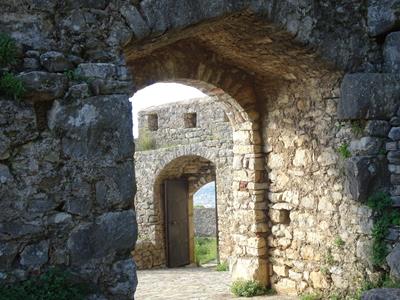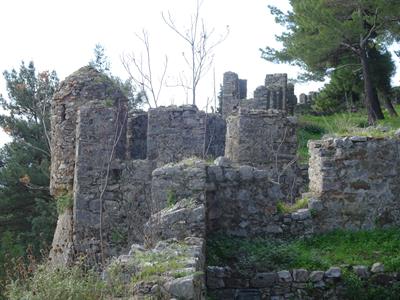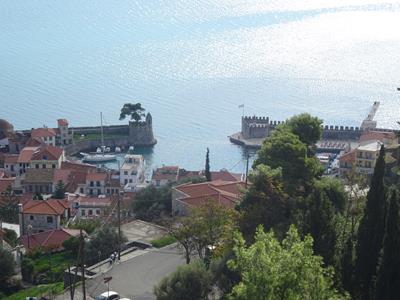 Next day we entered the Peloponnese over the Antirrio Bridge. Had we known of its existence, we would have taken the adjacent ferry at lower cost and with better views!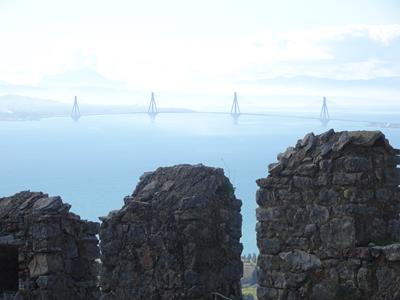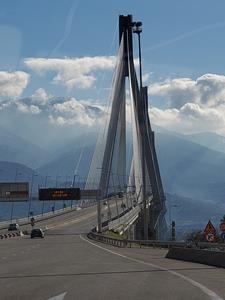 Skirting Patras, we headed for Ionian Blu Restaurant near Vouprasia on the Ionian Sea. Here Jurgos the owner provides, at no cost, a motorhome space, WC, dumping, rudimentary showers and electric (at a nominal fee). We stayed 2 days, dining on fresh caught shrimp, squid and variety of fish, liberally interspersed with Ouzo and wine. A very natural, welcoming good-feeling place!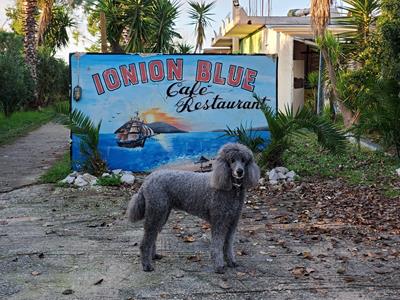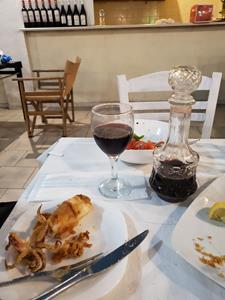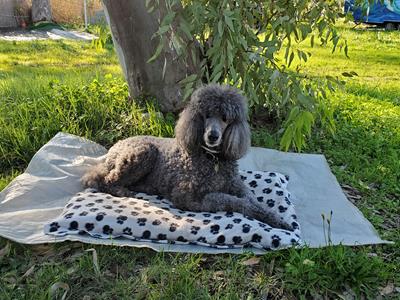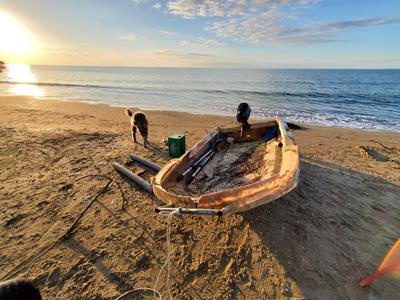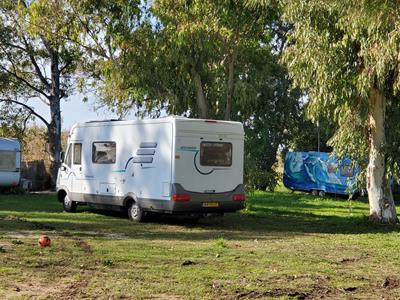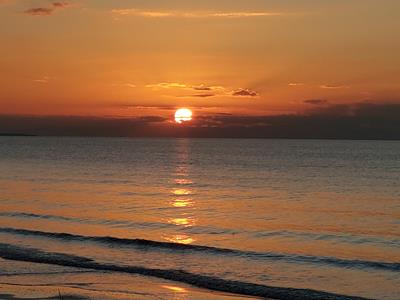 After a couple of days we headed towards the Olympia Archaeological Site, staying at Katakolo harbour the night before, eating at a somewhat touristy harbourside restaurant, which was nonetheless quite good.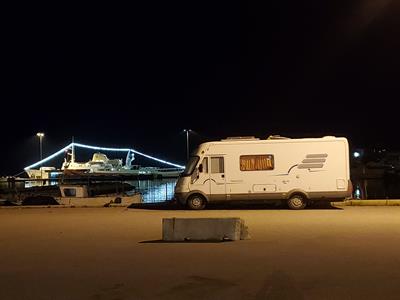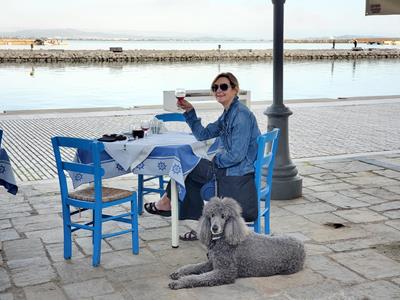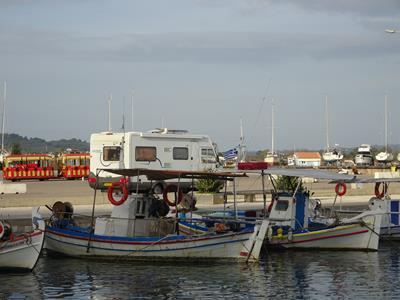 Next morning (Dec. 19) we toured Olympia...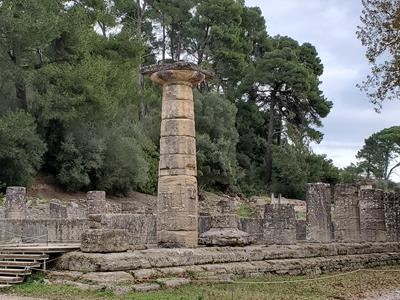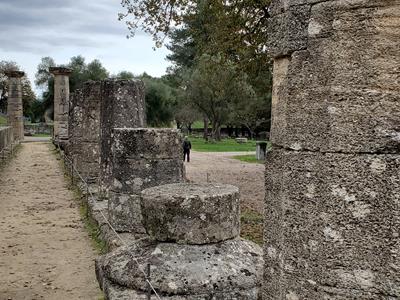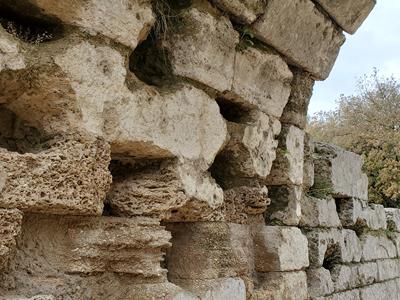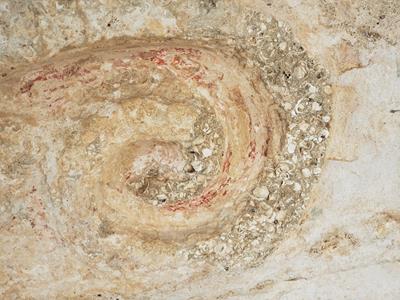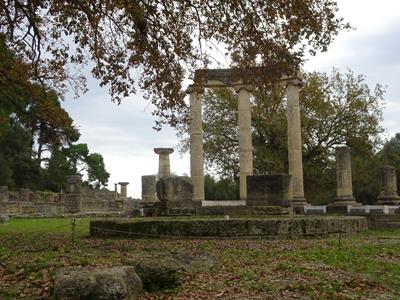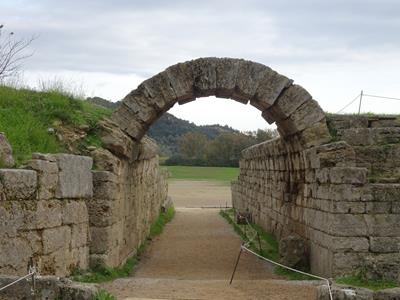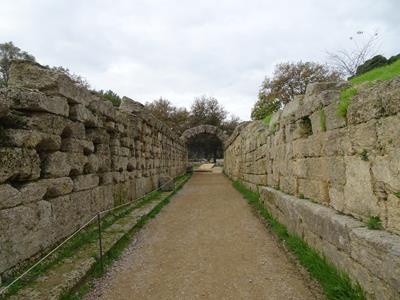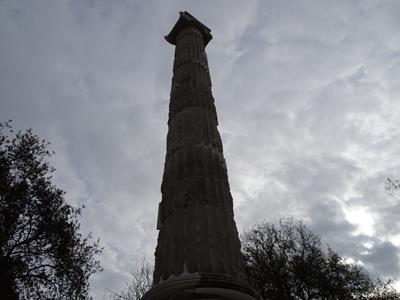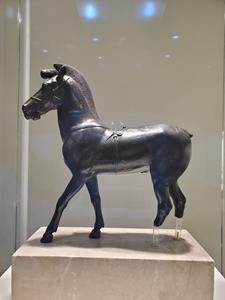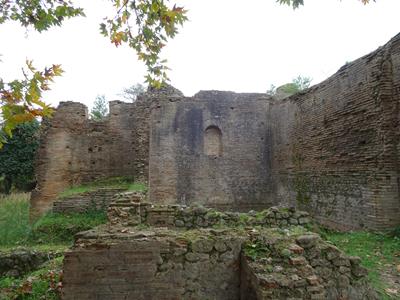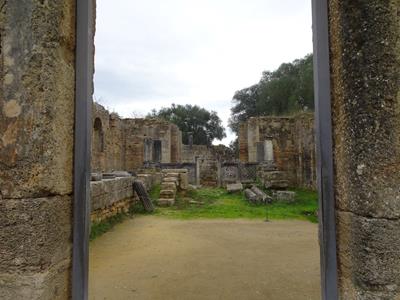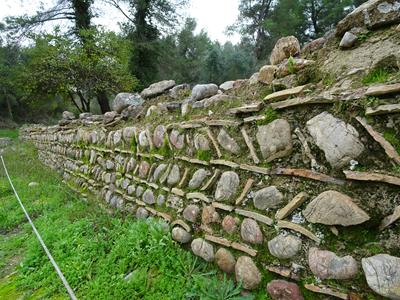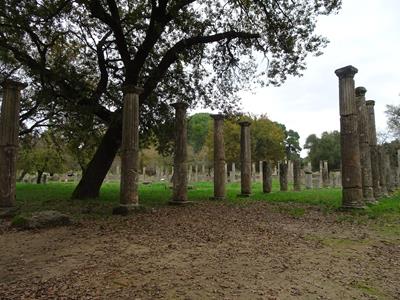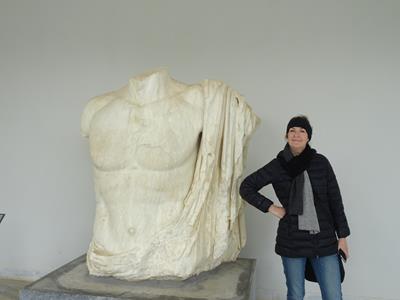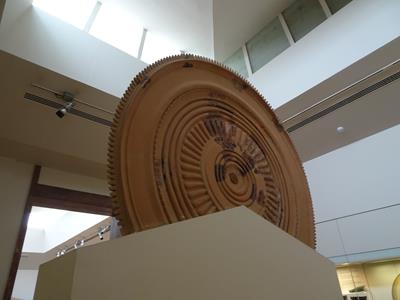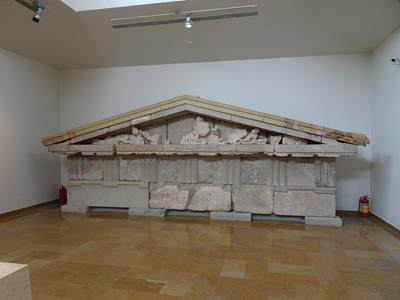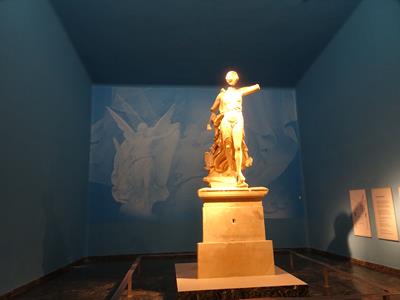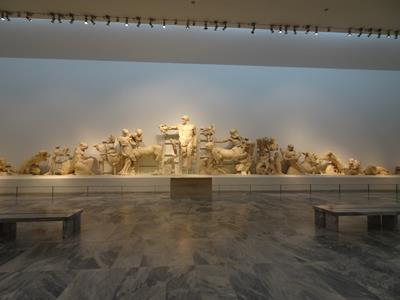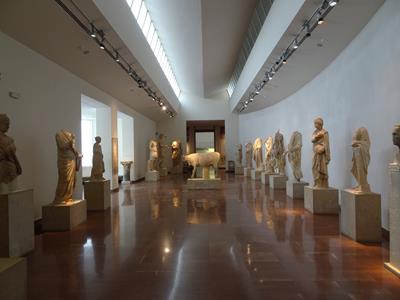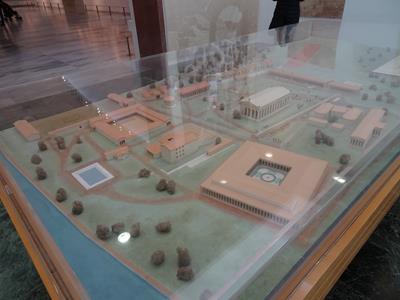 ... then went south to rest a couple of days on an isolated beach parking spot at Kakovatos, Zacharo.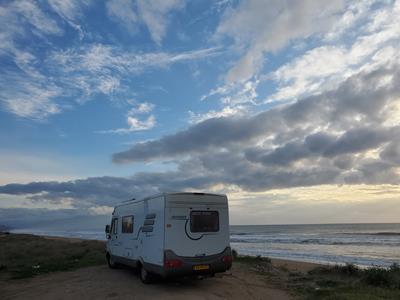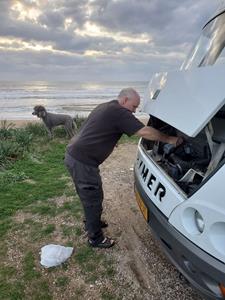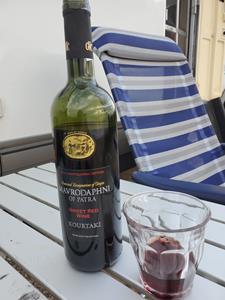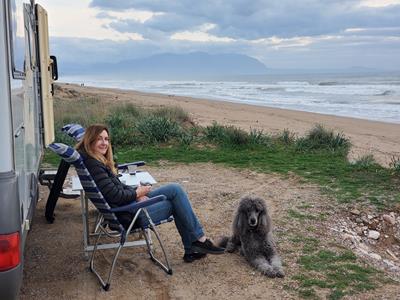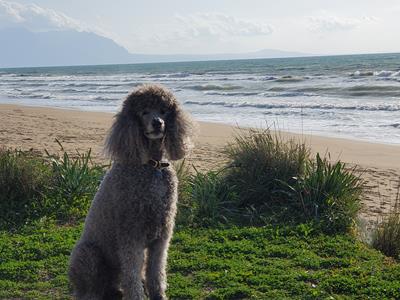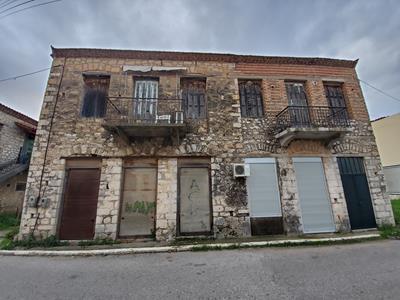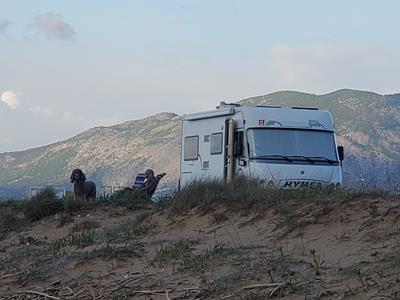 Hugging the western coast, we dropped into Agrili, where we espied the strange, now closed "Fairytale Castle, followed by the "Eiffel Tower" in Filiatra, both built by the same Greek-American doctor.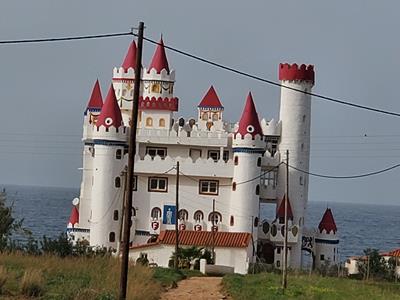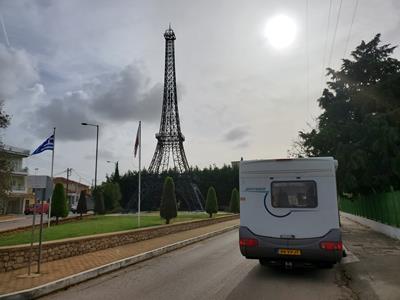 Next, after unsuccessfully trying to access a supermarket in Garaglianoi, we rested on the beach at Voidolilias, below the ruined Castle Navarino, with a German Hymer next to us and a nude Greek bather on the other side.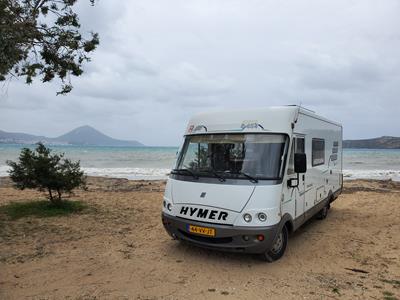 The following day we stayed in Pilos Harbour, moving closer to the wall at night to shelter from strong winds.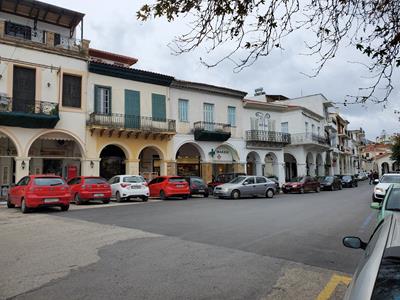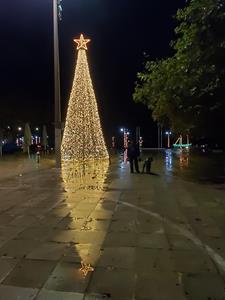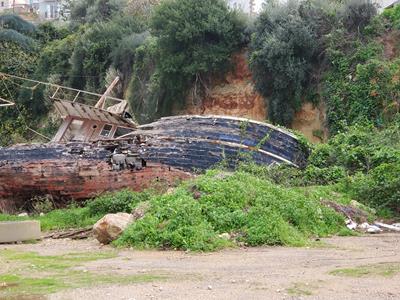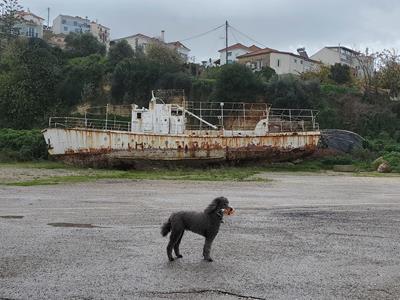 Then we did a drive through Methoni, viewing its castle...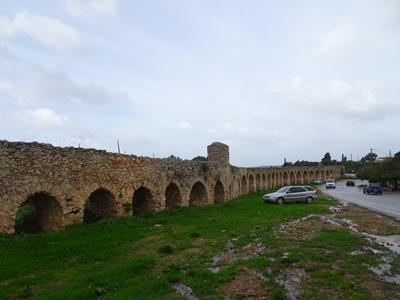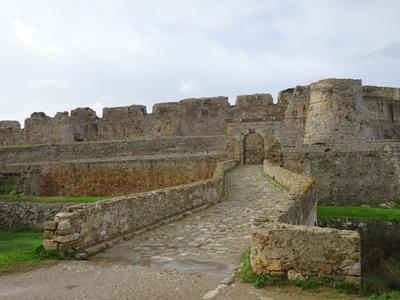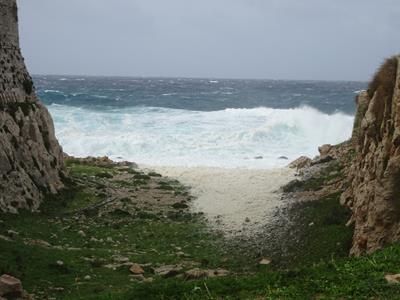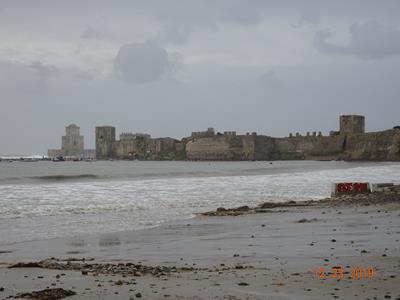 ... then through the mountains to the eastern coast, staying the night at Agios Andreas, joined by a Czech family, overlooking the harbour. There is an abandoned campground here, but we chose not to park inside in case we became stuck!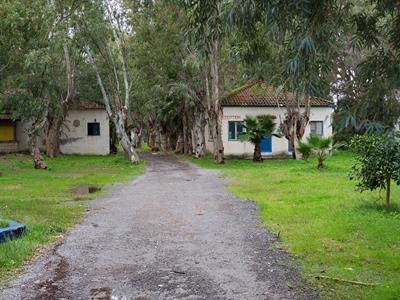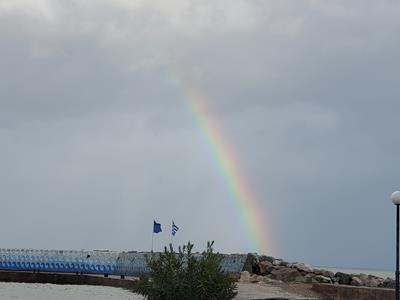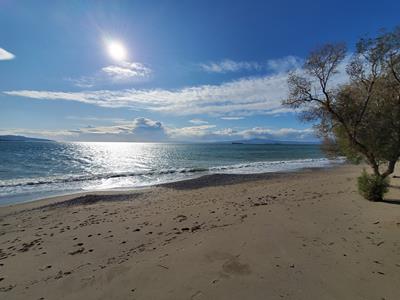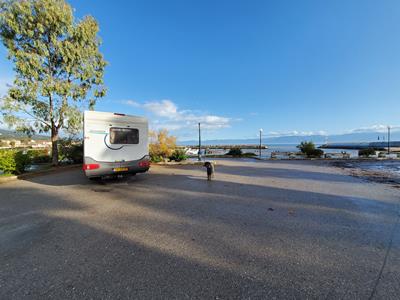 From Agios Andreas we drove up to Kalamata, hoping to stay at the Marina, but it no longer accepts campers, so we headed just east to Camping Fare, where we spent Christmas doing laundry and enjoying the company of a German couple and a Danish couple.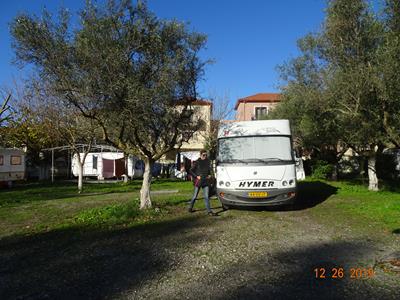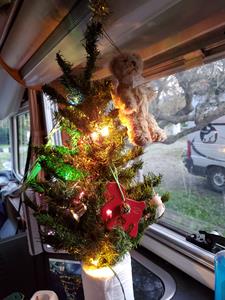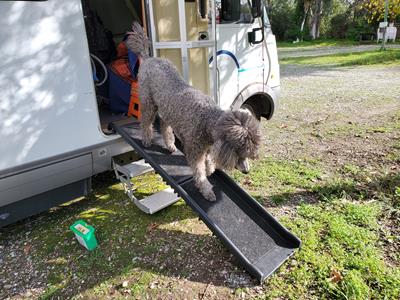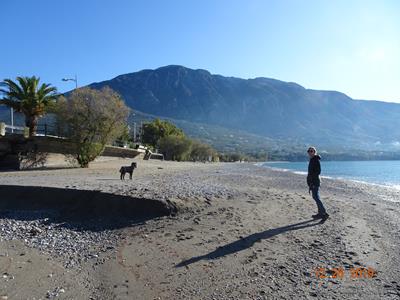 Then we spent a 3rd night in Kalamata in the centre overlooking the water, dining on a great mixed grill at Paliakon in the old town, then next morning filling our empty propane tank at a LPG station and picking up Metaxa, Ouzo and Poulet roti at Sklavenitis supermarket before wending our way into the mountains on route 82 to Mystras.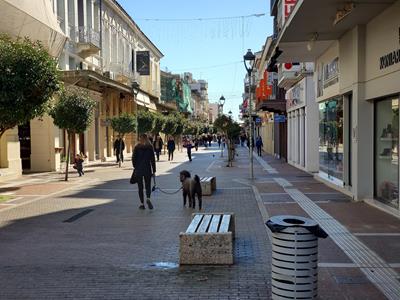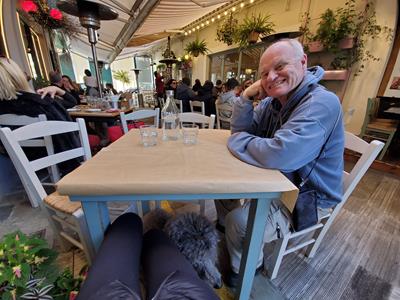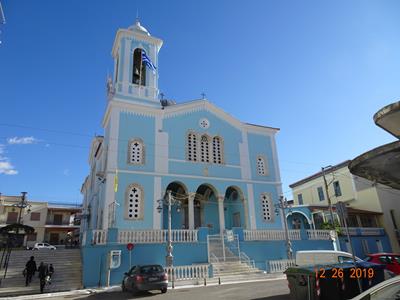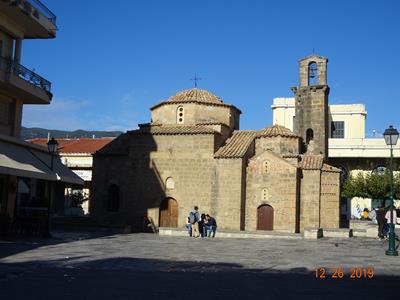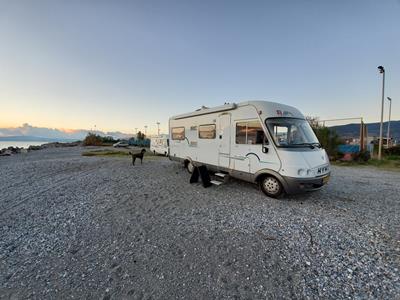 The road to Mystras was very slow and winding, with evidence of numerous rock falls and only a few tiny towns.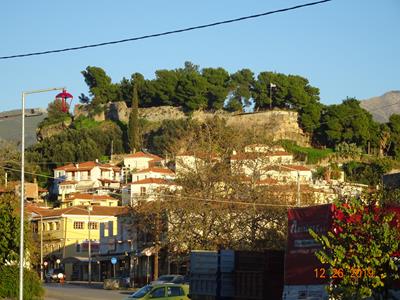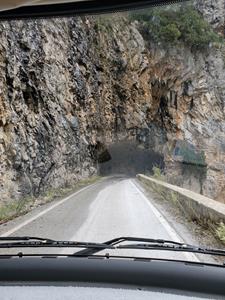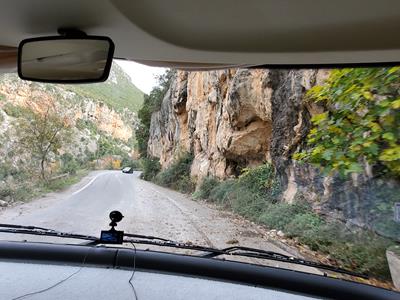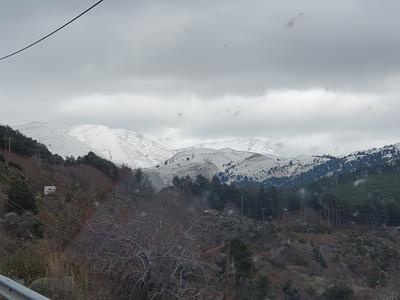 Mystras itself is an amazing vast ruined town, a few kms from Sparta, that has been abandoned essentially since 1830.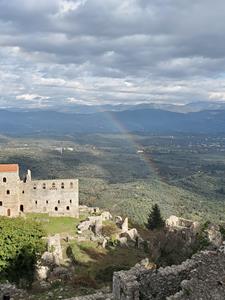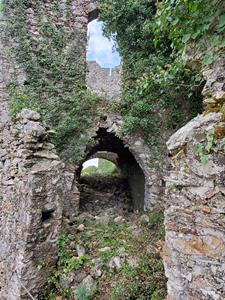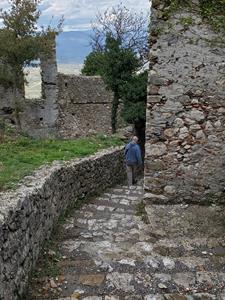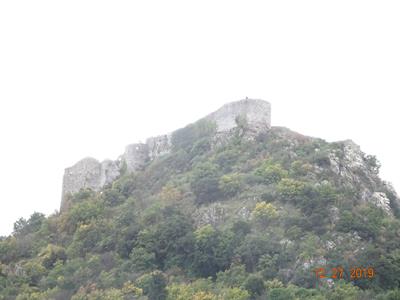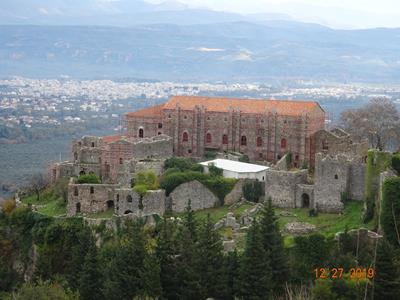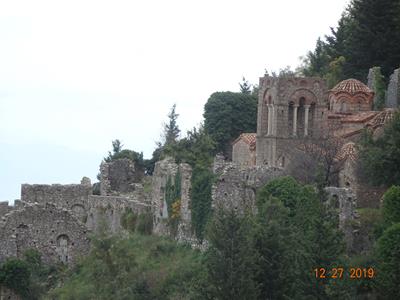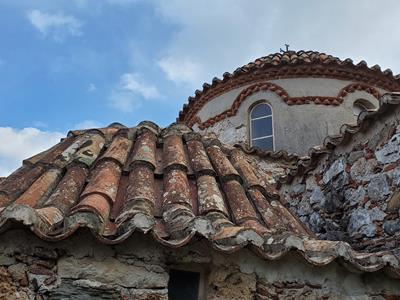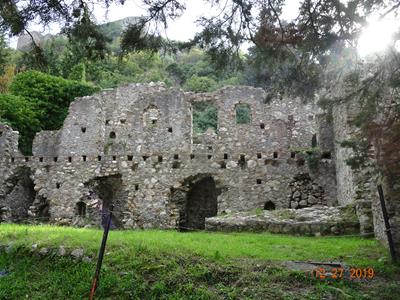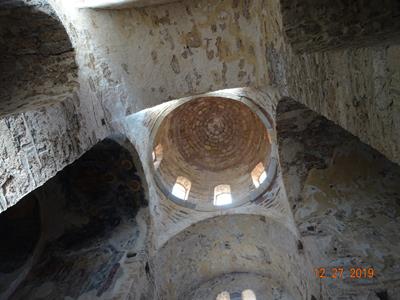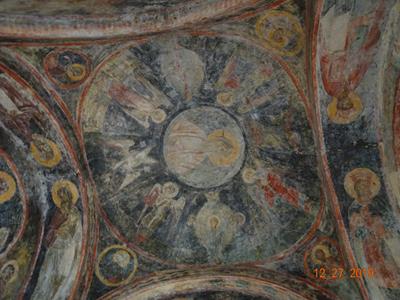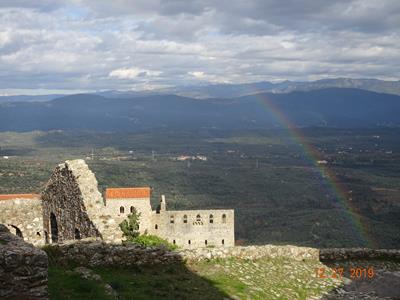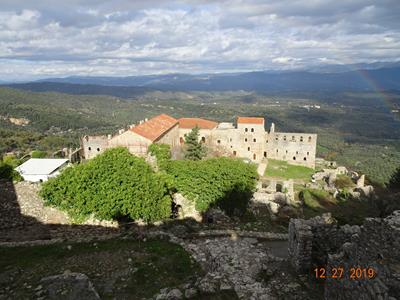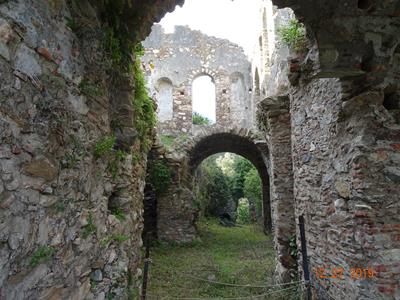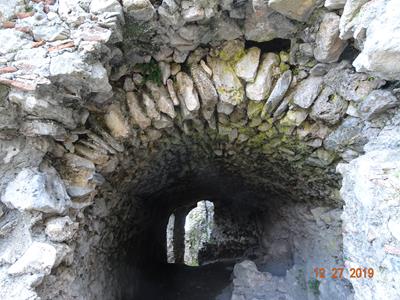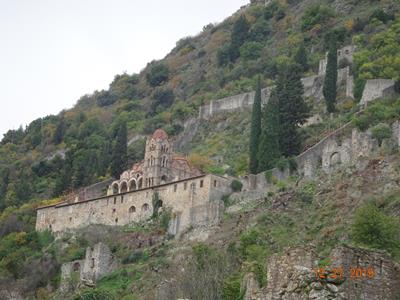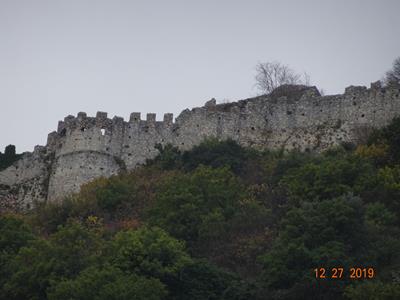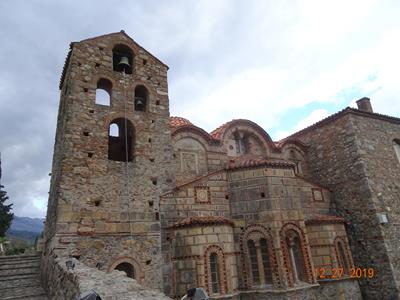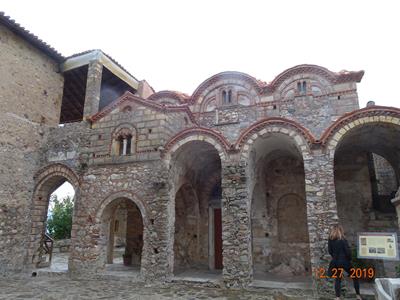 We thought of staying at the entrance to Mystras overnight, but instead elected to drive to the beach near the wreck of the Dimitrios, where we stayed one night in the company of half a dozen older DIY Mercedes campers and a few expedition type vehicles.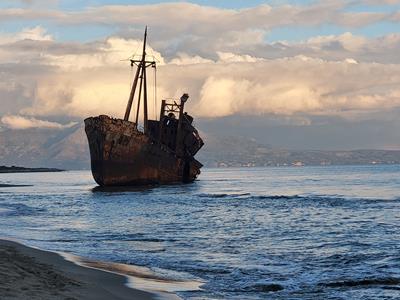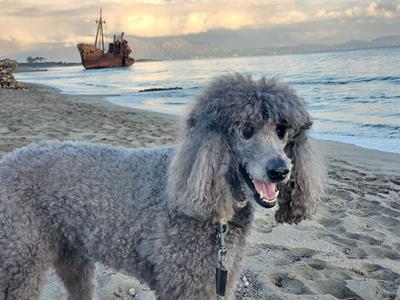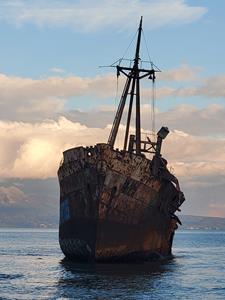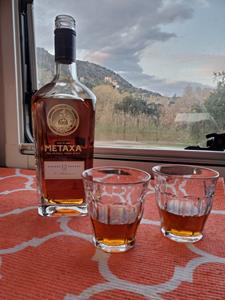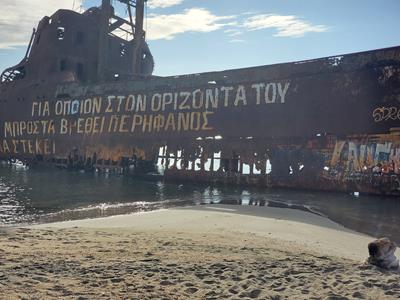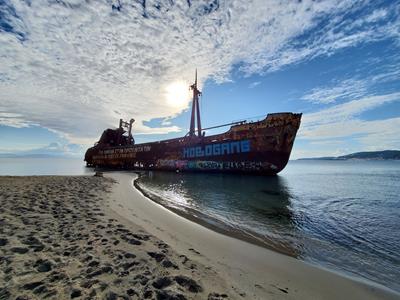 Next day, we moved over to the port town of Gytheo, where we stayed a couple of days right on the water, strolling the town and eating at the superb Saga seafood restaurant.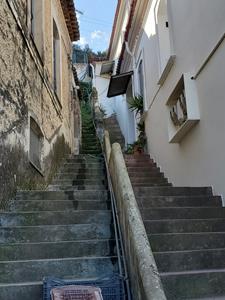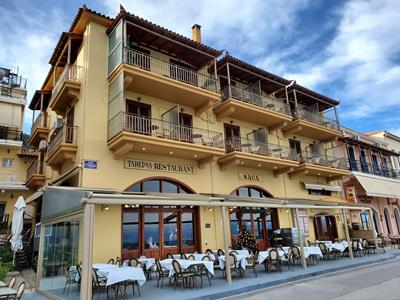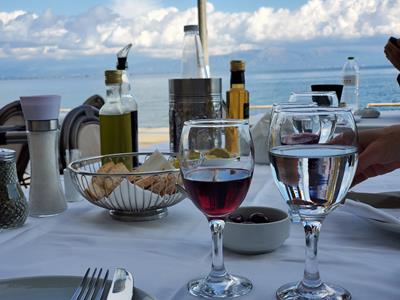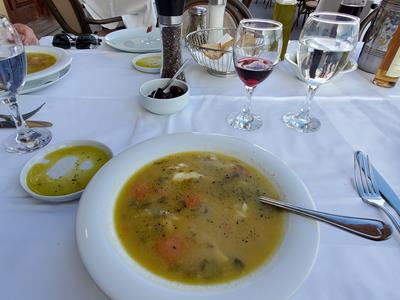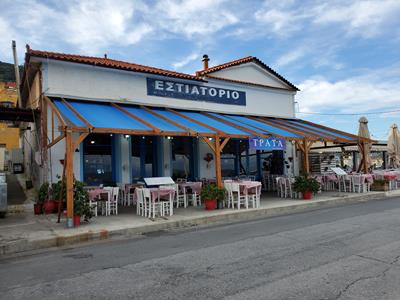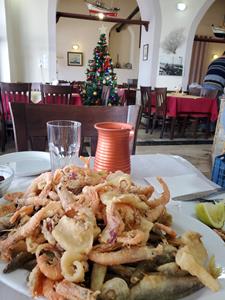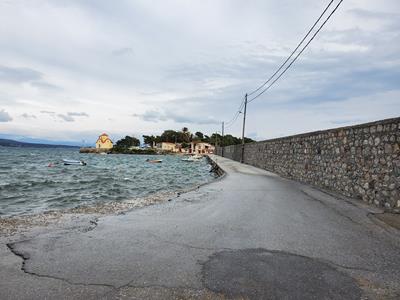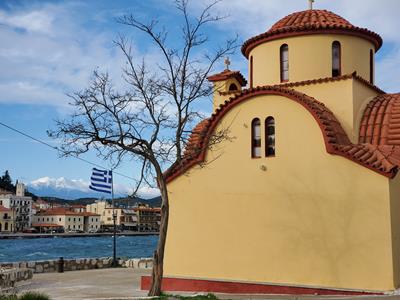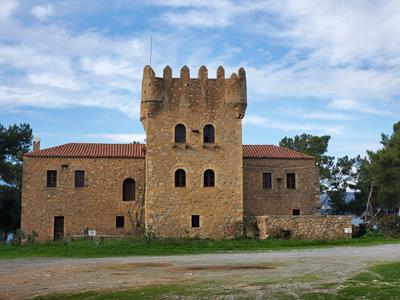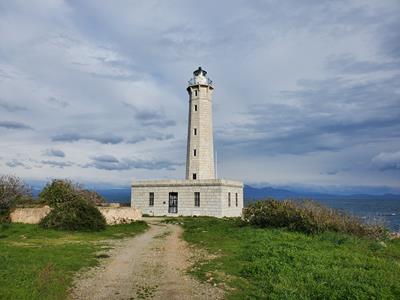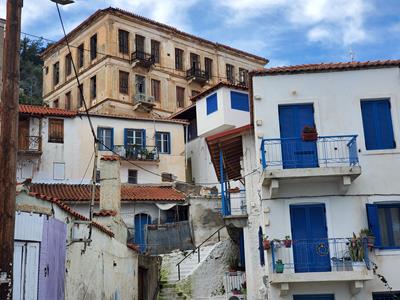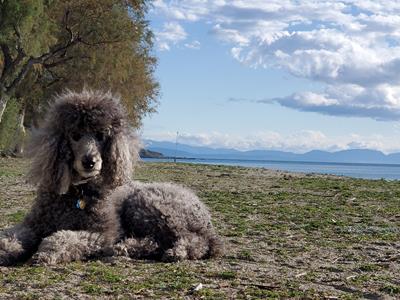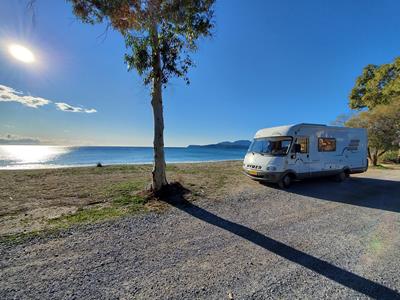 From Gytheo we looped back through Skala to rest at Bozo Beach, we hoped for New Years Eve.
However there was a convoy of expedition type campers planning a party, so after one night we moved on to stay at Plitra overlooking the water for 2 days over new years. Ate uninspiring but OK pizza.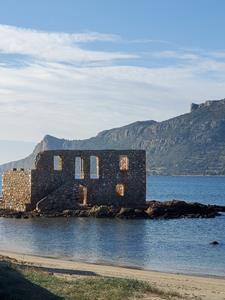 From Plitra we headed over to stay a couple of days at Monemvasia, buffeted by high winds. We walked over to the famous Old Town and ate octopus at Mateo's.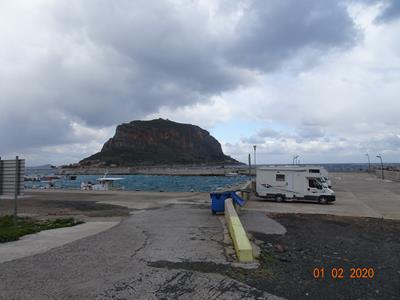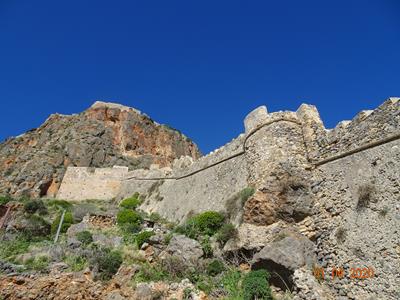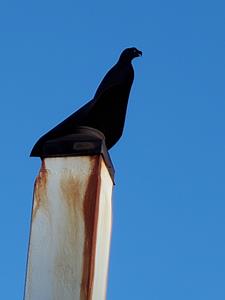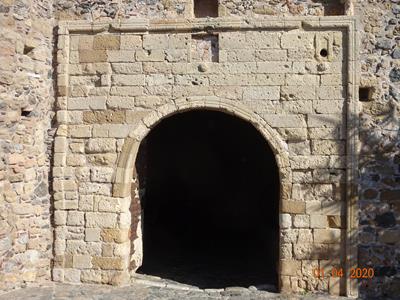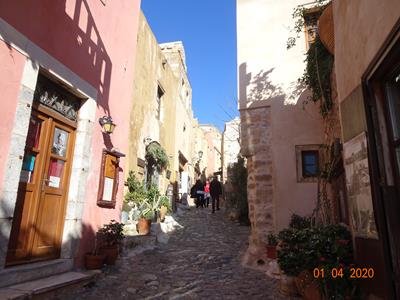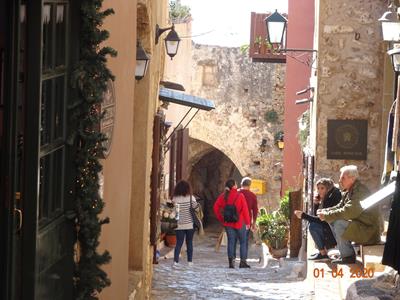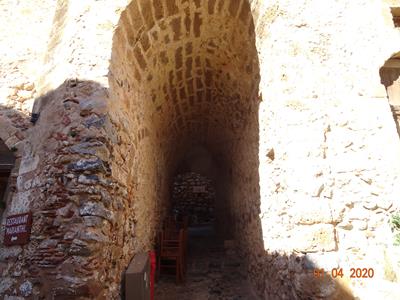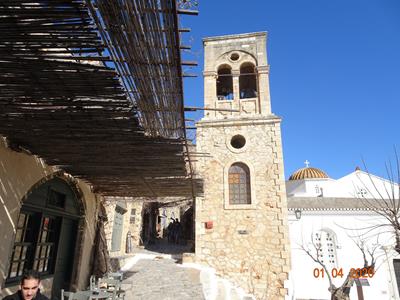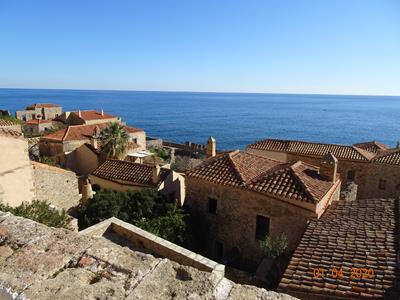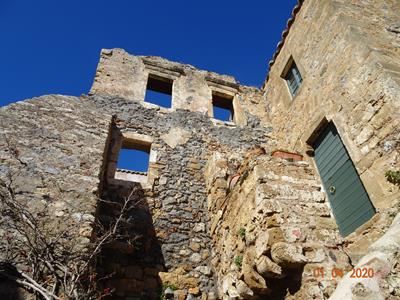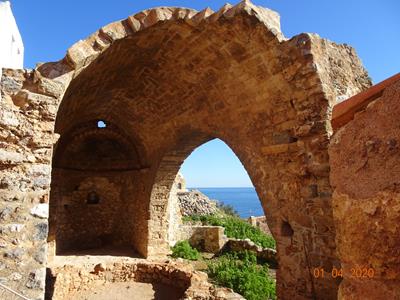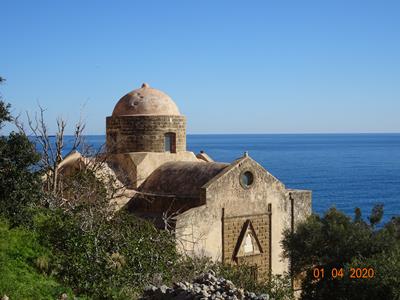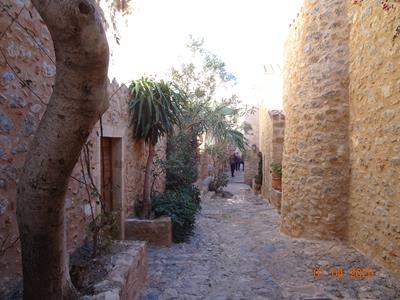 Going up the coast,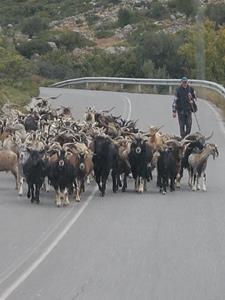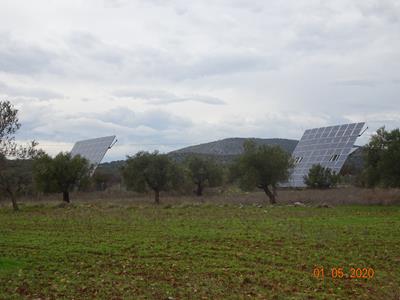 we stayed 2 days at the great Camping Semeli in Leonido, eating seafood at Dolphins.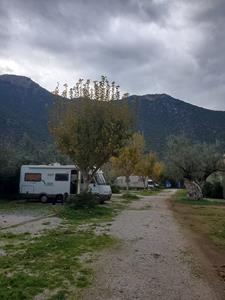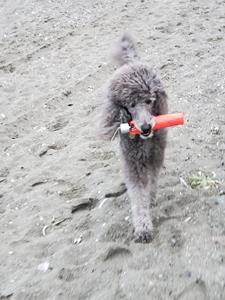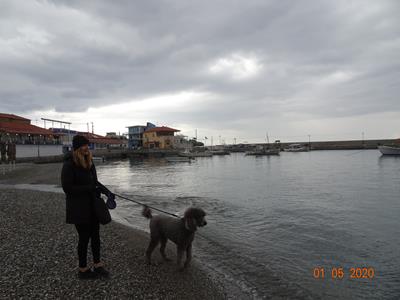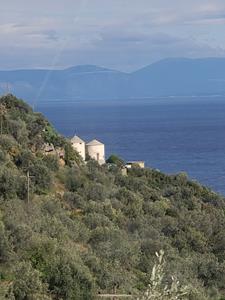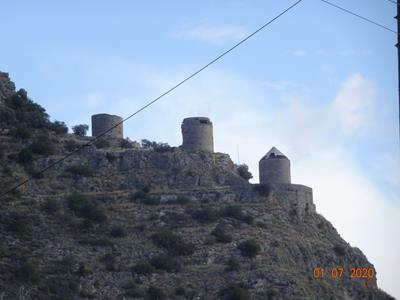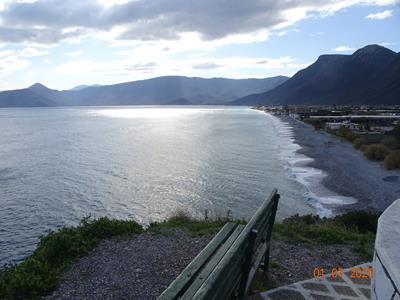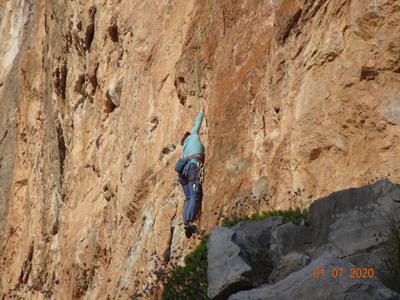 Going up the coast we stopped for a couple of hours at a Park4Night location at another Agios Andreas,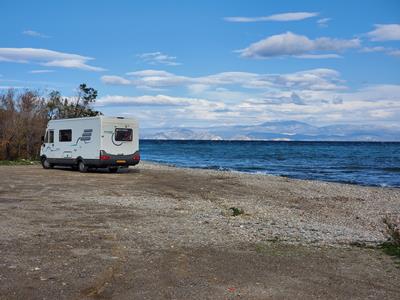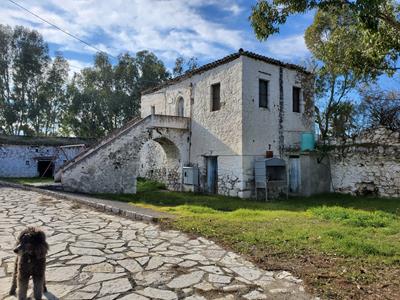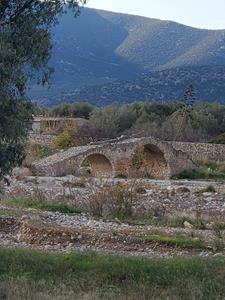 but kept moving to stay the night overlooking the water at Kiveri, with good views of the castles at Napflio and Argos.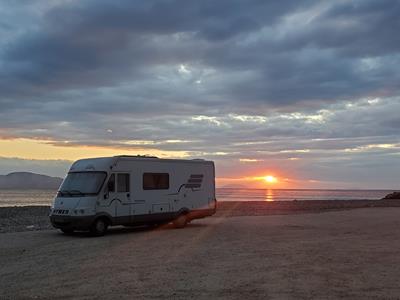 Next day we drove into Napflio, staying in the harbour, walking the engaging town, visiting both castles and eating in Greece's "oldest Taberna".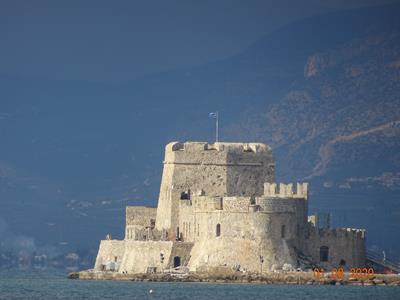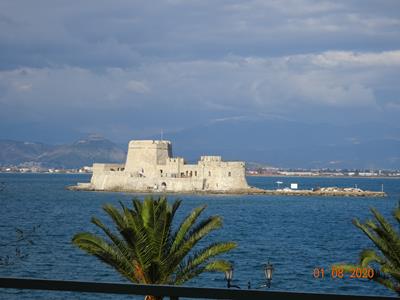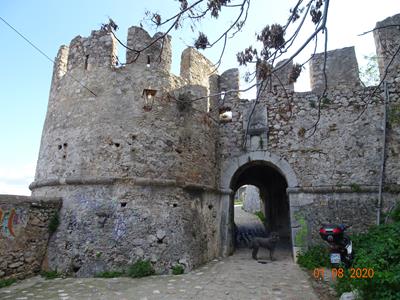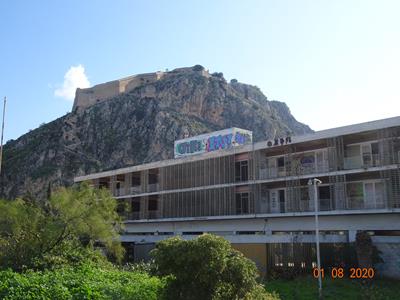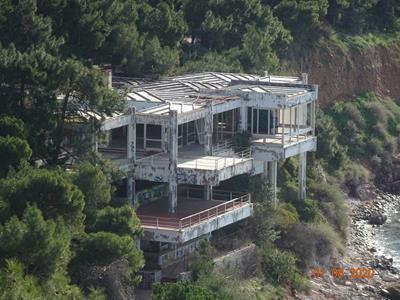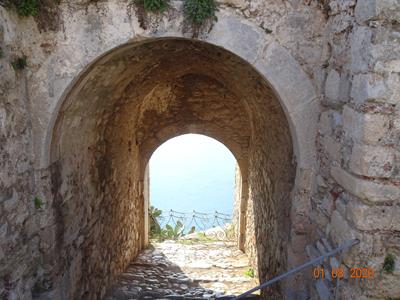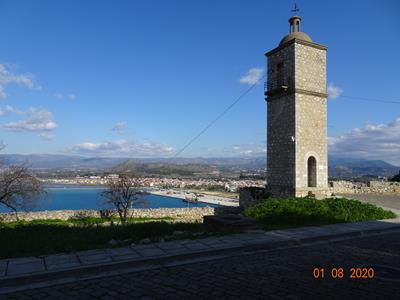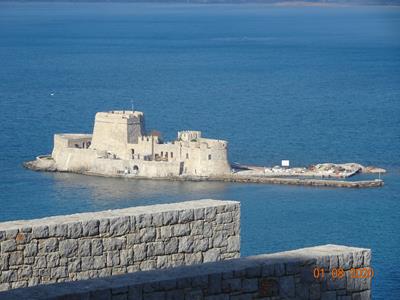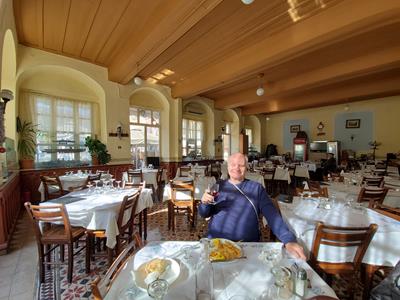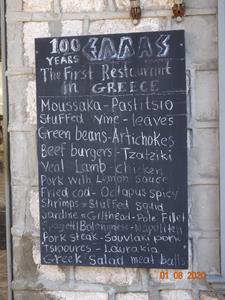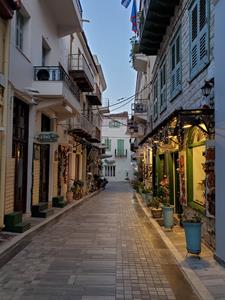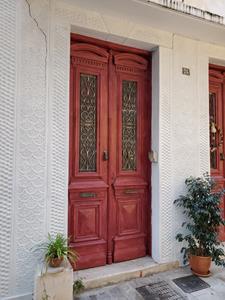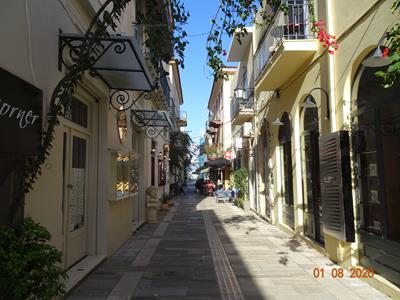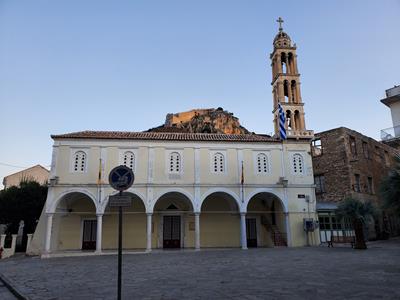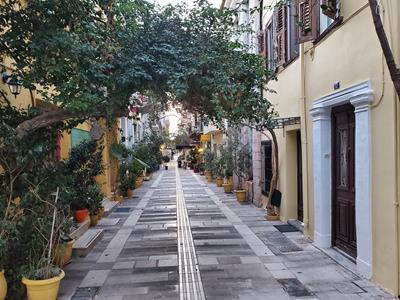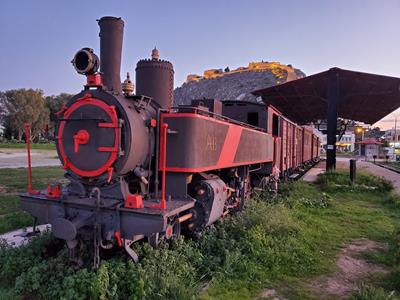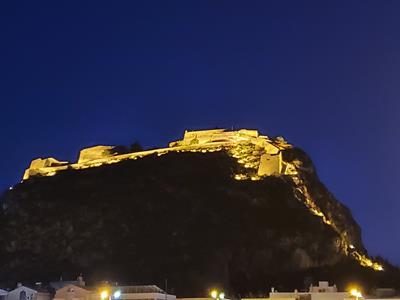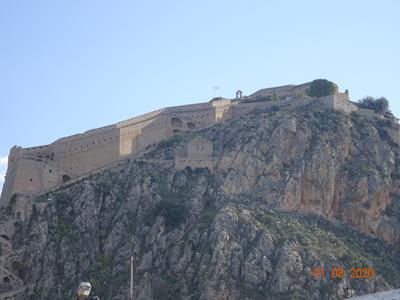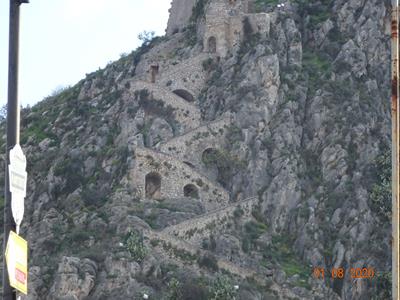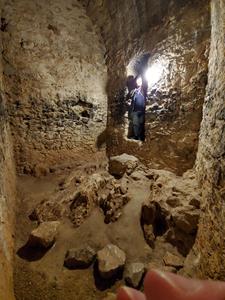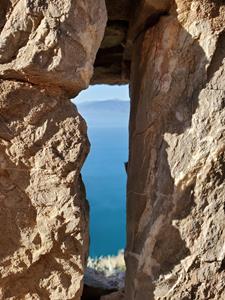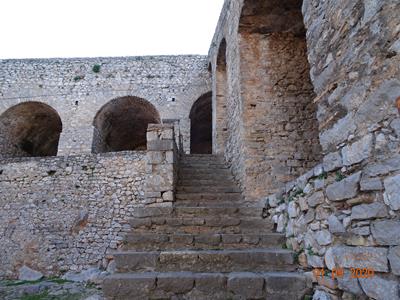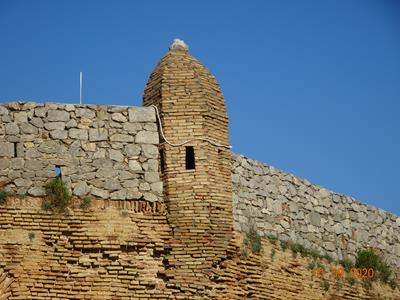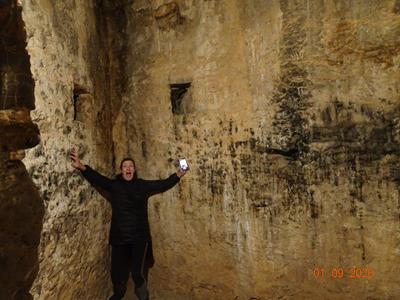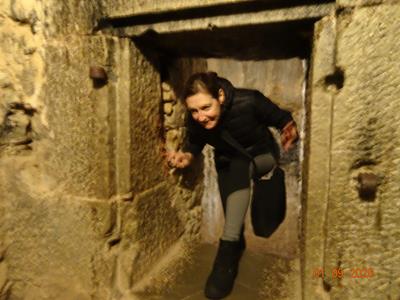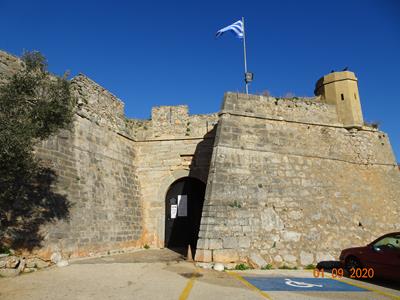 From Napflio we visited the ancient site of Mycenae...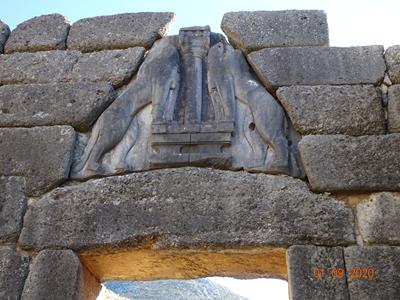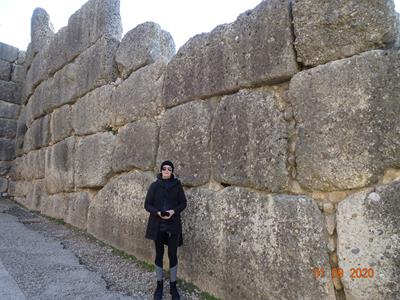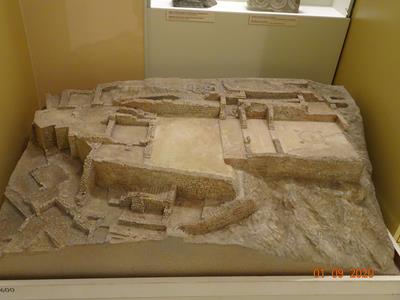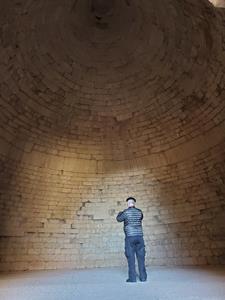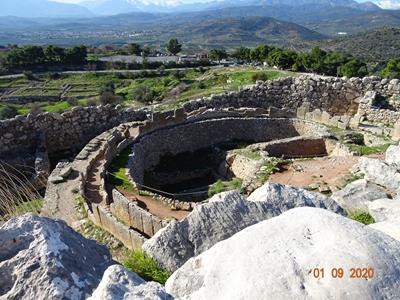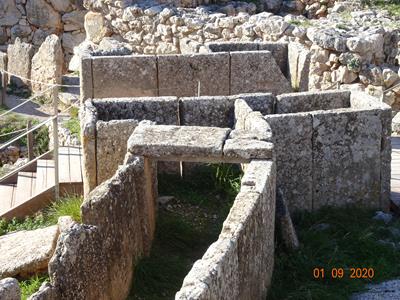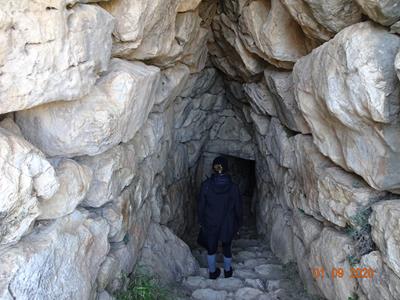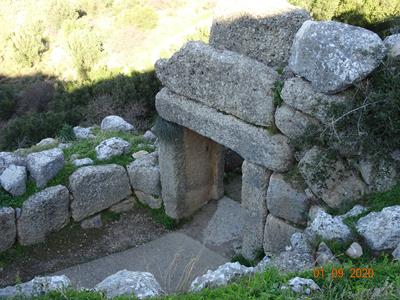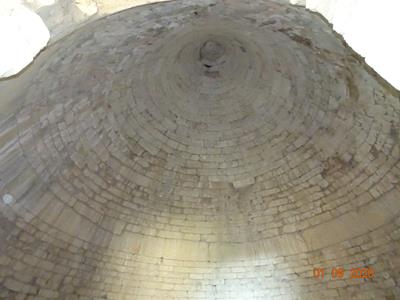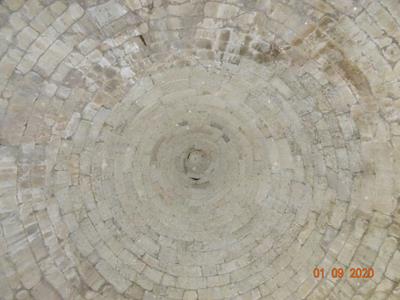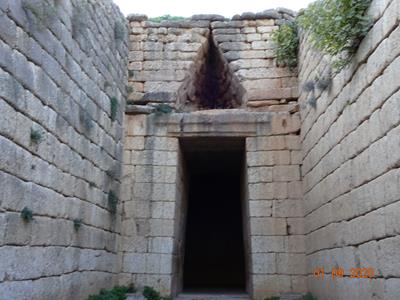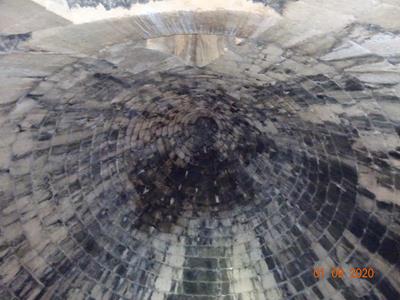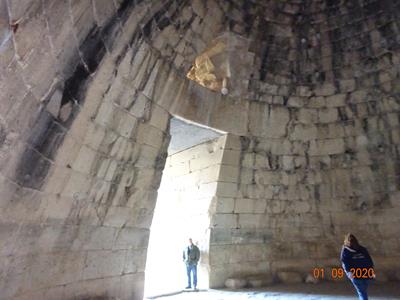 ... then doubled back to climb the one lane road to sleep below Argos Castle, just above a monastery and overlooking the vista of the Argolic Gulf.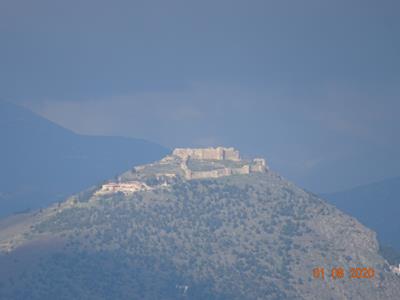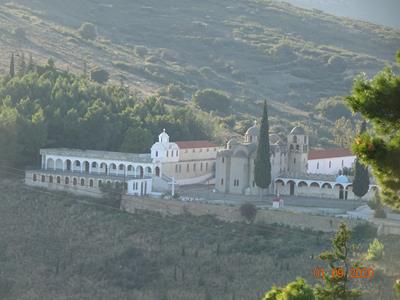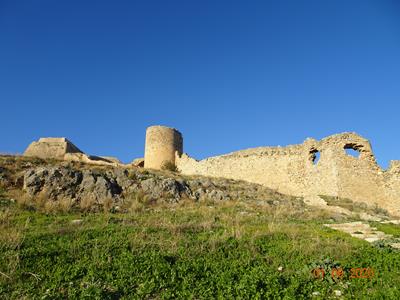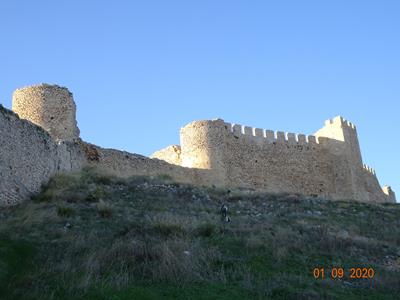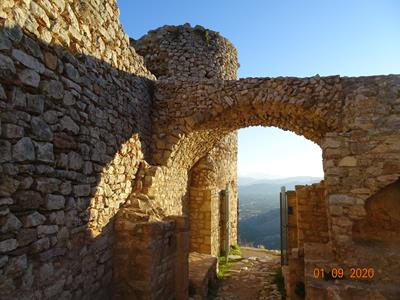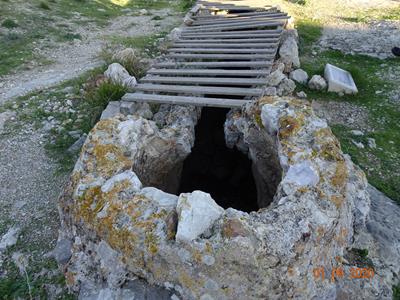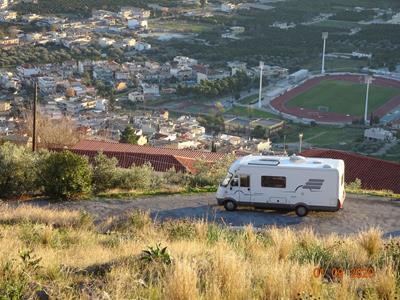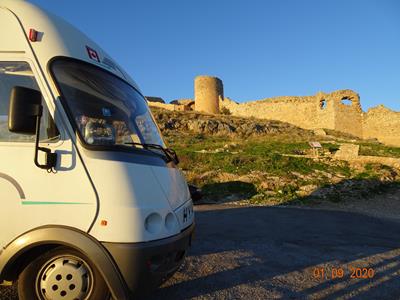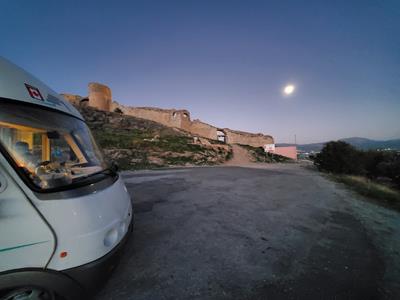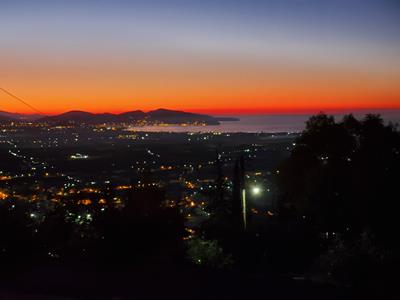 Leaving Argos, we headed for the Corinth Canal, but en route we espied the awesome Acrocorinth, so we stayed there overnight, visiting the castle in the morning...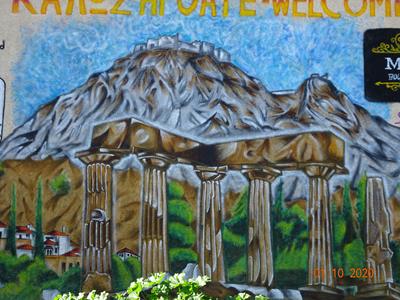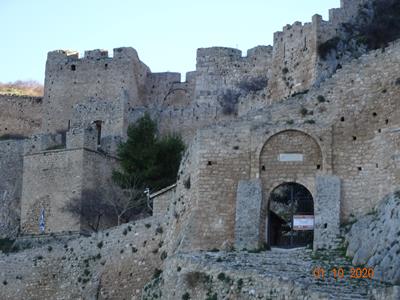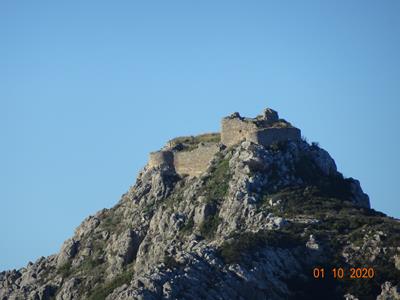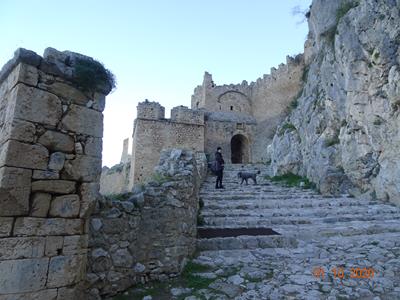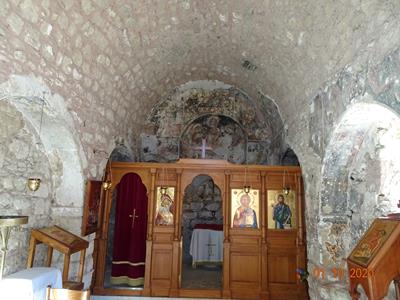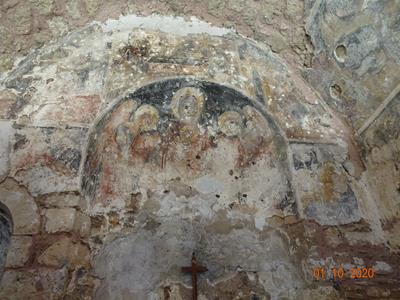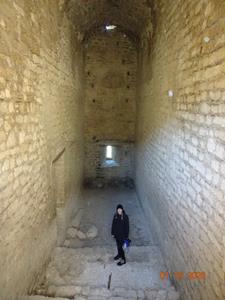 ...followed by a visit to Archaea Korinthos...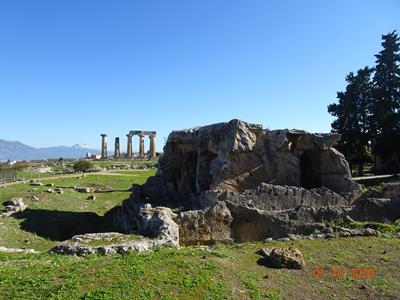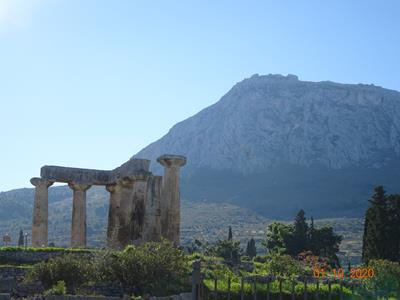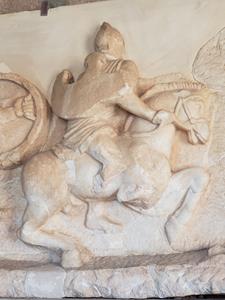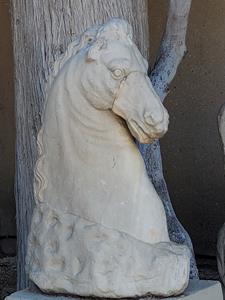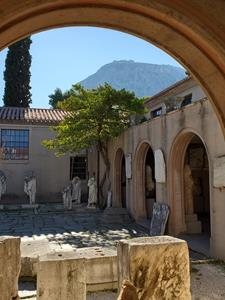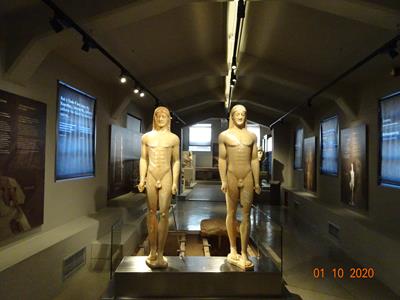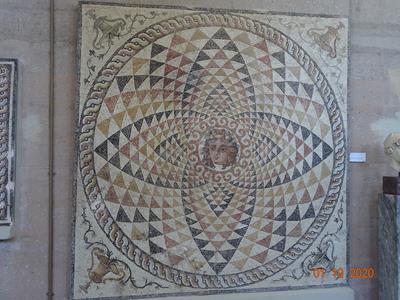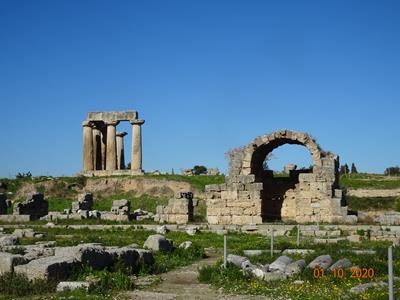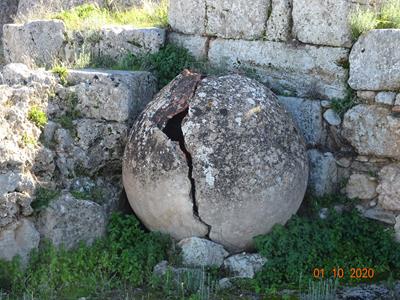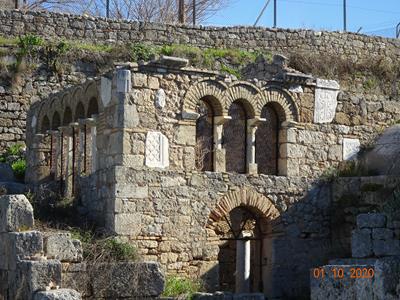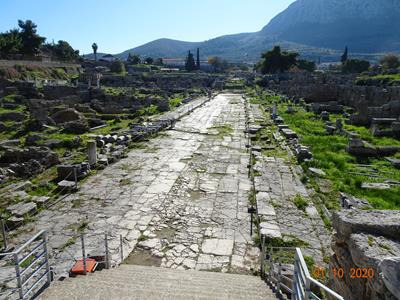 ...and the Corinth Canal...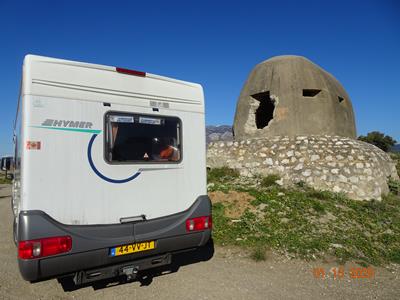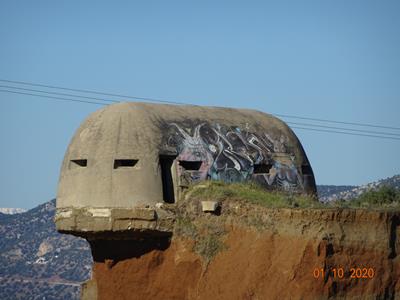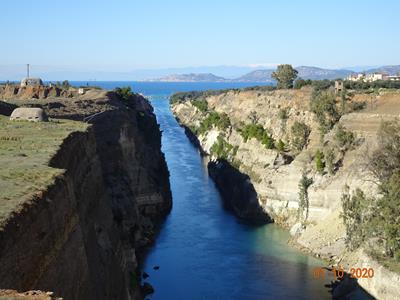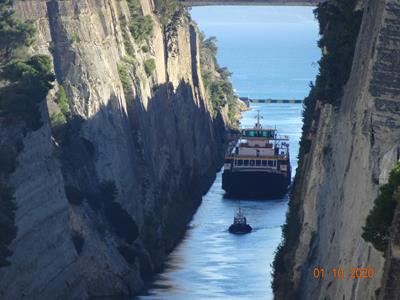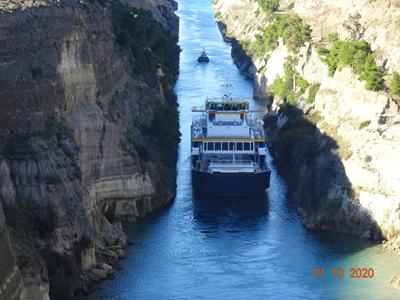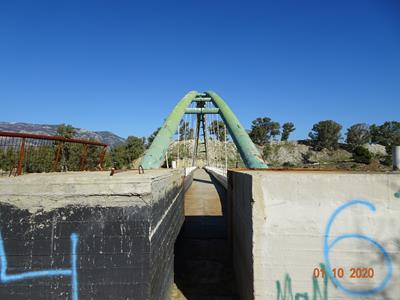 ...before heading to Athens to freecamp at the Alimos marina for a few days.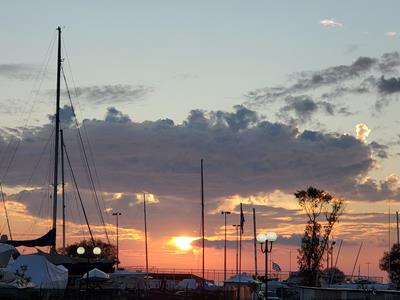 Unable to take Odin on the transit and receiving no response from the pet taxis, we elected to go in separately each for one day to visit the Acropolis and tour some neighbourhoods. Had a couple of excellent meals at The President and X.H.MA.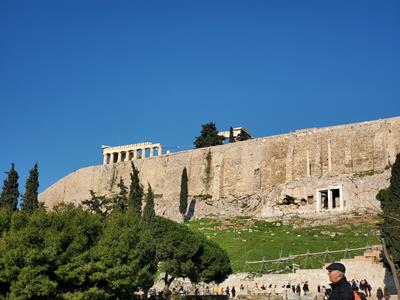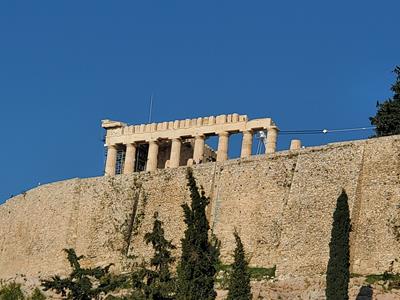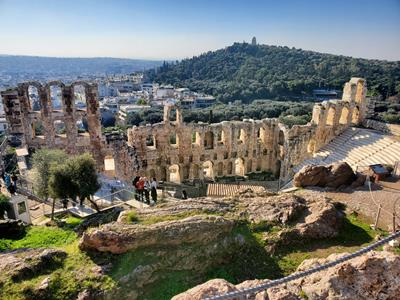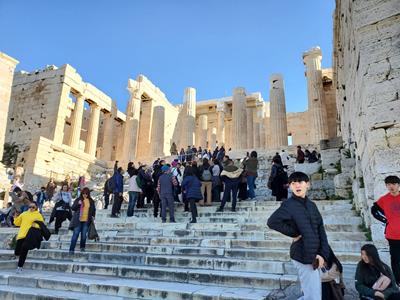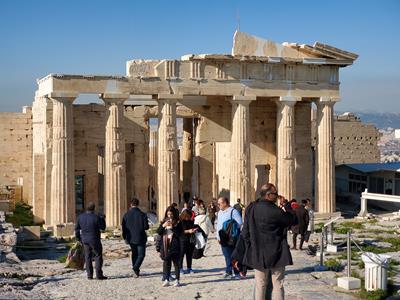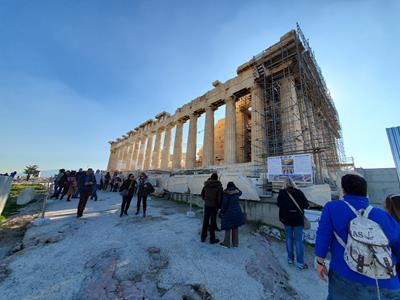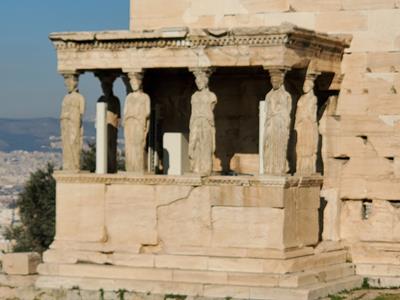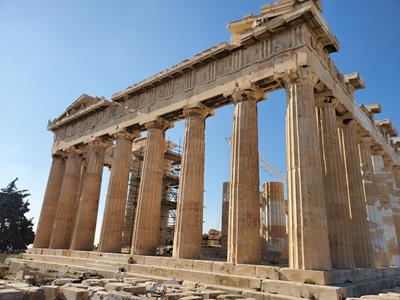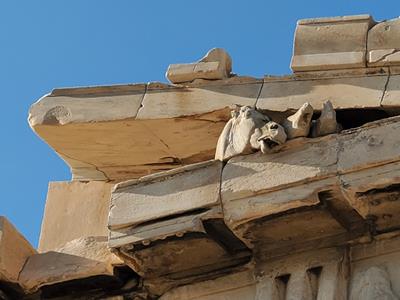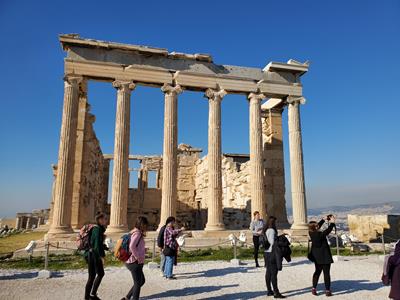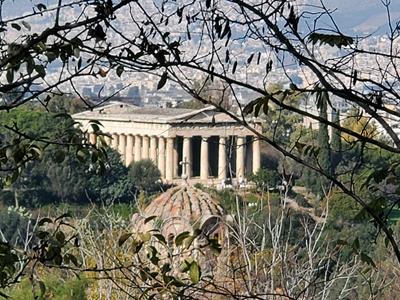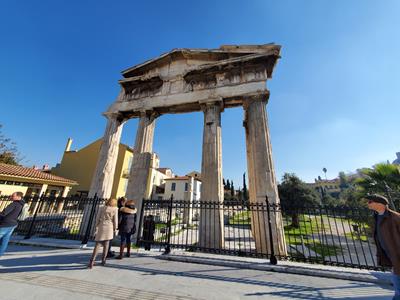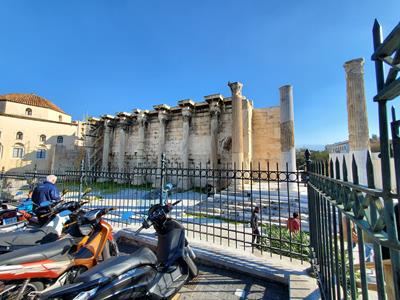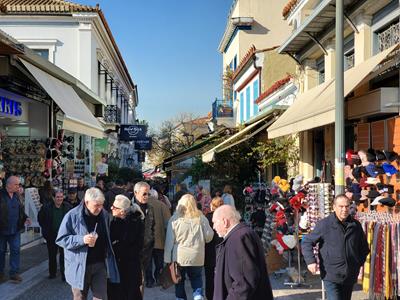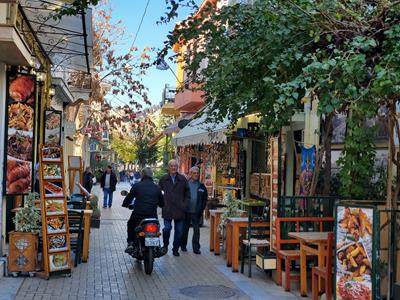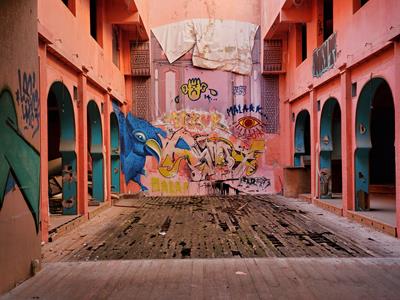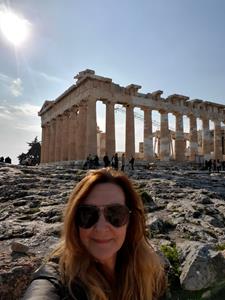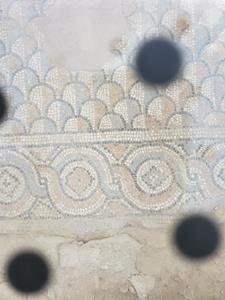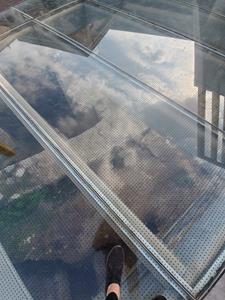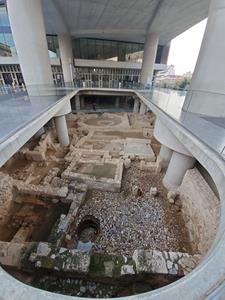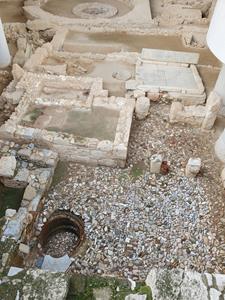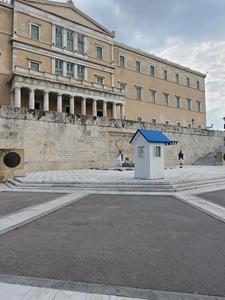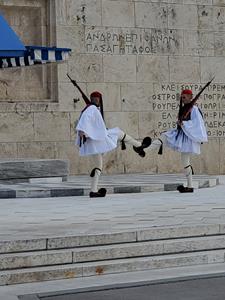 Leaving Athens, we had a couple of headlight bulbs replaced at Spicar, then headed to Lavrio to use a laundromat. We didn't stay at the port – looked too industrial, so we headed back to Porto Rafti for a couple of days, checking out a local market, some old WWII bunkers and having a nice meal at Ouki Ouki.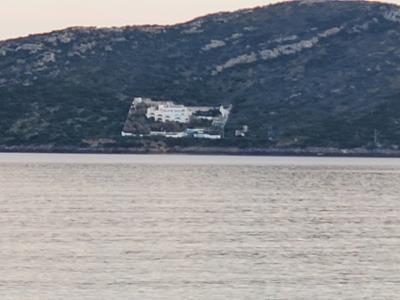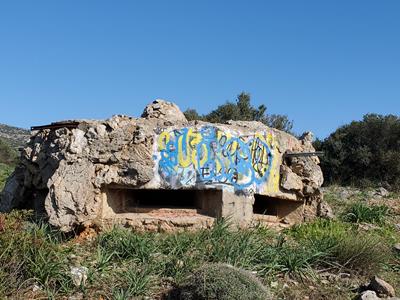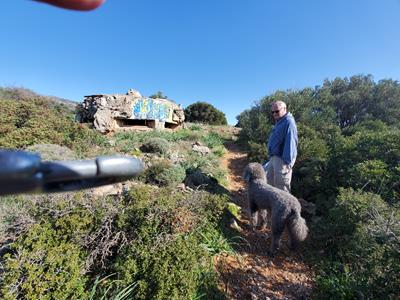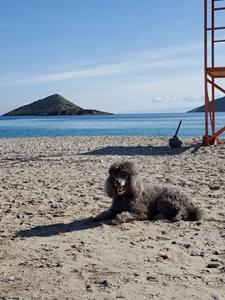 Then we woke up at 3 a.m. to get Taylor to the airport by 4 for her 6 a.m. flight to Paris /Toronto.
Odin & I then drove over to Patras, checked out the port and headed an hour out to revisit the Ionion Blu Stellplatz, but no one was there! I had been looking forward to Yurgos' squid, but instead ate backup food, charged batteries and dumped, all solo, before heading to Patras the next day to board the ferry, picking up a Poulet roti at Sklavenitis for the trip.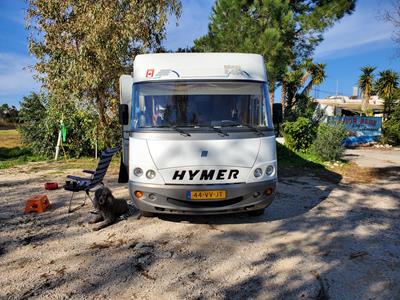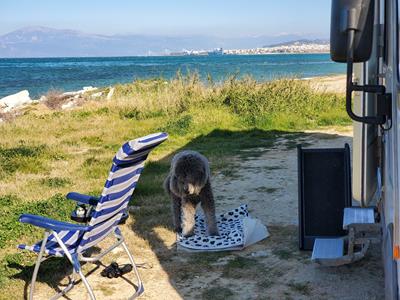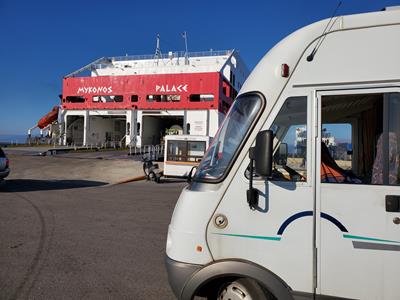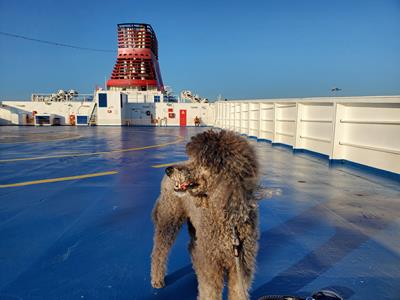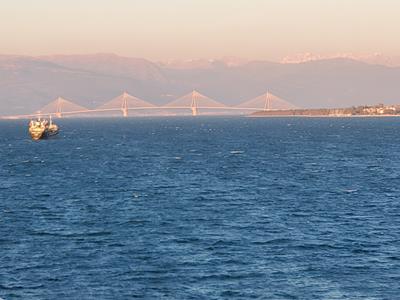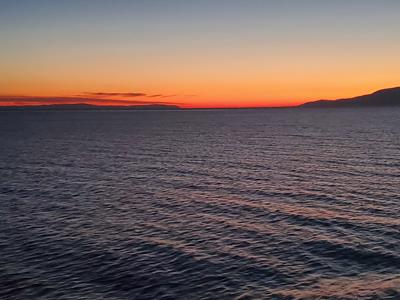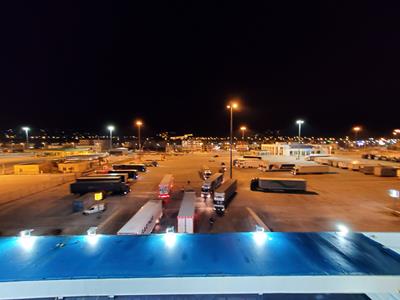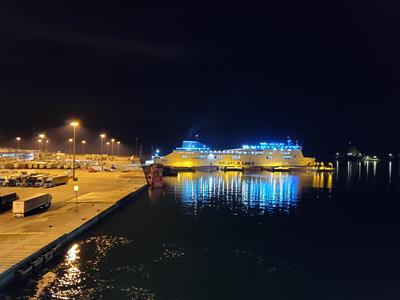 Arriving in Ancona at dusk the next day, I drove directly to the stellplatz at Castelguglielmo, only to find it closed until March! Found another stellplatz nearby at Lendinara, also with free dumping, water and electric.
Next morning I headed up through Austria over the Brenner pass in good weather...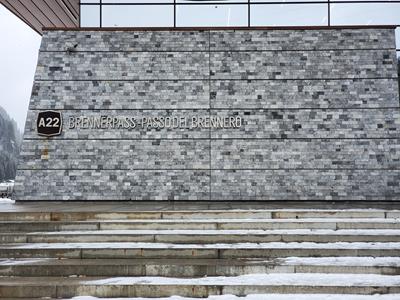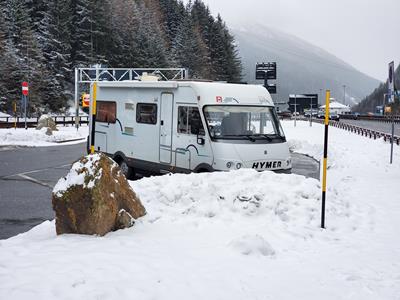 ... heading towards Bamberg, but stopped instead at the stellplatz at Gasthof Lindenwirt in Denkendorf, just north of Ingolstadt: €5 for a pitch and electric, if you eat there, which I did. Excellent Hirsch ragout.
Next day I shot over to Antwerpen, where I stayed the night at the Vogelzang Stellplatz, which has really deteriorated, eating carbonnade flammande at Dikke Mee.
Then back to Velsen Noord to stay a few days with Kees at Camping van Veen before flying back. NordZee was closed, so no kibbeling, but I did have a great pannekoeken at Uitspanning de Oase...