2021/2022 Xmas Portugal During COVID
At the end of November Frank flew into Amsterdam with Odin. KLM doesn't take dogs on its 787s but does on its 777s, so we booked our flight dates around the dog friendliness of the type of aircraft. KLM has doubled its animal in hold prices since 2019!
At this time there were a few news items about a new COVID variant circulating in South Africa, but it had yet to be named Omicron. Everything seemed quiet on the COVID front, with Portugal & Spain, especially, showing very low infection rates. This radically changed several times during this trip, injecting a degree of uncertainty into the entire trip.
Knowing there could be wild swings in the rules, border closures, etc., I aimed to leave the Netherlands immediately upon arrival and head through to Arras in Northern France on day one. Normally I'd spend a couple of days with my friend Kees quaffing Belgian beer and noshing on kibbeling, herring and pannekoeken.
However this speedy departure south was soon stymied. Smoke started billowing from the dashboard of the Hymer as Kees was heading to Schiphol to pick up Odin & myself. Then my Vodafone NL SIM card wouldn't work. So day one was spent addressing these 2 issues. Kees has a great mechanic, Jack, who dropped everything and made short work of the fuse that had started the conflagration. Thanks Jack! Then off to Vodafone in Beverwijk, where an employee solved the problem in 2 minutes (whereas Vodafone tech support had no clue! ☹ ). Too late now to head to France, so I chilled at Camping van Veen with Kees until the next day.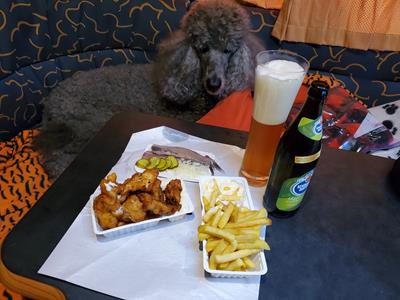 Next day I headed to Arras and stayed in a very nice Aire de Camping Car set up by the town. Perched overlooking a canal, with electric, showers and an easy walk into Arras – Odin & I strolled in that evening and the next morning...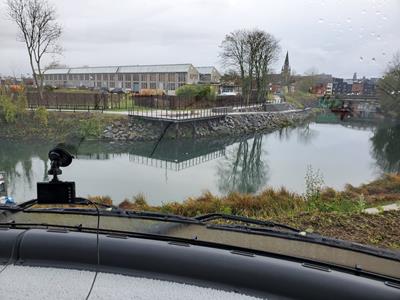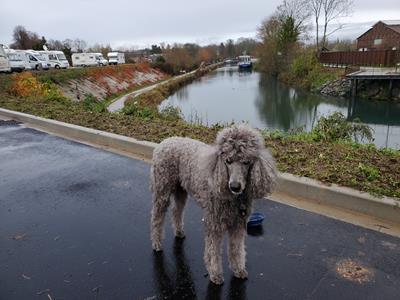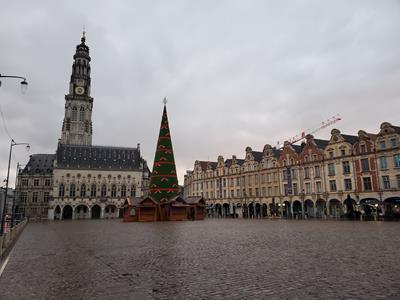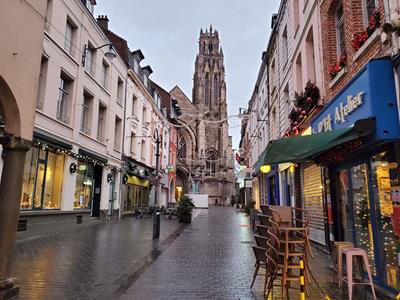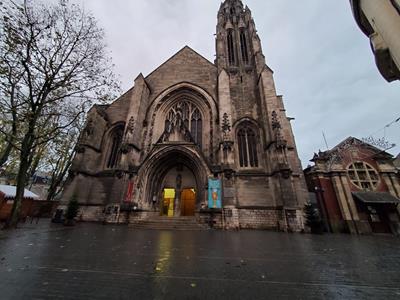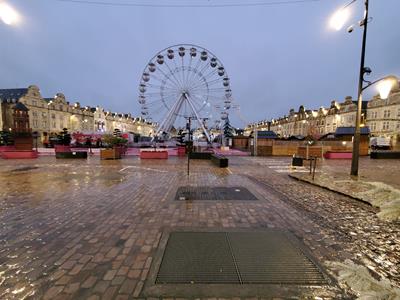 ... before heading south to stop the second night at the Aire in Chateaudun, with its imposing castle hovering directly above.
Keeping the pace, we bombed down to a few kms north of the Spanish border to rest at the LeClerc in Urrugne. Next morning I went to a pharmacie to see if I could get my Covid booster shot, but it didn't seem possible. The earliest date was a month away and they weren't sure if I'd be eligible since I wasn't Franšais…
So off to Spain, taking the A1 to Vittoria Gasteiz, then the AP1 past Burgos, to stay in an old favourite stellplatz in Palencia. This was December 1. Next day I had planned to enter Portugal, but without any warning the Portuguese announced that anyone entering Portugal must also now have a Covid test. So I spent the morning finding a lab in Palencia, got a rapid antigen test, and left for Portugal. No checks at the border, but of course if I'd neglected to get the test, I'm sure I would've been stopped!
First night we stayed at a free stellplatz just below the castle in Braganša.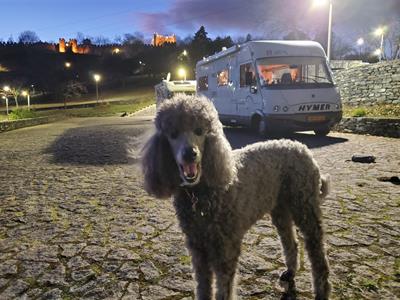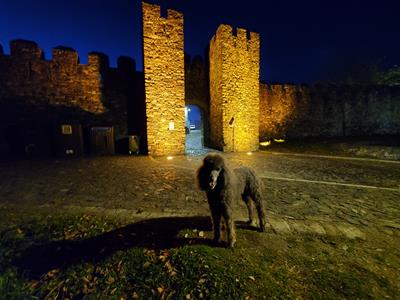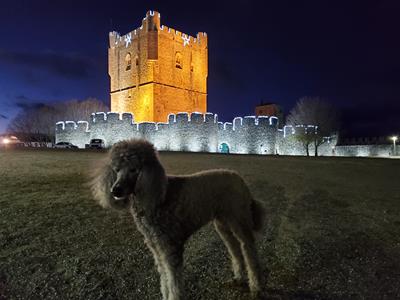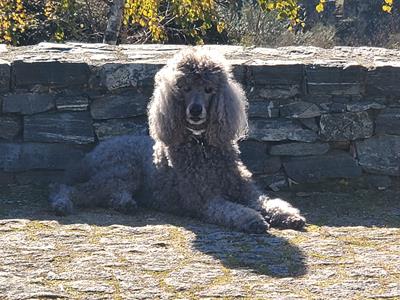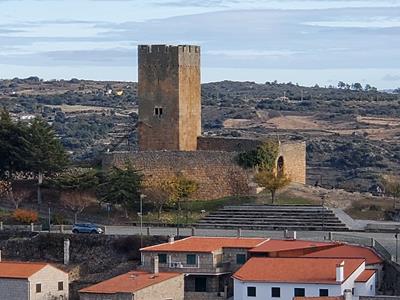 Then we spent a couple of days at a nice camping in Meda – very inexpensive and we had the entire camping to ourselves.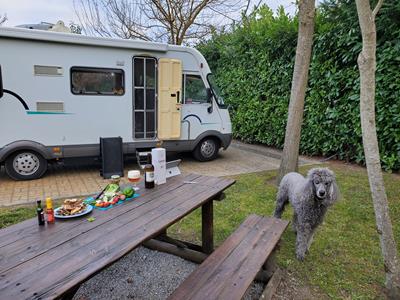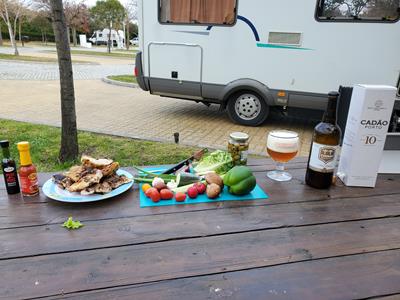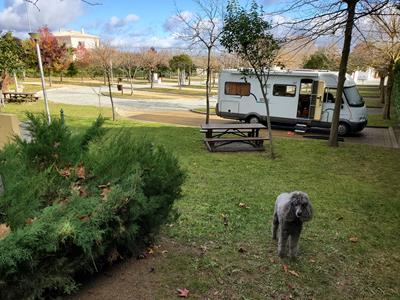 From Meda, we drove across to Figueira da Foz, where we stayed in a free stellplatz overlooking the Atlantic 10 kms south of the city at Costa Lavos. Here I met Jack & Netty & their dog Tex from NL – they had discovered a vaccine centre – we all trucked in next morning & the Portuguese gave us our COVID boosters. Thank you Portugal!!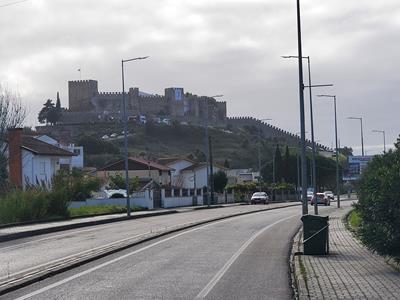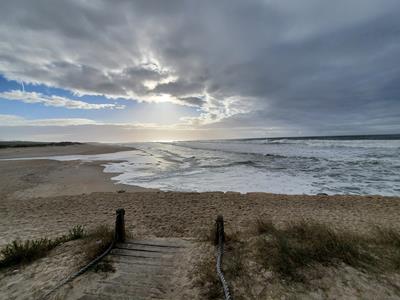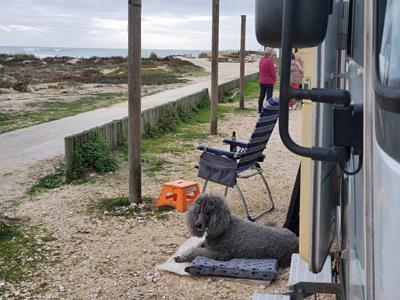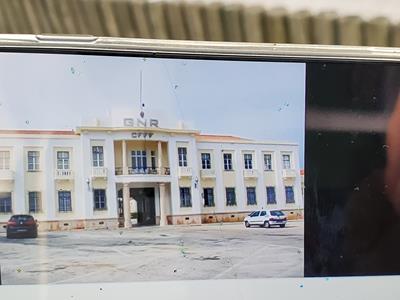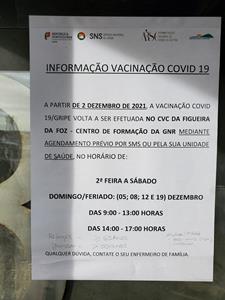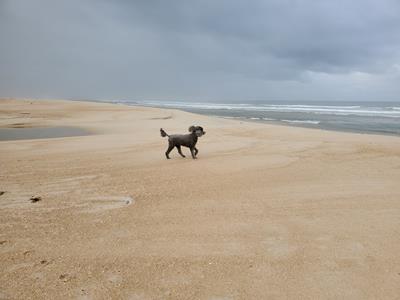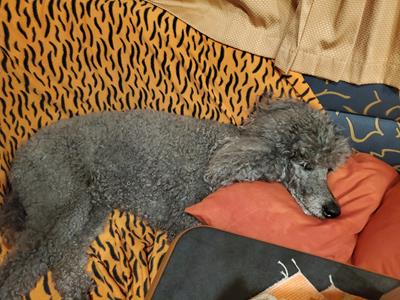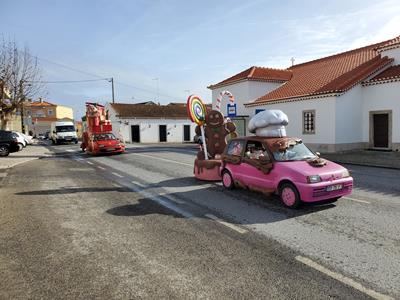 From Costa Lavos I went south to Ericeira Camping, a surf center and charming town, with a camping spot with direct views of the Atlantic. I chose this spot because there is a direct toll highway that gets me to Lisbon Airport in 35 minutes. Turned out to a great place to stay, so much so that we returned here at the end of the trip.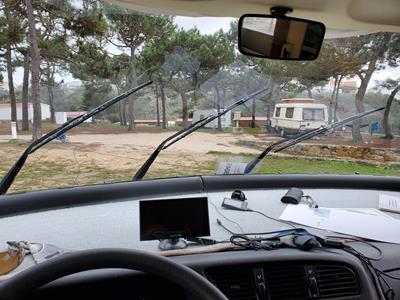 After 3 days, we drove to Lisbon Airport and picked up Taylor, then drove directly southeast, staying Taylor's first night at a free stellplatz next to the river in Alcacer do Sal, its picturesque townscape, completed by a hovering castle, just across the river – an easy walk over a pedestrian bridge.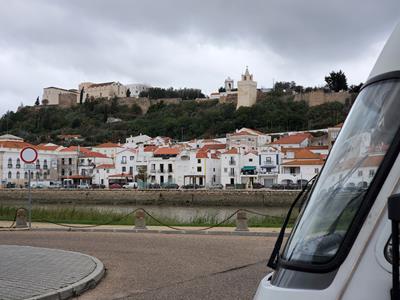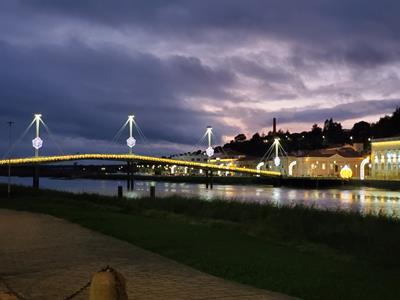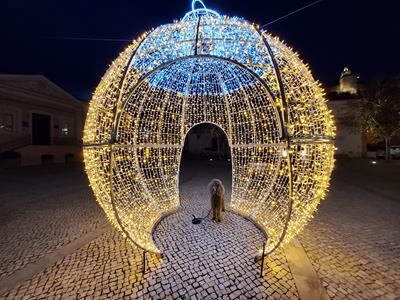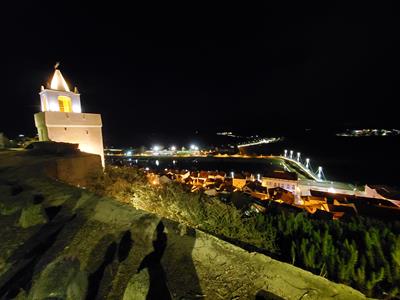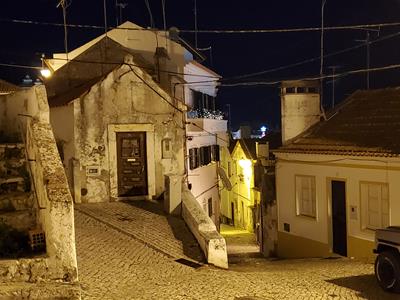 We had intended to start the trip in Manta Rota near the western edge of the Algarve, but with COVID increasing exponentially now, we instead decided to avoid the more densely packed regions and headed for an old favourite in the Alentejo, Serpa, where we stayed for about a week. Actually managed a couple of restaurant meals, sitting at a socially distanced outdoor table.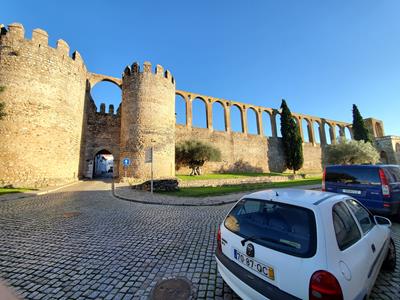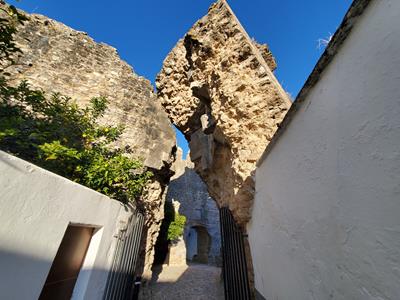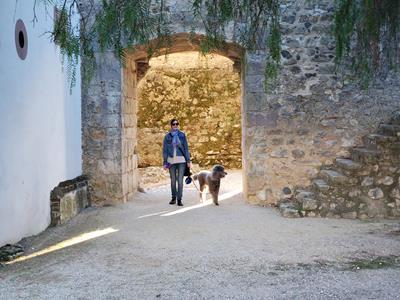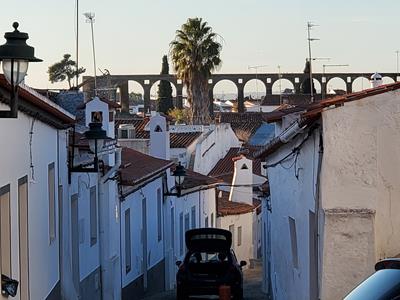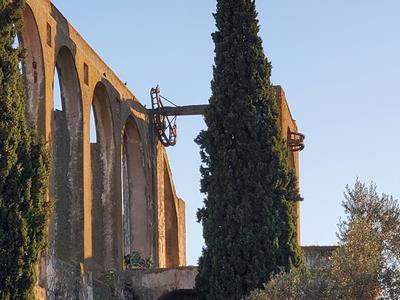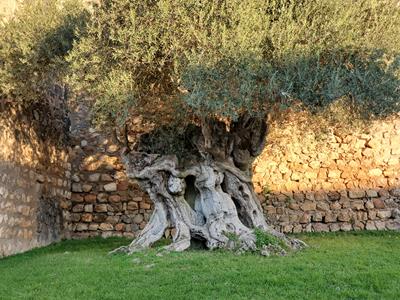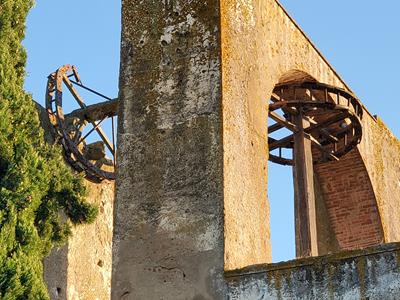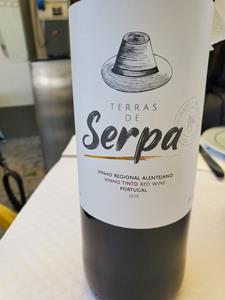 Leaving Serpa, we headed toward the coast, stopping mid way in Castro Verde, where we managed to get an appointment in a few days time for Taylor's booster – thank you again Portugal!!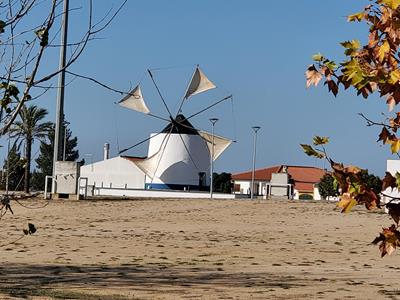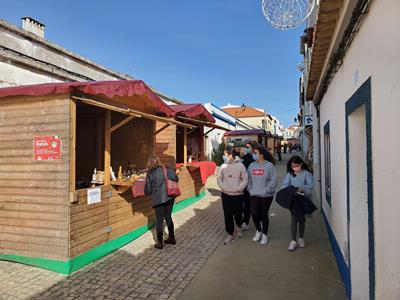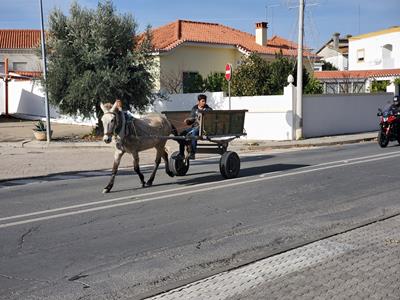 After Taylor received her booster, we drove across to Vila Nova da Milfontes, where some other campers had recommended a camping. Nice place to stay – we stayed about 20 days, largely because all of Portugal was now in near total lockdown, and if we left our campground to move to another, the next campground would require a test to get in, so we didn't want to take the chance.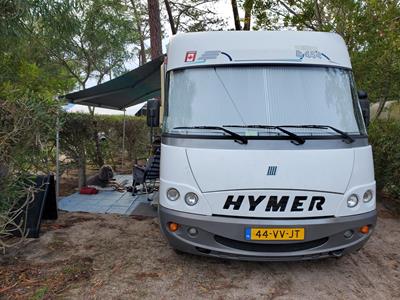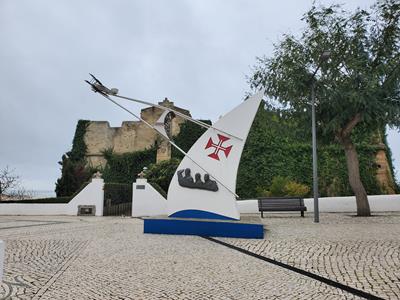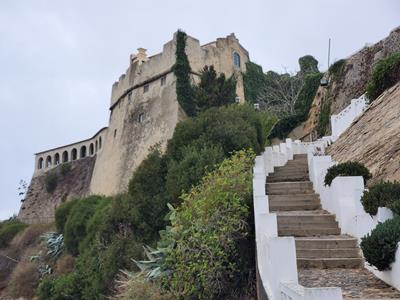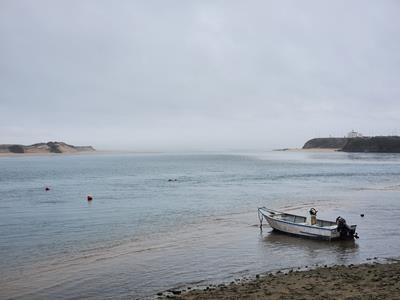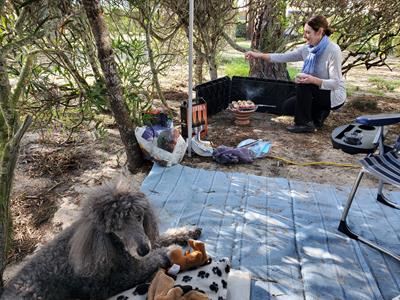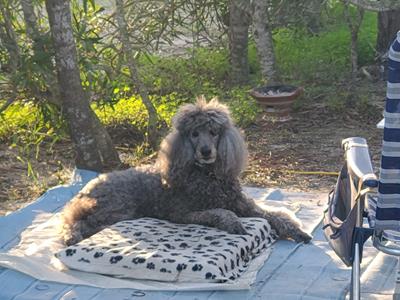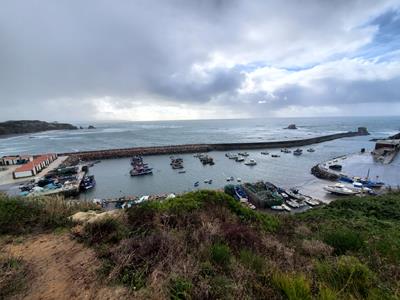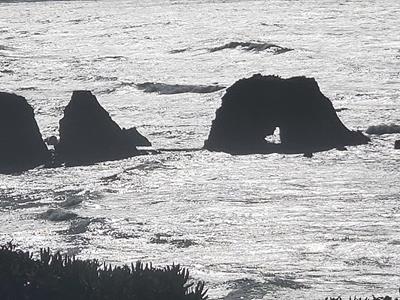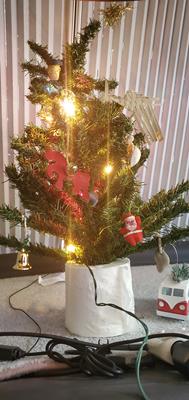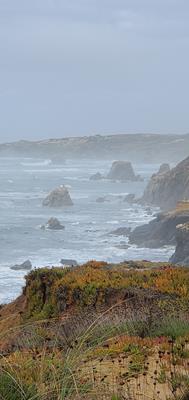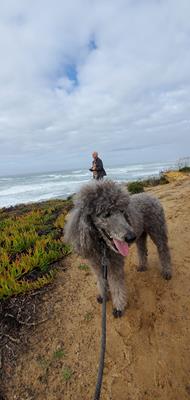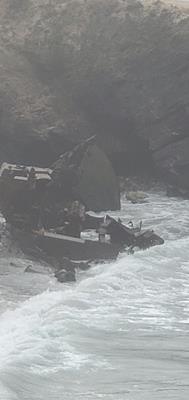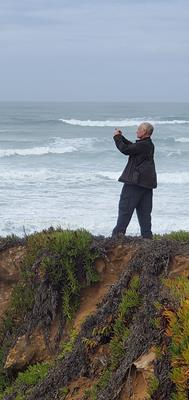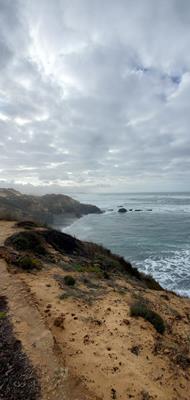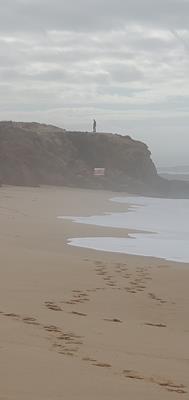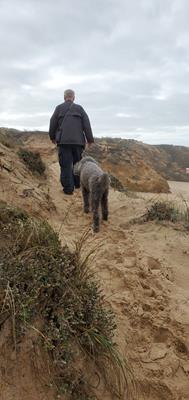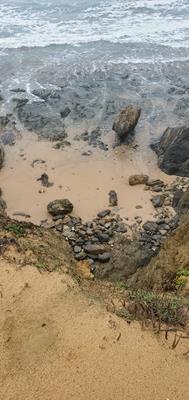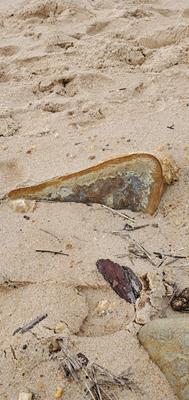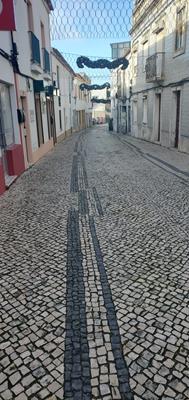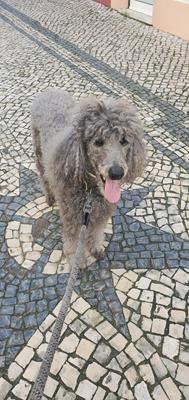 We did do a day trip to Sines to do some shopping, get a Portuguese Vodafone card and set up our text numbers with the Portuguese Health Department – necessary to retrieve our vaccination certificates – it had to be a Portuguese cell number, so my Dutch one wouldn't work. Again a very helpful group of health workers – obrigado!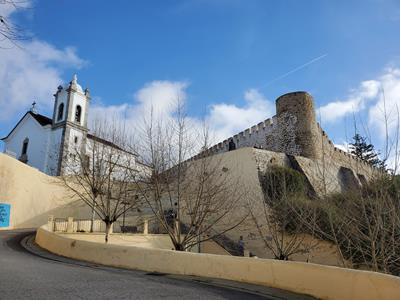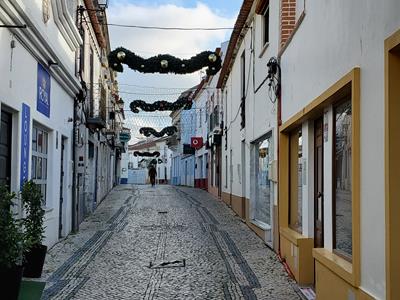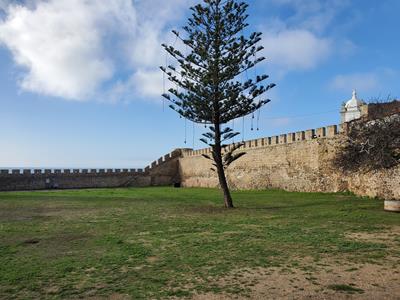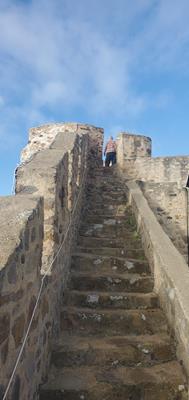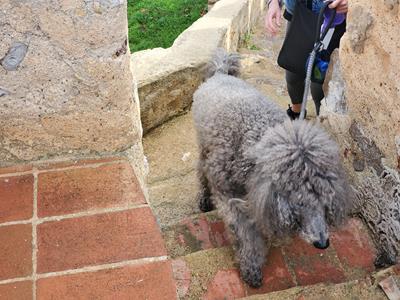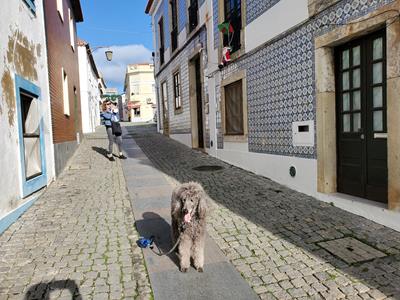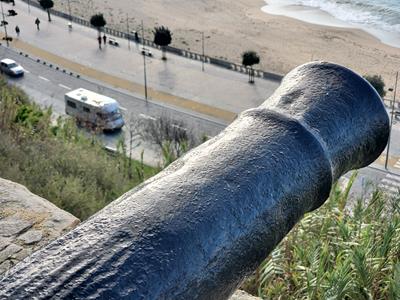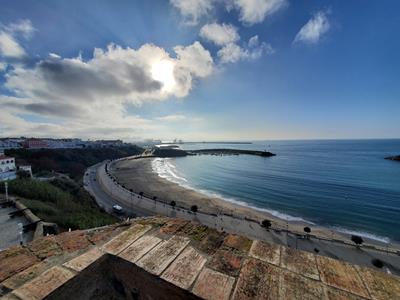 Leaving Milfontes, we stayed another night in Alcacer do Sal...

...then routed around Lisboa to return to Ericeira, to wait for the flight.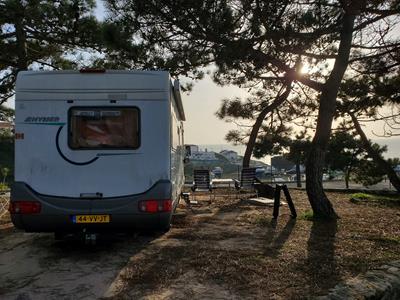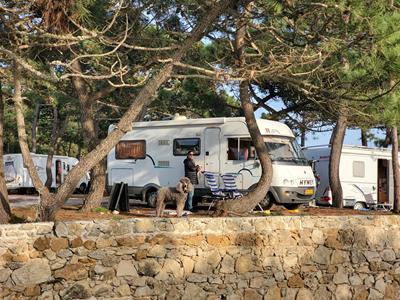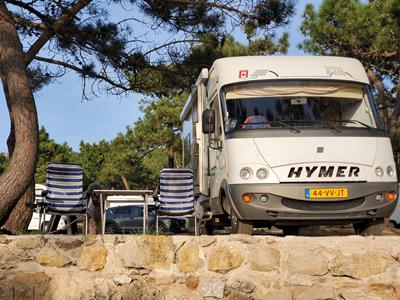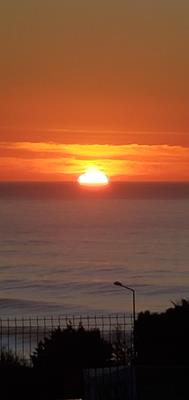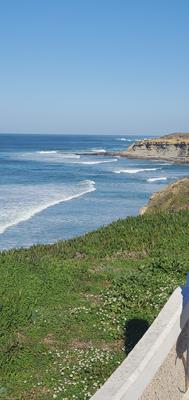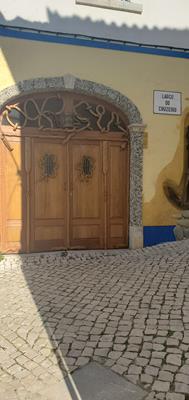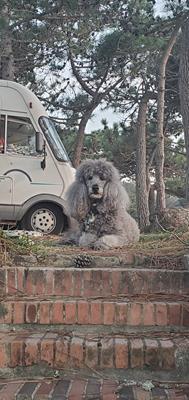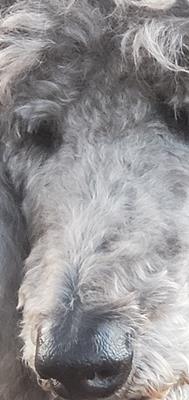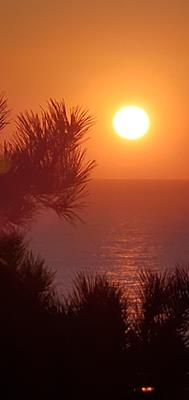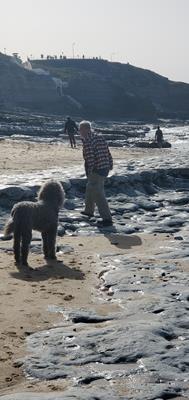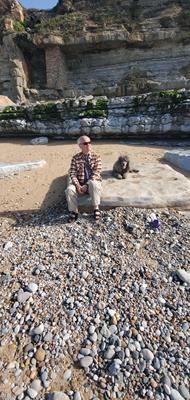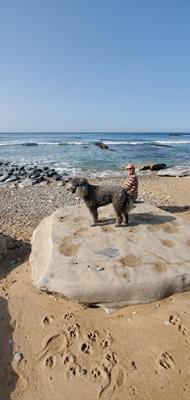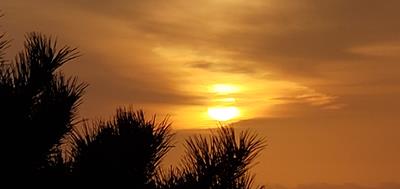 We drove into Lisbon 72 hours before Taylor's flight for the mandatory pre-flight PCR tests – and both of us tested positive! The only symptoms we can identify were of the "I think I might be coming down with a cold" level of severity. We ascribe the mildness of our infection to the boosters we had each had 2 -4 weeks prior. Without those boosters, who knows?
Anyway, we had to rebook our tickets for 10 days later, which both Transat & KLM did with no additional charges at all. Taylor had to bring Odin back, because all KLM flights available were on the "no pets in hold" 787 aircraft.
We stayed one night in the free stellplatz next to the Palace at Mafra.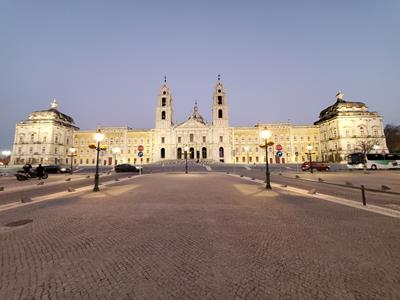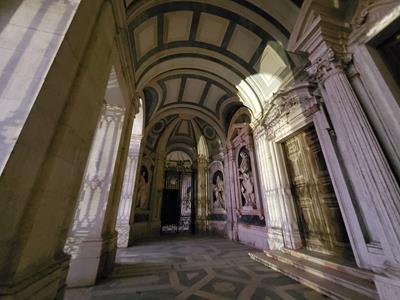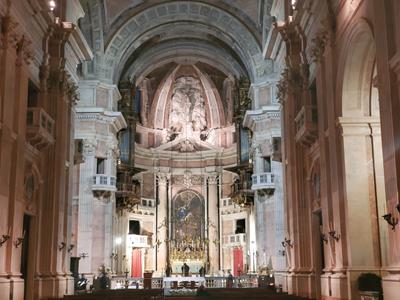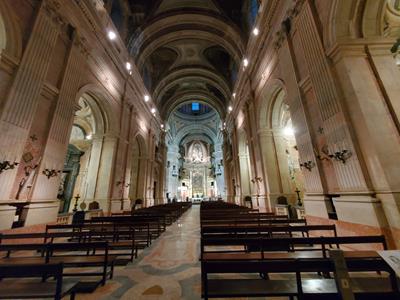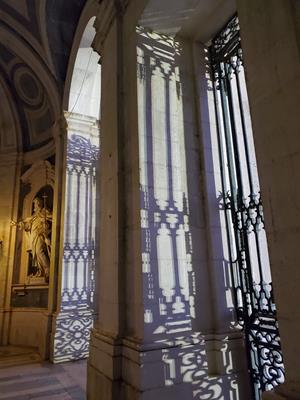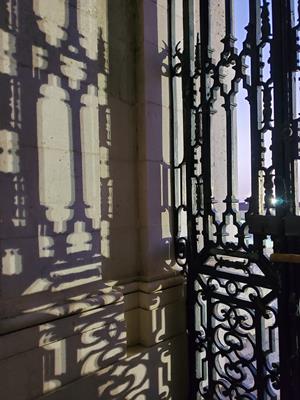 After I dropped off Taylor & Odin, I headed north, staying again at Costa Lavos.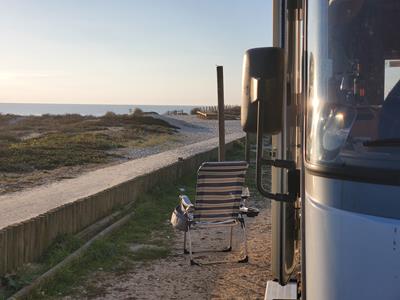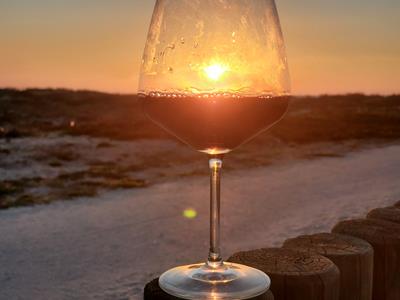 Next day I headed to just south of the Spanish border at Vila Praia de ┬ncora. Due to a missed turn, I arrived at the camping in the dark, to find it closed up, looking a little overgrown.So I then routed to the stellplatz and ended up driving in the dark through several kilometres of one-Hymer wide roads with stone fences and stone building on either side. Something caught the side of the Hymer, with minor damage to a few inches of the vertical rain gutter.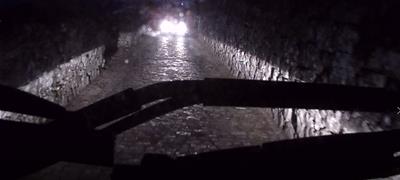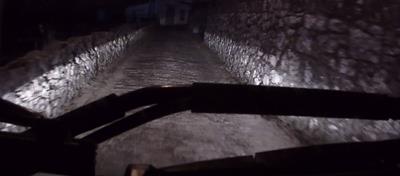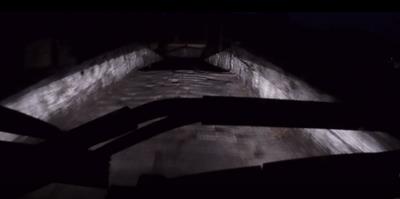 Entering Spain, I drove through Galicia, staying in a free stellplatz in Foz …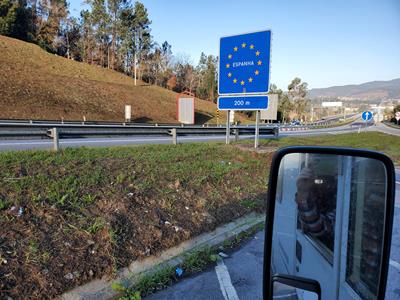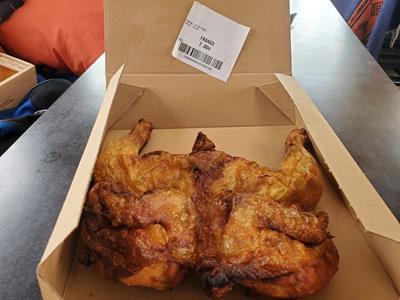 …then driving across past San Sebastien to stay at the ruin of an old fort on Monte Jaizkibel, just south of the French border.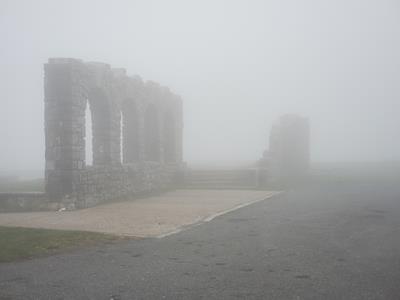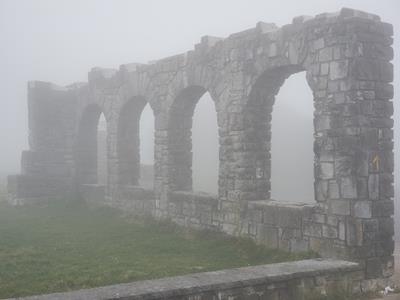 Next was a sprint through France, stopping next to a river/canal in Abbeville...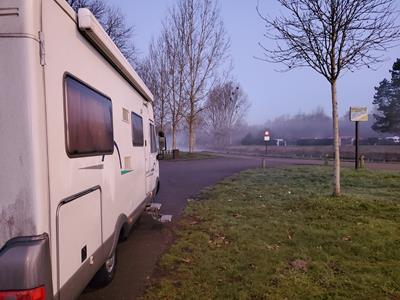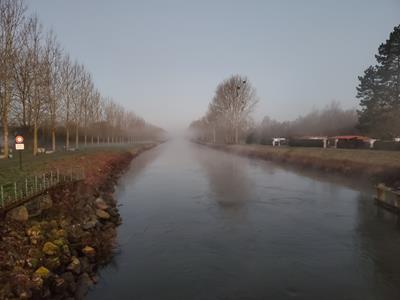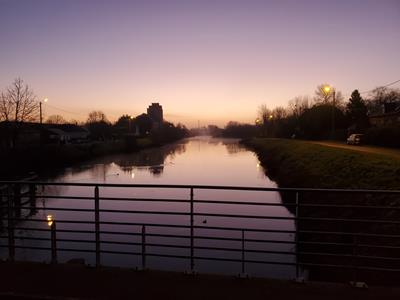 ... and the requisite stop in St Riquier for the best pain au raisin in France ...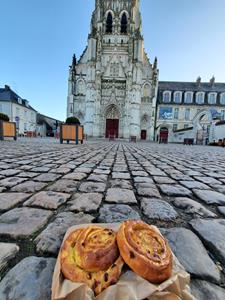 ...before returning to Kees' to await the flight home.