2019 France
Kees and I co-ordinated picking up Taylor & Odin at Schiphol in the Hymer. Taylor toured Kees' new house - currently a work in progress - then we headed for the Nordzee Pavilion in Ijmuiden for Kibbeling and Haring.
Next day we set out towards France, stopping at 2 Divoza stores where Taylor investigated riding boots, then headed right around Atwerpen, with the obligatory stop at a Carrefour Hypermarche, before settling into a rustic stellplatz in the country along the River Scheldt at Bornem.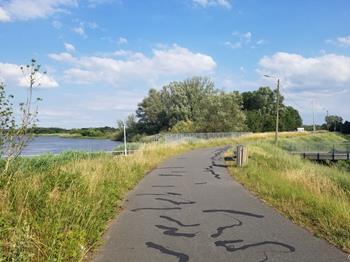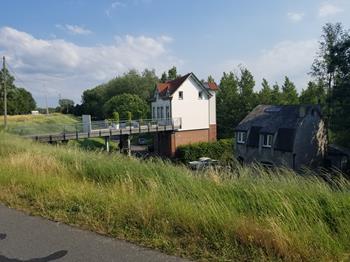 Next day we headed into France, staying the night at the camping in Abbeville, returning to Saint-Riquier the next morning for the best pain au raisin in all of France!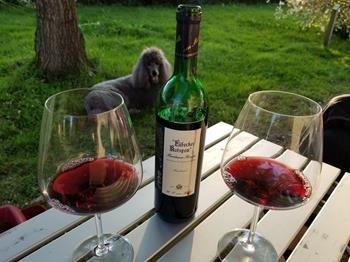 After Saint-Riquier we took the 928 to Neufchatel en Bray, before hooking up with the A28 Autoroute into Rouen, where we stayed the night overlooking the Seine right in the centre on Ile Lacroix. Strolling through the delightful Rouen, a maze of pedestrian streets, half-timbered medieval houses, a grand cathedral, steeped in history, we tried to find a place to have le Canard Rouennais with no luck - even La Couronne wasn't serving it that night!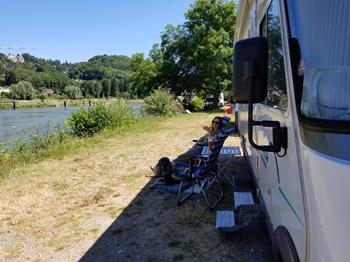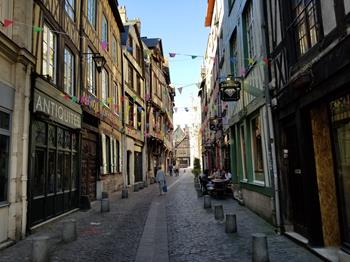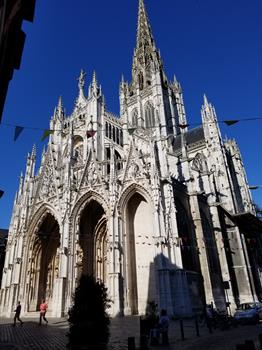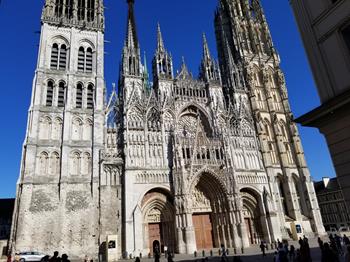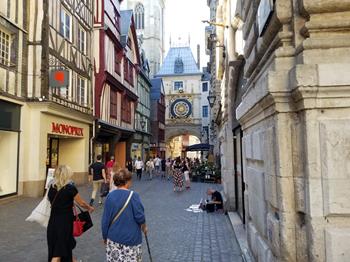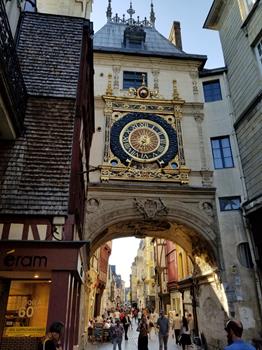 From Rouen we stayed in the tiny Norman village of Herouvillette, which has set up an 8 motorhome aire next to a small brook. We had a delightful conversation with the mayor and enjoyed our stay immensely. One of the "small moments" that make a trip.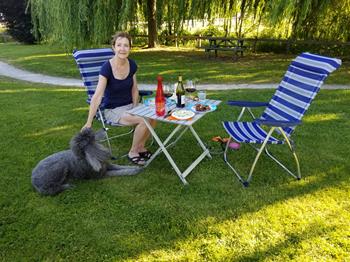 From Herouvillette we looped around Caen to Bayeux, which had a "Medieval" fair going on, with a dash of "Game of Thrones" tossed in for good measure. Had a great lunch of pork, beans, cheese dessert and cidre at an outdoor tent with a medieval group playing next to us. We had planned to stay longer, but it was too hot in the parking lot style (albeit very central) stellplatz,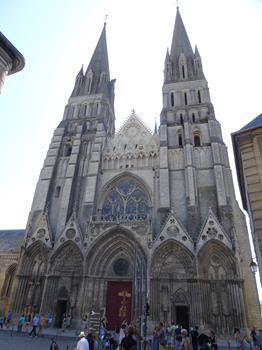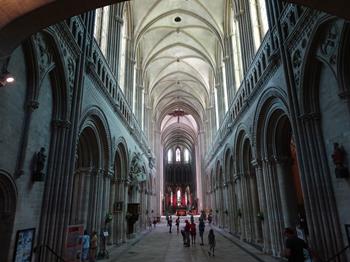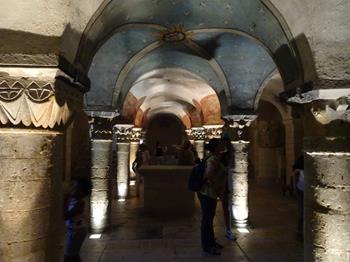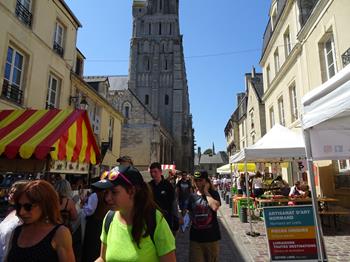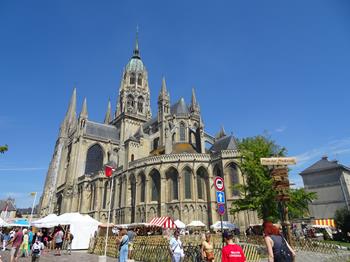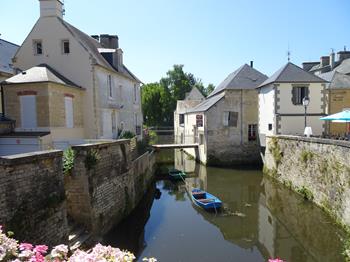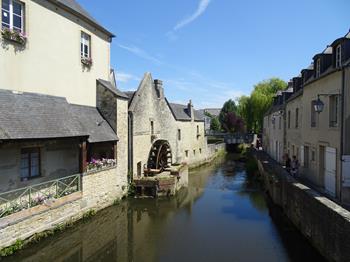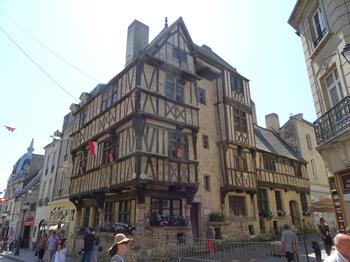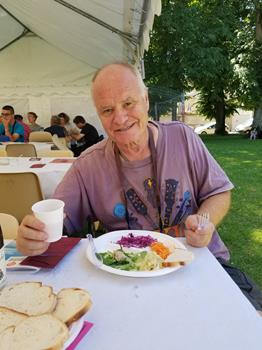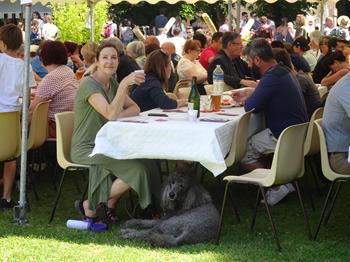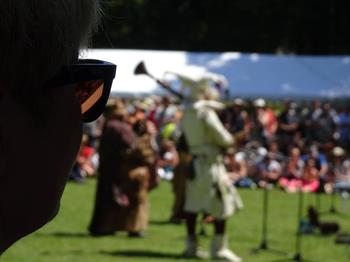 so we decided to head 8 kms. north to coast in search of a breeze, landing at a free stellplatz right on the English Channel at the Batterie Allemandes at Longues-sur-Mer, overlooking the water and the "Artificial Harbour" (Port Mulberry) at Arromanches-les-Bains.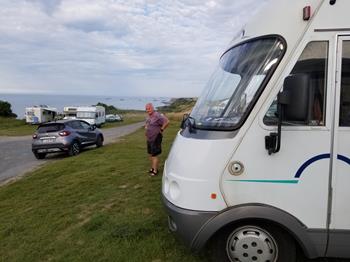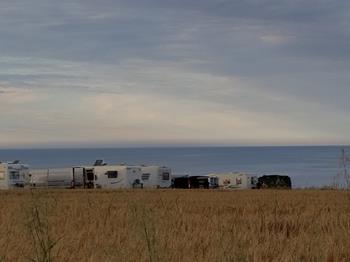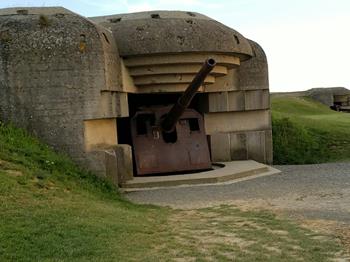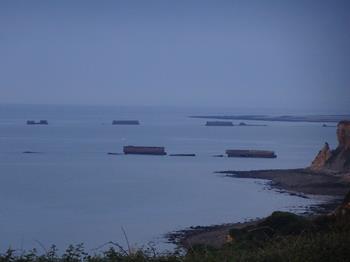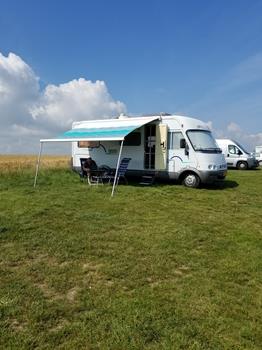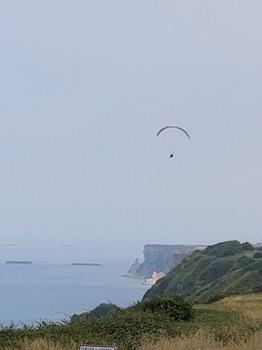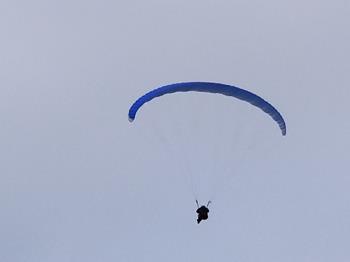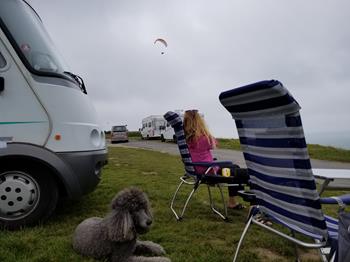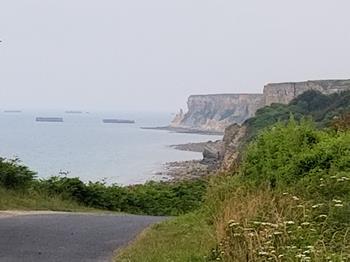 Next day we drove into Brittany to explore the imposing castle town of Fougeres, where we stayed overnight in the Municipal Camping.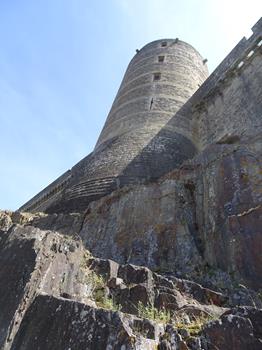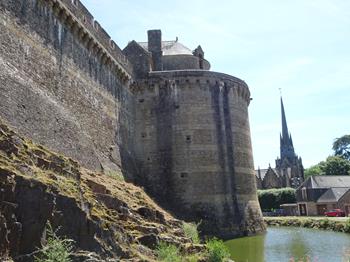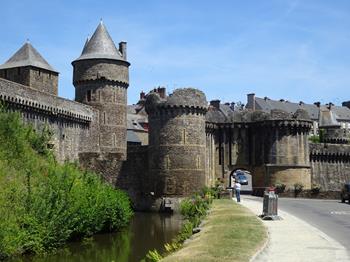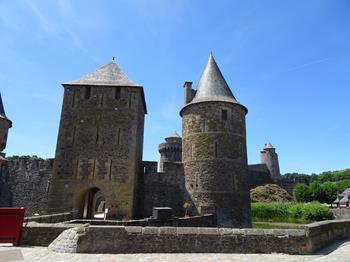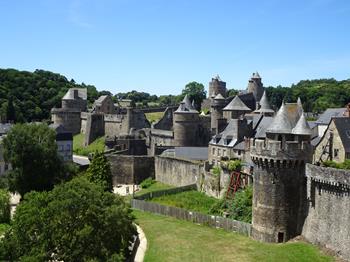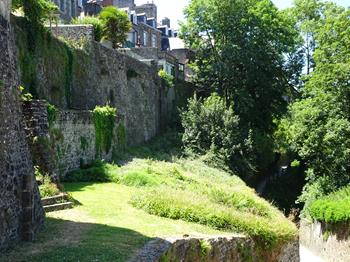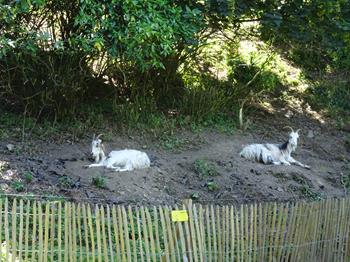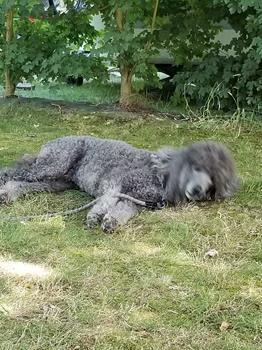 Leaving Fougeres, we drove past Mont St Michel to Cancale, to spend the night after a lunchtime repast of their famous oysters, purchased from a hut on the beach and eaten overlooking the harbour.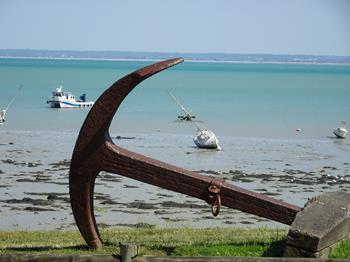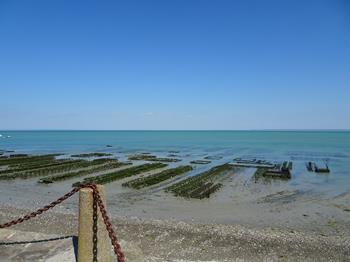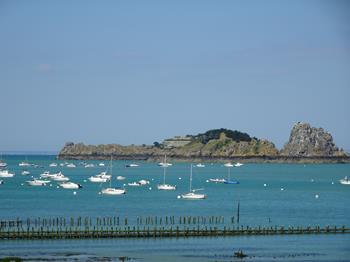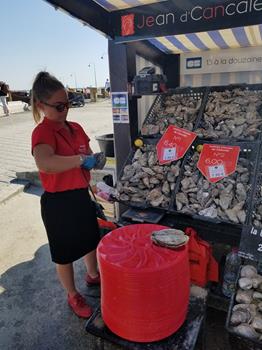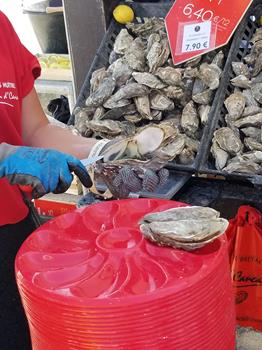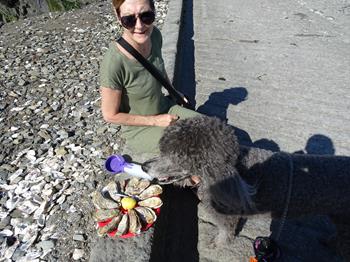 After spending the night in Cancale, we ventured forth to St. Malo, strolling the town, picking up some "Attention Chien!" signs and eating a great meal of fish soup and agneau pre sale at the Chateabriand Resturant.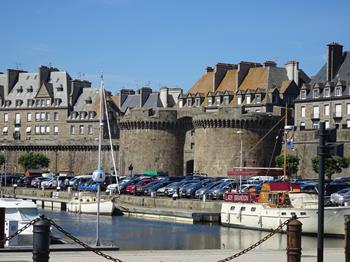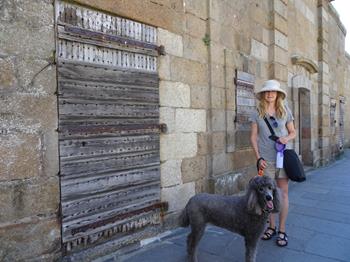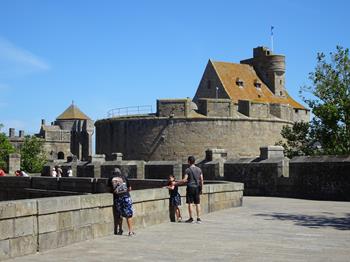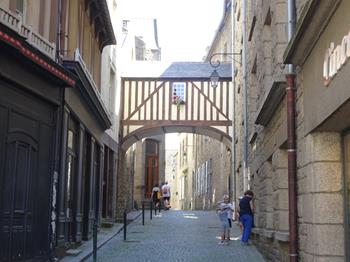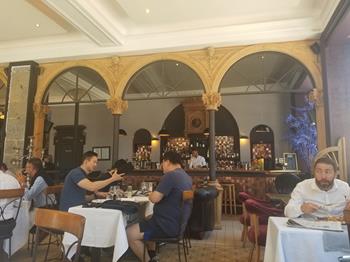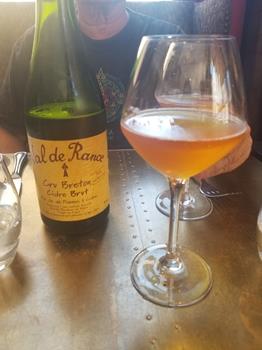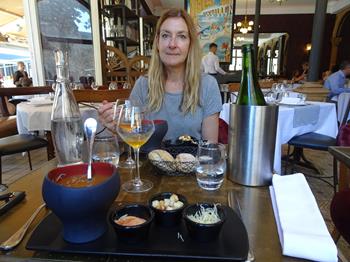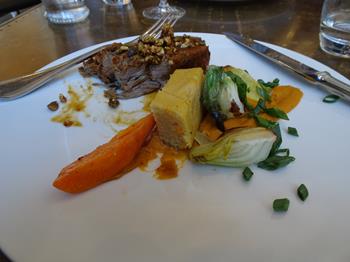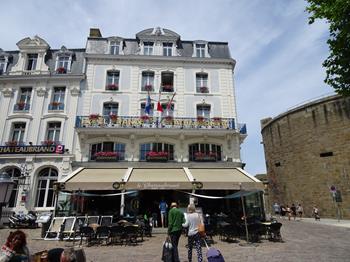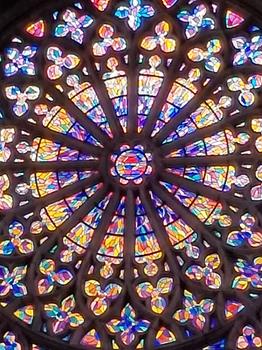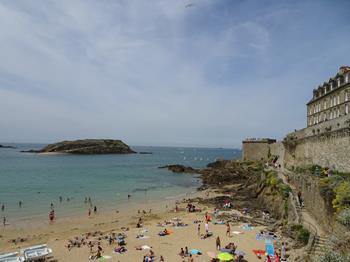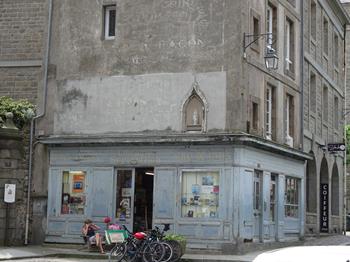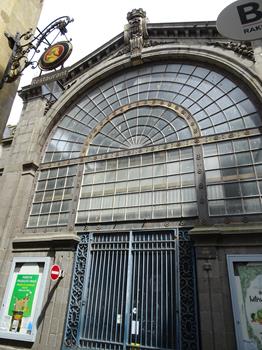 Then we headed down to Dinan, 20 kms south, to stay the night in a stellplatz in the old port, walking up to the old town. Next morning we explored the port, walking up another street of half-timbered houses to the old town again, returning to eat delicious Galettes overlooking the port at the Bords de Rance.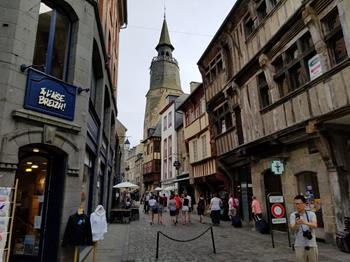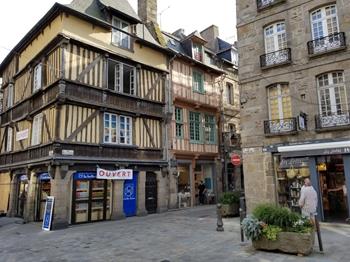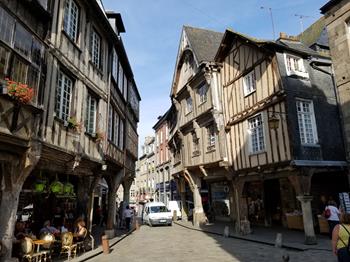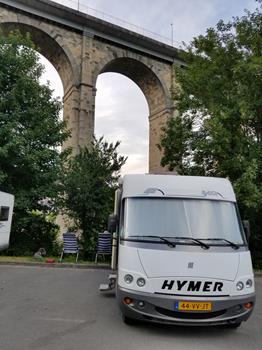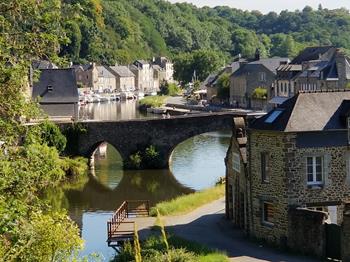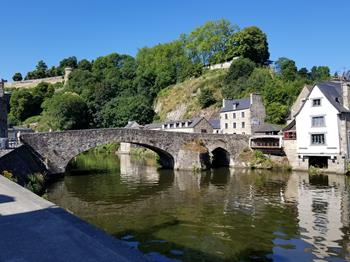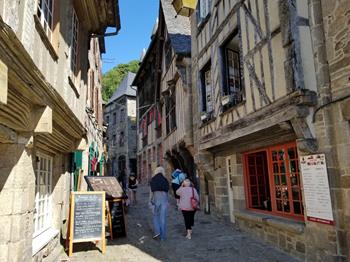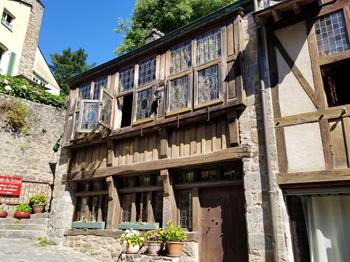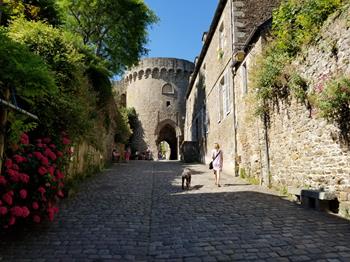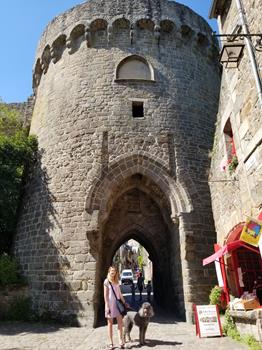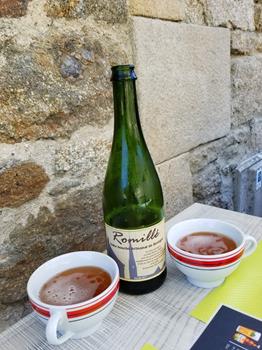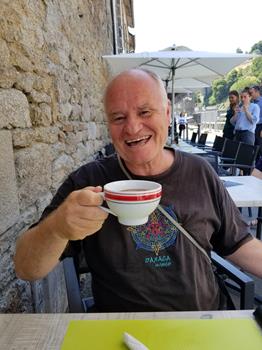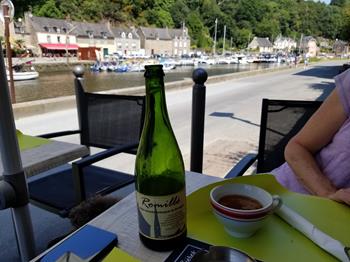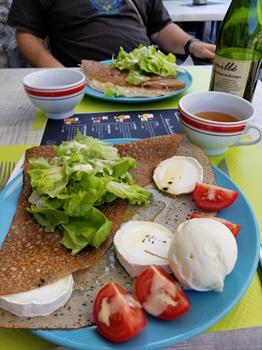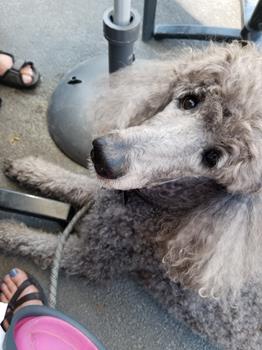 Heading out, we sought the source of the cidre that we had imbibed in St. Malo ("Val de Rance"), a co-operative halfway between Dinan and St. Malo. Picked up an assortment of a couple dozen bottles of cidre for the trip.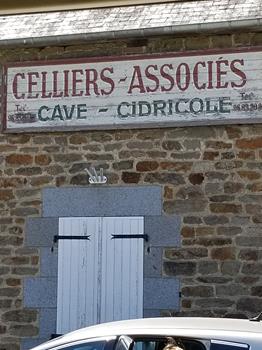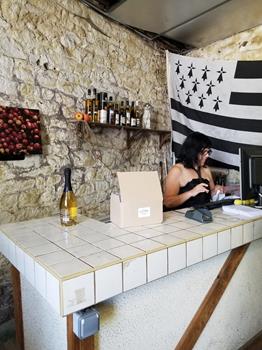 A trip along the Cote Emeraude landed us in the Municipal Camping near Port Equy, with a view over the water, past wind-swept trees, a petit Isle Saint-Michel, the Cap Frehel lighthouse looming mysteriously across the bay.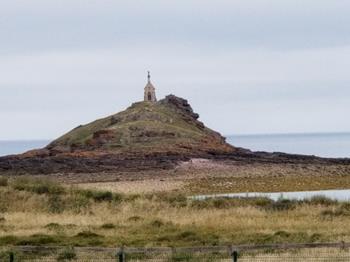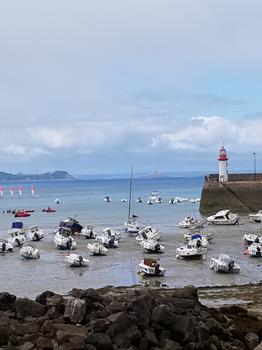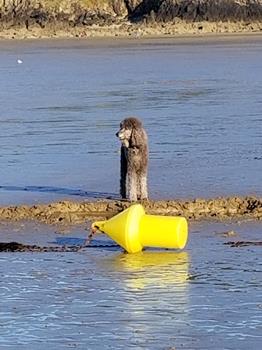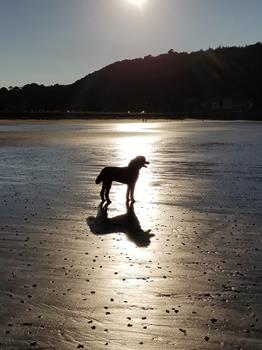 Next day we drove down to St. Brieuc, a very tired working city with a bizarre elevated road seemingly supported by the building on the street over which it passed.
We then drove up the Goedic coast to stay at Plage Palus, overlooking the water & boules courts, having a lunch of Galettes with local scallops, Noix de St. Jacques. We had planned to stay here until Monday, getting us past Bastille Day, but the local pompiers needed the motorhome aire for Bastille day, so all 20 motorhomes were asked to move for the day. We found another aire near Plouha/Lanloup that had us perched with a panoramic view 80 ft. above the bay. Walking down a half kilometer path brought us to the small port of Brehec, where we ate lunch at Chez Tonton - great Moules de Bretonne and a seafood platter on Choucroutte!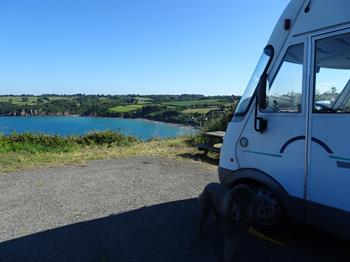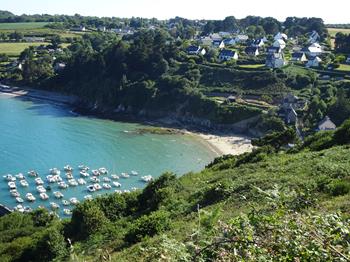 Next we drove down to Saint-Thégonnec and visited the Enclos Parossial, a type of church development found throughout this section of Brittany, featuring a grand gate, walls,an ossuary, an ornately sculptured "calvary" and ornate church interior.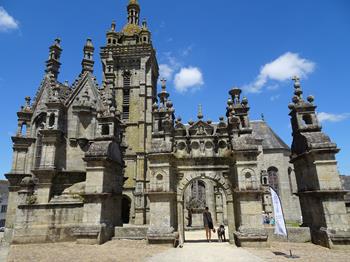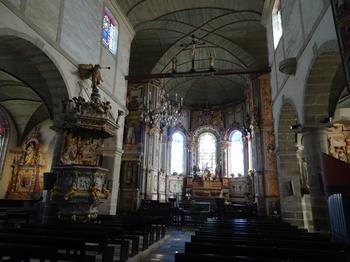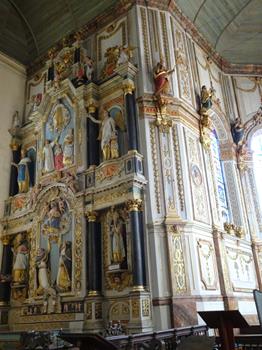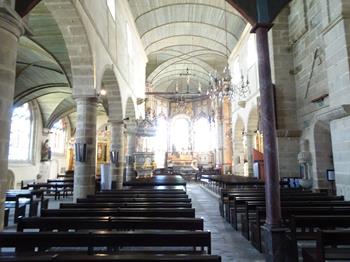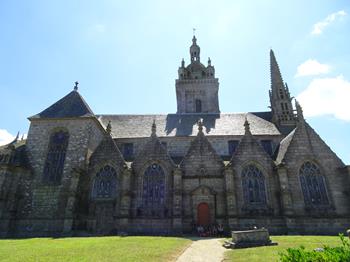 Winding through back roads, past another Enclos,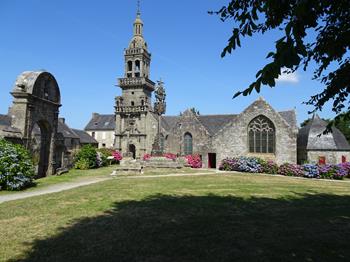 we landed for the night overlooking the water near Le Fret at Camping Gwel Kaer.
From there we went to the Municipal Camping in Quimper, toured the town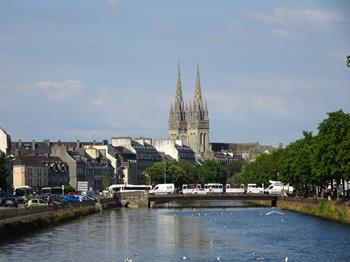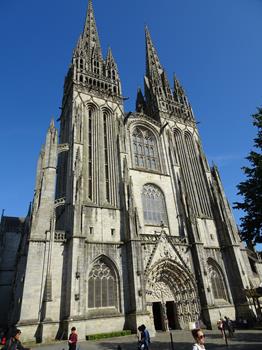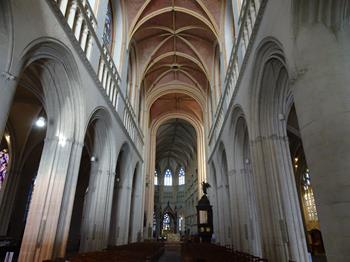 and next day went into Old Concarneau for a delicious seafood Lunch at Porte du Vin,
followed by snagging the last motorhome spot at the Nevez free parking on the Beach!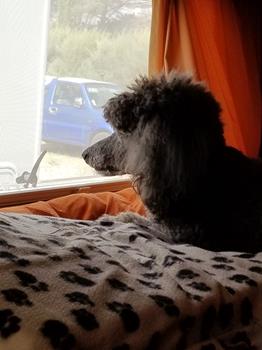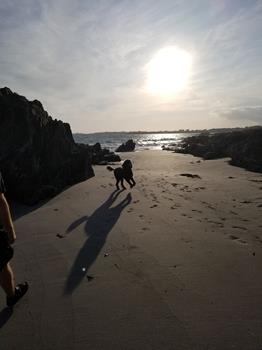 Then revisited Carnac...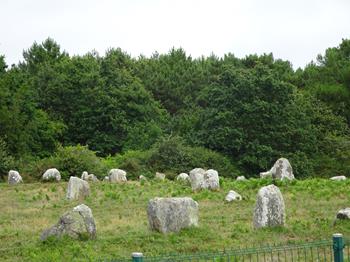 After strolling through Vannes,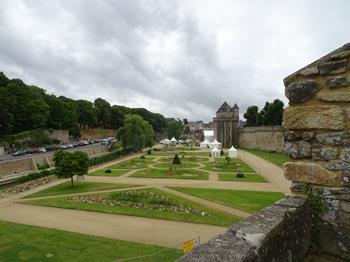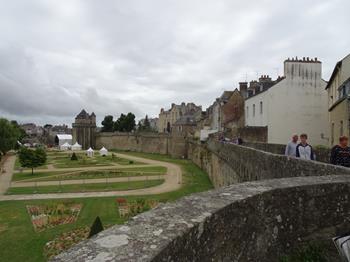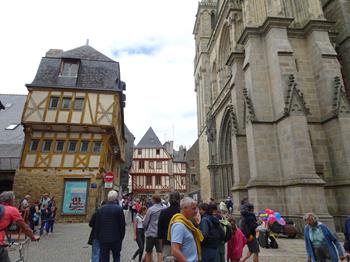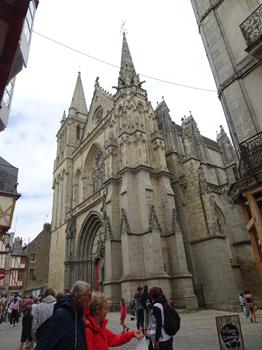 we found a great spot at the edge of a wildlife preserve, next to a marina at Garenne, Séné. Took a walk along the GD34.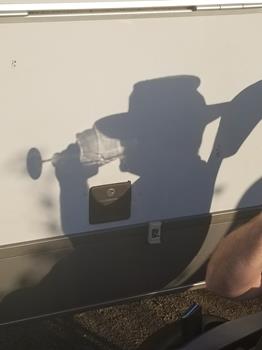 Next day found us buying Kouijn Amaan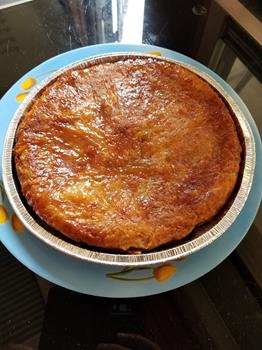 and touring the castle at Suscinio...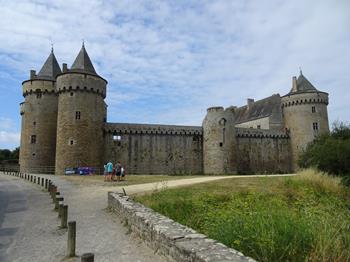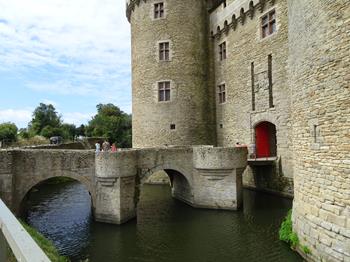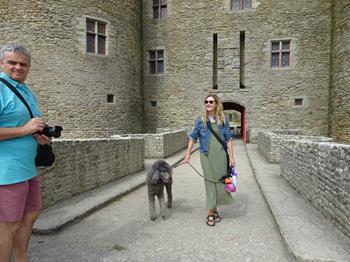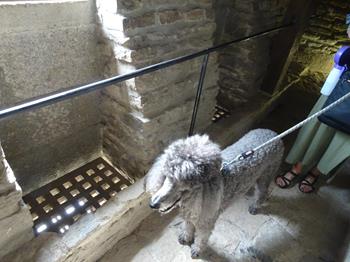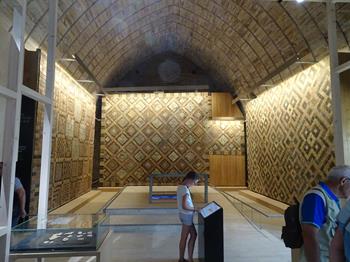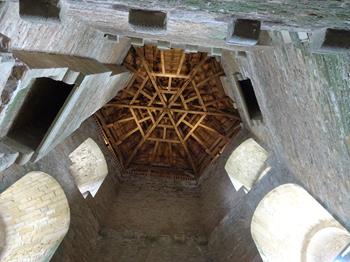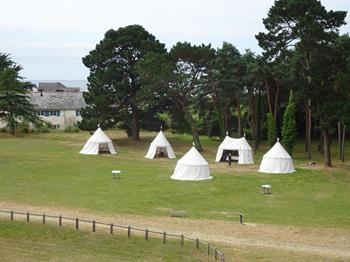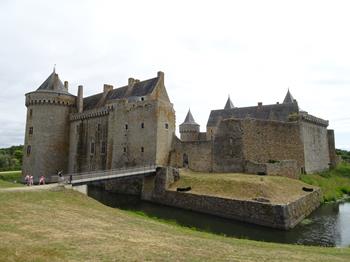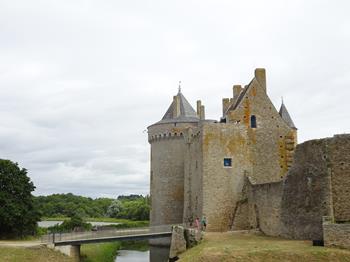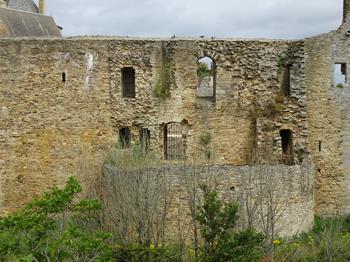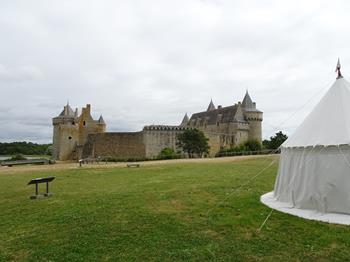 followed by a drive around the Golfe de Morbihan, finishing off next to the beach at the Aire de Camping Car, Sarzeau.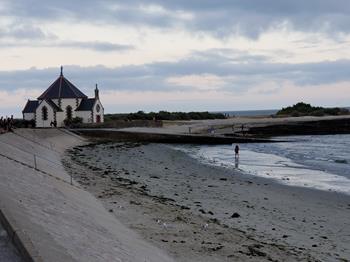 Deciding to leave Brittany, we headed around Nantes to the Loire, staying 2 days at the municipal camping right on the river at Ingrandes. Odin refused to cross the bridge, so we didn't make it into town!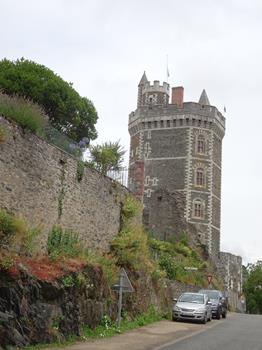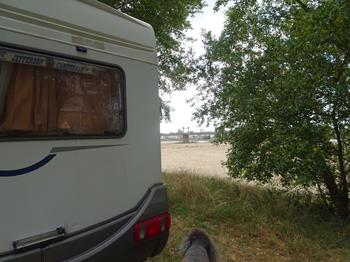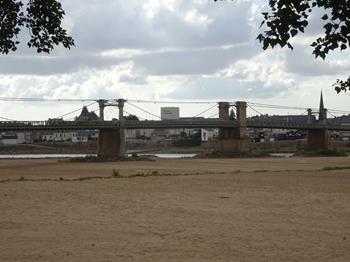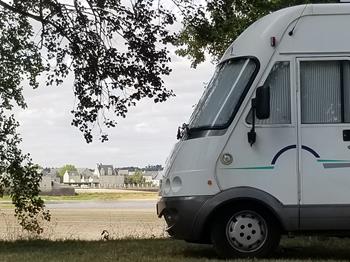 Our intention was to head along the south side of Paris along the Loire, but a heat wave was approaching, so we traded the 42 degrees of Amboise for the 26 degrees of the north Brittany coast and headed for the area above St Brieuc, staying first at a great stellplatz at L'Arcouest, overlooking the dramatic coast of the Isle de Bréhat, then deeking over to the Pink Granite coast, staying at the Camping at Louannec,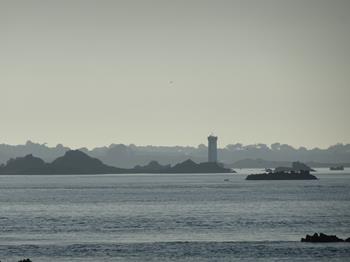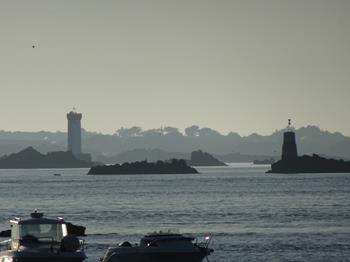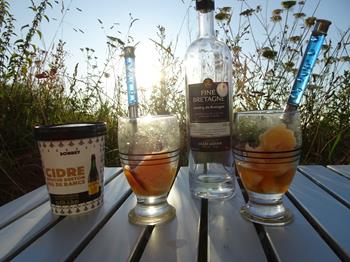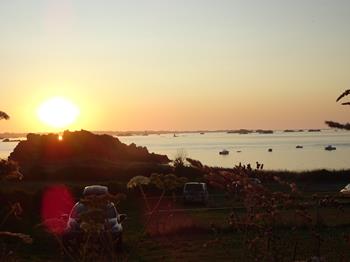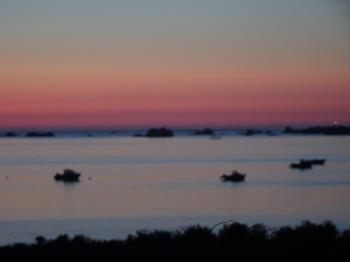 before returning to a favourite spot at Bréhec. We walked along the coast about a km, seeing that a second stellplatz had better views, we hurriedly packed up and moved over!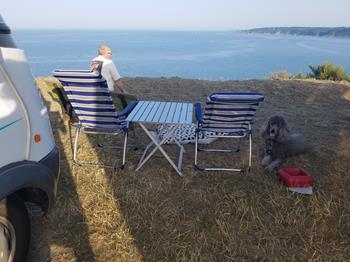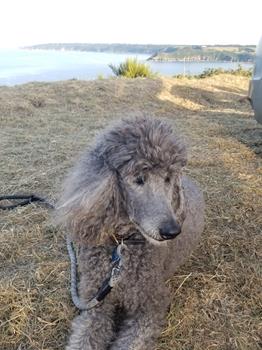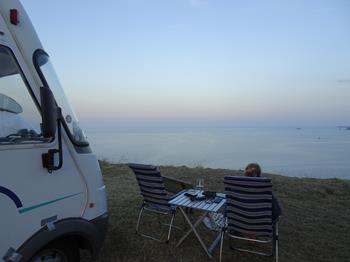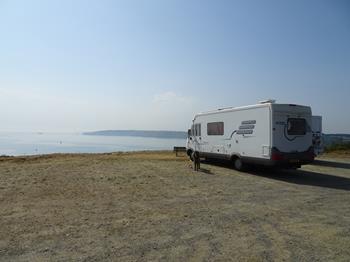 Leaving Brittany, we drove back into Normandy and revisited Longues-sur-Mer, this time visiting Juno Beach.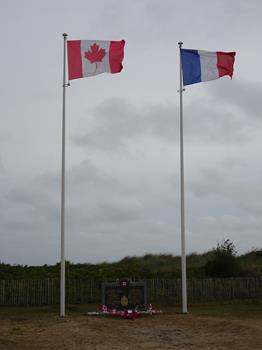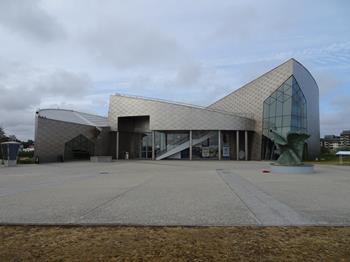 Then we drove through Normandy to stay north of Rouen at Mesnières en Bray.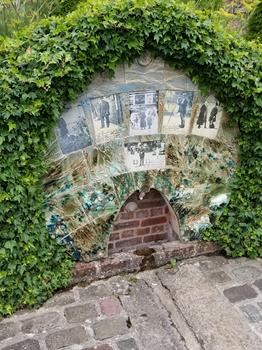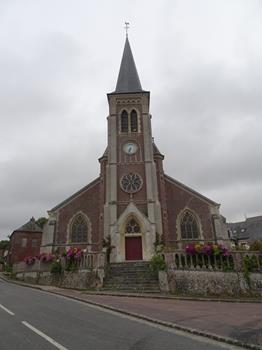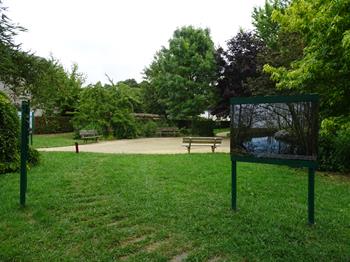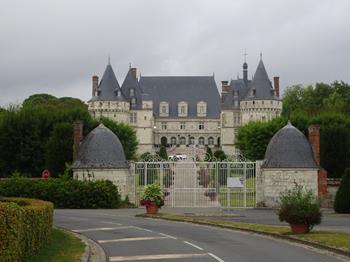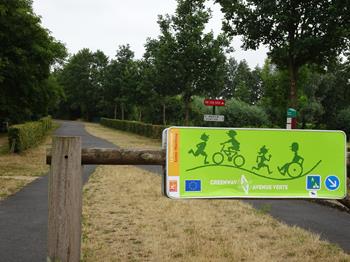 Popped up to Vimy Ridge...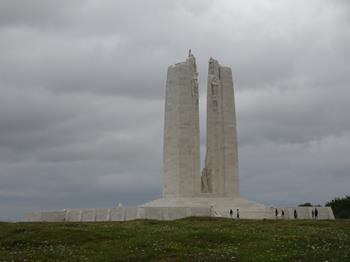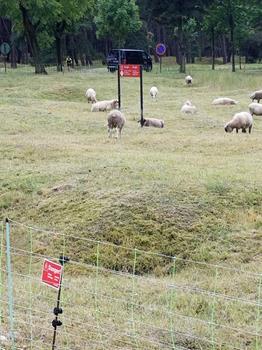 Then we shot into Belgium, to stay in Tournai (Doornik)…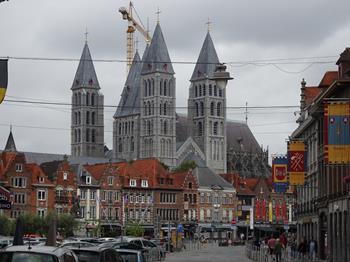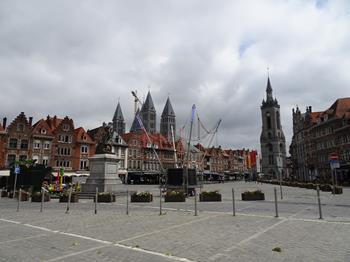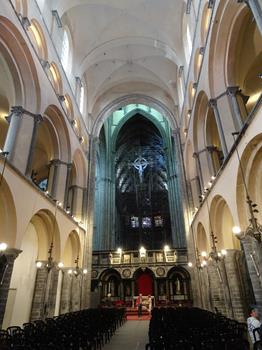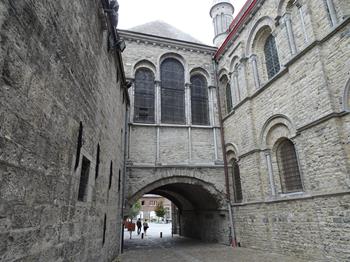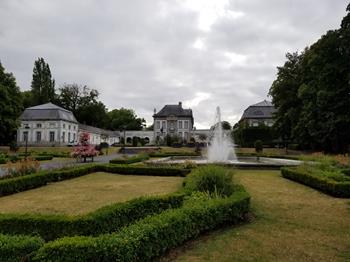 Thence to Oudenaarde, home of Liefmans Oud Bruin…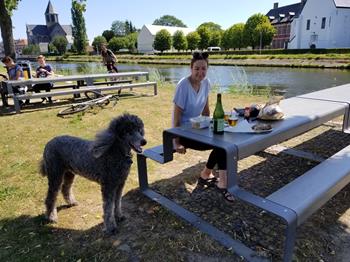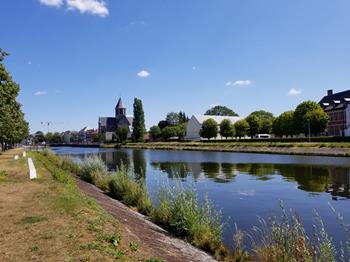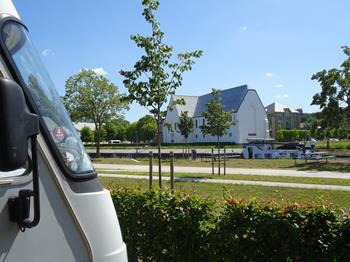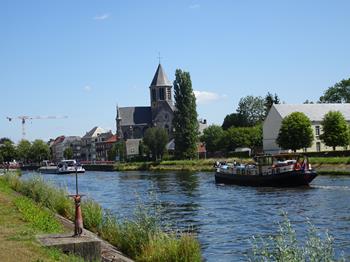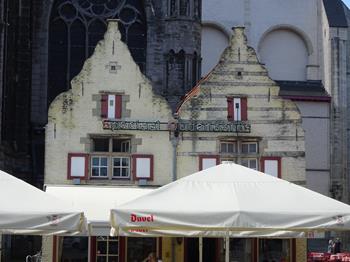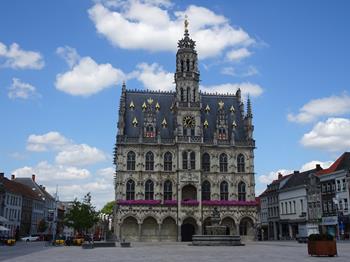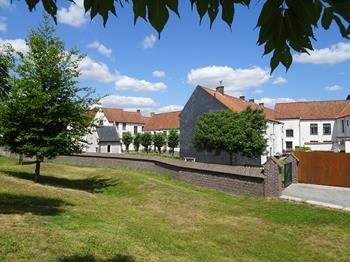 where Odin acquired a foxtail in his paw, so we headed back to Amsterdam to take him to a vet. Then we went to Medemblik Jachthaven to do laundry, etc.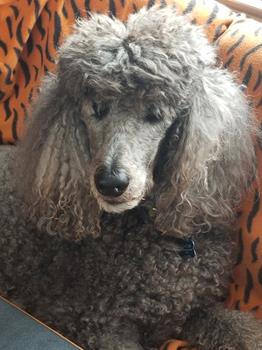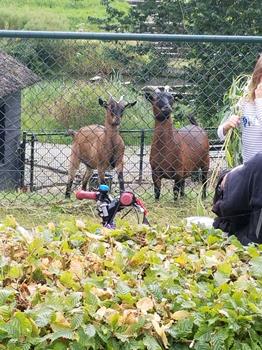 Revisiting Den Oever for a couple of days...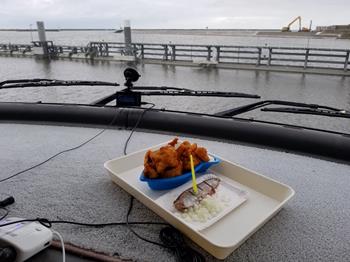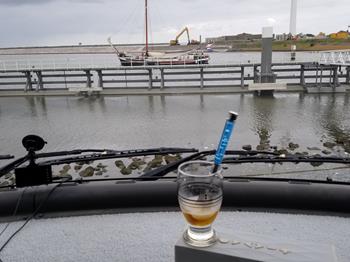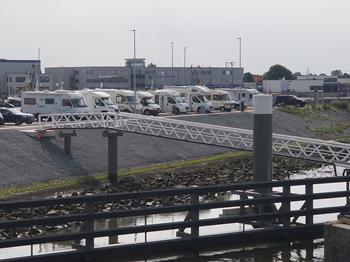 before heading back to Camping van Veen to visit with Kees.