Morocco Dec & Jan 2017 - 2018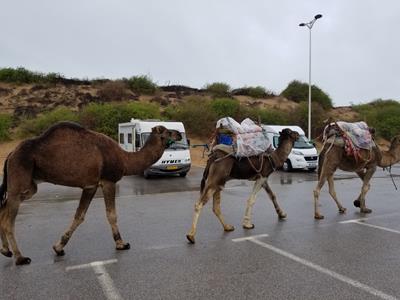 On the maps below, if you click on the four-cornered box in the upper right corner,
a page will open with a full screen map and info on each location marked with an icon.
The Route Down & Back Through Europe:
Frank & Odin flew into Amsterdam Schiphol Airport, then spent a couple of days with our friend Kees getting over jet lag. The Hymer was ready to go with new tires, brakes, oil change etc., thanks to Kees!
Dining on Kibbling by the North Sea: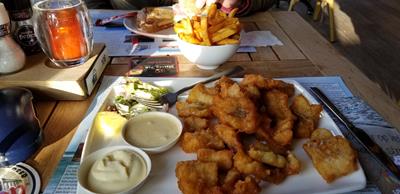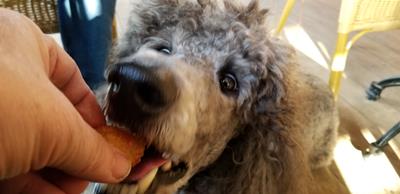 We set off on Saturday, travelling from Amsterdam through Antwerpen (where I stocked up on Belgian beer!) & Lille to stay the first night in Rouen, staying at the aire on L'Isle Lacroix.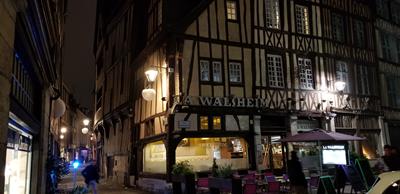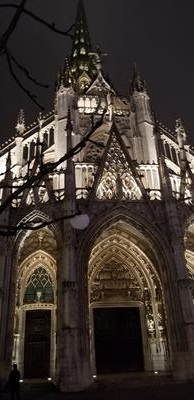 Next day we drove from Rouen right to the Spanish border at St. Jean de Luz. Freecamping at the LeClerc, I went in as soon as it opened & stocked up on French (BOX!!!) wine (beer & wine aren't so easy to come by in Maroc), confit, pate, cheese, etc.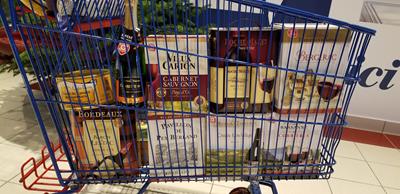 Next day we crossed into Spain, traveling via Vitoria Gasteiz (that's snow in the left pic below), Burgos, Salamanca to stay the night at the aire in Caceres, where it was warm enough to fill the tanks with water.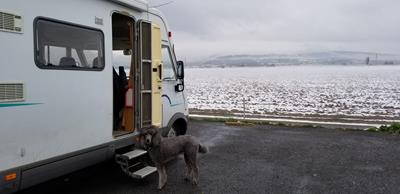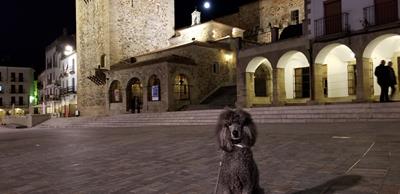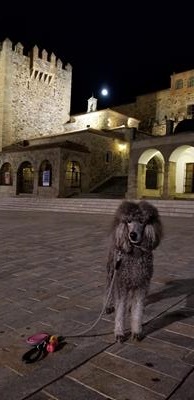 Next day it was a short 4 hour drive to Algeciras, where we bought ferry tickets from the highly recommended Viajes Normandie ("Carlos et Familie"), before stocking up at the Carrefour. I freecamped for the night next to Carlos' & the Carrefour.Next morning it was 15 minutes to the ferry at 8 a.m. I took Odin on deck with me. Luckily I met some friendly Germans with a dog who watched him while I dealt with Moroccan immigration - you do the paperwork right on board the ferry. At Tanger Med port I waited maybe half an hour for the vehicle import papers to be inspected and for a cursory inspection of the Hymer. Then a few hundred meters later to change some money and 30 kms to a Total gas station on the peage to fill up & we were on our way!
6 a.m. lineup for the ferry: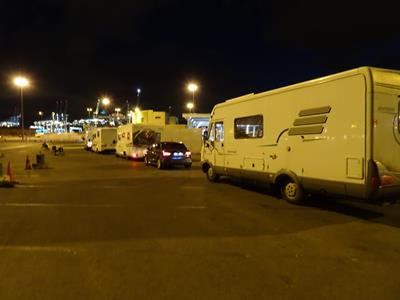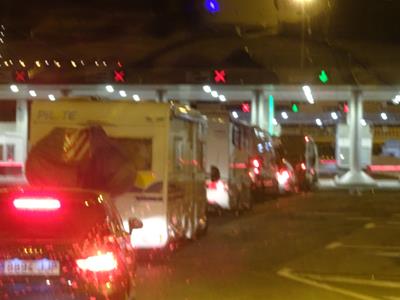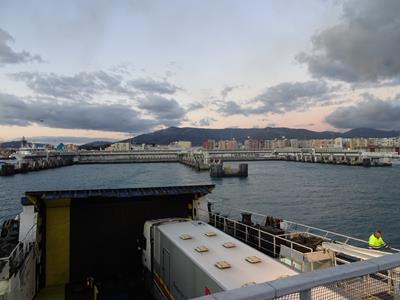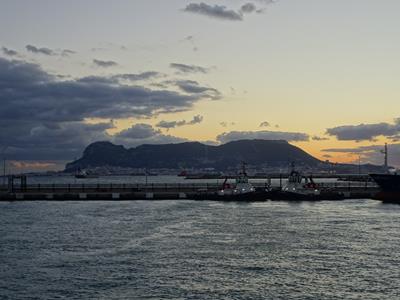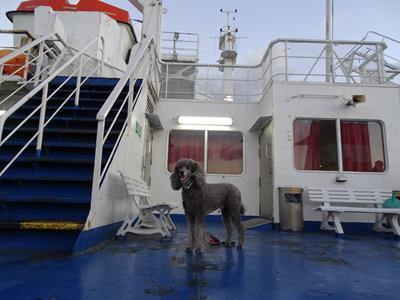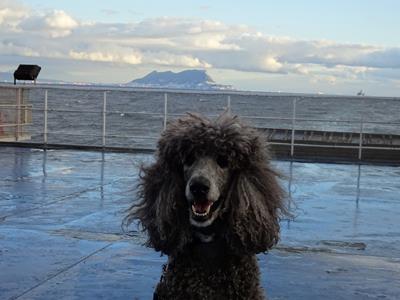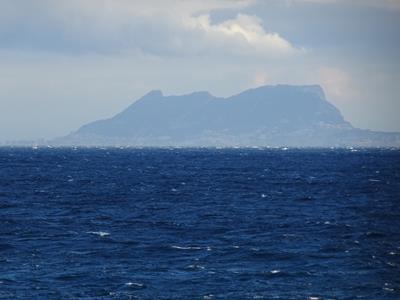 First stop was Assilah, where we freecamped overnight next to the old medina walls at what is called "Guardian Parking" (basically you pay someone to park overnight - sort of a stellplatz). Odin & I strolled through the historic centre & into the new town.
Next few days were really killing time waiting for Taylor to arrive at Casablanca airport. Two nights at the camping at Moulay Busselham overlooking the lagoon & eating Tajine.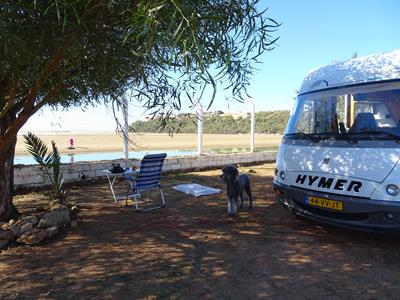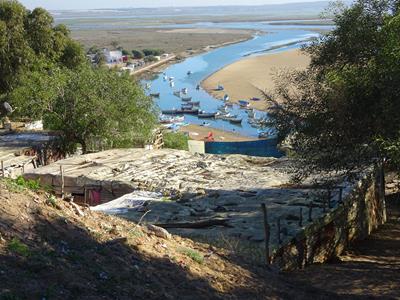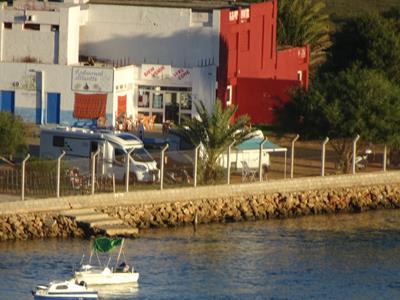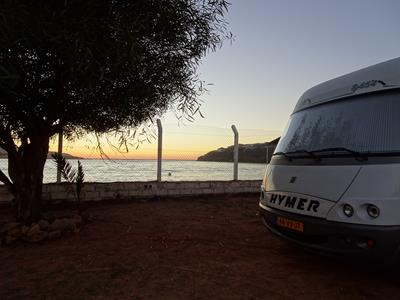 Then two nights stretched into three at Camping L'Ocean Bleu in La Mohammedia with a 26 hour delay in Taylor's flights due to snow. At least I was next to the Atlantic, eating Tajine dishes overlooking the water.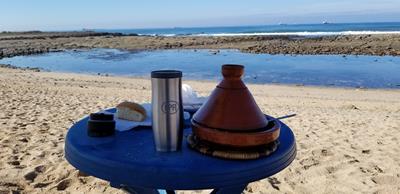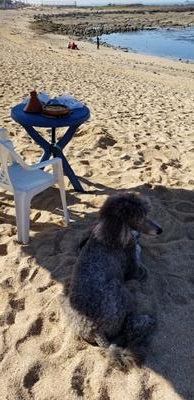 Snow at Toronto Airport: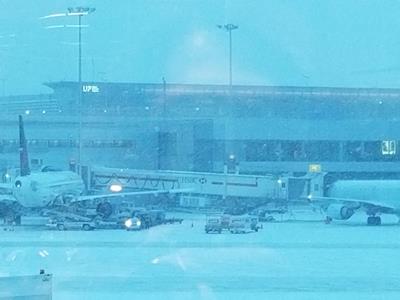 Next I drove to Casablanca Airport, parked easily and picked up Taylor. Taylor's sister Karen was supposed to join us as well, but an injury 3 weeks earlier made it impossible for her to join us. Unfortunate since we were looking forward to her company. From there we drove to El Jadida for 2 nights in the Camping, strolling the old Portuguese town and doing extensive walking in the new city, which proved every bit as fascinating as the historical centre.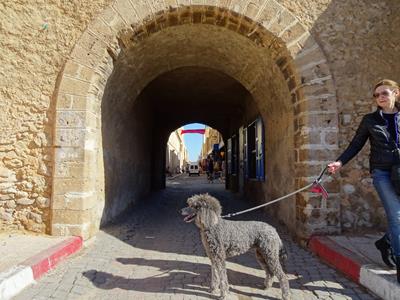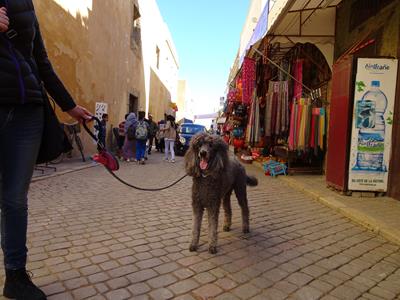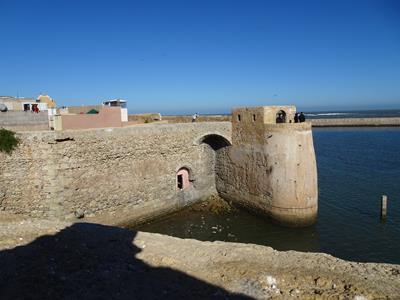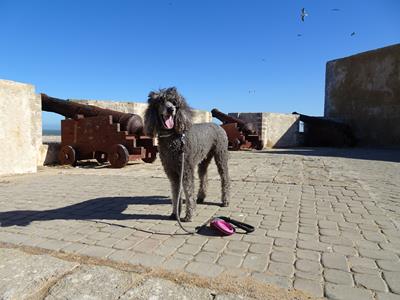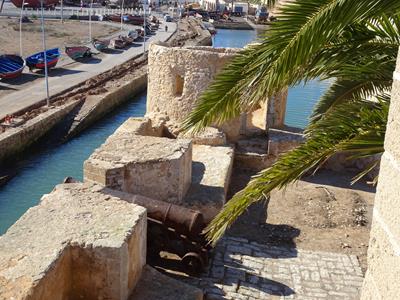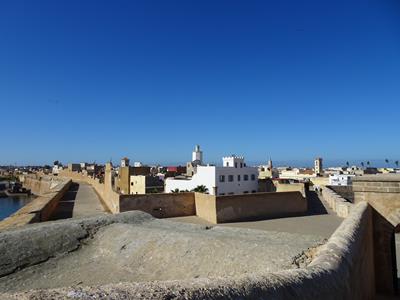 From El Jadida we drove to Essaouira (another Game of Thrones location), where we stayed 2 nights in Guardian Parking next to the dunes, accompanied by wild dogs, donkeys, horses & camels. Again we toured through the old medina, about a 30 minute walk along the water's edge.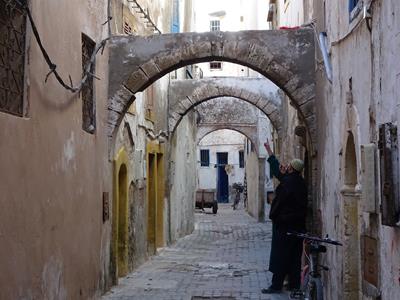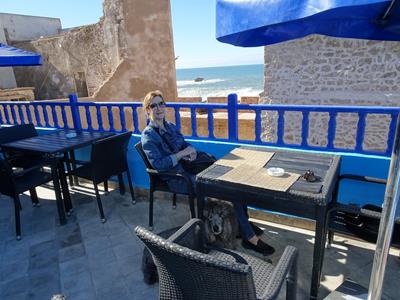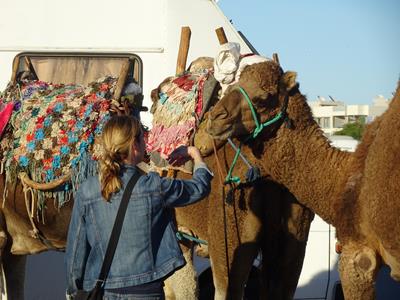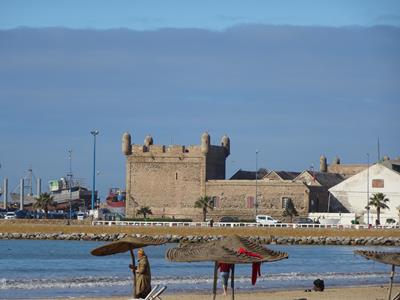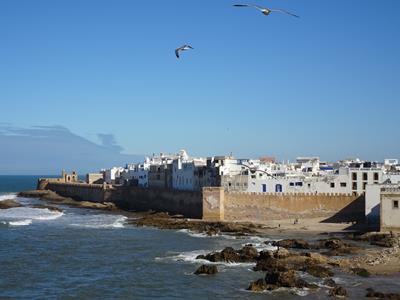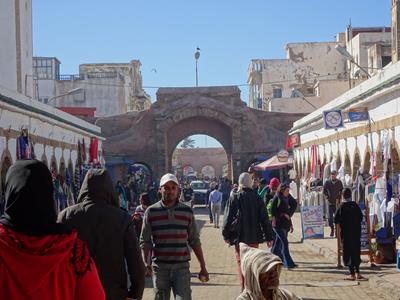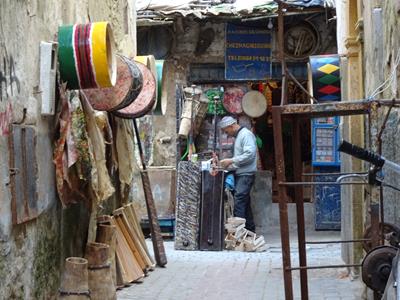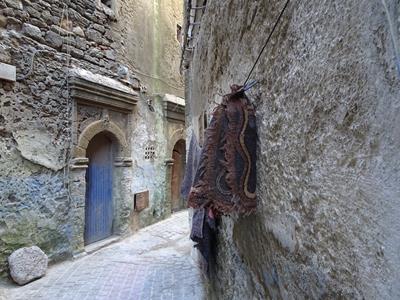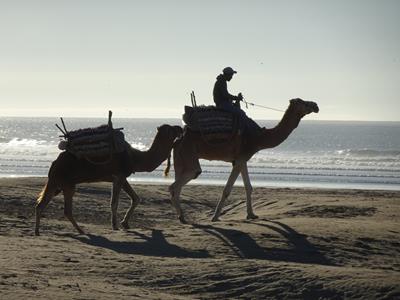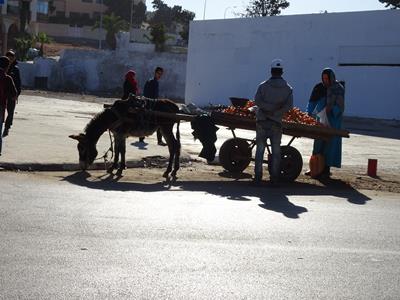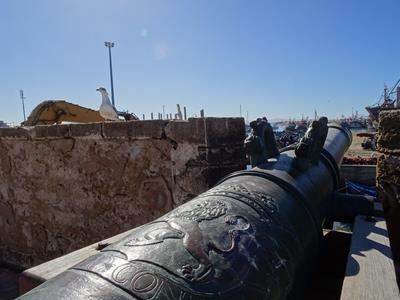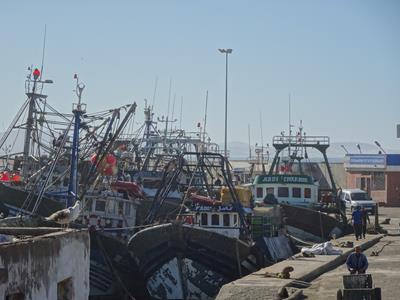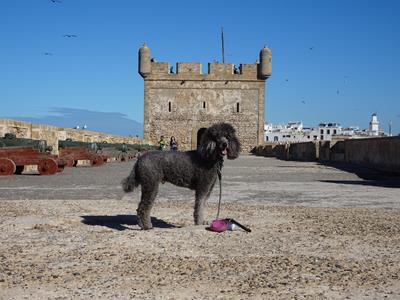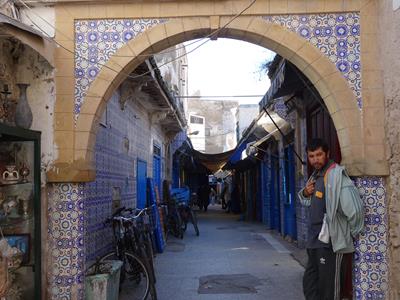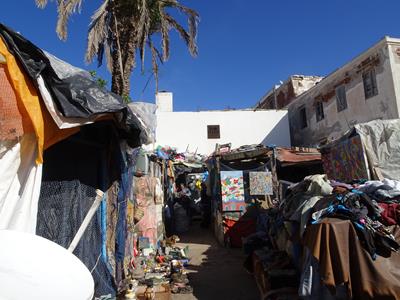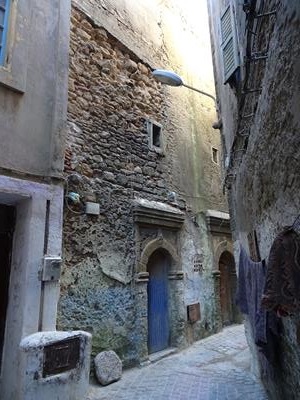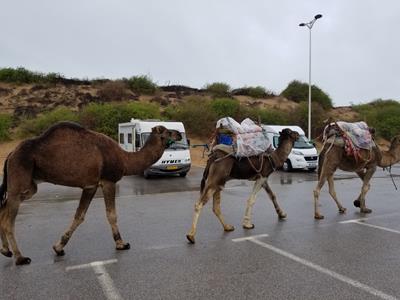 After Essaouira we drove to Marrakech. En route we saw the fabled "goats in trees". In days of yore goats would climb the Argan trees, eat the nuts and excrete the semi-digested nuts on the ground, from which enterprising locals would generate Argan oil. Now this process is generally more modernized, but a tourist dimension has emerged, where an entrepreneur will lease an Argan tree near the highway, place some goats on it & wait for tourists to stop for a pic, then run up for payment for said pic.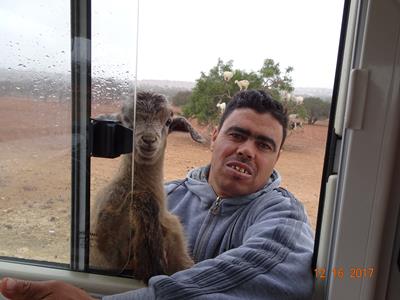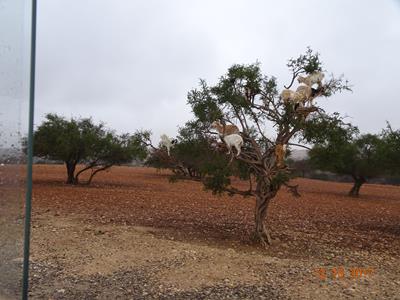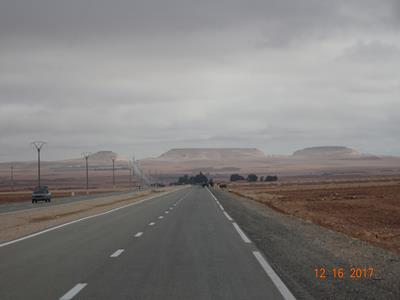 After arriving on the main road in Marrakech, a fellow on a Vespa pulled alongside & engaged in friendly chatter, then disappeared. A light or two later, he reappeared & asked where we were going: "Camping Relais?"... "Koutoubia Mosque parking?" ... we replied the latter. Next thing we know a few blocks later he's beckoning us off our GPS route. We pull over & he's adamant that we should go another way. I already knew that GPS often takes you to an entry to Marrakech which is unsuitable for motorhome-sized vehicles, so I let him guide us in, but of course at the end was greeted with the open palm and teary entreaties that what I offered wasn't nearly enough. Honestly our GPS was taking us on exactly the route we should have taken. We parked up at the Koutoubia parking (pic below with the Koutoubia minaret in the background), a block away from the main square, Jemaa El Fna. Being a Saturday afternoon/night, we strolled into the main square had some pretty good & cheap tajine at a table bordering the square. At night the square came alive with folk music, boxing, snake charmers, horoscope readers and the never ending hustle of touts trying to get you to eat at or buy something from their establishments. We soon learned to be deaf. We roamed through the endless anarchic corridors of the souks. By now much was closed. At one point a young fellow offered to show us to the El Fna square - we told him we didn't need his help, but he insisted on accompanying us anyway, then demanded money, which this time we refused, as we had repeatedly told him we didn't need his help. As we walked away he accused us of being "racist". Although the pressured sales come-ons were prevalent throughout Morocco, only in Marrakech did we encounter this level of aggressiveness.
Next day we did another long round of the Souks, looking for blankets. We ferreted out a small alley with hole-in-the-wall shops selling Mechoui &Tanjia - 2 Marrakesh specialities. We found one blanket shop with very good selection, where the owner dropped the price from about 1300DH to 500DH without us even negotiating (but see below). That day we also explored some of Marrakech outside the Medina, visiting the Saad Tombs.
Next morning we visited the Artisans Ensemble shops - these are fixed price, with price stickers, unlike the souks there is no negotiating, but they are useful to establish a baseline for what you should pay in a souk - the souk price generally should be lower. The 500DH blankets from the previous day would have cost us 340 DH here.
We left Marrakech sans blankets!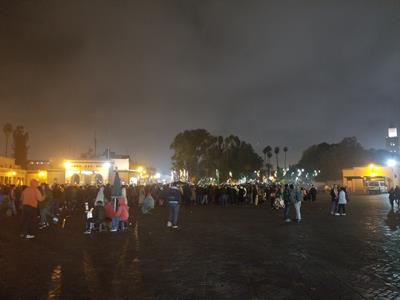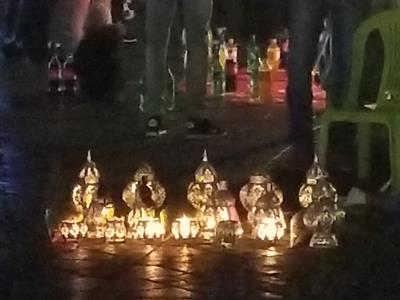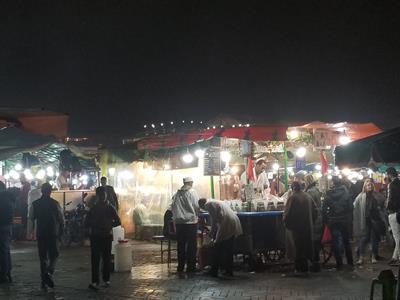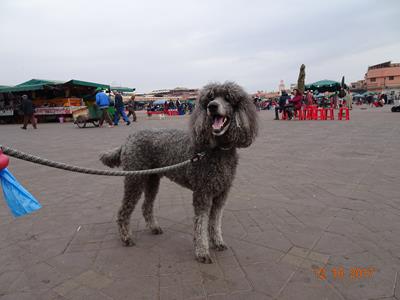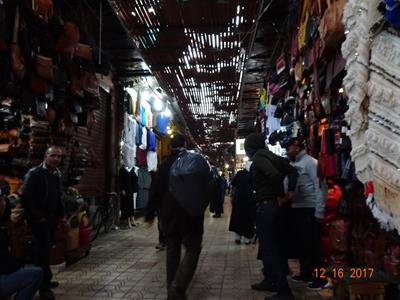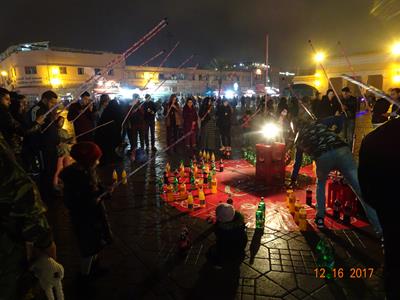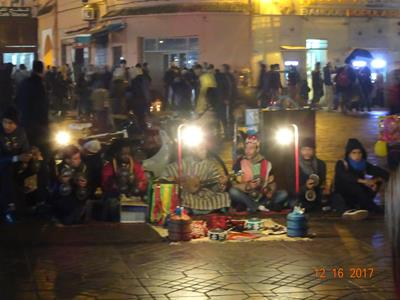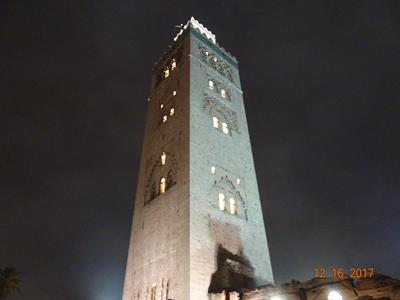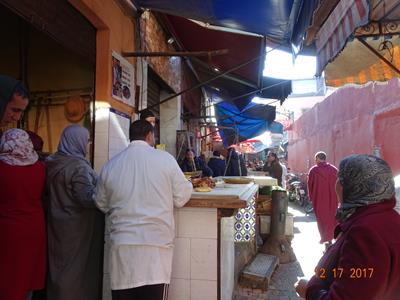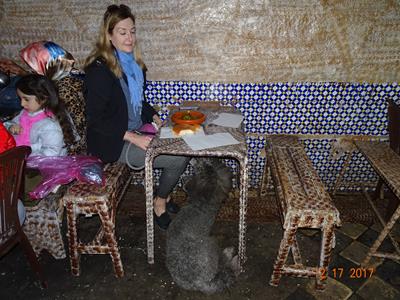 Saad Tombs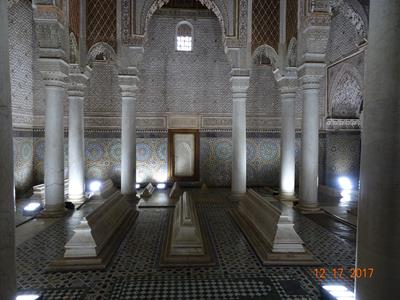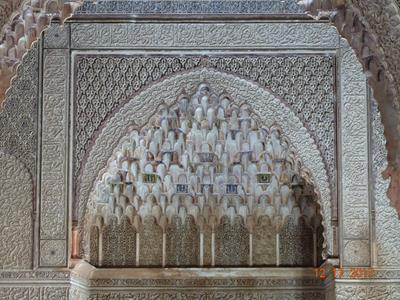 Driving out of Marrakech, we went over the Tizi n'Tichka Pass ...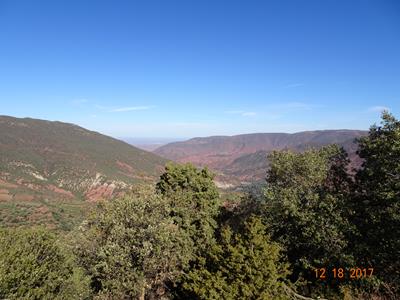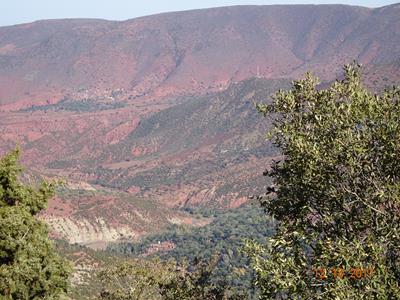 ...to Ait-Ben-Haddou with its famous Ksar (a Ksar is a fortified village). It was, I believe, Yunkai in Game of Thrones.
We visited the Ksar early the next morning. It was nice to be there with very few other tourists. It is largely uninhabited - only about 4 families live within the walls today - and there are a few tourist shops.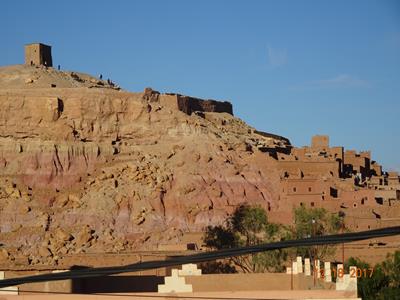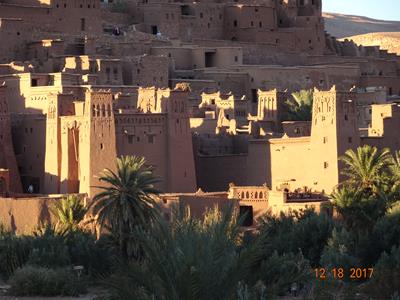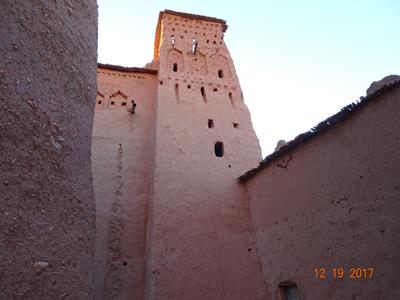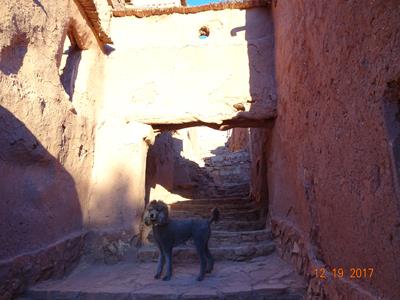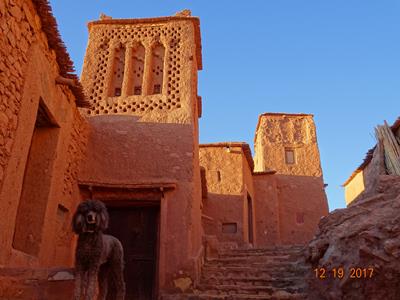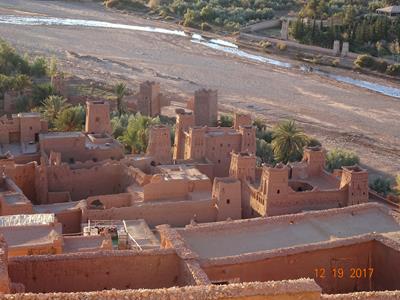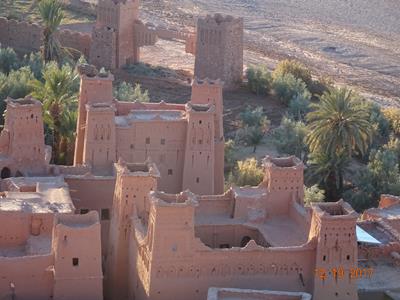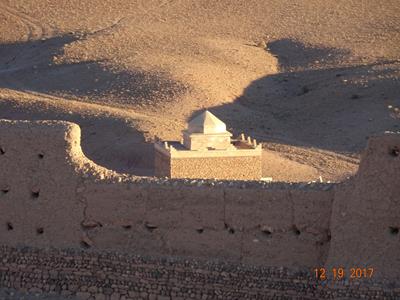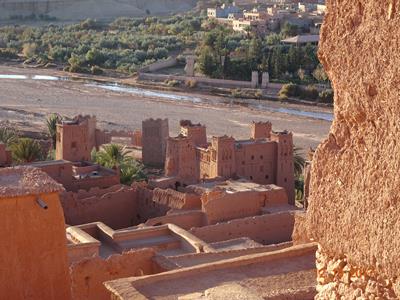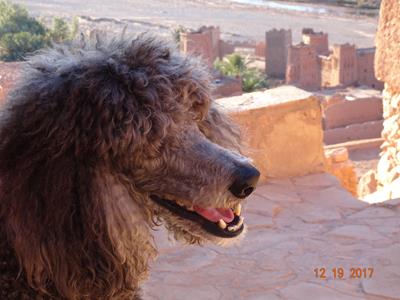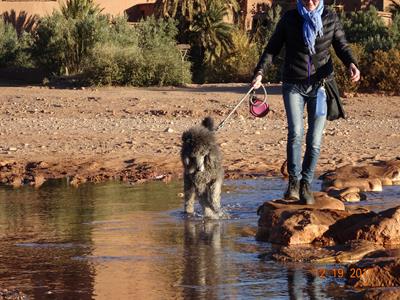 After visiting the Ksar we drove up the old silk route, littered with crumbling Ksars & Kasbahs (a Kasbah is a single family fortification, somewhat akin to a castle) to Telouet, with its famous Glaoui family Kasbah/Chateau.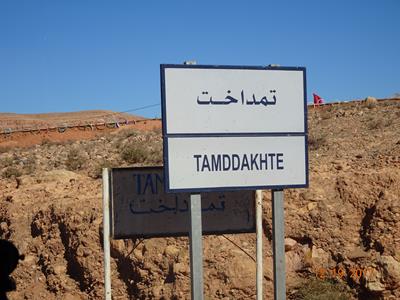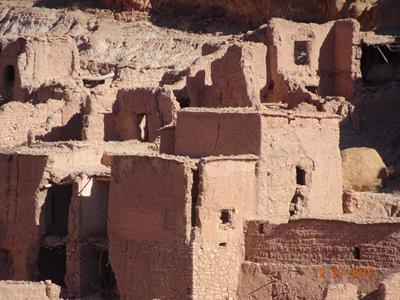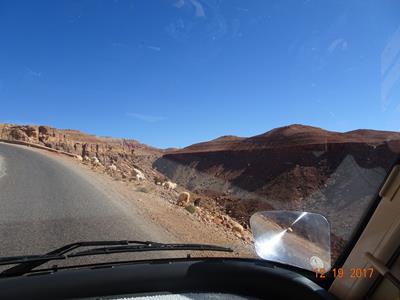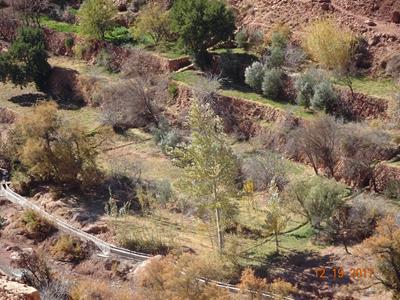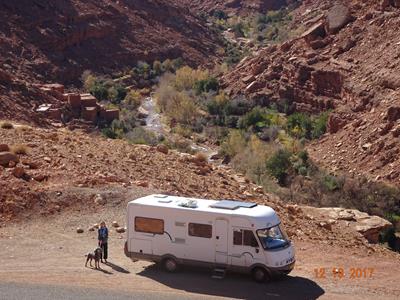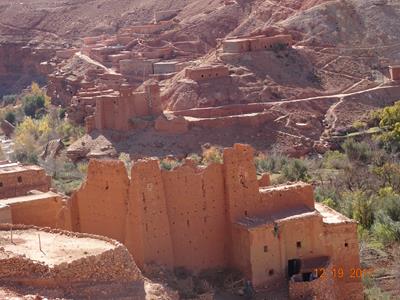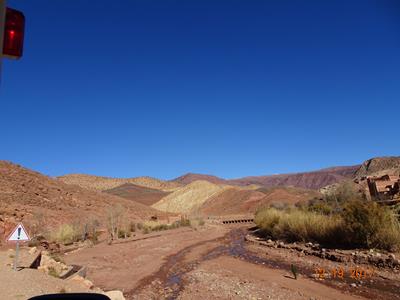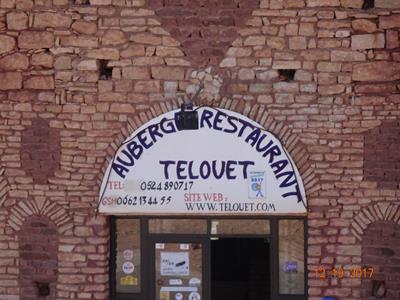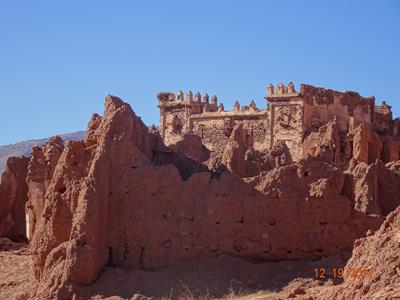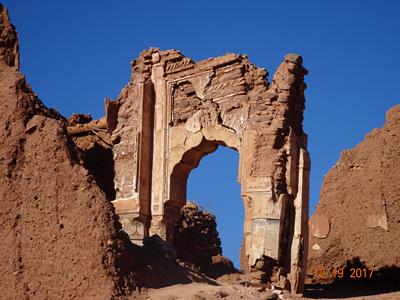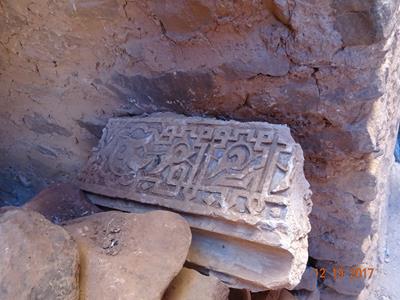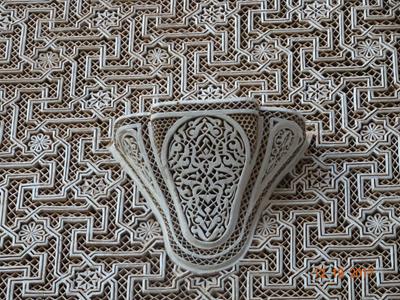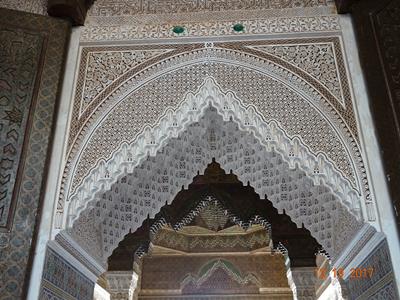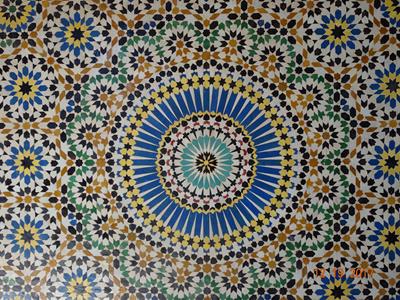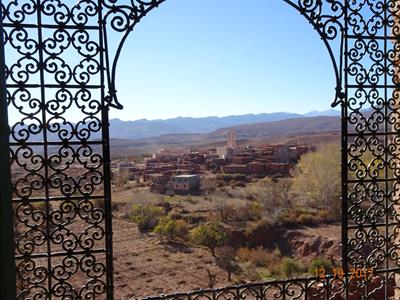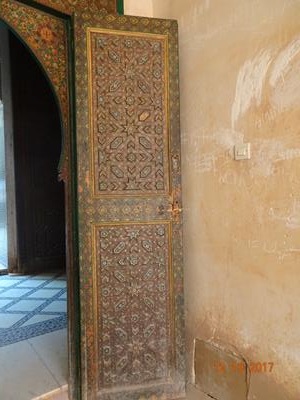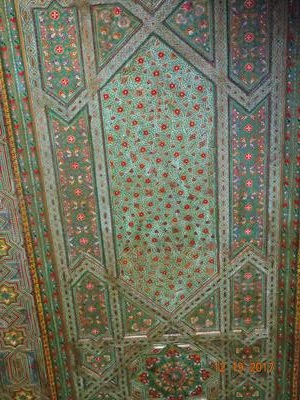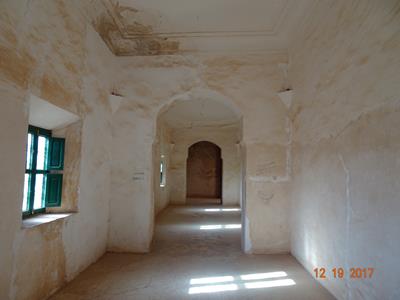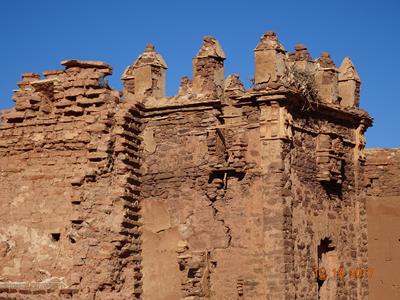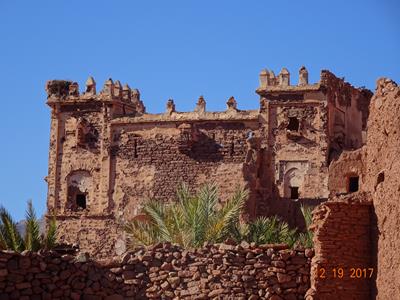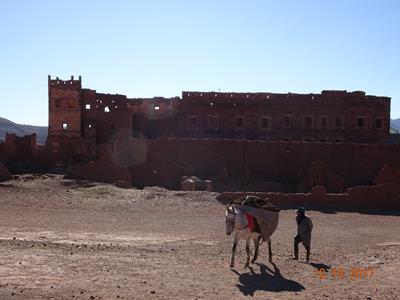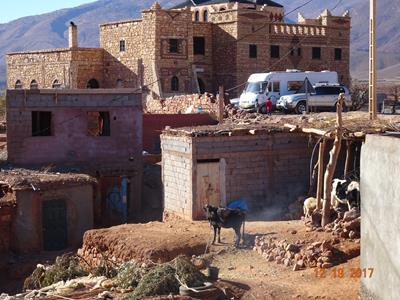 We then retraced our route to overnight in Ourzazate, visiting its kasbah as well. We didn't tour any film studios, but did see the Game of Thrones castle set in the desert outside of town.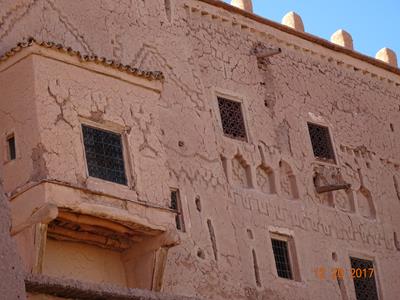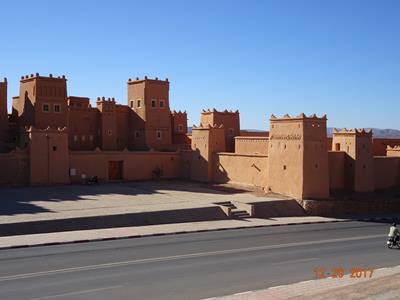 From Ourzazate we drove the "Route of 1000 Kasbahs", stopping in Skoura to tour the restored Kasbah Amridil with an excellent English-speaking guide, Ismail. He also does tours of the surrounding areas, which we will avail ourselves of when next we visit. Odin happily climbed up to the top floor, but then insisted that he be carried down!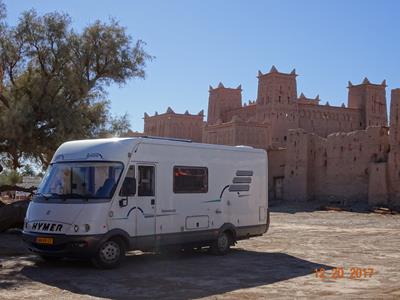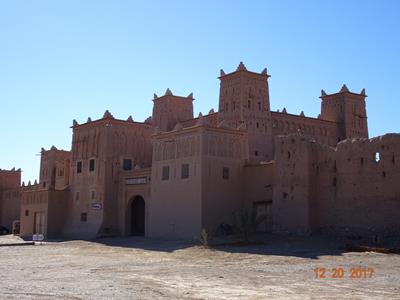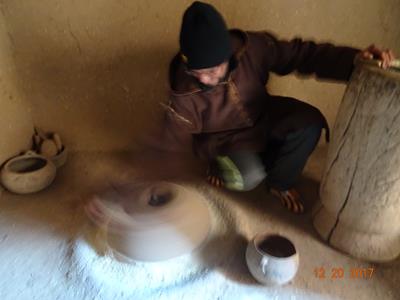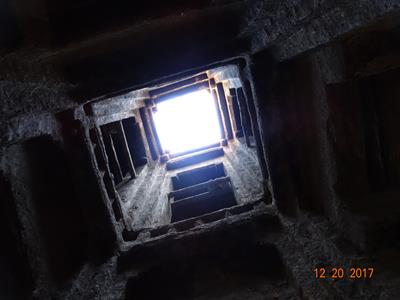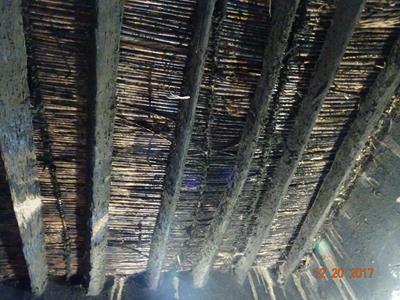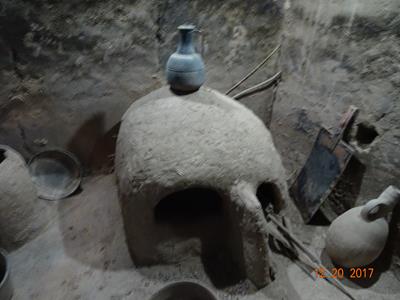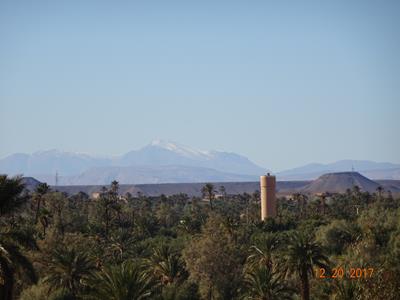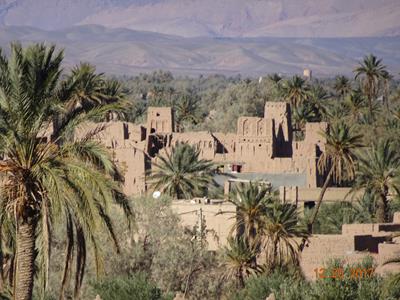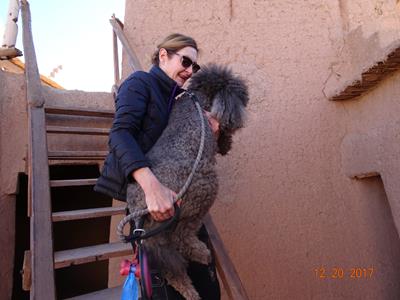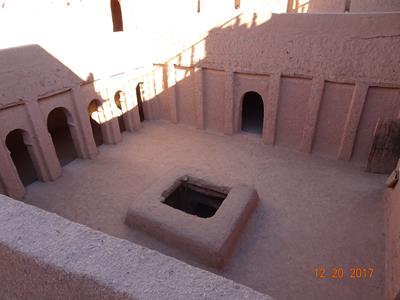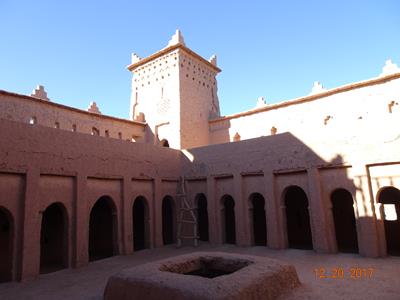 We stopped at the Todra Gorge for the night, and next morning toured it...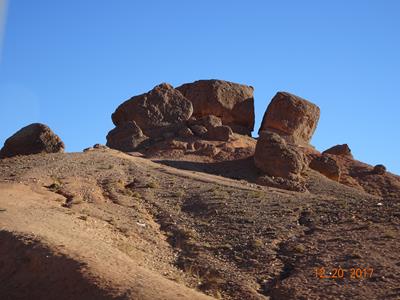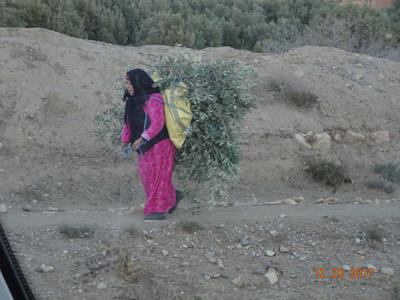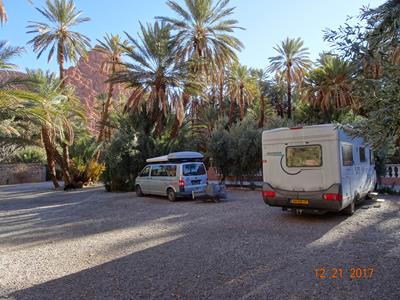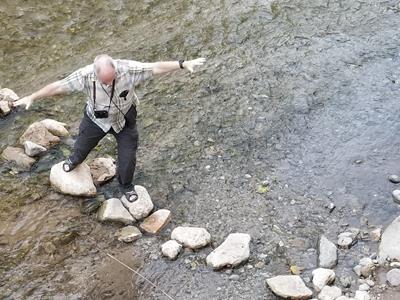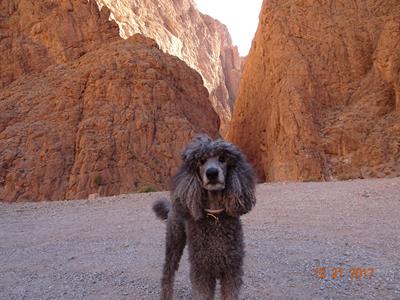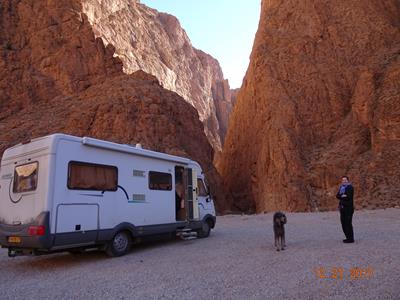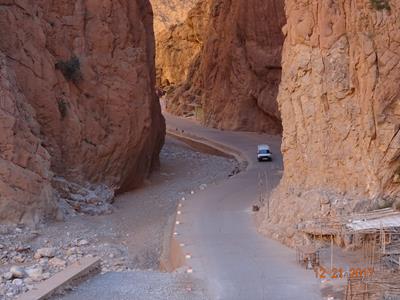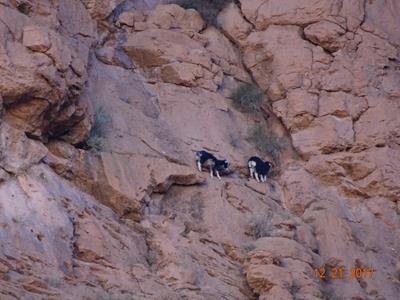 ... before setting off towards Erg Chebbi & Merzouga for the Sahara Dunes.
En route, on R702 heading through Jorf, we encountered fields with hundreds of small "dunes" - these are actually wells dug almost next to each other, then connected underground to create a subterranean canal.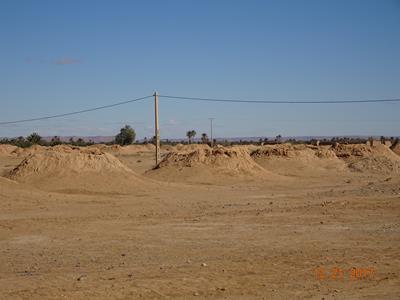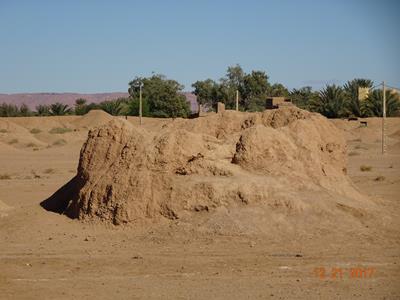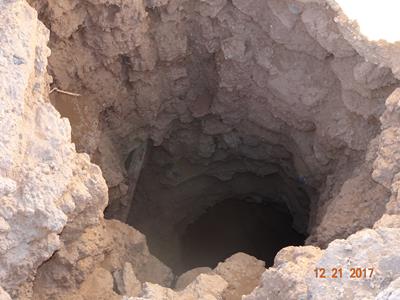 On the Road: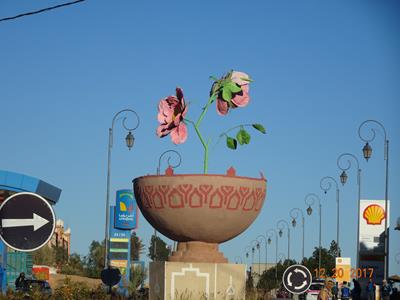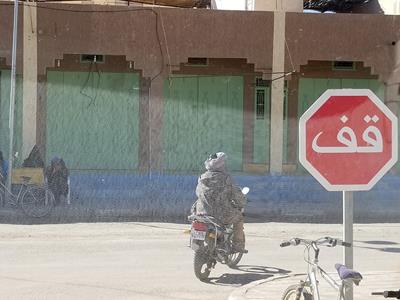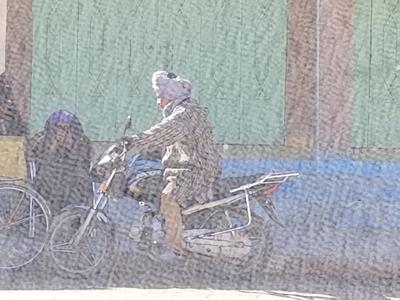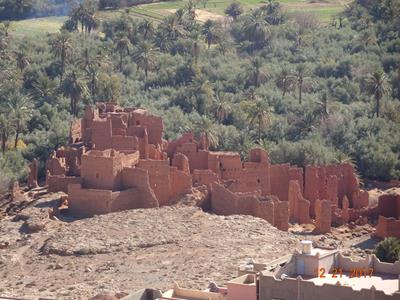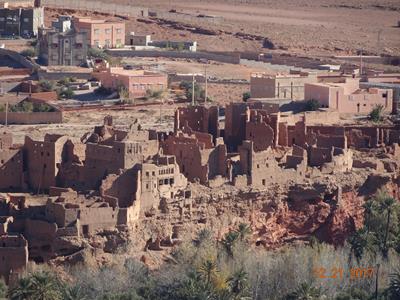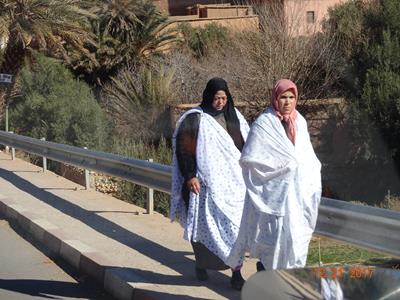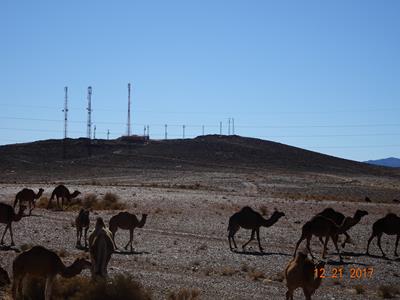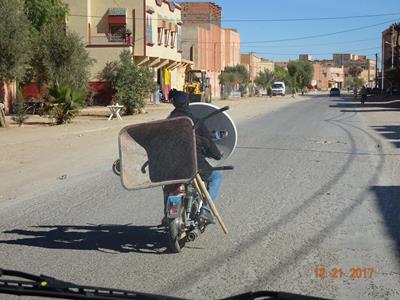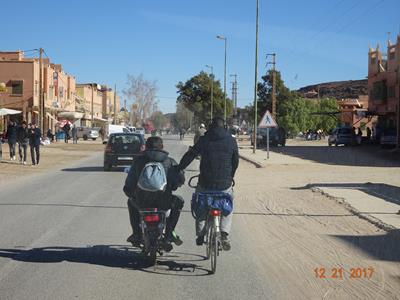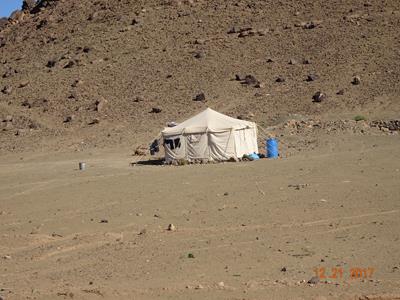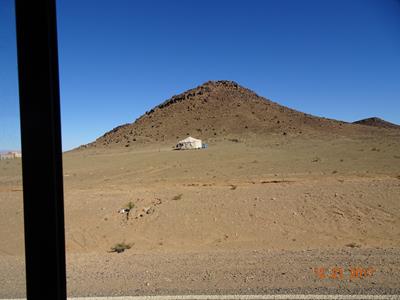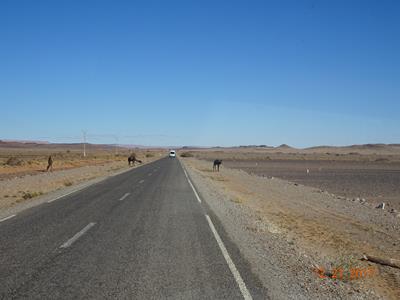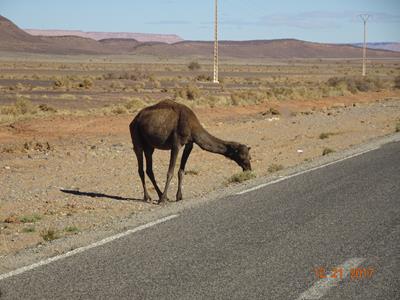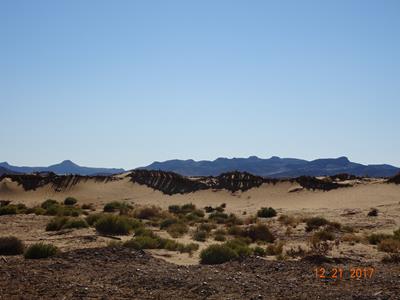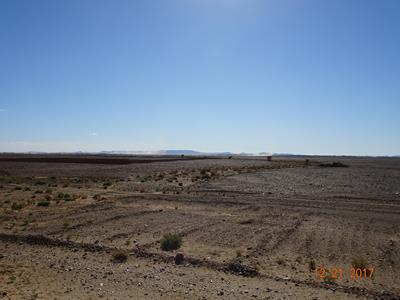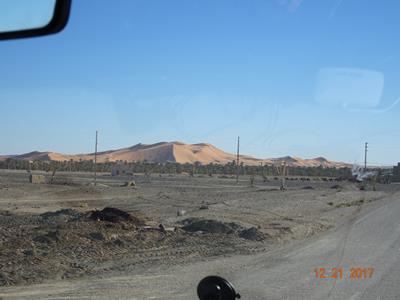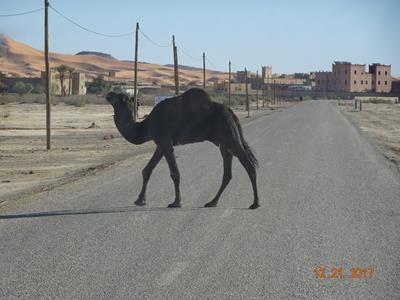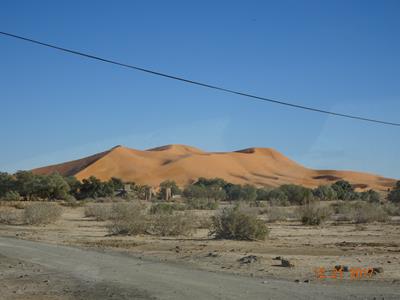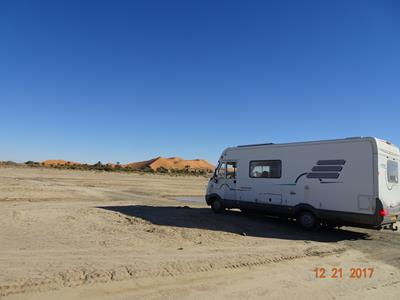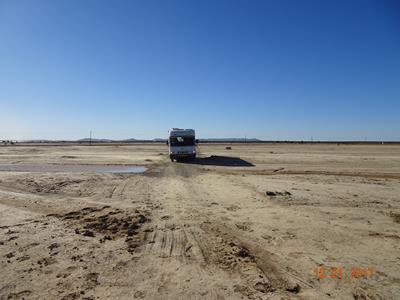 We pulled into Merzouga, continuing on the R702 from Erfoud rather than using the N13. This fairly new road travels in the country away from towns, skirting the edge of the desert. We decided on Les Pyramides Camping, parking the Hymer basically right among the dunes. In fact we got stuck when we first entered (we ventured a bit too far towards the dunes - should've asked first! :-), but the owner Ali had us out in a jiffy.
Next day we popped into town (1 km away) for a few supplies, ate a delicious Tajine delivered right to the camper by Les Pyramides and then went on a 90 minute camel ride into the desert to view the sunset.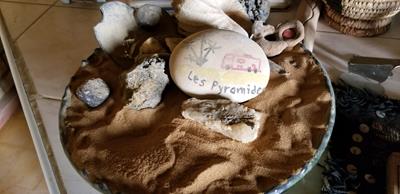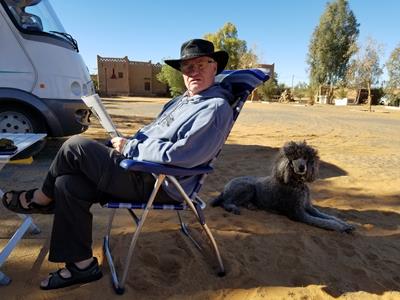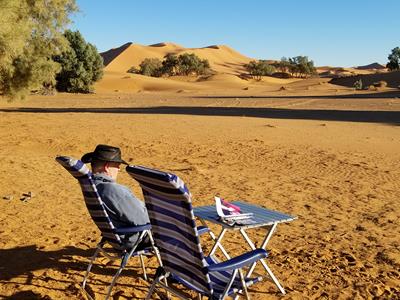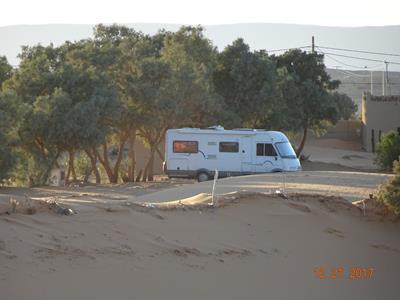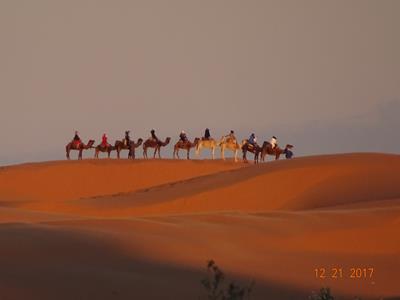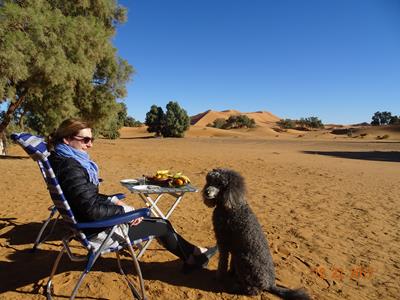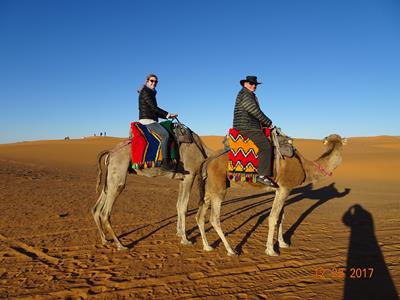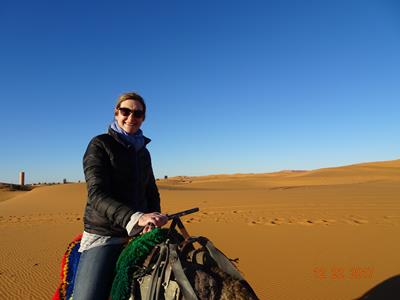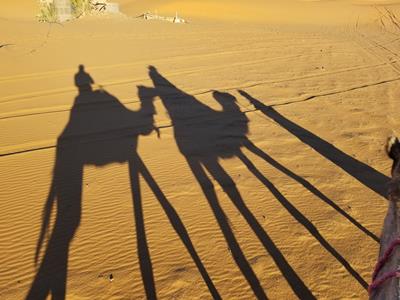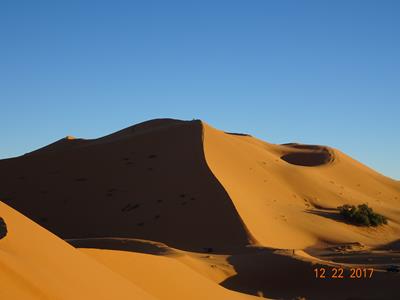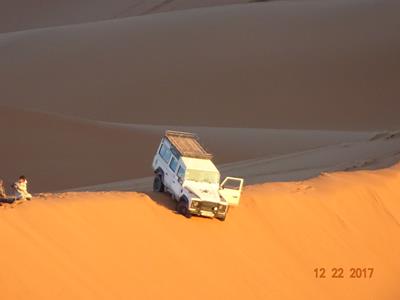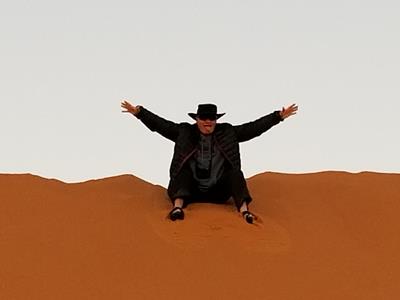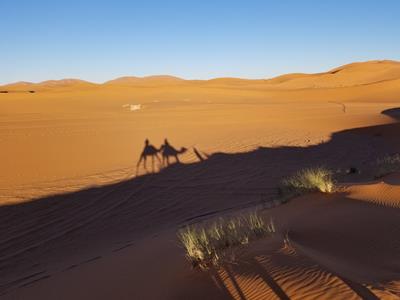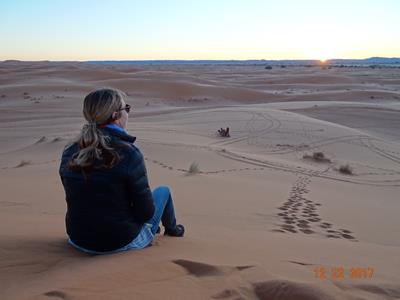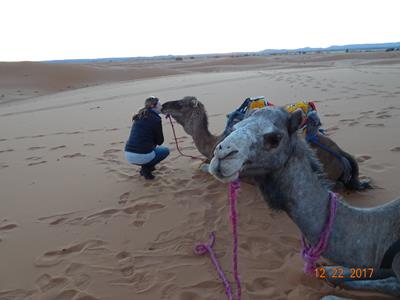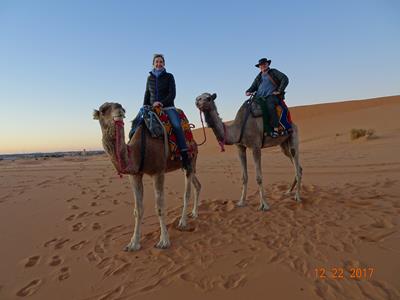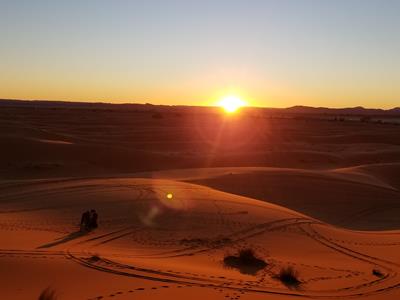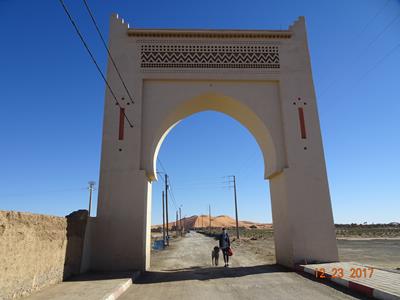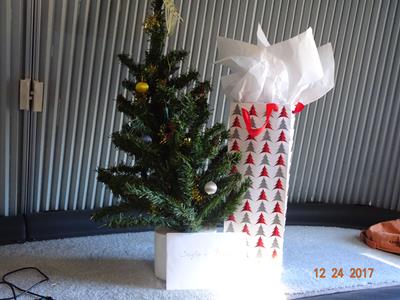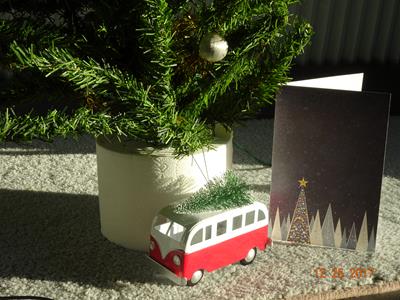 After 4 days in Merzouga, we headed out along the N12 to Zagora, then through Foum Zguid to Tata. Driving through a varying rocky desert landscape called Hamada we passed very few towns. Tata felt like it was on the edge of the wild west - indeed the landscape was reminiscent of Nevada, Arizona, Utah & New Mexico.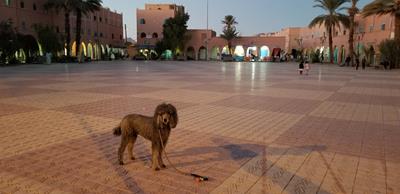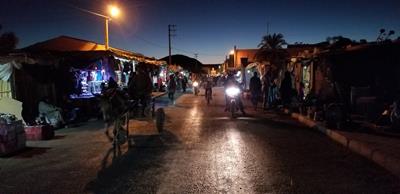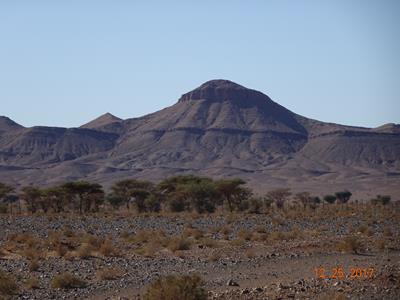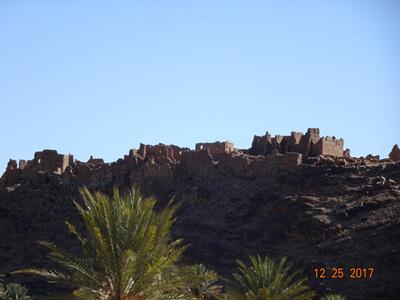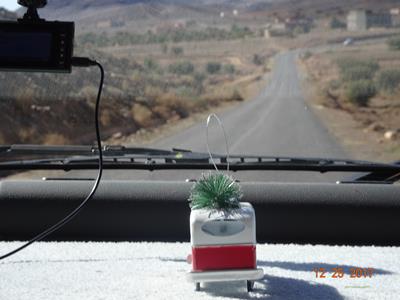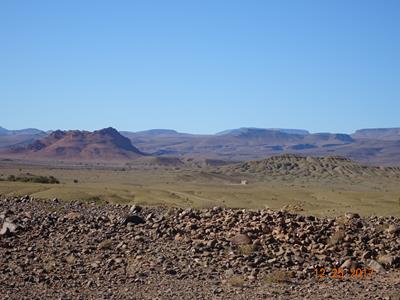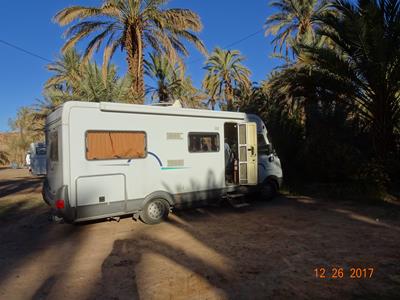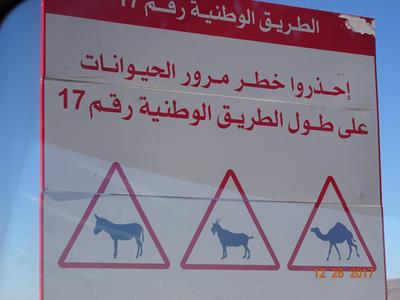 A herd of several hundred camels crosses the highway: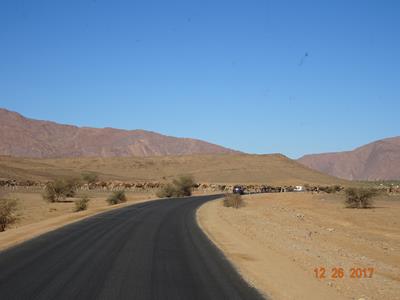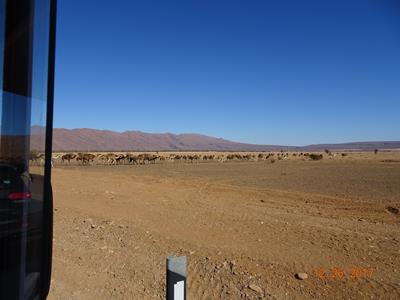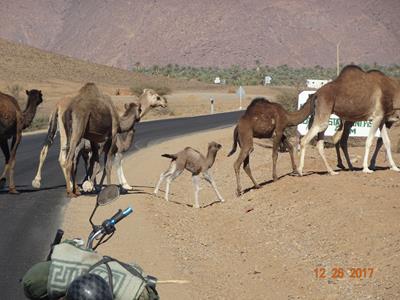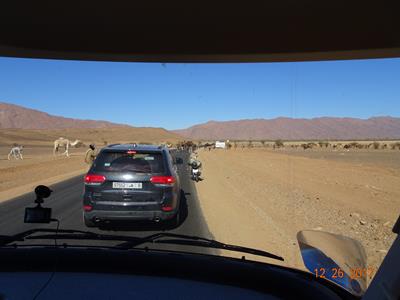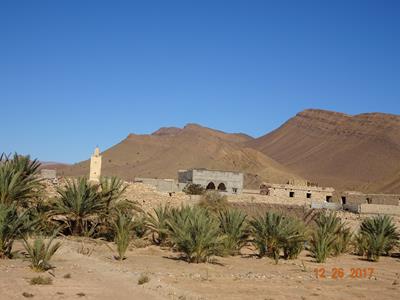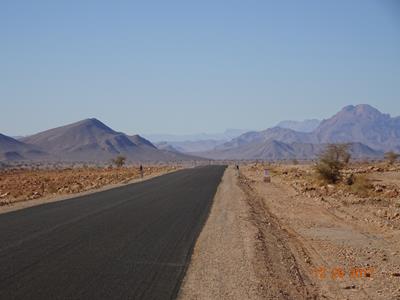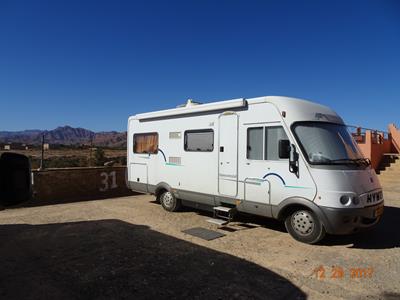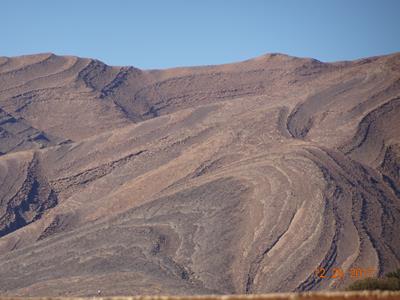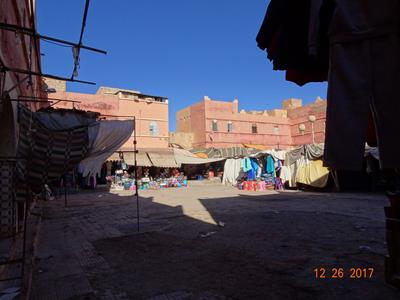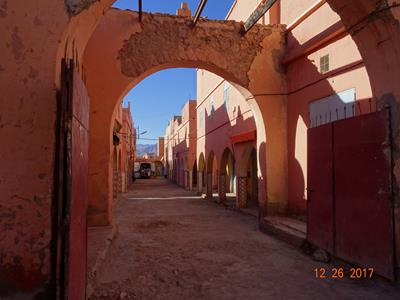 From Tata we headed to Tafraoute, taking the unnumbered white road running from the R109 to the R106 from the southern edge of Issafn, instead of going up through Ighern. This road is paved albeit single lane. There were maybe 4 sections of max 100m each of washed out rutted piste, but really an easy run. The vistas again were varied - some of the mountain sides echoing work of the Group of Seven. Made me wonder why some Belgian felt he had to paint some rocks south of Tafraoute, when the natural occurrence is so painterly (and we generally are contemporary art enthusiasts).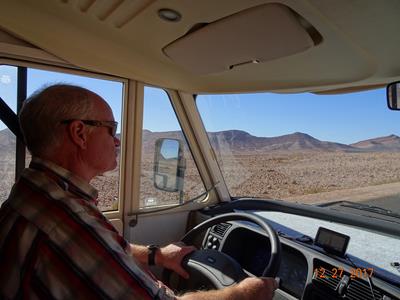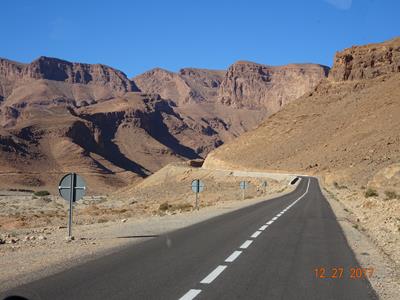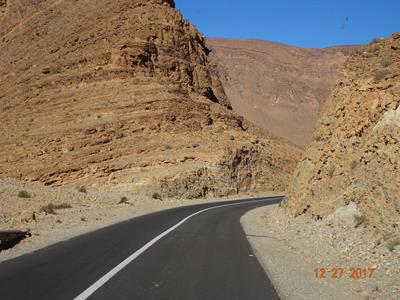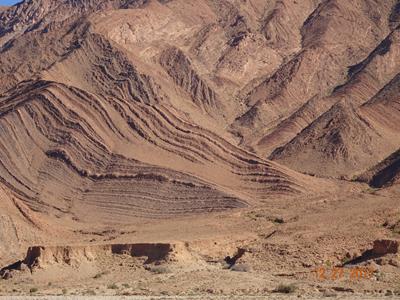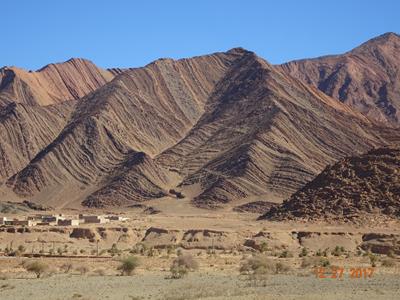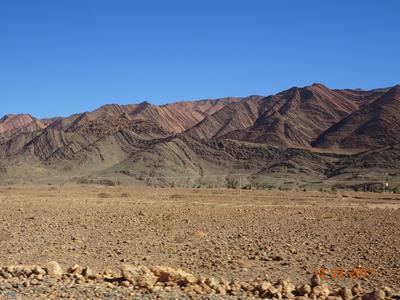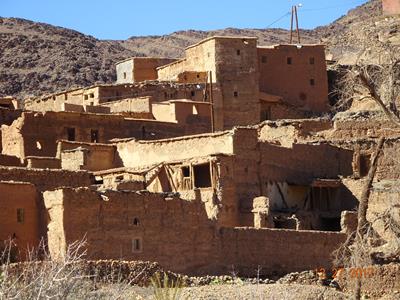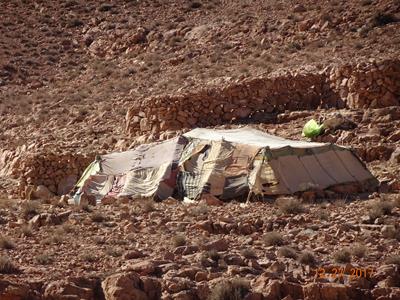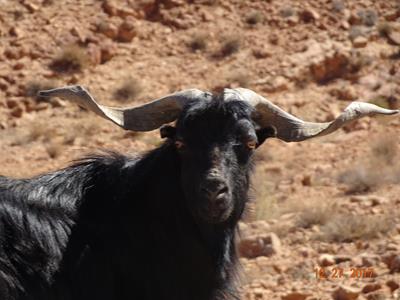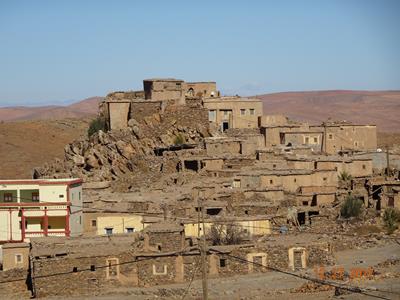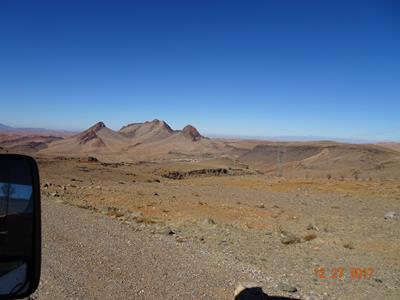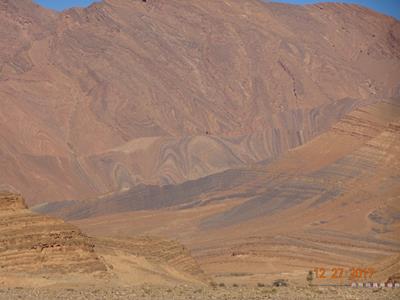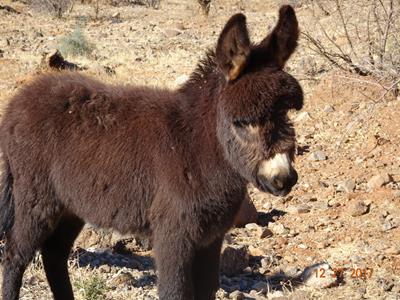 In Tafraoute we chose not to stay in a Camping, but rather to set up in the Guardian Parking, due to the sheer beauty of being within a circle of mountains, our view unimpeded by campground walls. There's a well-regarded mechanic, Mohamet, who makes the rounds if you need anything done.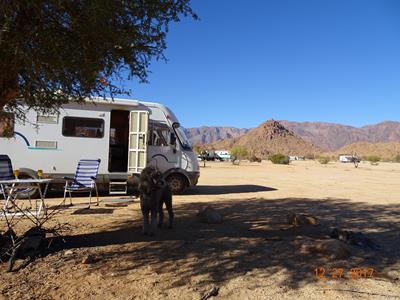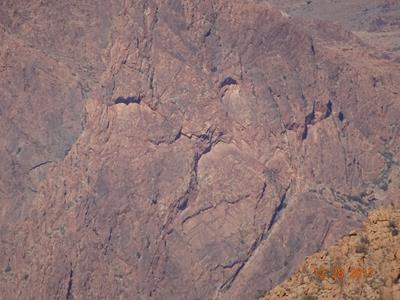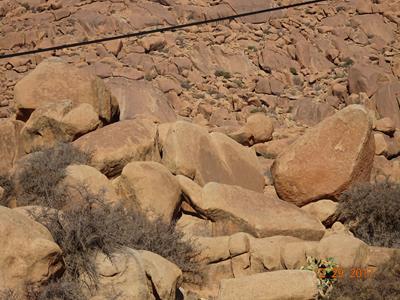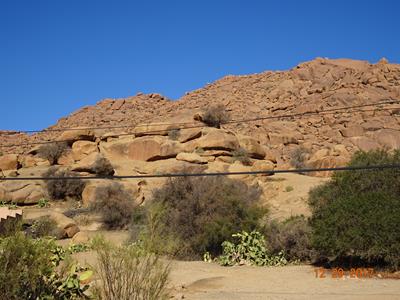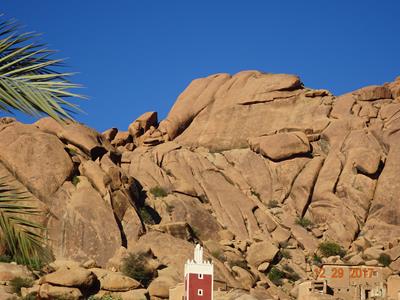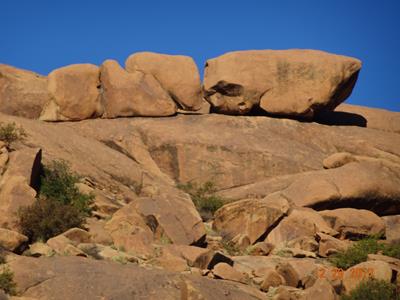 From Tafraoute we routed through Tiznit to Sidi Ifni, where we stayed at Camping El Barco next to the beach. With an echo of Spanish colonial art deco architecture, this town is interesting for its largish weekend Berber market.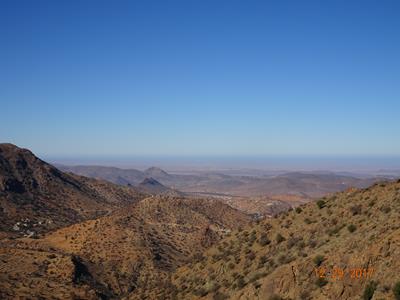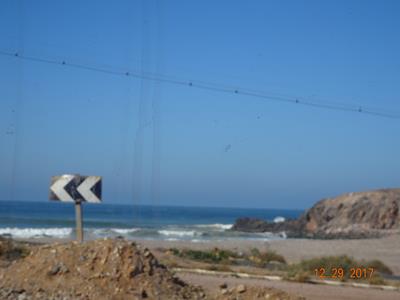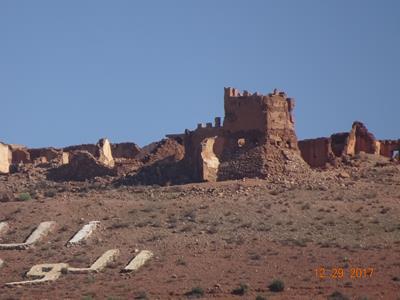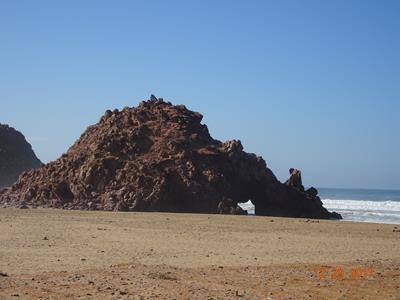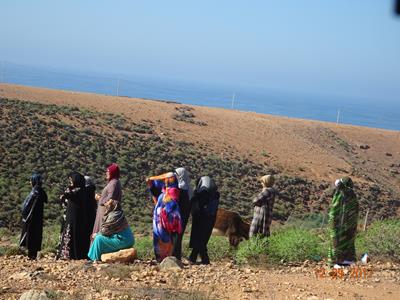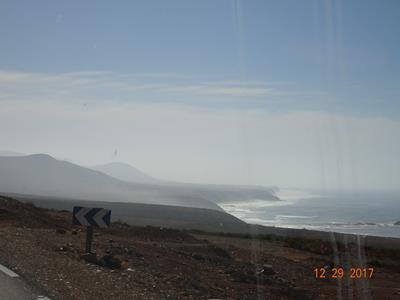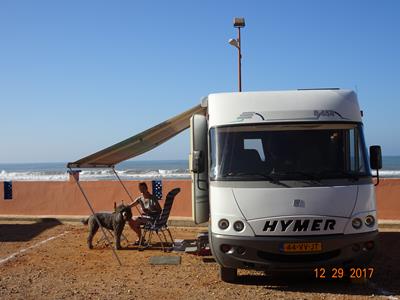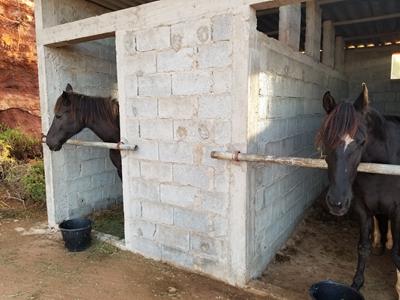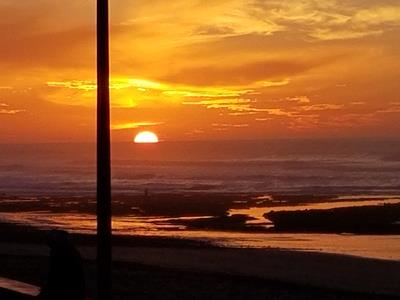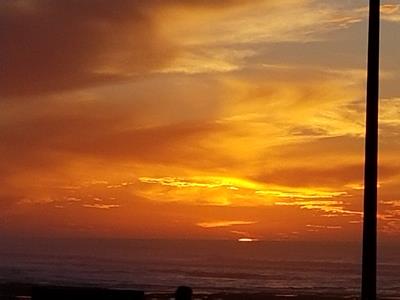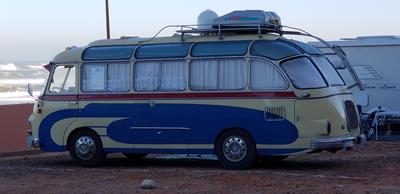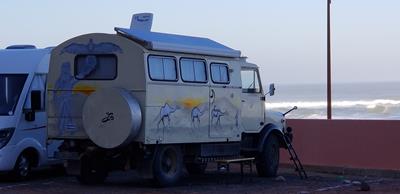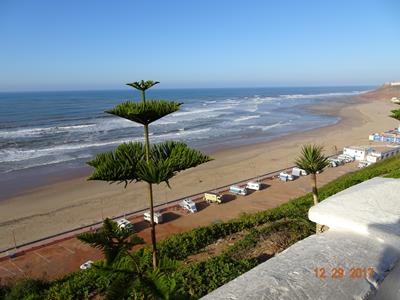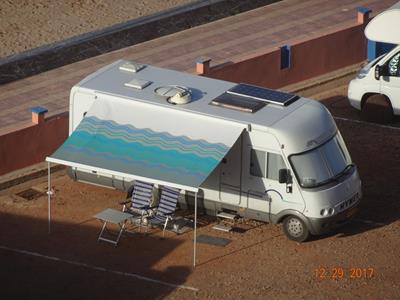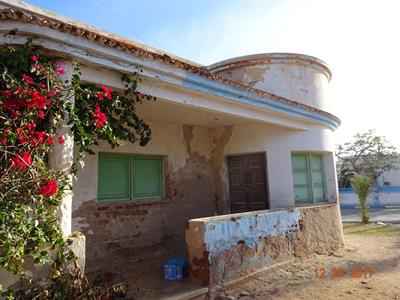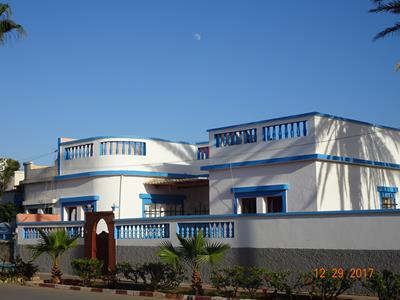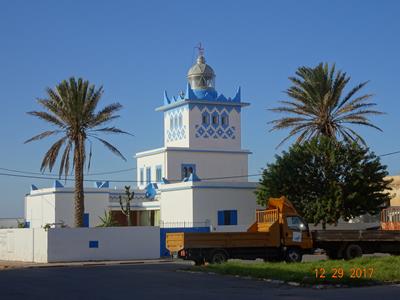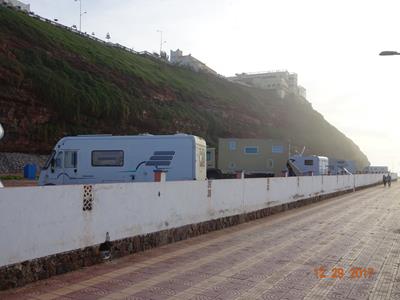 Next we drove coast roads back up north past Agadir (where you can find motorhome repair Trigano if needed) to a spectacular Camping Terre de l'Ocean just north of Taghazout. Best Tajines of the trip.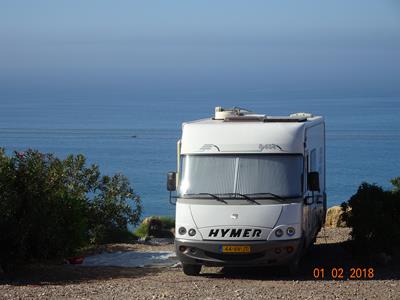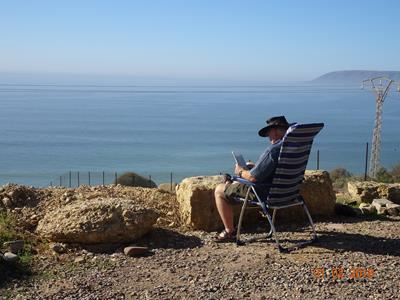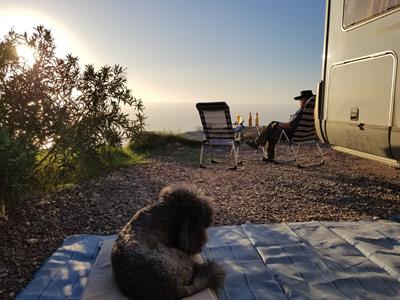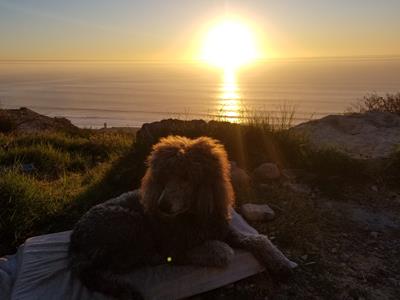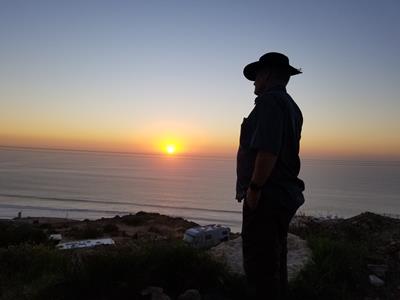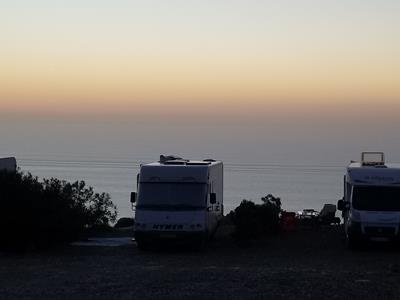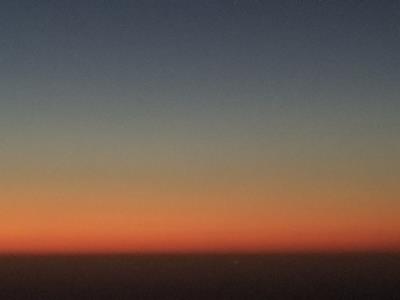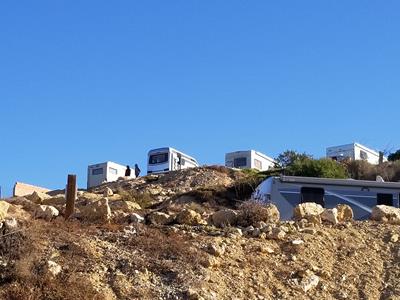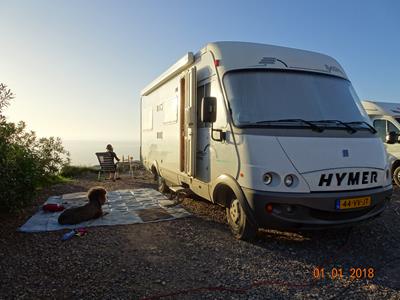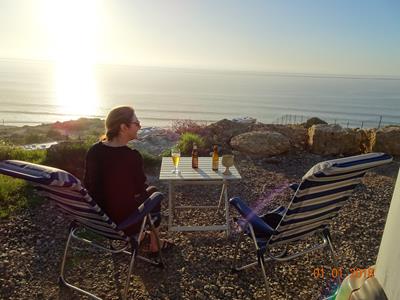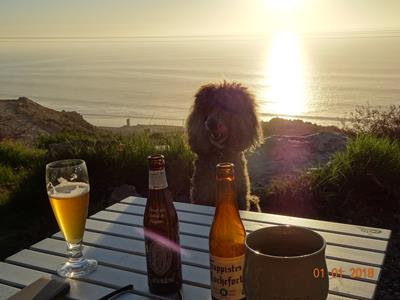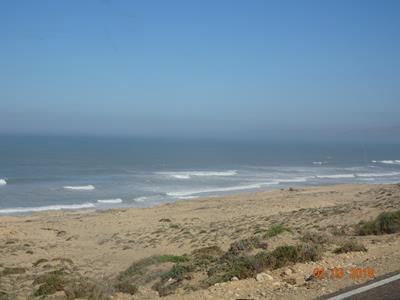 From there we did a brief revisit to Essaouira, where Taylor did a horse ride through forest, past Portuguese ruins & onto the beach at Rancho Diabat. Shopping for a Botania (pompom) blanket in the Medina.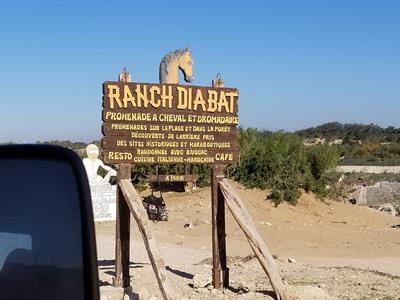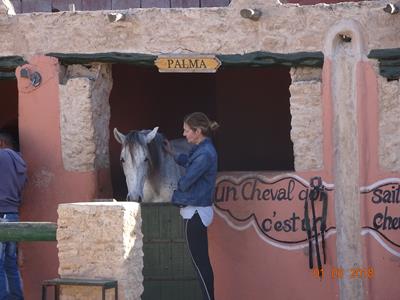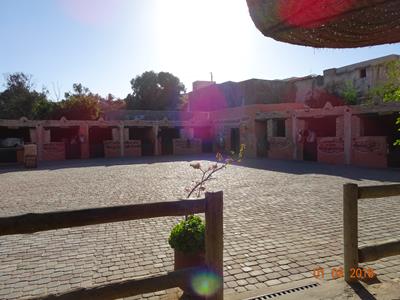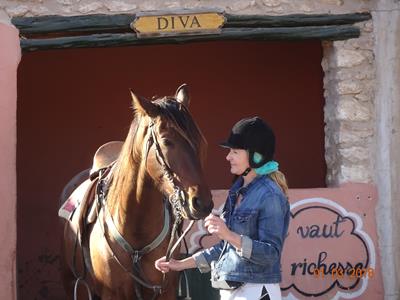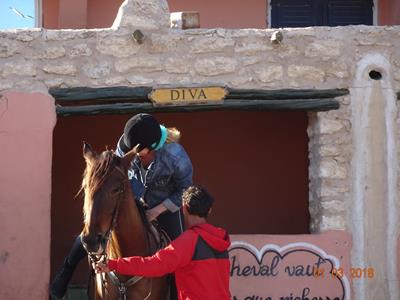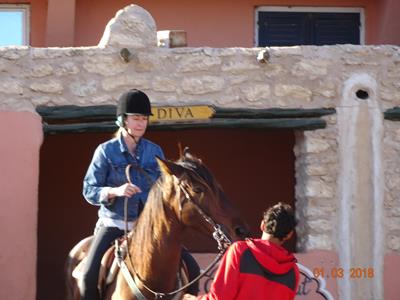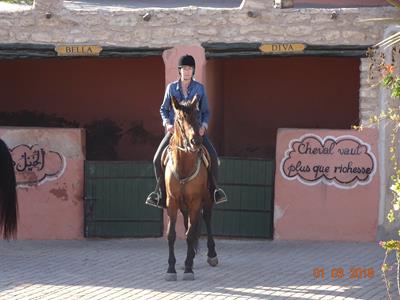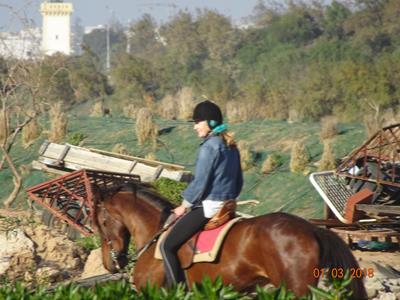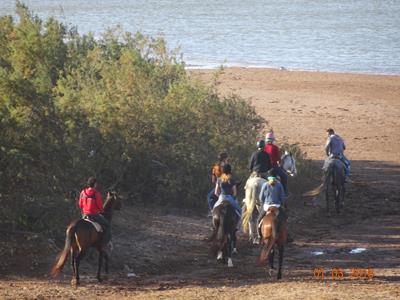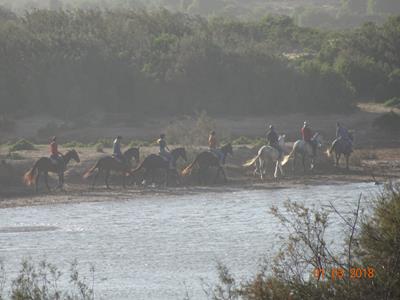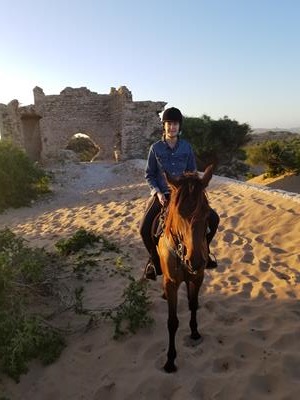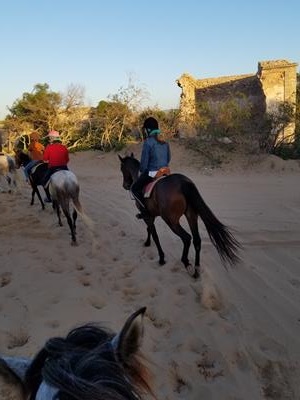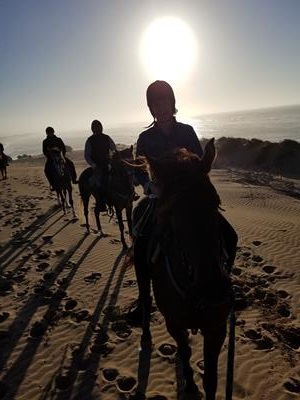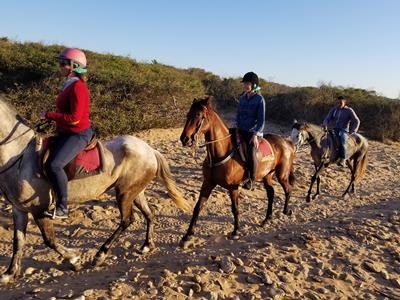 North of Essaouira we followed the coast road, staying overnight overlooking the ocean at the somewhat dilapidated town of Souria...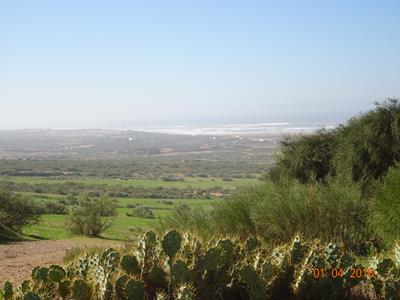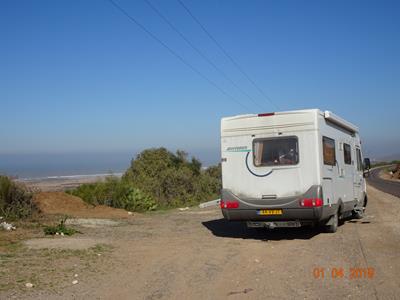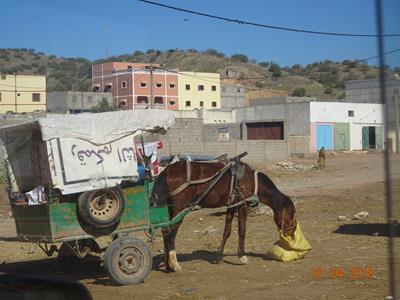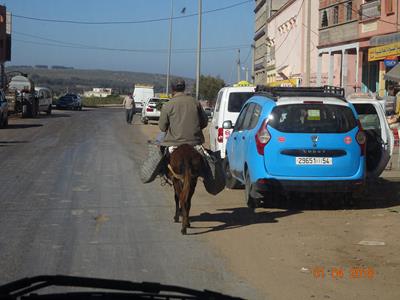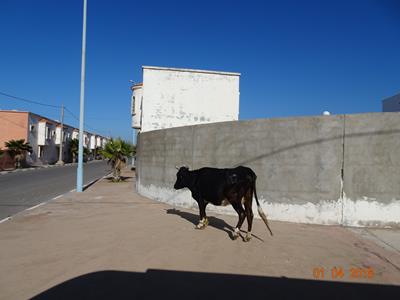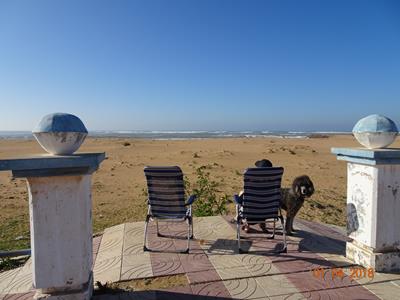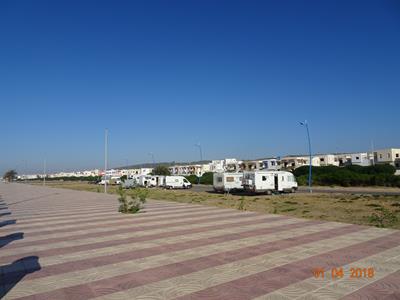 That black & white object at the top of the truck is a cow... :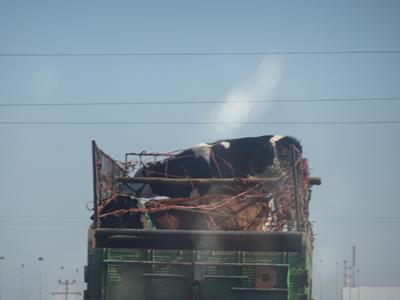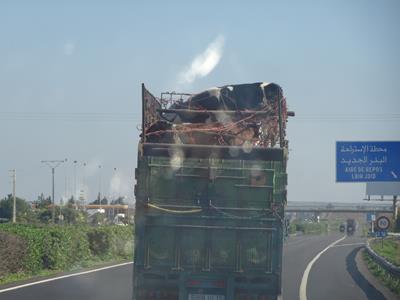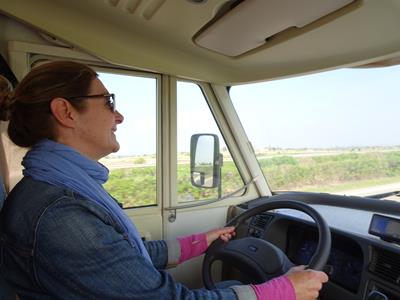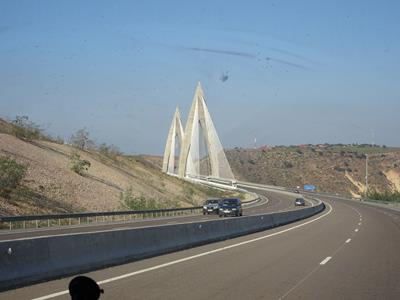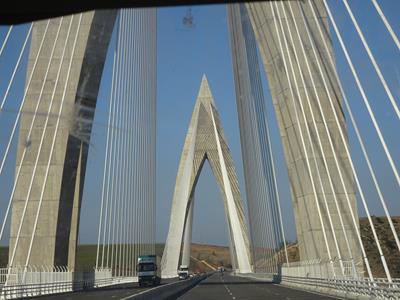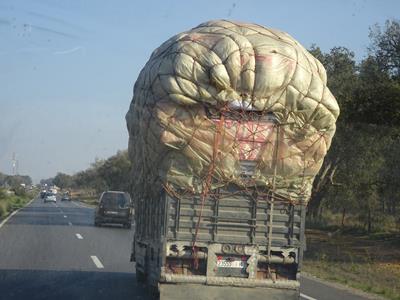 ...before heading for 2 days in Fes. We loved the Fes medina and did a fair amount of shopping for leather goods, blankets and an orange Berber jacket for Frank!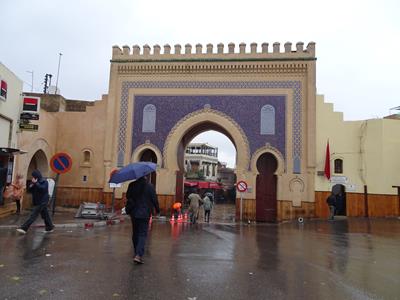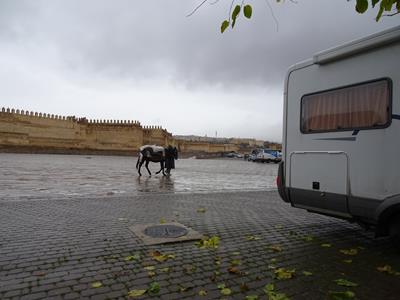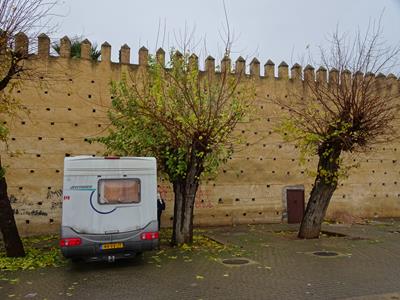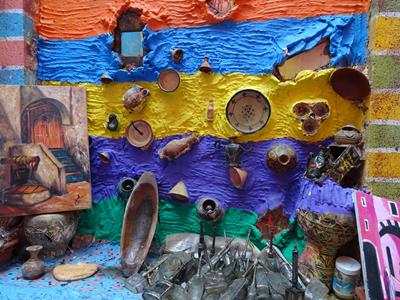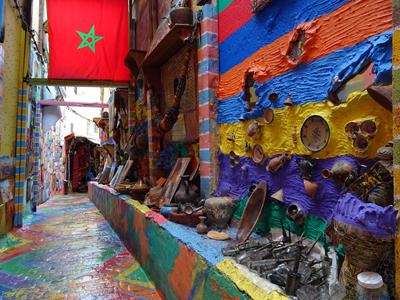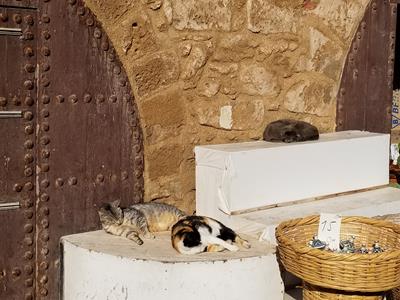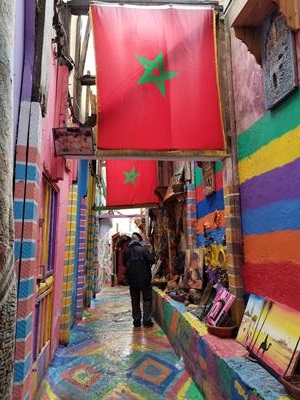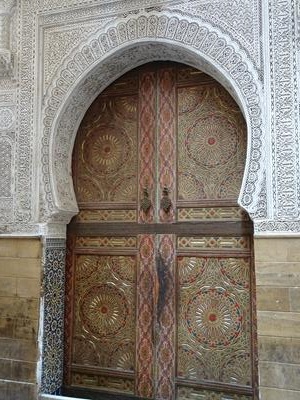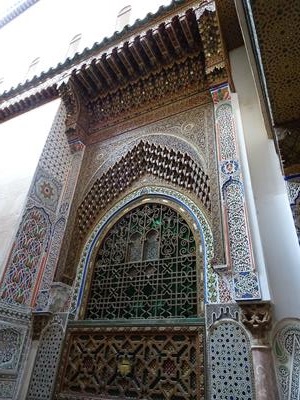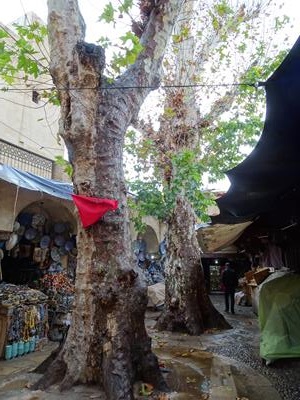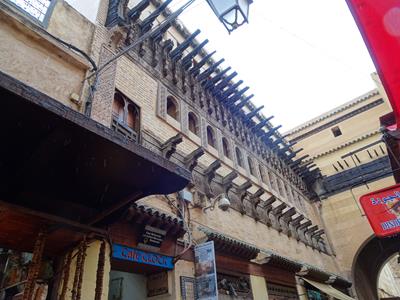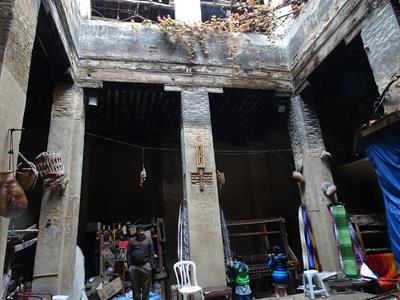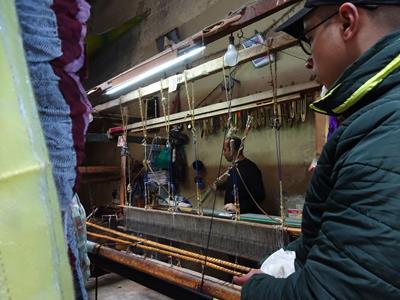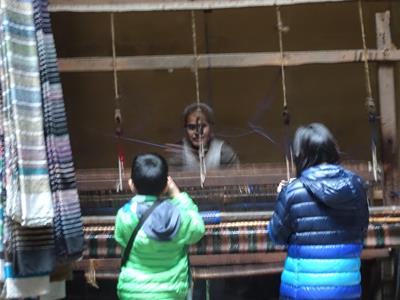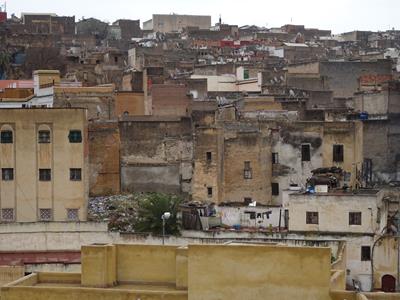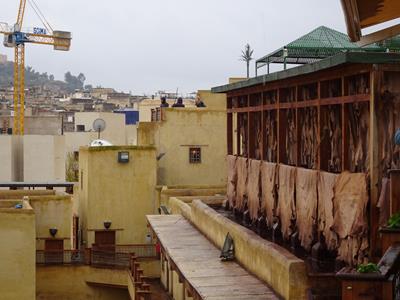 The famous leather tannery of Fes: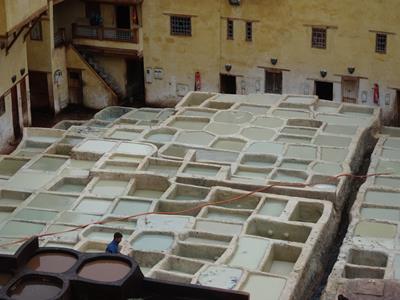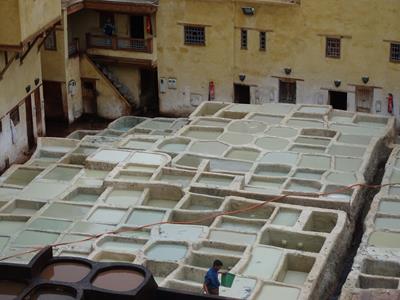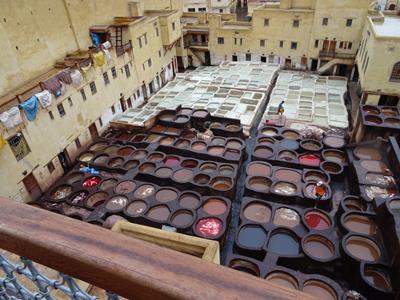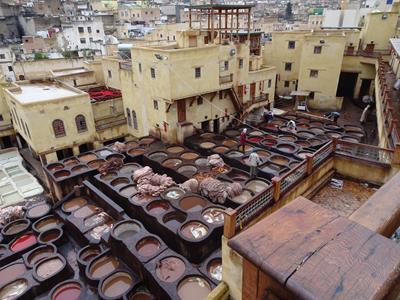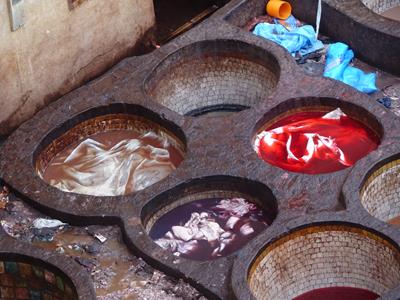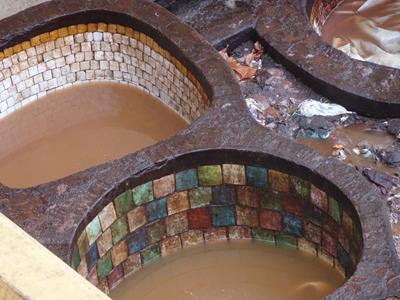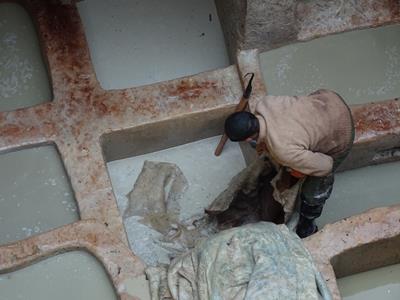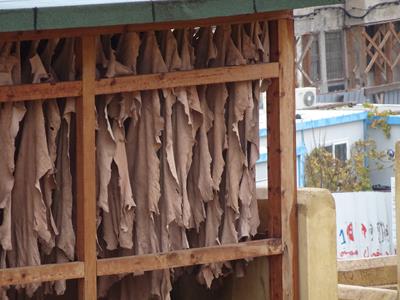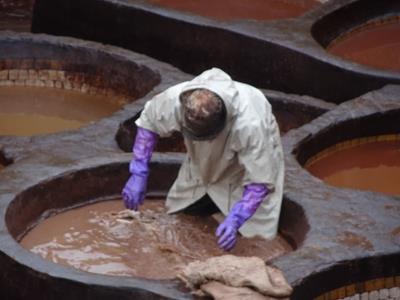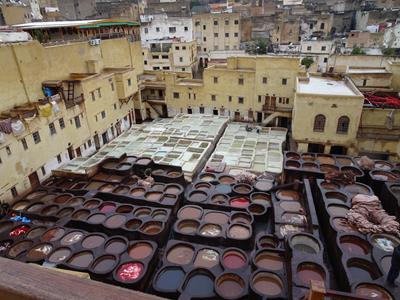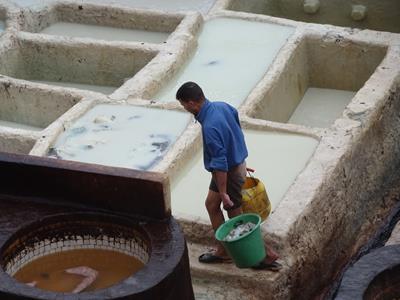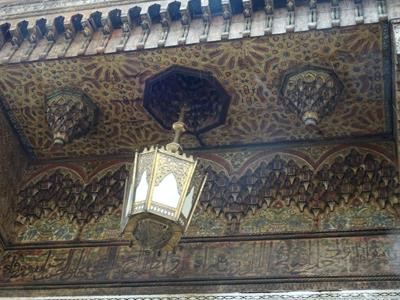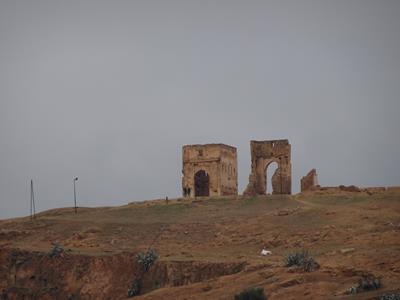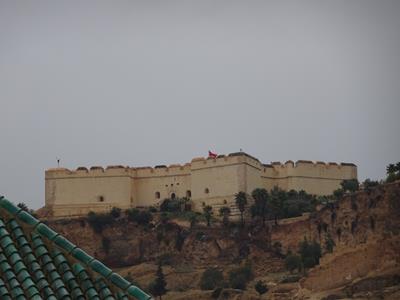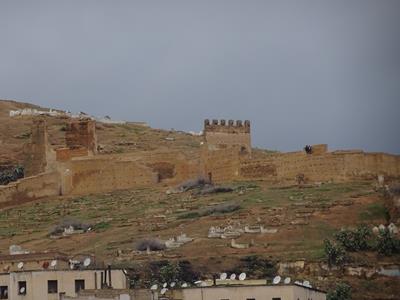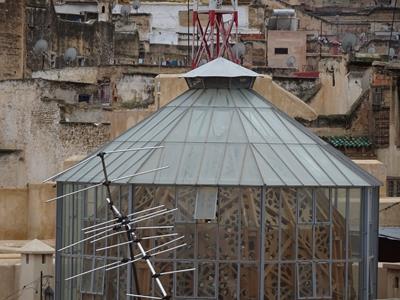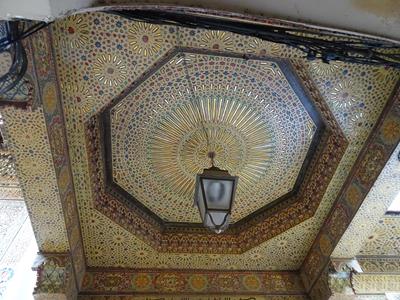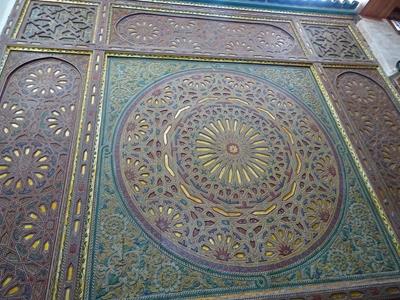 We had intended to also visit Meknes and Chefchaouen, but rain and snow started moving in, so we decided to leave these destinations for next time!
Due to the weather, we chickened out and took the longer toll road coastal route back to Tanger Med ferry port, stopping for one last night on the beach at Assilah.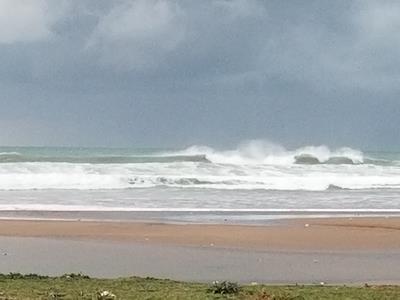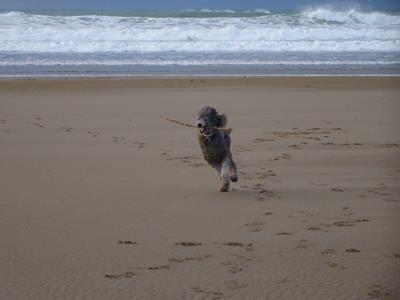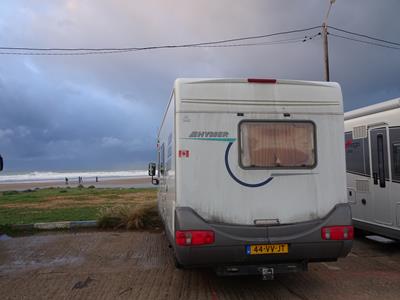 Exiting Morocco was painless, even with the paperwork and the vehicle x-ray. Same with entering Spain, where they waved us through without asking anything - not even requesting Odin's titres test!

We then spent a week in Puerto Galves Spain and at Manta Rota in the Algarve, before dropping Taylor off at Lisbon Airport to fly back.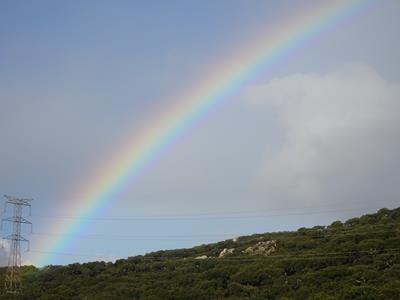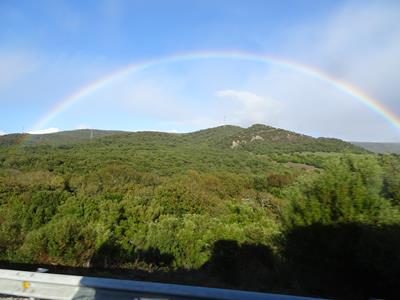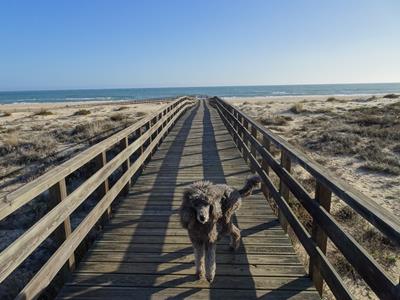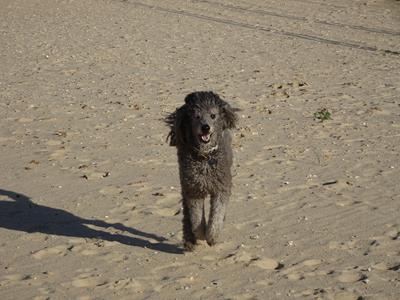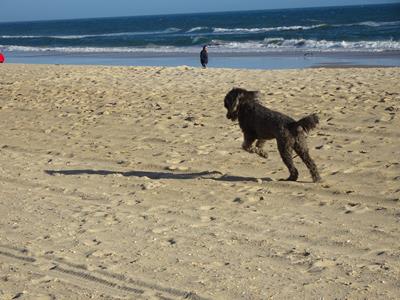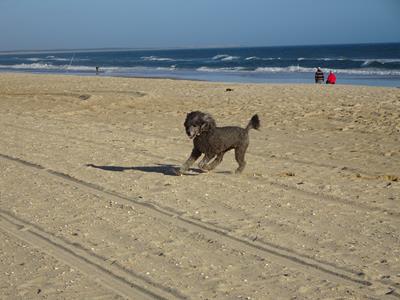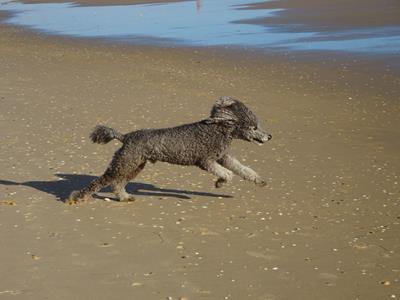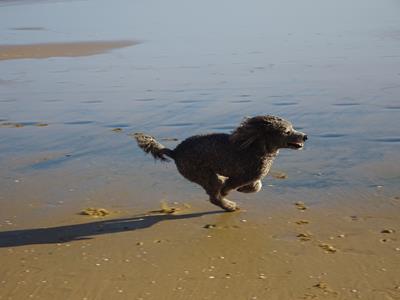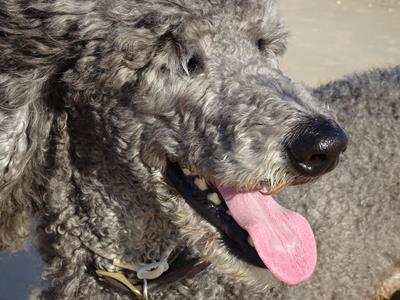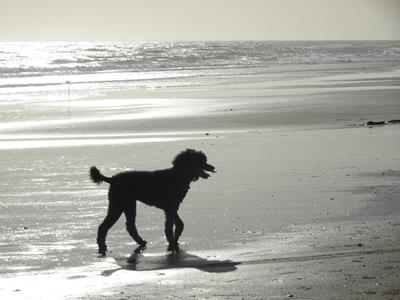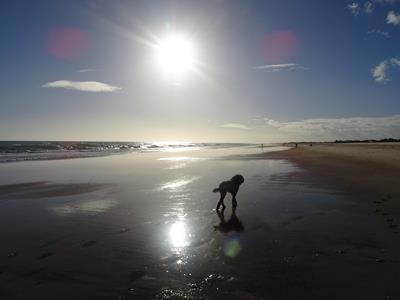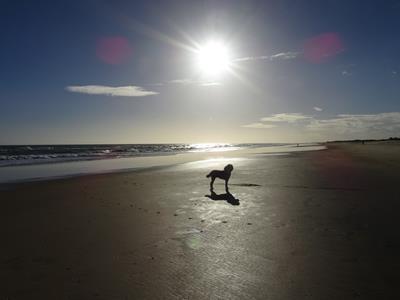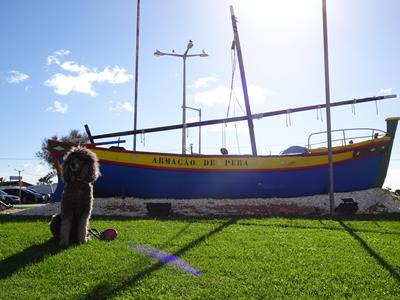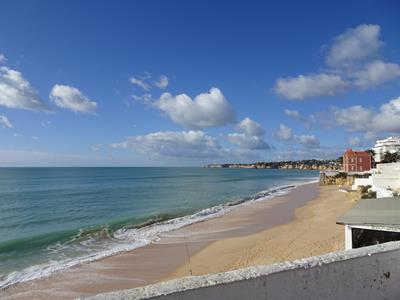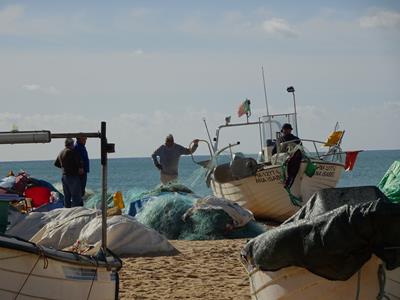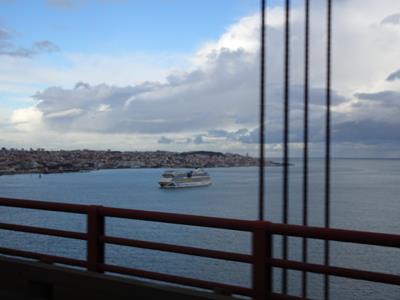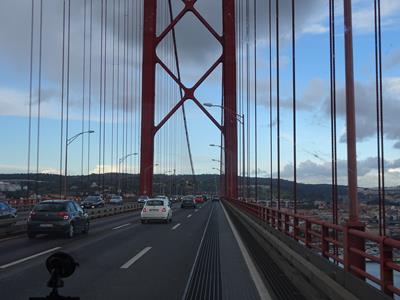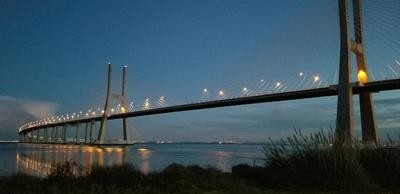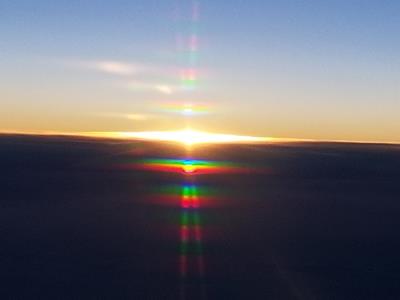 Then Frank & Odin took a week to drive back to Amsterdam, where we dropped off the Hymer to be stored until the next trip!