Summer 2008 Page 3
Page 1:Belgium/Loire Page 2:Dordogne Page 3:Gard/Rhone/Plus April Germany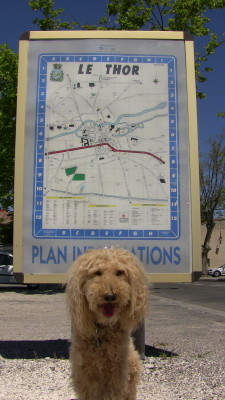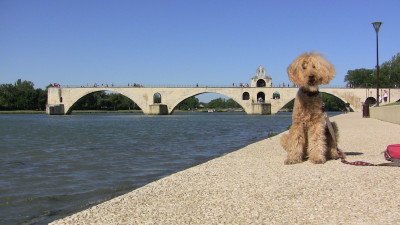 View 2008 Summer #3 in a larger map with points of interest table of contents
Our entry point to the south of France is the old Templar town of La Couvertoirade, where we eat crepes and stay the night.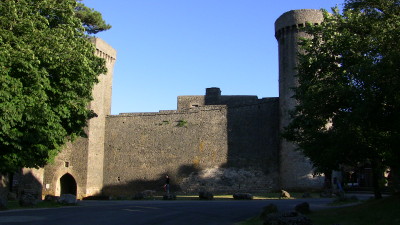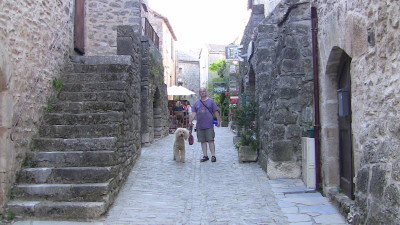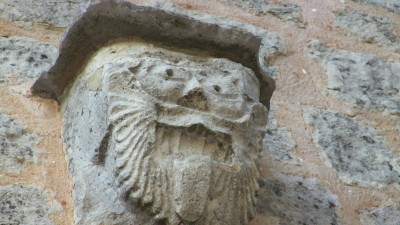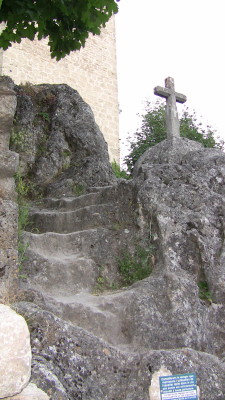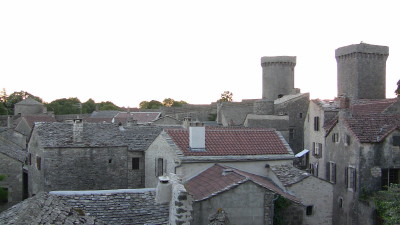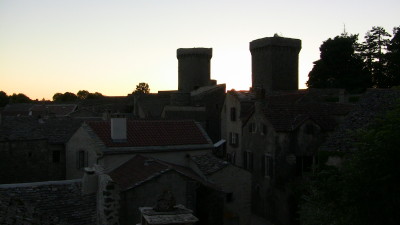 Next day we drive through Montpellier, south along the Mediterranean beaches, where Taylor takes a dip while I sip a Chimay Bleu, then we wend our way through 60s funky La Grande Motte resort town (built where nothing was before like Cancun) to the Camargue, then on to Arles, where we find a spot below the ramparts.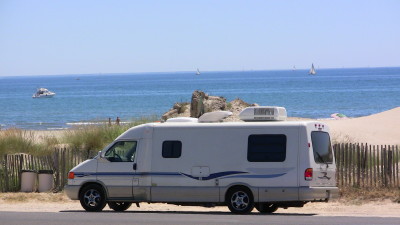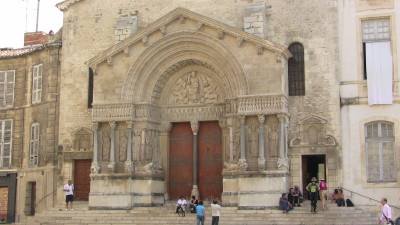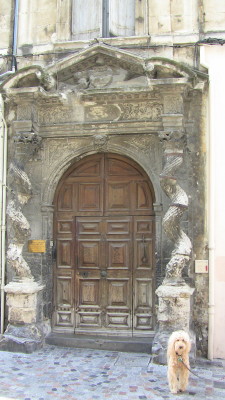 Strolling through Arles is a delight, a phantasmagoria of Roman, medieval & artistic sites. On our way to Les Baux, we stop to sample a rustic soup(pistou) and a bit of daube in a small town. The now totally tourist town of Les Baux sits amongst the grim rock formations of the Val d'Enfer.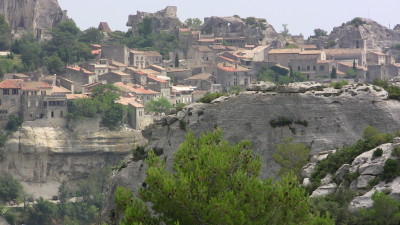 Large sections of this have been quarried (bauxite, named after the town) and we buy some local wine in a cave carved from the rocks.
Next we find ourselves in one of our favourite towns – walled Avignon with its half-bridge pretending to cross the Rhone. The annual theatrical Festival d'Avignon happens to be on, and the streets are filled with performers from the dozens of productions currently on stages throughout the town.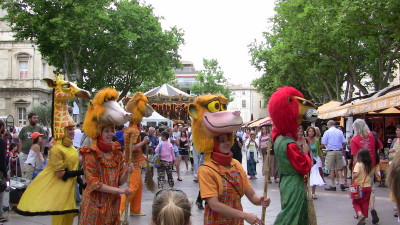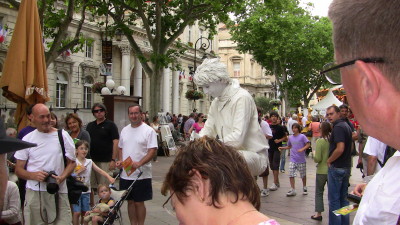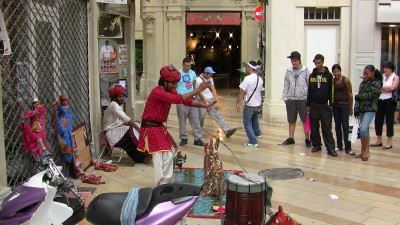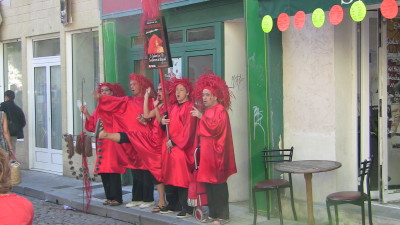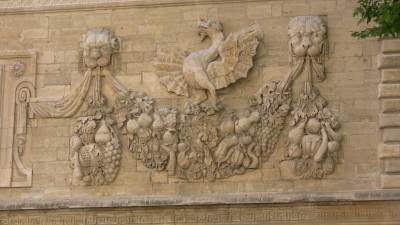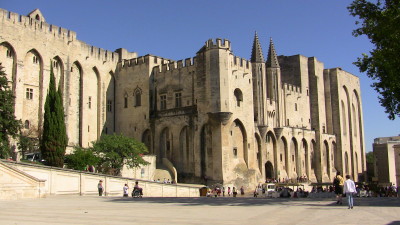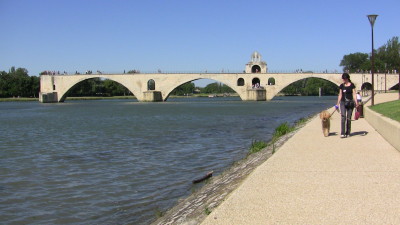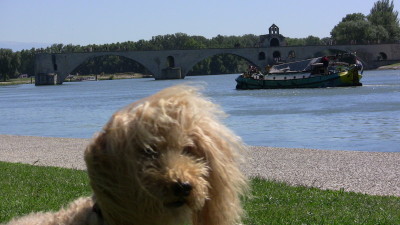 We do a bit of a daytrip to the vinyards of Chateau Mont-Redon in Chateauneuf-du-Pape to pick up a case of the 1999 vintage - particularly fitting, since we were last here in that year, and drove through the very vines that were the source of that which now we quaff.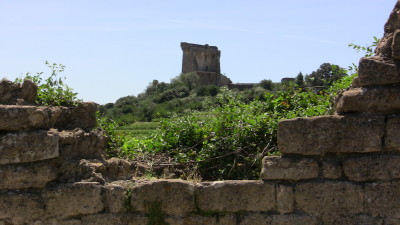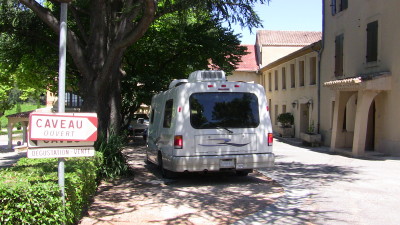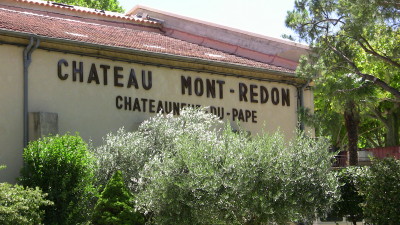 Departing Avignon after 3 days, we decide to do a small loop around Mont Ventoux , a route we have explored on previous trips. Great scenery, enchanting small towns (if a bit gentrified). We lunch in the antique centre of L'Isle Sur Le Sorgue, then motor to Pernes Les Fontaines, with 50 fountains spread throughout the town. The big green clump in front of the medieval gate below is one of them - atypical being a porous rock with water pouring through, allowing various mosses etc. to grow.
We settle in for the night in Carpentras, which has glimmers of a medieval past fighting through the dust of a rather tattered city.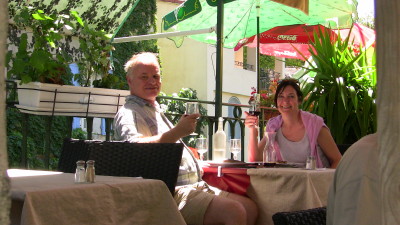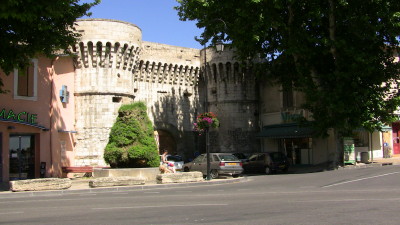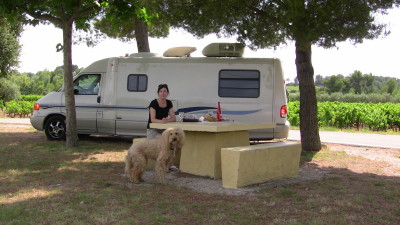 Next day is a loop around the bottom of Mont Ventoux, first east & north to Bedoin - then west again to the Cotes du Rhone Villages region - small winding practically one way roads with dramatic belvederes and ancient castles rendered now into Chateau & Relais level hotels & restaurants. We stop into one for a bottle of 1999 Gigondas - definitely in the top 10 of the wines we sampled on this tour. We finish this day with an overnight at the campingcar aire at the tiny village of Rochegude - tree covered, next to the boule court, we walked the town perched above us in dusty medieval splendour, the castle now an expensive hotel. In Bollene nearby, we made a wrong turn into the narrow-laned old city - I was sure I could make the turn, but Taylor eventually had to get out & guide me as I backed up a couple of blocks! (no pics, sorry :-)
Next day we continue north up the Rhone passing through a landscape with castles, ruins, vineyards, industry and nuclear plants juxtaposed in a surreal dance. We stay in Montelimar, dining on nougat, nougat a bit more nougat...
Next day we continue through to Tain L'Hermitage, where we have perhaps the best lunch so far this trip. We continue, with a short walk through the centre of Lyon, to rest 50 km. north of the city.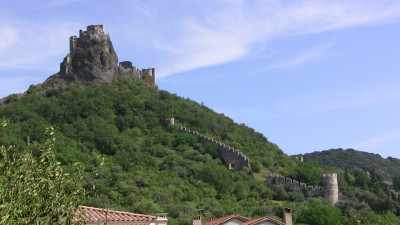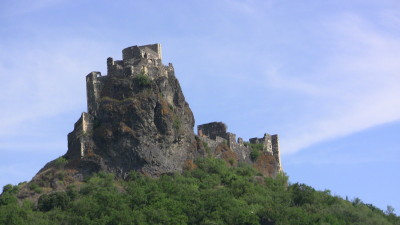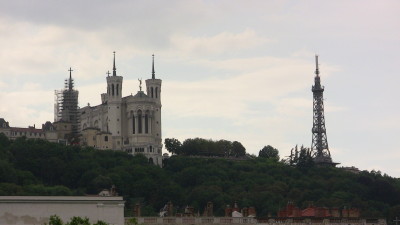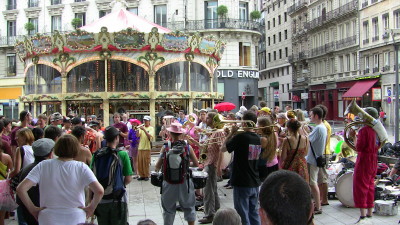 Continuing north, we follow the Saone to Beaune in Burgundy for lunch, staying the night in Nuits St. Georges, the next morning doing a bit of a degustation in Vosne Romanee, leaving with 3 bottles of the local wine.
The shot below is of the top 4 of this trip. the Gigondas would be #5, but the bottle is long gone!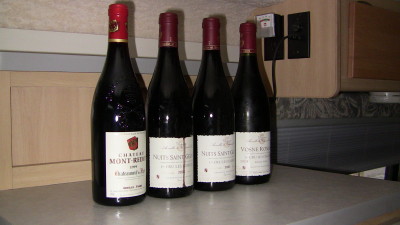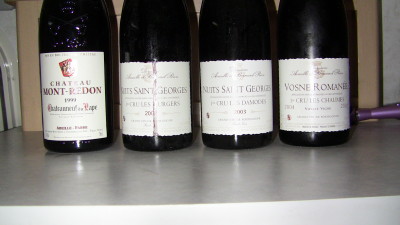 We next loop up around Dijon, passing the source of the Seine, then following the river to Troyes en Champagne, a fairly non-touristy town with an incredible melange of medieval half-timbered building, renaissance facades, all mixed in and painted various colours. We rest next to a pastoral garden with a creek running through it, right on the edge of the old town.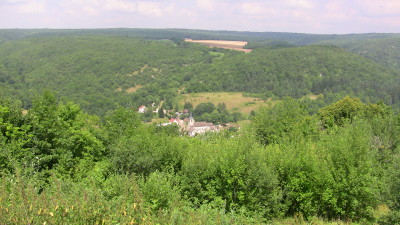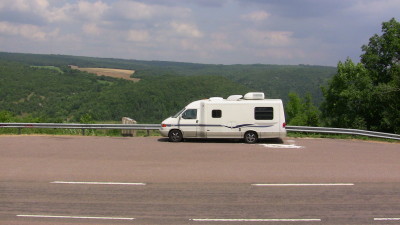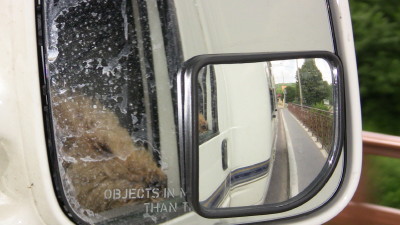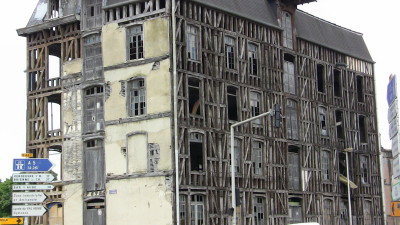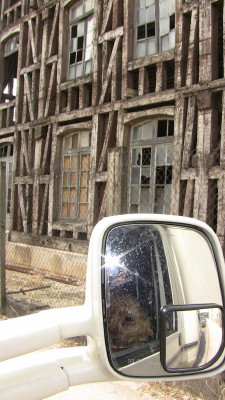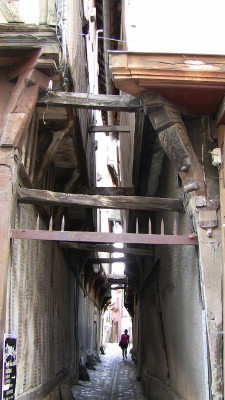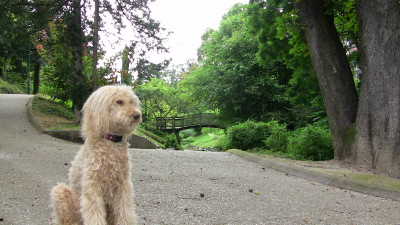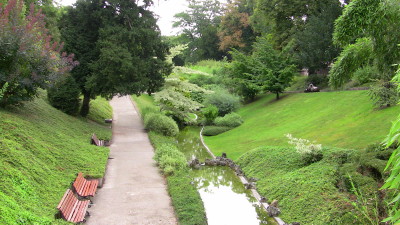 Traveling north through Champagne, we bypass Reims this year, and rest just north of Charleville-Meziers in the little wooded river valley village of Montherme, a few scant kilometres from the Belgian border. With an ideal spot overlooking the river, we dine on steak and sanglier in a local restaurant. Tomorrow we leave France for the return leg through Belgium to Amsterdam.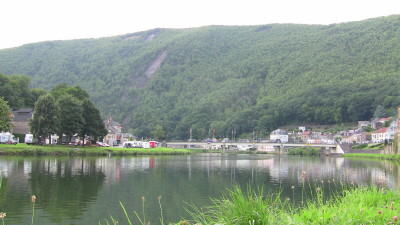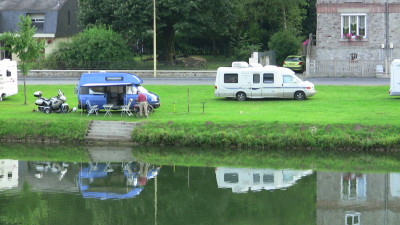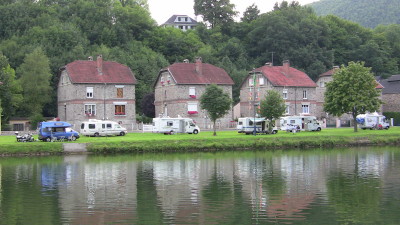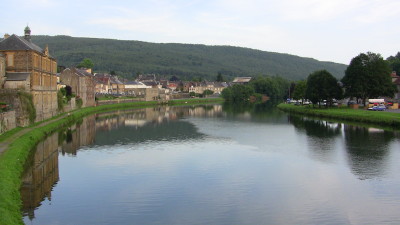 Driving north we follow the Meuse into Belgium, stopping for lunch next to the river, picking up some strawberries in Wepion, finally getting onto a freeway (hardly any of those on this trip) at Namur, and arriving in Antwerp for the final couple of days of housekeeping duties - laundry, cleaning, airline changes, etc. A great trip overall - weather was fine throughout - not much rain, not too much heat.
Our friend Kees once again generously drove us to Schiphol. Now we're back in Toronto - Thor took the trip like a trooper - I think he's getting the hang of flying!

View 2008 Summer #3 in a larger map
Addendum: April 2008 Mini-Tour

View April 2008 in a larger map with points of interest table of contents
In April 2008 Frank did a 2 1/2 week solo trip, Amsterdam to Brussels, then to Koln, from Koln directly east through small back highways to Eisenach, where he retraced some of our Communist-era East European trip. Sorry no pics.
Notes:
Amsterdam- stayed 3 days, mostly getting over jetlag at Gaasper Camping, where I met 2 other couples - Canadian & American. Did a lot of revisiting of the city.
Brussels - stayed in the camping in Beersel - train to the centre of Brussels.Dining at Drei Fonteinen, a la Becasse...
Koln - stayed at the Stellplatz overlooking the Rhine; ate at the Malzmuhle Kolsch Brauerie.
Erfurt -free stellplatz right in town; the town is very spruced up since 1990; did a walking tour of the town,free numbered map from the tourist office in hand.
Buchenwald - entered at 8 a.m. in cold foggy drizzle. Stayed 8 hours, viewing the extensive museum and the rest of the camp. No matter how often I visit such sites, these remnants of Nazism are very sobering & meditative.
Weimar - stellplatz within walking distance of town; found a great traditional German restaurant - the Köstritzer Schwarzbierhaus (this tour will be a comparison of each restaurant's treatment of schweinshaxe & Thuringer Dumplings). Visited the Bauhaus Museum.
Dresden - stellplatz practically in the zentrum with free WiFi at the attached hotel. The Frauenkirche restoration is a marvel.
Drove through Meissen (toured the Schloss again) to Berlin, where I found a very central stellplatz on Chausseestrasse just south of Wedding. Bought a 3 day attractions/transit pass. The outdoor historical panel museum near Checkpoint Charlie is comprehensive.
Leaving Berlin, I skirted the northern fringe of the Harz Mountains, visiting medieval Quedlinburg & Wernigerode (ate at the rathaus in Quedlinburg). Stopped at the Stellplatz in Osnabruck before crossing into NL & back to Amsterdam.
Summer 2008:
Page 1:Belgium/Loire Page 2:Dordogne Page 3:Gard/Rhone/Plus April Germany