Summer 2009 Page 2
Page 1:Germany & CZ Page 2:Austria,Venice & Germany Page 3:Germany & Belgium

View 2009 Summer in a larger map with points of interest table of contents
After the Czech Republic, Austria (Österreich) was a breath of fresh air! I drove into Linz, one of the 2 Capitals of European Culture in 2009 (Vilnius being the other). First thing I see is a medieval group performing on a square - and then, shortly thereafter, another at a "Ritter-fest" on another square. Here there is a balance, a harmony of presentation to travelers and a basic "this is who we are" authenticity. There is a tourist dimension, but it does not overwhelm and diminish the character of the country: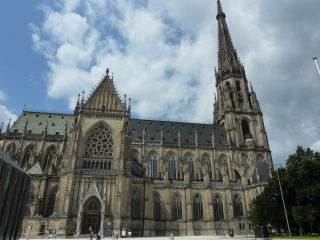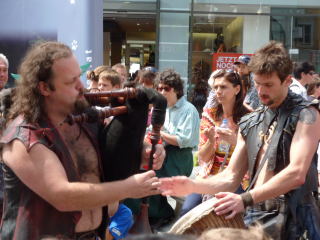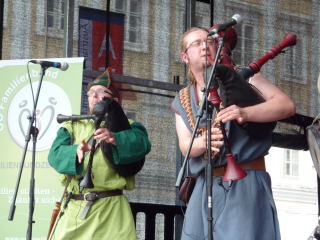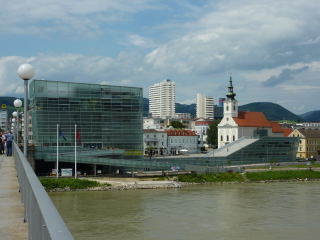 Before leaving Linz, I stopped by the Danube (Donau) and played the Blues Danube Waltzing Blues :-)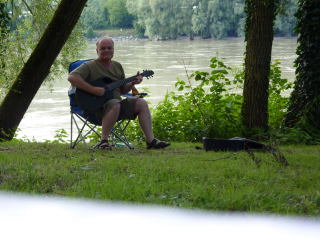 Now here I was torn - travel along the Danube or head south to Venice for the Biennale Art Exhibit? Nice thing about a motorhome trip is that you can make it up as you go along. So I decide that I'd skip Venice and drive along the Danube to Passau. As I'm driving along the Danube, I espy a Schloss ruin (castle ruin) up in the hills above the river valley. Spotted a few signs for "Ruine Schaunburg", but didn't really believe I'd find a road to it (looked impossible).
Anyway, I still had to check it out, so I drove thru fields on narrow roads (oncoming trucks & tractors actually barely made it past me! :-) and eventually found a steep incline up to the castle ruins.
After finding parking below the ruins, I wandered into them, to find a group of about a dozen local Austrians engaged in medieval historical enactment. Chain mail, bows, arrows etc. I speak to one of them, Wolfgang, a very interesting fellow who explains a bit of what they are doing. He invites me to return later, to share a bier or two, and I take him up on it. We sat from 9 to 2:30 in the morning, exchanging stories, with a dash of humour, sitting around a huge raging fire, in the centre of the courtyard of the old castle. Around 1 a.m. the clouds broke and the stars and moon shone eerily on the castle ruins. I want to give a viele grüße aus Kanada to Wolfgang, Harald, the Twins, die drei Mikhails, Outlaw (Alex-meine schwester wartet für sie in ihrem iglu :-) and all the others whose names escape me.
This evening will remain in my memory as a high point of my travels - really great people, newly met, sharing conversation over a raging fire within the ruined walls of a castle built 800 years ago... and somehow this distilled the essence of Austria.
Vielen Dank to Wolfgang for the action pics!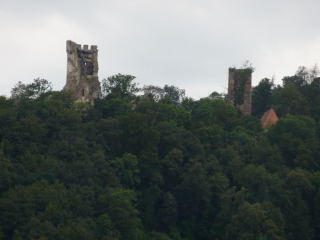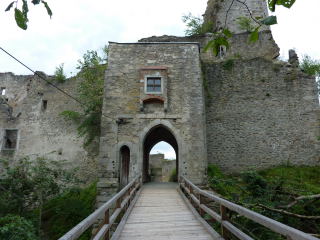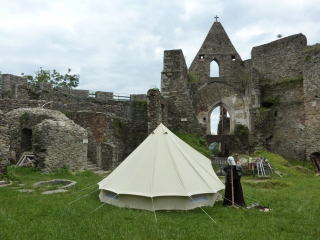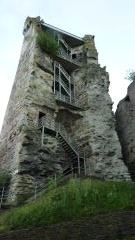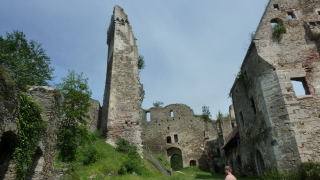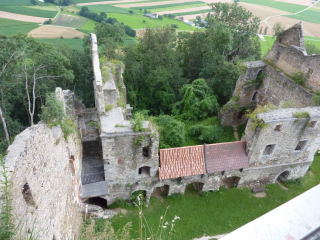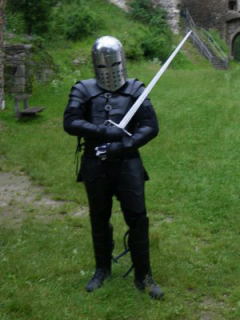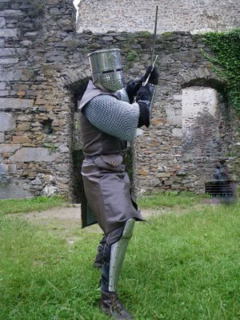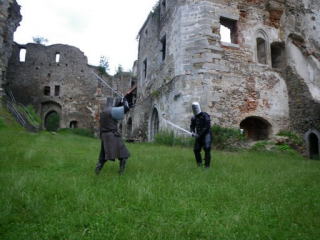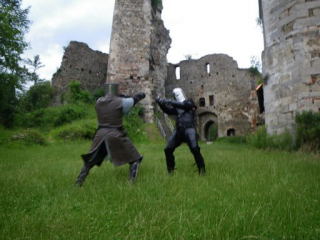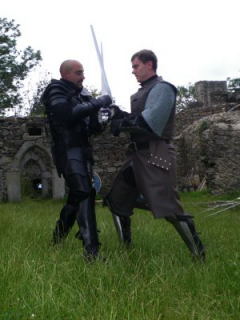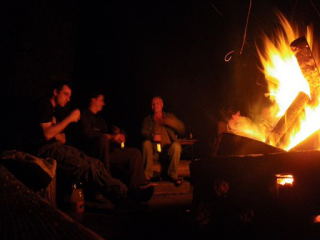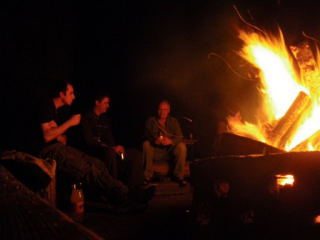 Nächste morgens I had coffee with those remaining from the night before ( apparently the women, and a few of the men, chose not to sleep in a communal tent within the castle walls, filled with ghosts & perhaps the aftereffects of bier und sauerkraut! :-)
Playing Dem Ole Shaunburg Blues: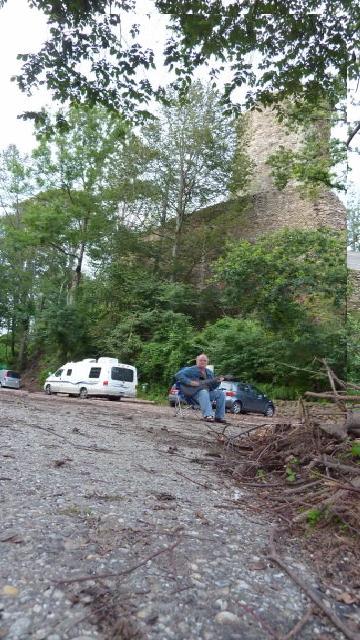 Then I changed my mind again, deciding Venezia & the Biennale were going to be my next destination.
So off I go first to Salzburg (the Mozart statue pic is especially for Mares!):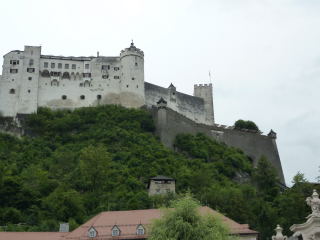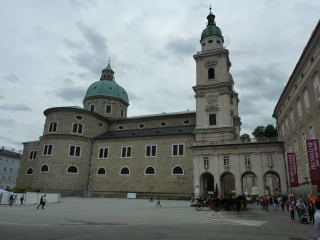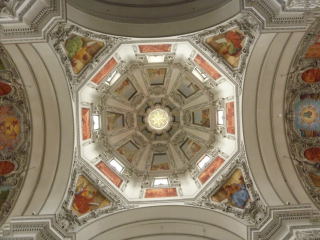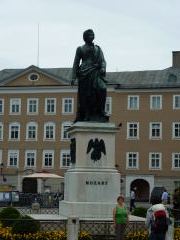 Then a drive thru the glorious Austrian countryside towards the Italian border: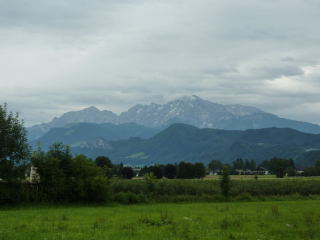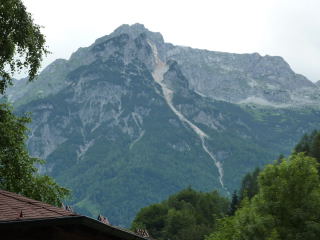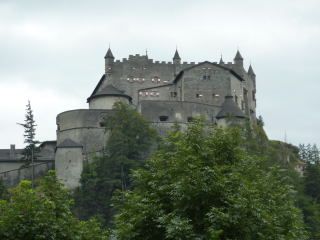 Crossing into Italy, I decided to leave the autobahns and take smaller roads. Well my GPS led me along a twisty-turny merry route, almost taking me into Slovenia ( I made a U-turn at an old fortification just short of the border).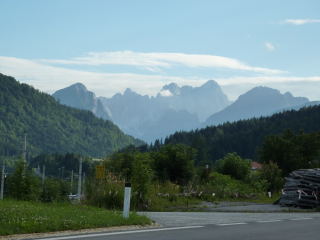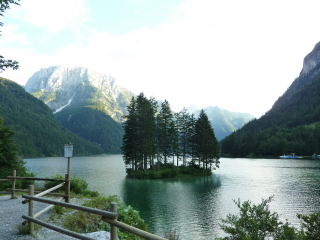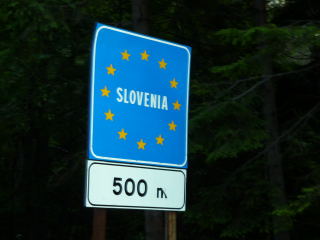 But eventually I made it to Palmanova - just south of Udine. Palmanova actually has palm trees, but it is most notable for being built on an octagonal plan (actually a nine-pointed star - one of apparently a dozen or so such fortified towns spread throughout Europe), with moated eight-sided walls surrounding a town centred on an eight-sided "square", also with a small moat running along its sides. I had no idea of any of this until I drove in about 9 PM and noticed that many streets were blocked off. So I parked up the Jefferson Campervan and went to investigate. In the central octagon were several hundred torch-bearing locals dressed in garb of another time.
Occasionally a cannon would fire, from whence who knows? Anyway, all these torch-bearing (actually felt eerily KuKluxClannish) people circled around a central pole clad with a maybe 40 foot banner. They then dropped the banner ( I thought they were going to set it alight, which would have made for better video :-) and paraded around the octagon, with an unseen emcee making announcements. Afterwards followed the obligatory fireworks display. I read up on this and apparently I just happened to come into the town in the middle of an annual festival.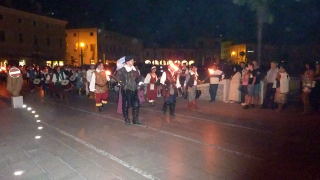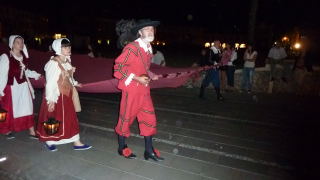 I had a great spot in Palmanova and actually intended to freecamp there, until I noticed signs indicating that the weekly farmers' market would be in place the following morning right where I was camped. So I pulled out & camped 20 km down the road, the next day making my way to Camping Miramare, just across from Venezia.
For traveling around Venice, I did what we do in most large cities- buy a pass good for a specific length of time on all forms of public transit. In Venice, this happens to be primarily boats.
So, armed with a 36 hour pass, I set off to do a Venice revisit and a first visit to the Biennale Art Exhibition.
The Biennale has 3 exhibition areas :
1) The Giardini - literally a park-like setting with a main exhibit hall and a couple dozen or so pavilions - each one different and each one representing a different country
2) The Arsenale - a section of Venice's vast fortification edifice - huge rooms, probably 10 metres high, follow one after the other - perfect for large installations. Again, some of the space is country-specific, some curated by the curator of the Biennale.
3) Several dozen spaces are spread throughout the city - most representing specific countries. Apart from the art, these presentations have the added dimension of taking the visitor into various Venetian buildings that he or she may not otherwise see. For instance: the Welsh exhibit was a John Cale multi-media installation in a former brewery on the island of Giudicca; a couple of others were in churches, the art taking the space normally occupied by pews; yet others were in suites of rooms that were former residences ( the Mexican exhibit focused on the current death toll due to the drug wars, was very stark & performance-oriented, yet was presented in an extensive suite of residential Venetian rooms, a little tired with torn wallpaper and heaving stone floors). I only visited those I happened upon - the Venetian numbering system for houses is about as practical as Tokyo's!
Here's a selection of pics:
1) The Giardini: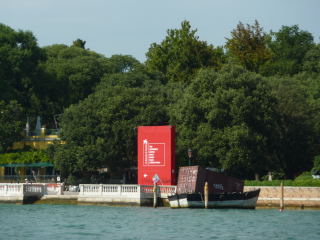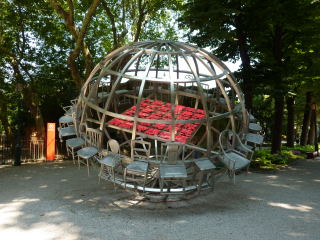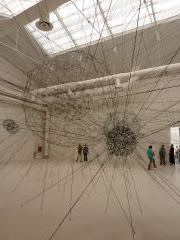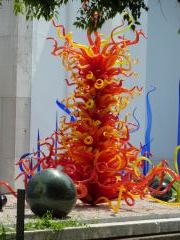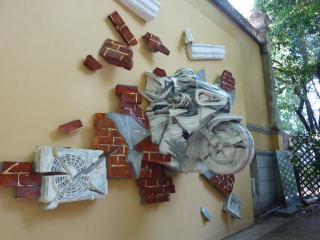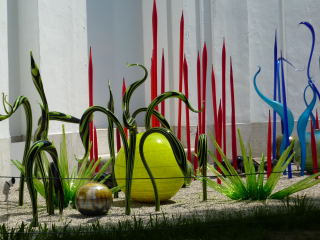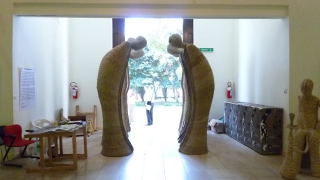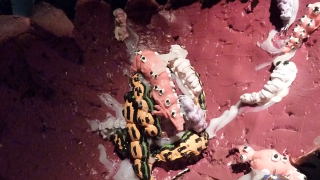 2) The Arsenale: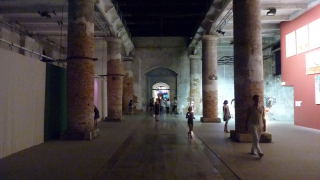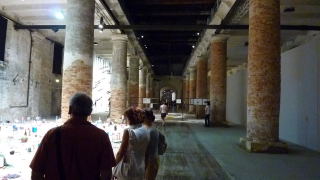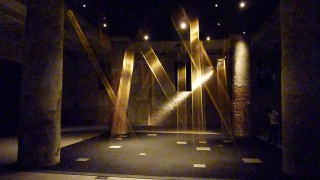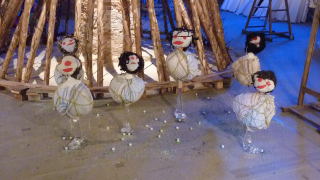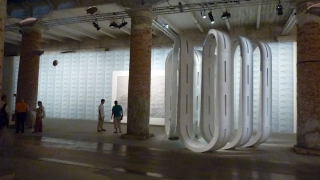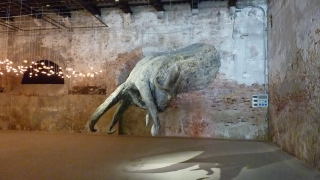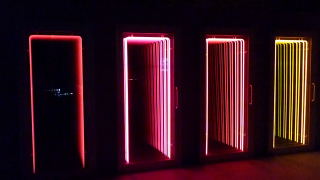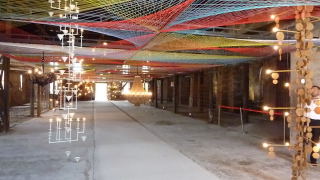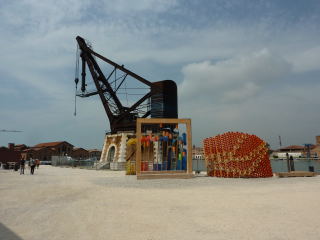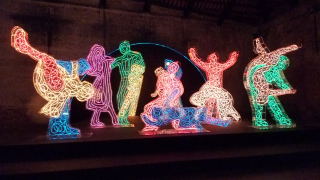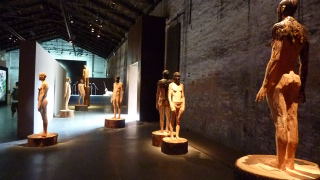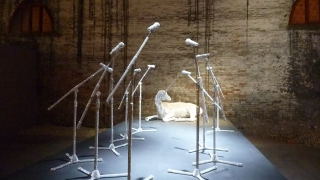 3) The Scattered Spaces: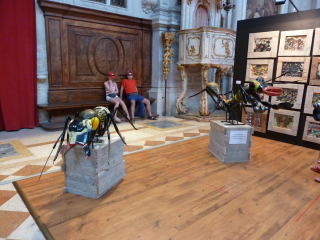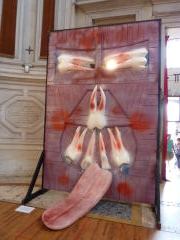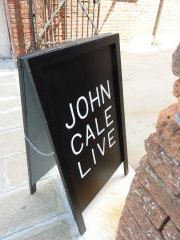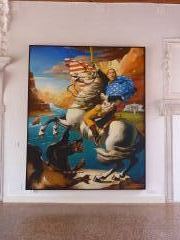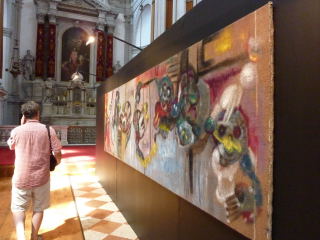 And here's a few obligatory Venice shots ( the glass sculpture is from the island of Murano):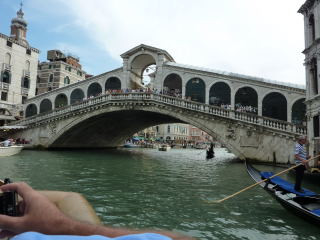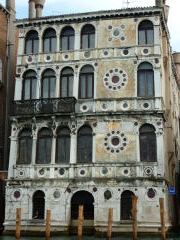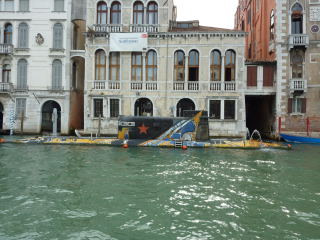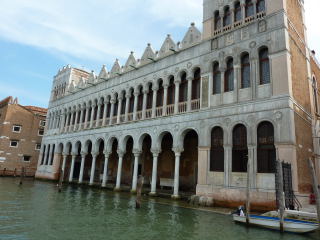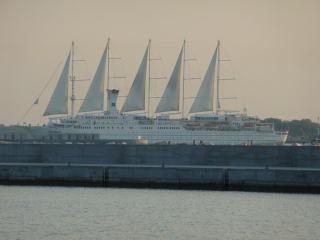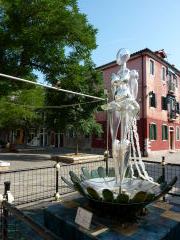 After 3 days tromping around in the heat & humidity of Venice, I was ready to head north again, so I drove up to Trento & headed directly north to the Brenner Pass.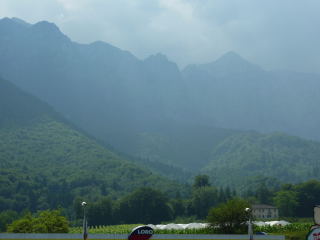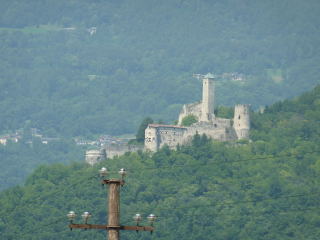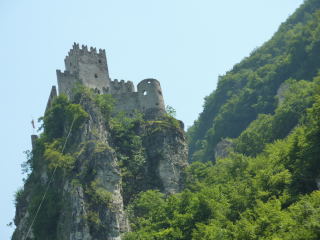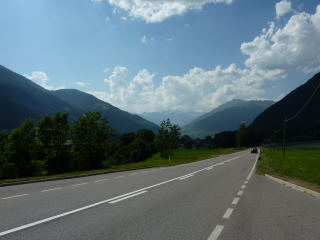 Driving thru a narrow section of Austria, I arrive at Rosenheim, a pleasant German town. Next day I head for Landshut, just happening to arrive in the middle of the Landshuter Hochzeit - every 4 years they celebrate a wedding that took place in 1475. All the events are ticketed, quite expensive & sold out. But along the main strasse fusgangerweg in the altstadt, bleachers are set up for a parade, which doesn't happen for a couple of days after I happen upon it. So they become the site of one huge street party. People bring huge spreads of food & groups of friends and/or family eat & drink on these bleachers. A goodly number of people are dressed in the garb of 1475. Occasionally a medieval band will strike a tune, but mostly it's just one big party with all generations intermixed (this coming together of the generations is something I've always thought quite remarkable about Germans - whether it's Oktoberfest, the Landshuter Hochzeit, or simply an evening in a biergarten, all generations come together to celebrate).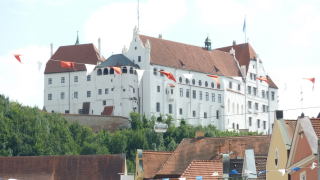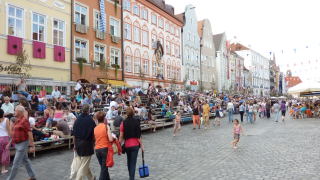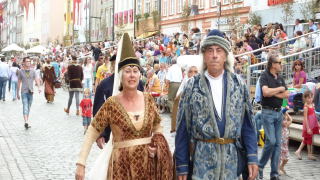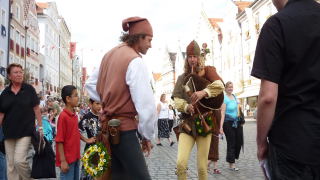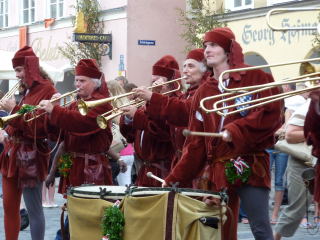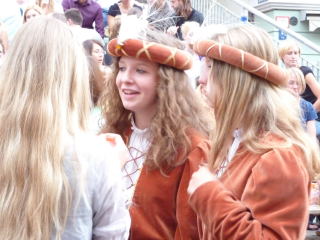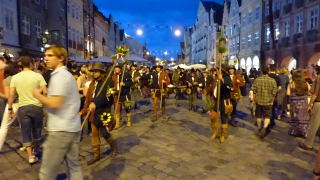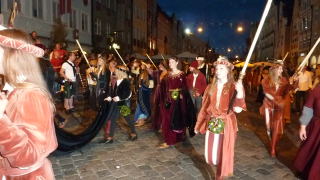 Next day it's pouring rain, so I do a bit of shopping and head for Kelheim and the famous Schneider Weissbier Brauhaus, where I quaff a hefeweizen & partake of an excellent schweinshaxe.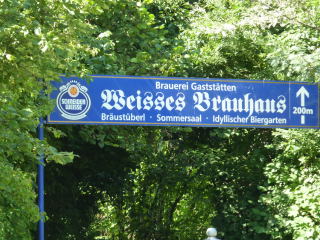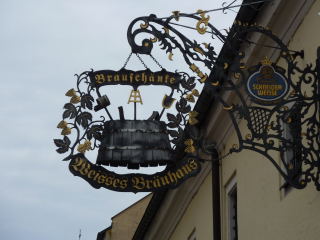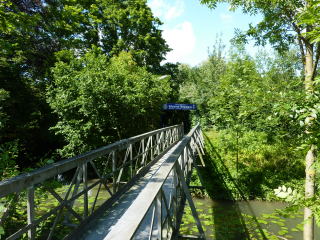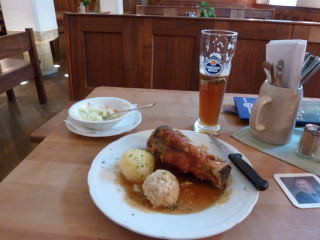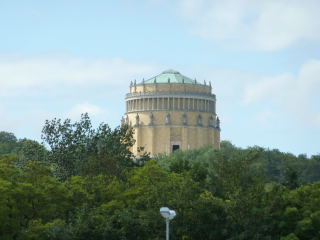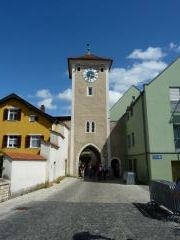 Summer 2009:
Page 1:Germany & CZ Page 2:Austria,Venice & Germany Page 3:Germany & Belgium