Summer 2009 Page 3
Page 1:Germany & CZ Page 2:Austria,Venice & Germany Page 3:Germany & Belgium

View 2009 Summer in a larger map with points of interest table of contents
Starting the last third of the trip, I find myself in Regensburg, a city Taylor & I visited maybe a dozen years ago. Regensburg epitomizes the type of town I like to visit in Europe. It has a long history and it doesn't hawk it from innumerable souvenir shops. It's a modern living city with pieces of the past embedded at every turn. The Roman Pretorian Gate is a fragment in the corner of a building. Walk around the town and you become aware of numerous towers, apparently built by wealthy burghers in the 12th -14thC, these towers being used today in a variety of ways in everyday Regensburg life. Some are restored, painted, others aren't. Walk around a corner and a hairdressing salon will have a doorway from when it was a chapel in the 12th C. There is an old stone pedestrian bridge across the Danube, with a wurst haus at its foot that claims to have originated with the building of the bridge in the mid 1100s, and is considered to be the oldest wurst haus in Germany. As you walk around Regensburg, you feel history unfolding from the past through the present into the future. Not history as Las vegas tourist tackiness nor museum-like stasis, but history as dynamic becoming.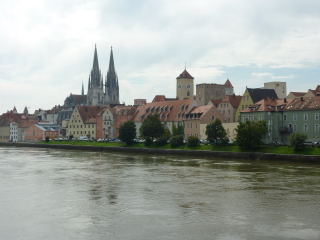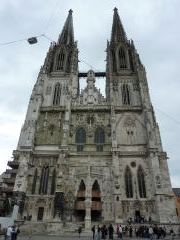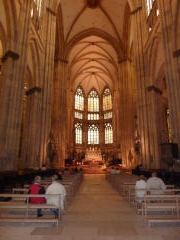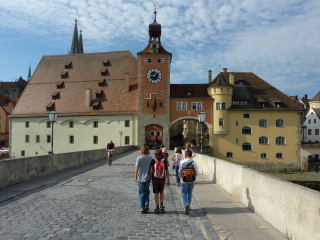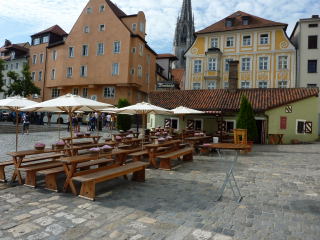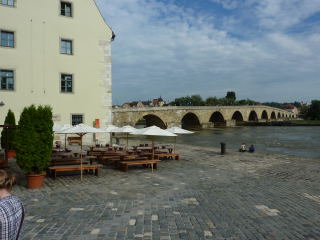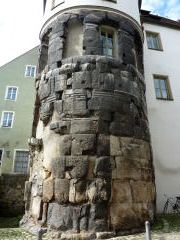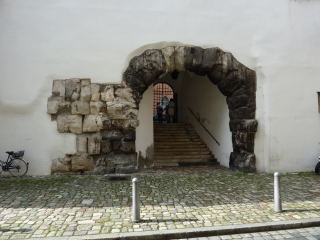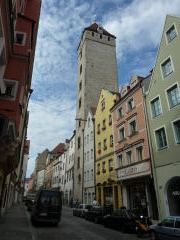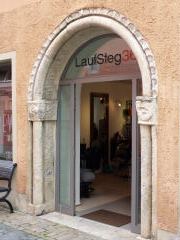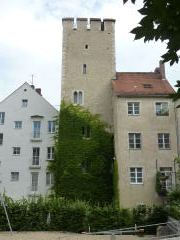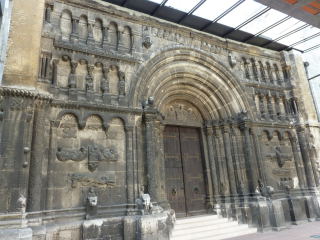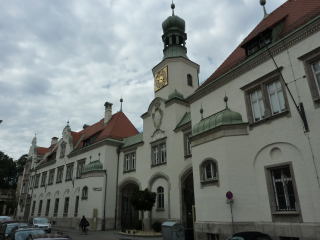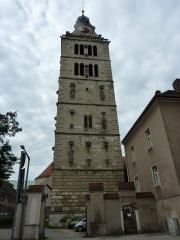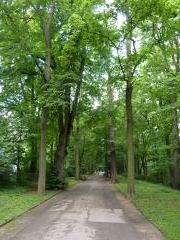 After Regensburg, I revisit Nurnberg. The stellplatz is free and a nice 2 km walk along a river park to the centrum. Nurnberg has a very livable fusgangerweg (pedestrian-only) zentrum; unfortunately this city, a pre-1945 landmark of German architecture from the middle ages on, was almost completely destroyed in WWII. However, it still makes for a fine visit, with a good feel to it, some remnants of older buildings, some very interesting fountains and, strangely enough, an almost intact city wall surrounding it.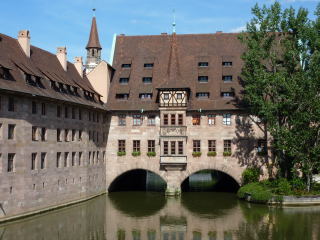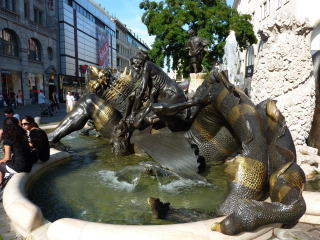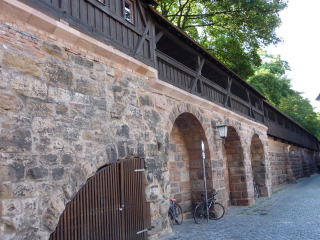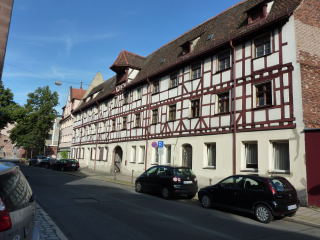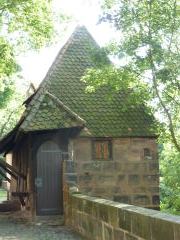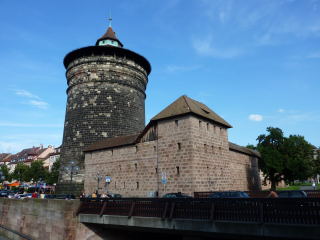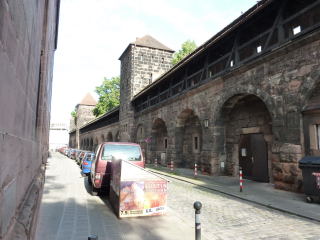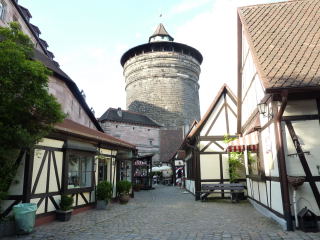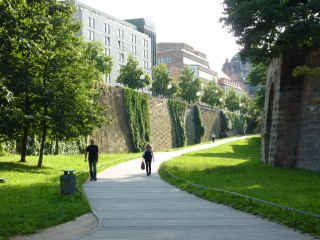 **************************************************************
INTERLUDE: Bier und Schnapps
I've long been an afficionado of German ( & Belgian) beers. Two of my top ten are Schlenkerla rauchbier (smoked beer) in Bamberg & Schneider wheat (weizen: hefeweizen (unfiltered) & the dark doppelweizen branded Aventinus) beers in Munchen/Kelheim. Schnapps I had always regarded as kind of a crude but somehow authentically earthy liquor. The first time I had it was when I was 18 & hitch-hiking through Europe. The son of a family near St. Gallen Switzerland had offered me a place to "crash" for the night. The family owned a small country inn and offered me coffee with schnapps in it. Since I did not drink any alcohol at the time, I asked how strong it was & he said it was "just made from fruits, etc.", implying a mild alcohol content ( I'm sure due to language difficulties). Anyway I knocked back a fair amount of coffee & schnapps that night and probably slept very well! Subsequently I tried the generic schnapps available in Canada, but found it wanting.
Well this time I found a rauchbier schnapps at Schlenkerla and an Aventinus schnapps at Schneider (with their accompanying glasses, of course :-). This tiny portal into der welt von schnapps has opened my eyes. Each one is different, a subtle distillation of the bier from whence it came. I've come to appreciate schnapps as a very refined liquor, distilling the spirit of its source in a manner far from crude.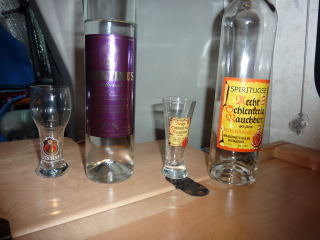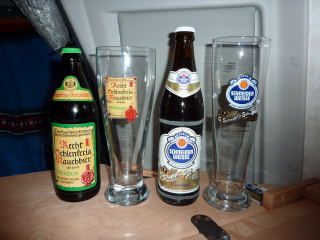 ***********************************************************
Next I revisit Rothenburg ob der Tauber - a town that had the good fortune to be booming in the 13th C, then basically finding itself a backwater by the 17th & 18th C. Laws passed in the 19th C ensured it retained its medieval architectural elements & thus we have today one of the most stunning examples anywhere of a medieval European town.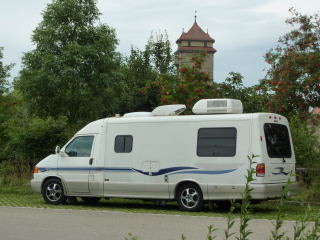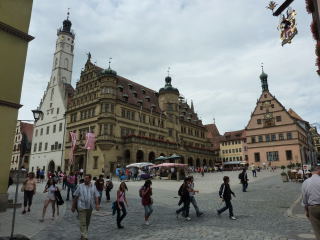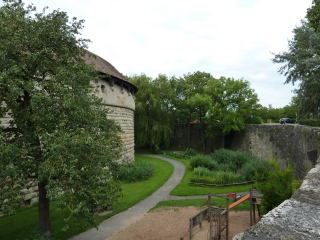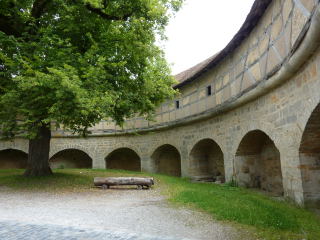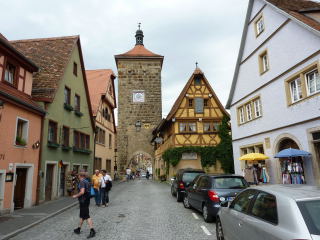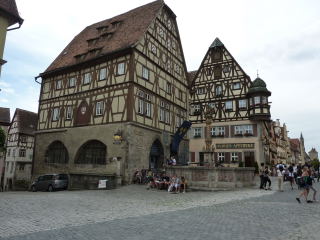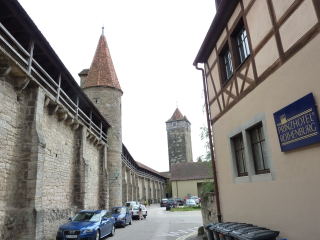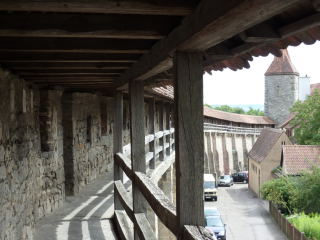 Departing Rothenburg I take a leisurely small highway up the northernmost section of the "Romantische Strasse" - filled with gentle green slopes, vineyards, watchtowers, waterwheels and towns with fragments of the past bursting forth at every turn.
I take a brief stop in Weikersheim, where Taylor & I stayed in a gasthof on our first trip to Europe together (1987). It has a schloss (castle) where operas and other musical events are offered, and which also has a series of gardens, one of which is the odd "alchemist's garden".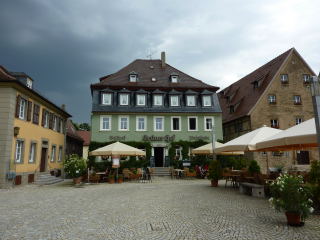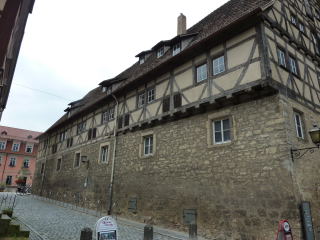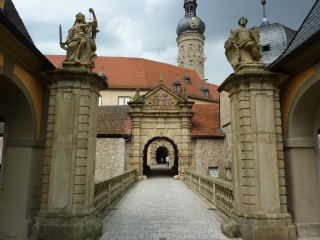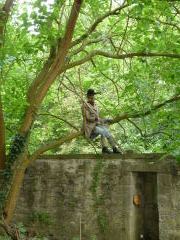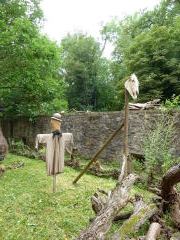 Leaving Weikersheim I continue thru the gently rolling German countryside towards the Odenwald and come to rest in Miltenberg, a town on the Main River with basically one long street of half-timbered medieval houses & a castle and other grand homes built into the hill above. Here I visit the biergarten of the local brauerie ( Faust ) and try a selection of 5 of their biers, all vom fass ( & only 10 cl per bier! :-).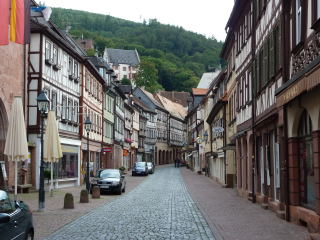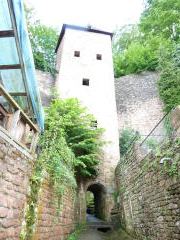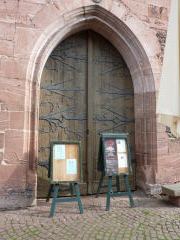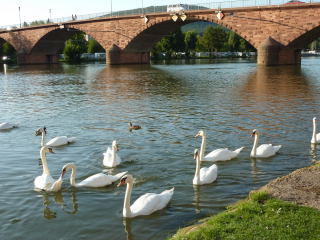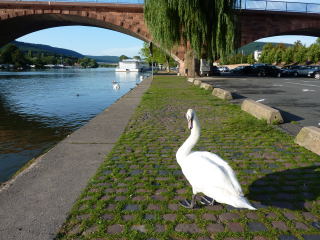 Now I enter the return phase of the trip - most of the places I'll visit from here back to Amsterdam are revisits of familiar towns.
I travel thru the Odenwald to Michelstadt, south of which I climb up and explore 2 of no less than 4 castles parked almost right next to each other, then along the Valley of the Neckar (Neckartal) thru Heidelberg, up to Worms.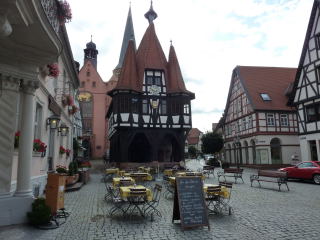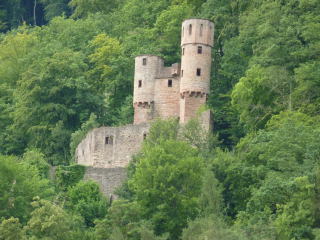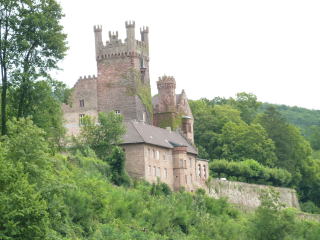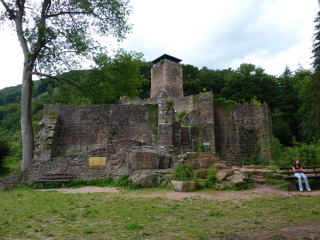 Next it's up along the Rhein to Bacharach, where I have a great spot overlooking the river. On my second day in Bacharach, I board a KD boat & travel down the river to Sankt Goar & back, spending a few hours in the always impressive Rheinfels Castle ruin.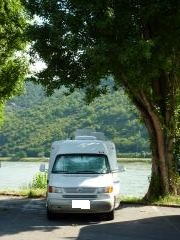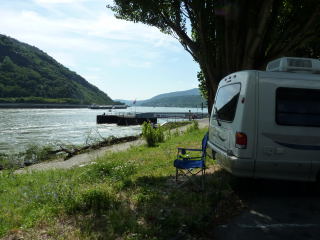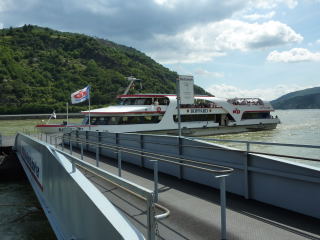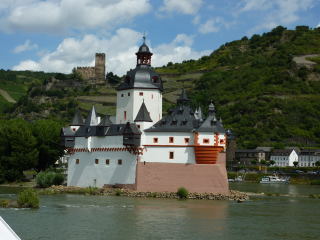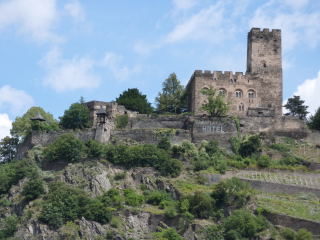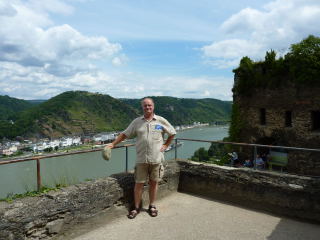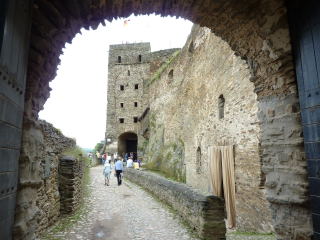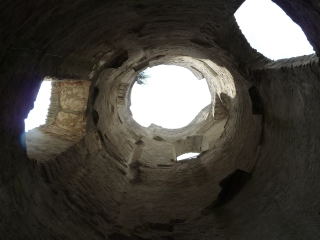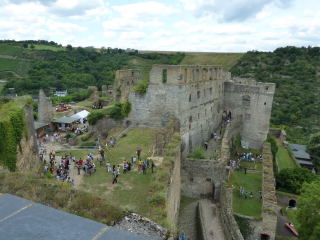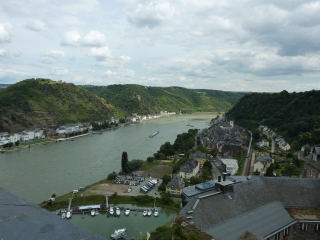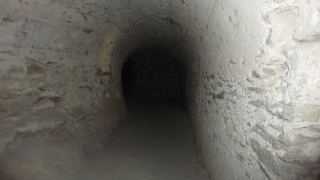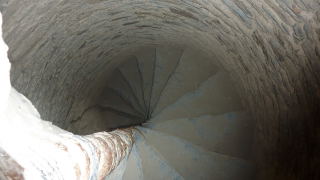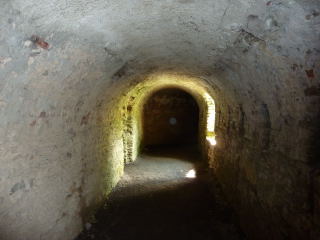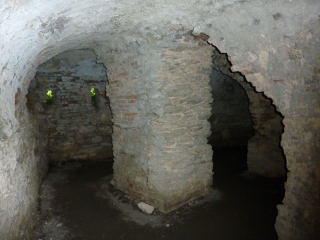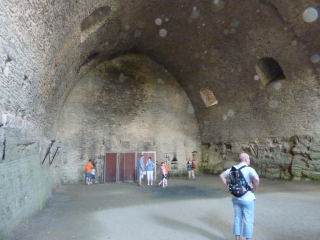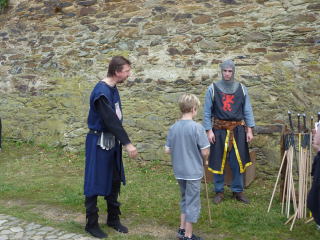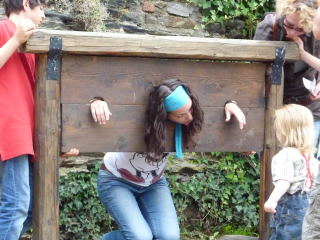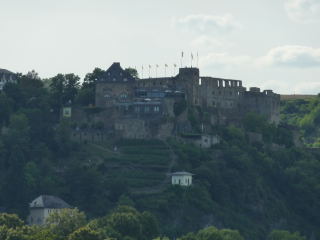 After Bacharach I return to Köln for a couple of days. Upon departing, I decide to travel through the northernmost section of the Eifel - an area of low mountains, forests and charming villages, obviously catering to woodsy tourism, somewhat like, say, the Adirondacks, but with a lot fewer lakes.
Dropped into 2 towns:
Bad Mustereifel: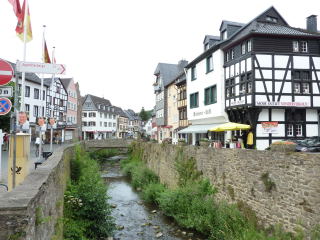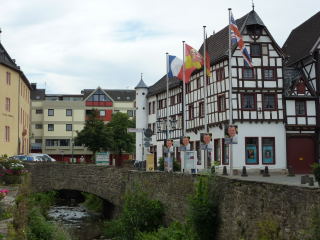 And Monschau, which seems to have a door fetish!: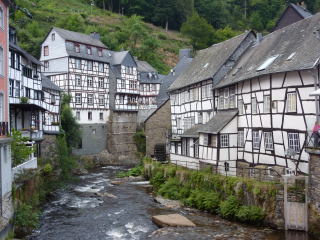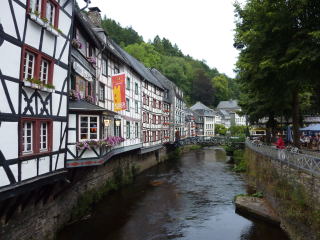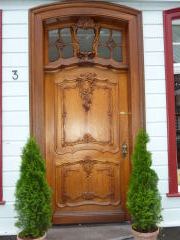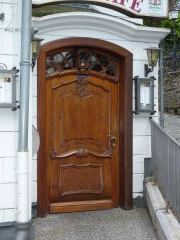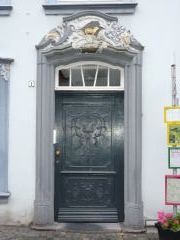 From Monschau I cross the Belgian border near Eupen, at exactly the point I went through border passport control when I was 18 - no border guards now! Had a nice drive through Tongeren to Waterloo, where I climbed the Butte du Lion and visited the Panorama. This is a large circular building with a 360 degree painting of the battle (plus a foreground of actual objects, plaster "bodies" and some figures in 2-D cutout). Sound effects included! These were very popular either side of 1900 & met their demise with the advent of movies. There are maybe 10 left in Europe, of which this is one.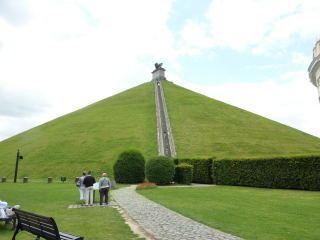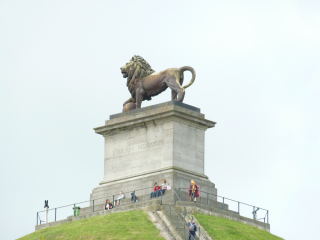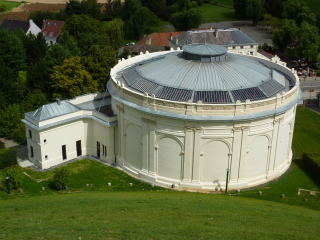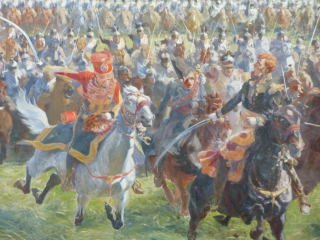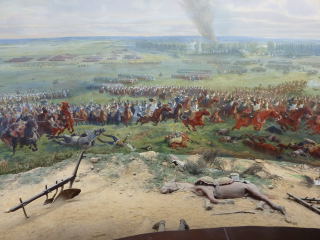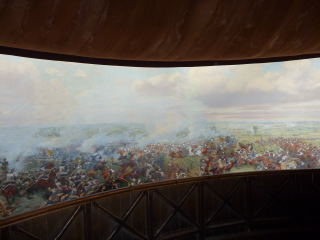 After Waterloo, I head for an old stopover, the Camping in Beersel, to the south of Brussels, where I dine at a favourite restaurant, the 3 Fonteinen, which offers the local lambic beer and numerous dishes prepared with various beer sauces, etc. I also revisit the Oud Lambik Brouwerie, which has changed hands in the last 5 years, now being more of a yuppie microbrewery, but still retaining the quality of the old family brews, if not the je ne sais quoi. I spend a couple of days in Brussels & Antwerp, then head up to Haarlem to visit Kees & family and prepare the Rialta for storage, before returning home after 6 weeks of great traveling. Til next time... Gutes Reisen!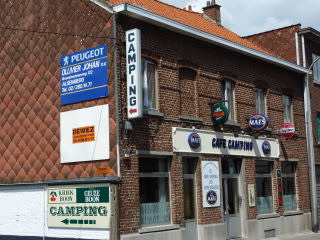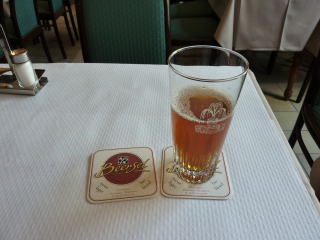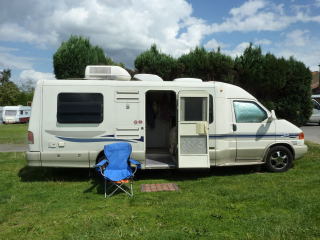 Summer 2009:
Page 1:Germany & CZ Page 2:Austria,Venice & Germany Page 3:Germany & Belgium