2010 France Page 3
Page 1:Belgium& Nord France Page 2:Paris & South
Page 3:Le Pays d'Oc #1 Page 4:Le Pays d'Oc #2

View 2010 France in a larger map in a larger map with points of interest table of contents.
Entering the Perigord Vert just south of Limoges, we stopped for frites before meandering on our way to Bourdeilles. Upon arriving, we found that the Camping had been closed and turned into a motorhomes-only aire. They made an exception & allowed a tent for one night - we were set, with a scenic spot right by a river. We met a great group of people from Charente-Maritime & had a great evening.
Below is a slide show of the Dordogne.
To see this slide show in album form, with pics mapped to their locations: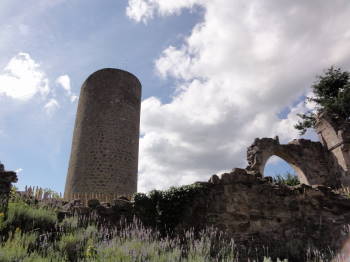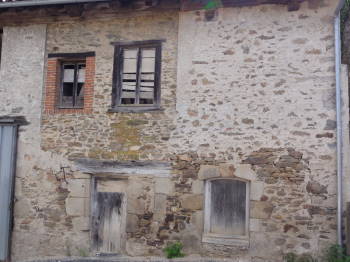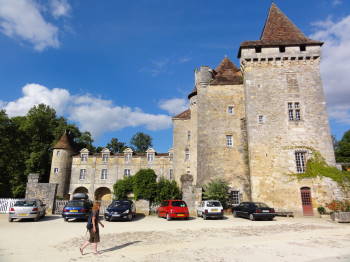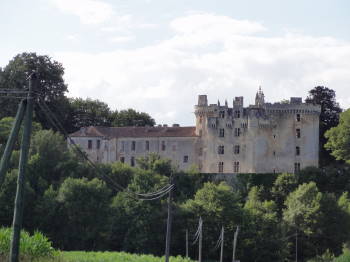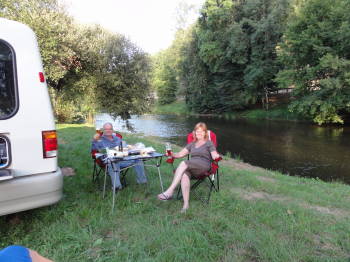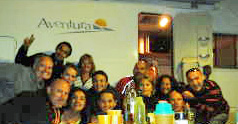 Next morn we strolled through Bourdeilles and visited the castle, which consisted of both a medieval section and a Renaissance section.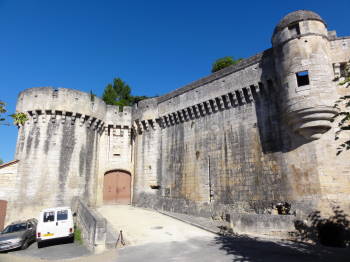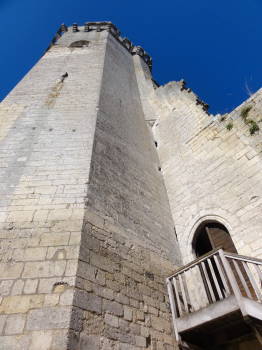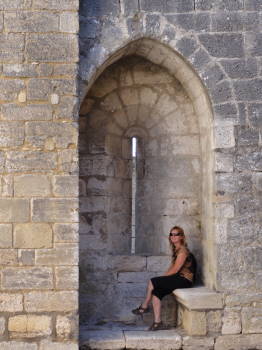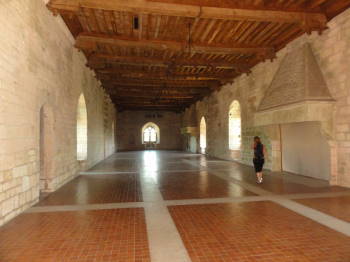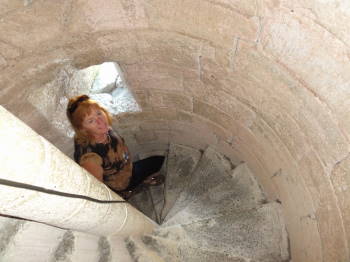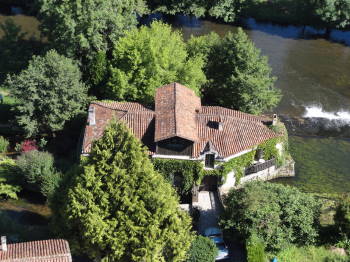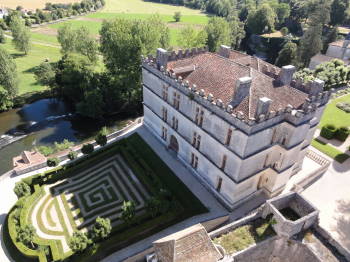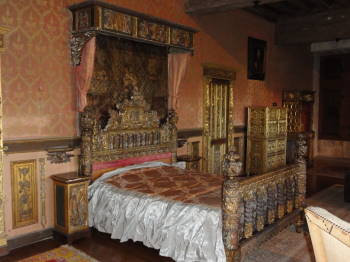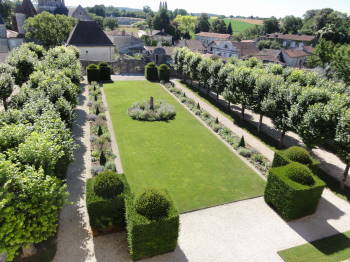 A leisurely drive to Brantome brought us to its abbey, half of it carved from the cliff-face, troglodyte style.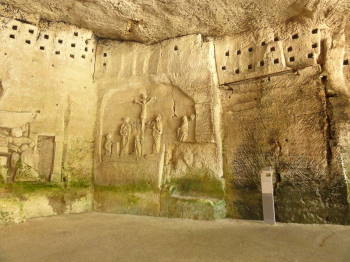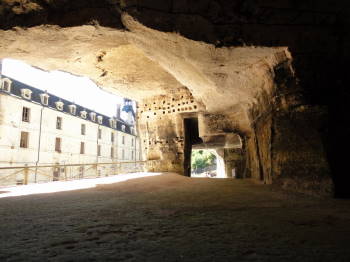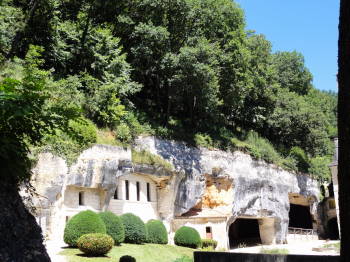 We finished off with a drive through the Perigord countryside to have supper at the incredibly good Auberge de la Truffe in Sorges, camping 10 km away in Autonne on the river.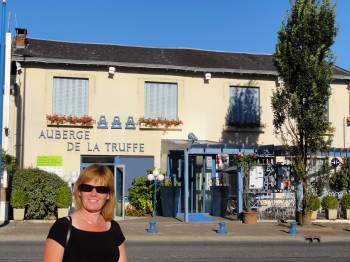 Perigueux is next on our itinerary -we spent a leisurely afternoon strolling the narrow medieval streets,visiting the atypical Cathedral & Jodi used up her allotted 2 hours of shopping time :-) !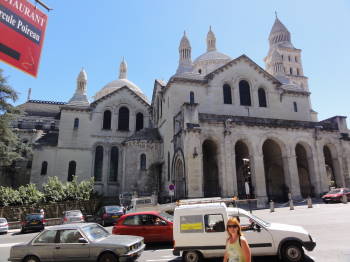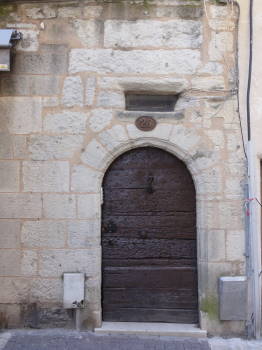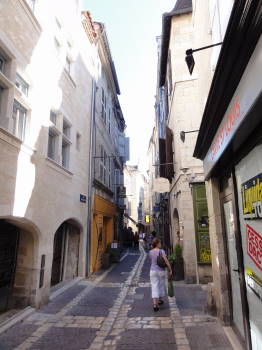 From Perigueux we took tiny one lane roads (with grass growing in the centre) past Le Chateau Ruine d'Herm to Montignac, where we set up camp next to a babbling brook. There was night market on, so we toured the stands picking up some wine, crepes,hand-made nougat & assorted other local delicacies, all to the strains of a live band.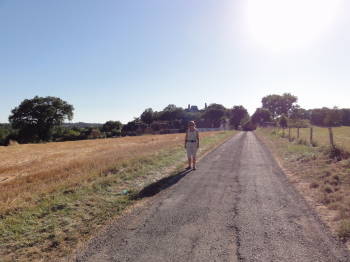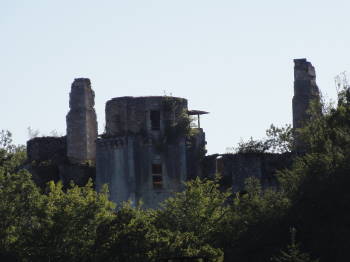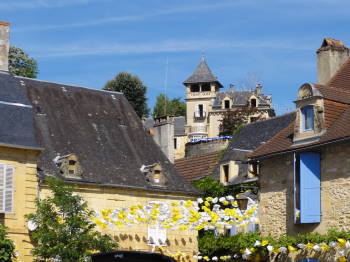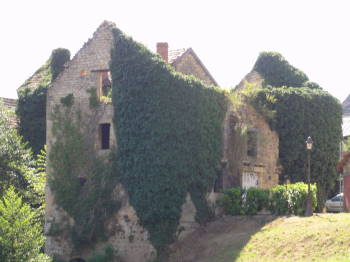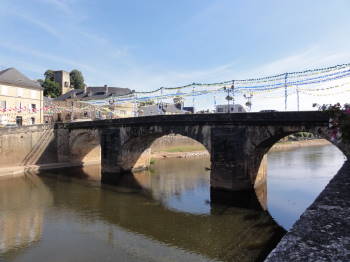 Next morning sees us literally in the depths of prehistory, as Jodi visits Lascaux II (no pics allowed) & Le Thot.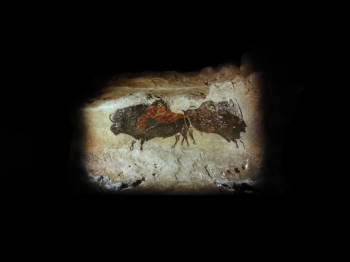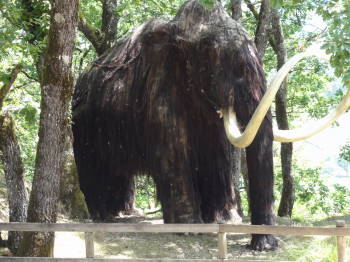 We had an hour to kill between the two, so we found ourselves navigating one-lane gravel roads thru the Foret Barade to the lovely intact hamlet of Fanlac.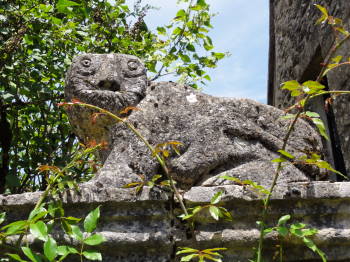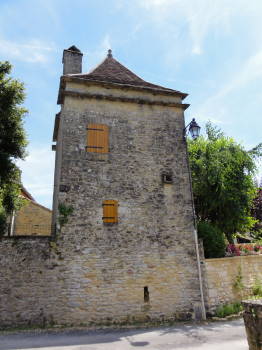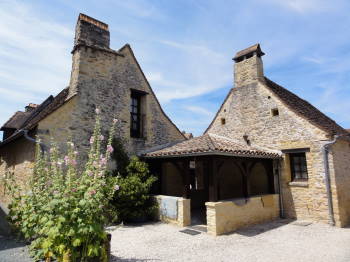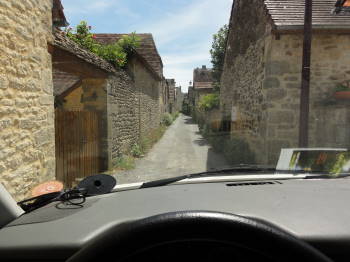 After Lascaux we spent the afternoon touring the backwoods farm country of the Dordogne, striking up any small gravel road that took our fancy, turning around in a farmyard or two, finding a couple of interesting castles, before finally settling in at a "Camping a la Ferme" on the banks of the Vezere river near the La Madeleine troglodyte site.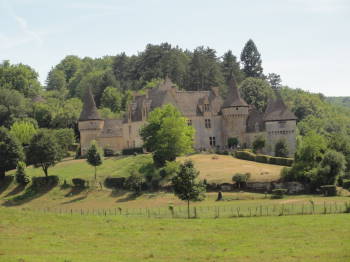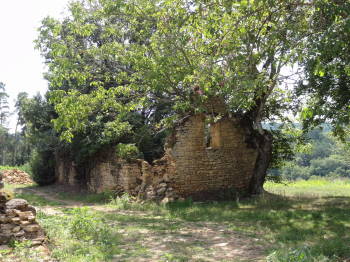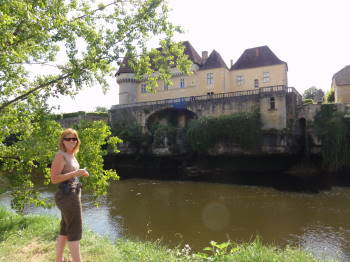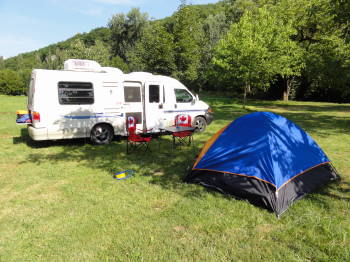 Waking the next morn to rain, we hurriedly pulled up stakes and headed for the Troglodyte (cave dwelling) town of La Roque St-Christophe, hovering high above the Vezere River. Jodi goes in while I play my guitar at the camper.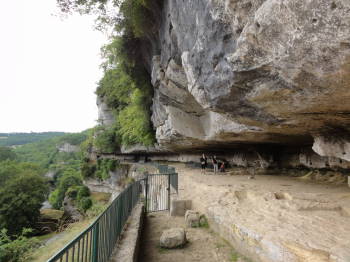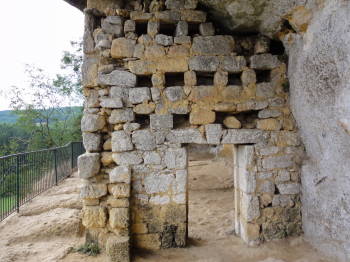 A few kilometres down the river, Jodi visits the troglodyte fort of Reignac, including a museum of medieval torture methods.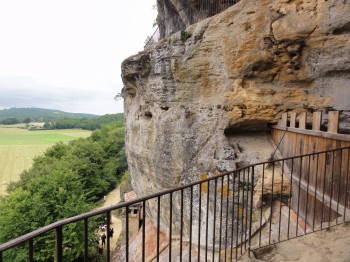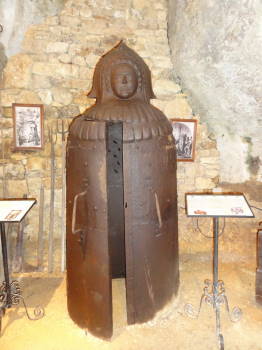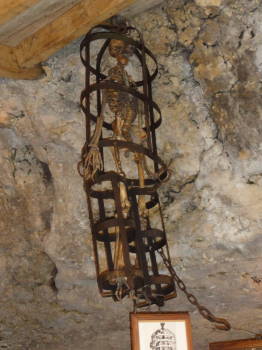 Skirting Les Eyzies, we head for Sarlat, en route visiting the fascinating ruin of Chateau Commarque - approached by a half kilometre walk through eerily dark Tolkienesque woods. Commarque stands opposed to the restored Chateau Laussel (the last shot in the series below).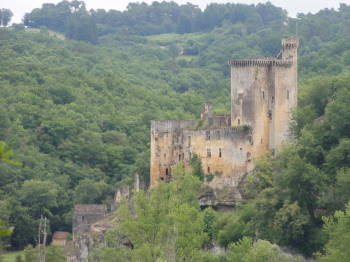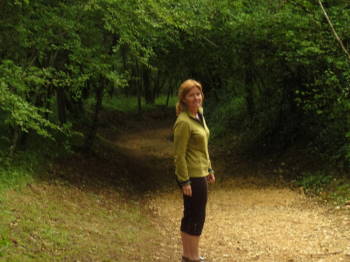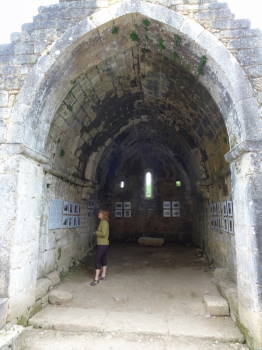 Finally we stop in at a reconstructed vilage of Bories - circular stone dwellings with conical roofs common in the south of France right up to the end of the Middle Ages.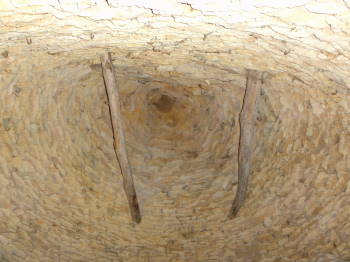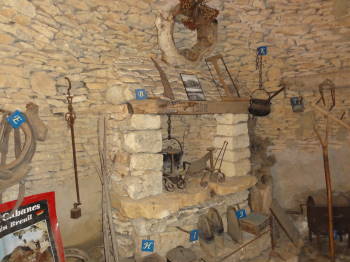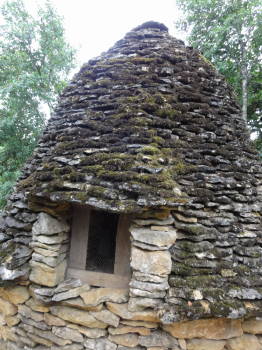 Another rainy morning greeted us today, so we canceled the canoe trip down the Dordogne & opted for a drive on both sides of the river, followed by a great lunch at the ferme-auberge Le Colombier, just north of Domme.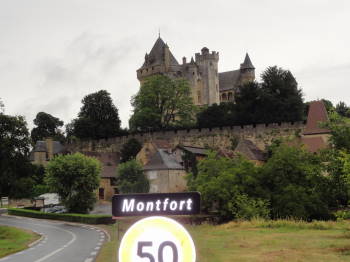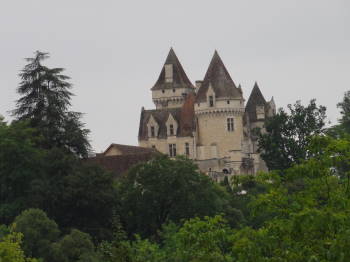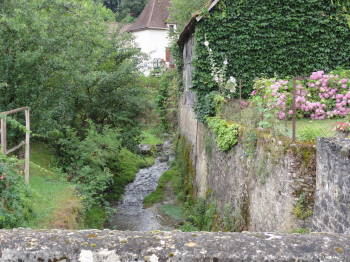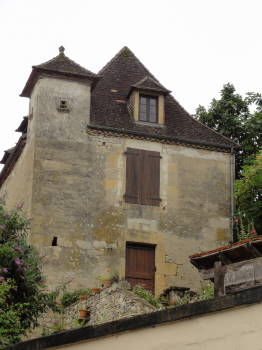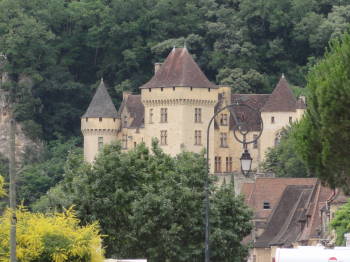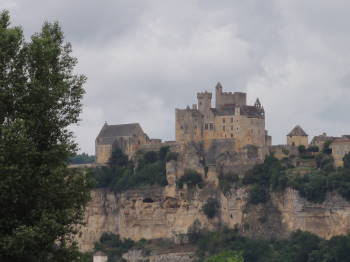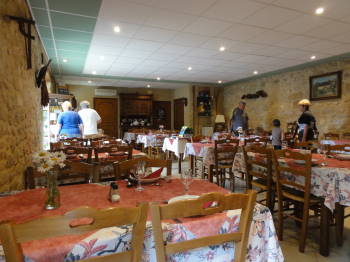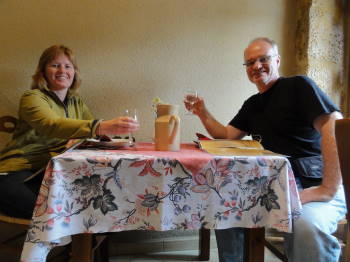 Departing the Dordogne for the Lot region, we elected to rest at Cahors (with its famous fortified bridge), after buying a fine bouteille de la vin noir du Cahors!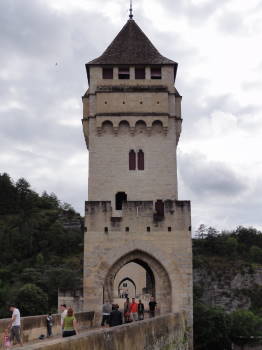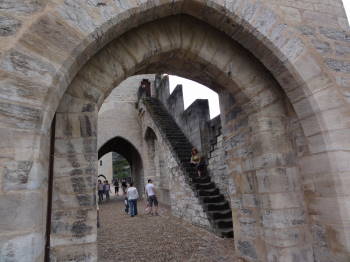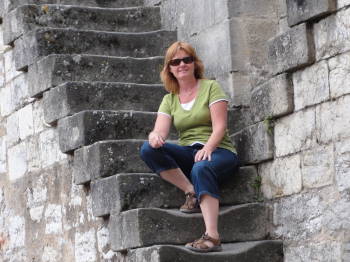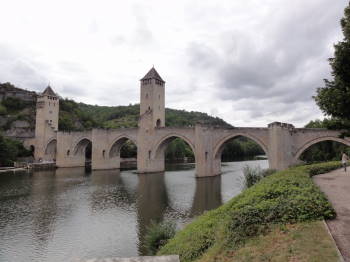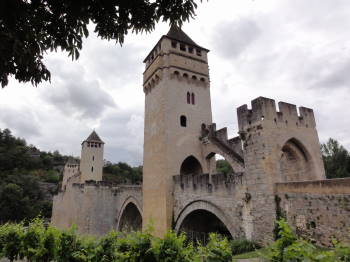 2010 France
Page 1:Belgium& Nord France Page 2:Paris & South
Page 3:Le Pays d'Oc #1 Page 4:Le Pays d'Oc #2