2010 France Page 5
Page 1:Belgium& Nord France Page 2:Paris & South
Page 3:Le Pays d'Oc #1 Page 4:Le Pays d'Oc #2

View 2010 France in a larger map in a larger map with points of interest table of contents.
My first stop after the TGV was to the Chateauneuf-du-Pape wine estate of Chateau Mont-Redon, where I left with a judicious selection, then headed north along the Rhone, with brief stops along the way.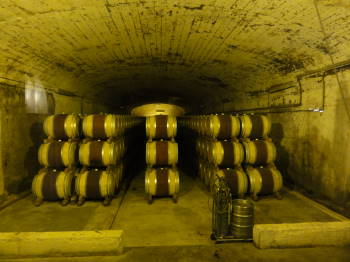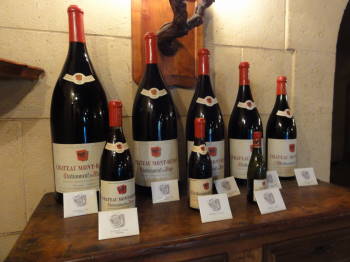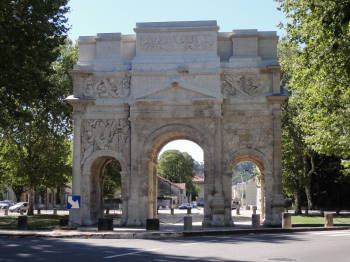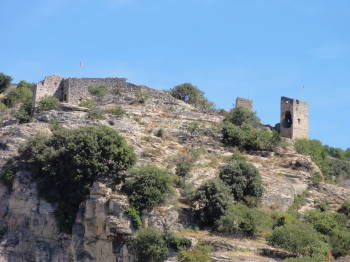 Following a slow meander up the Rhone/Saone, I drove through Franche-Comte to Alsace, where I plan to tour for a few days before returning to NL.
En route to Colmar, I came across a couple of interesting towns, quite by happenstance:
Auxonne had seen glory days, with a wall completely surrounding the town, an ornate church & a castle. Fairly tired now, but I like these places that exhibit the wear & tear of time.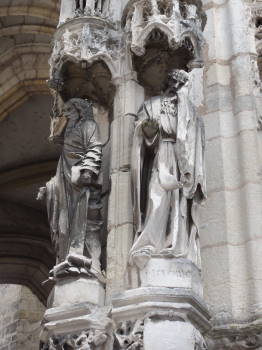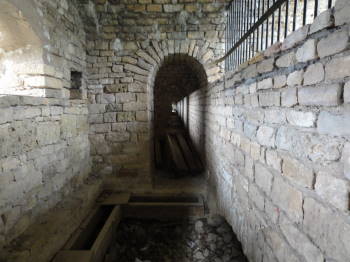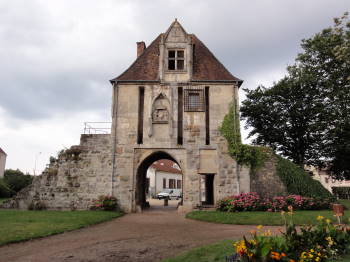 Pesmes is another forgotten town - nothing much is left of its medieval castle, but the town is still an imposing sight as one approaches.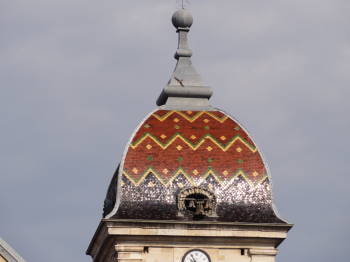 After traversing Franche-Comte, I head for the Alsatian city of Colmar, set between the Vosges wine region and the Rhine border with Germany. This area spent a fair amount of time as a part of Germany & the German placenames, foods & (predominantly white) wine names show it.
Colmar is a fine town to walk in - full of the festively painted medieval half-timbered houses typical of the region and pedestrian walkways.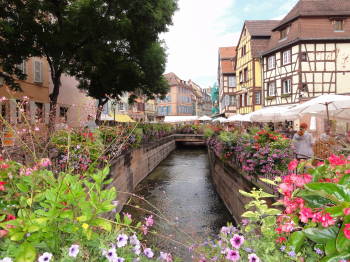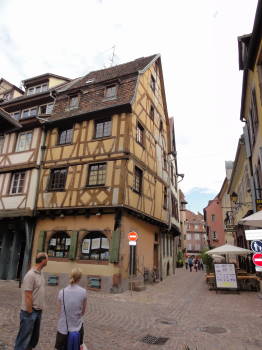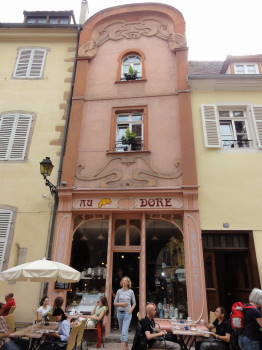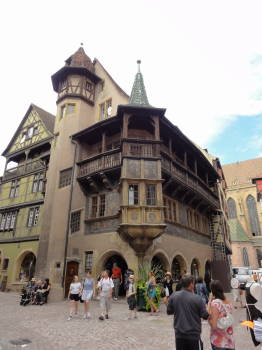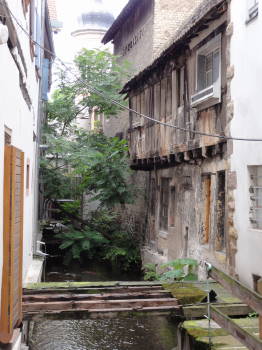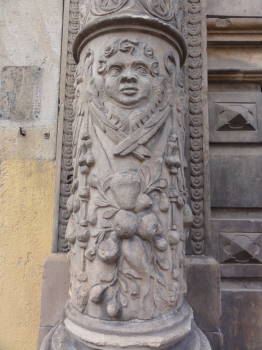 After an afternoon in Colmar, I travel to the small town of Kaysersberg, where there is a large motorhome aire. Kaysersberg is on the Vosges "wine route" & I intend to spend a few days exploring this route, full of medieval castles and picturesque towns.
First day I loop a little south, visiting Kientzheim, Eguisheim (where I bought a bottle of Wolfberger Riesling Grand Cru - excellent & very inexpensive) and driving the mountain Route des Cinq Chateaux, exploring "4" of the 5 ruined castles.
Kaysersberg: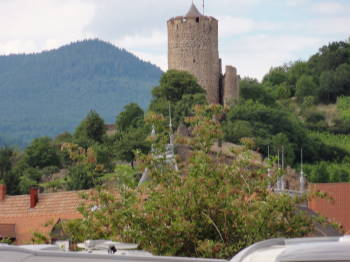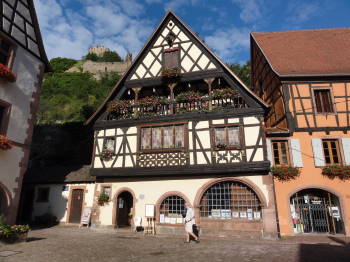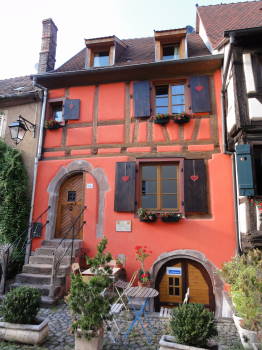 Kienzheim: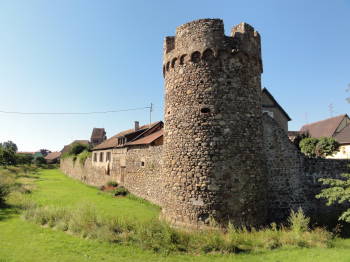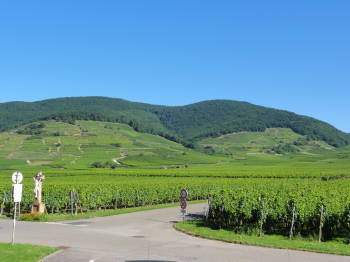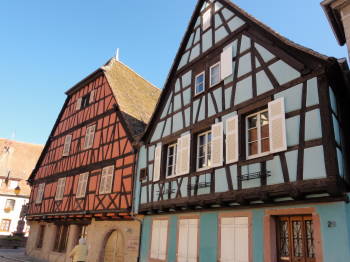 Eguisheim: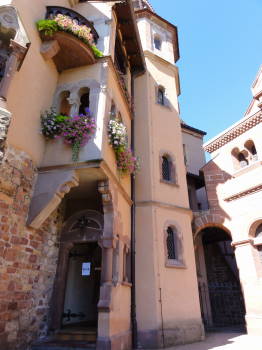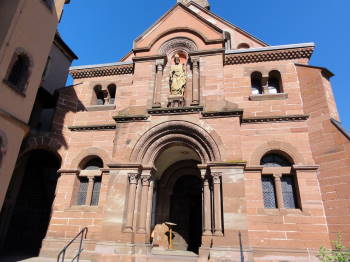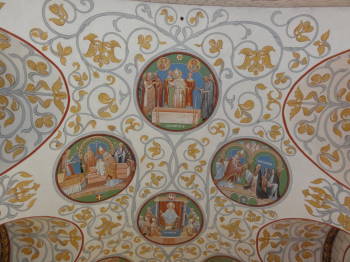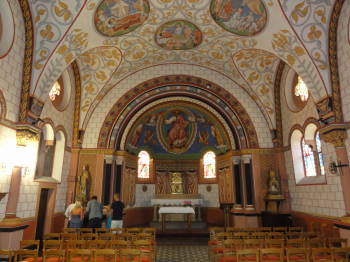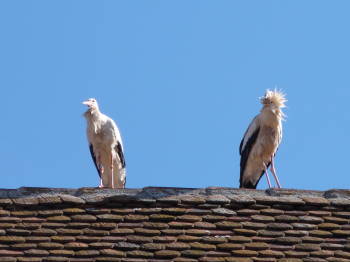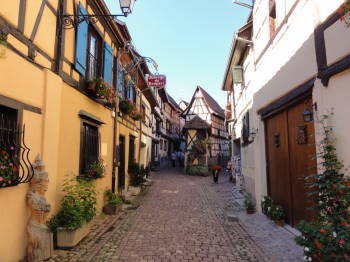 Route des 5 Chateaux: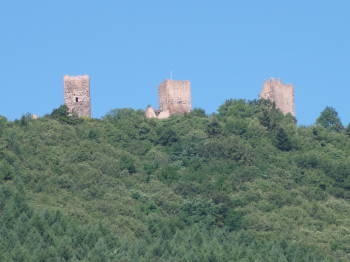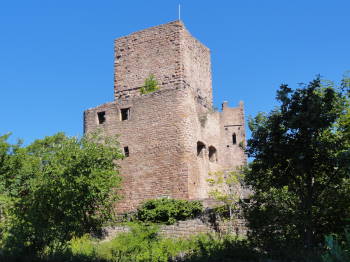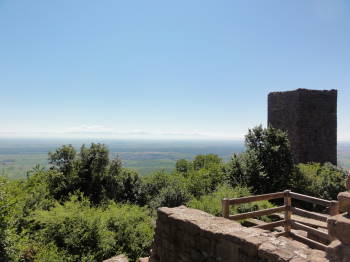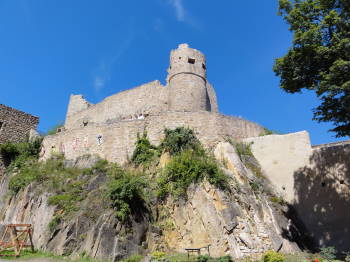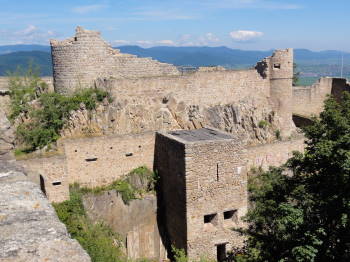 From the Chateaux mountain road, I traveled to Neuf-Brisach, a town designed by Vauban as a citadel - with multiple defensive walls & moats in the shape of an octagon, with orderly straight streets arranged around 48 squares.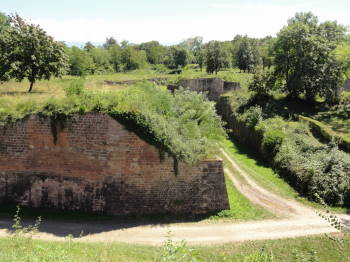 Proceeding North from Kaysersberg, I visited the typically charming towns of Riquewihr, Ribeauville and Bergheim (known for burning witches in the 16th C). After that, I drove up to the famous reconstructed castle of Haut-Koenigsbourg, painstakingly rebuilt in its original 1114 medieval style by Kaiser Wilhelm II around 1890, to mark the regaining of Alsace by Germany in 1870 (only to be returned to France in 1918).
Riquewihr: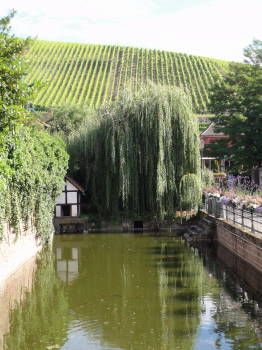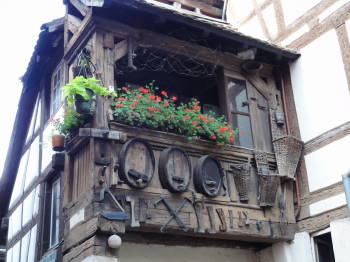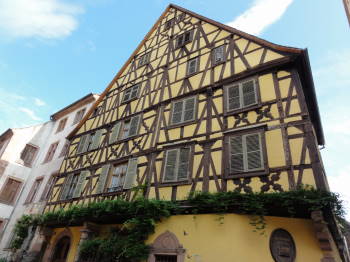 Ribeauville: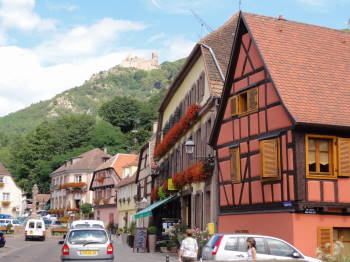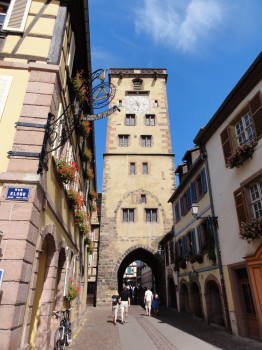 Bergheim: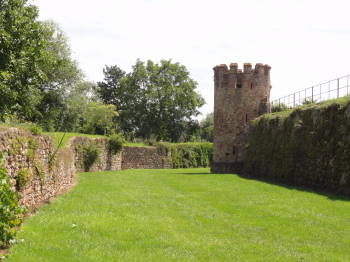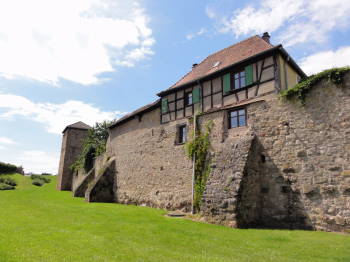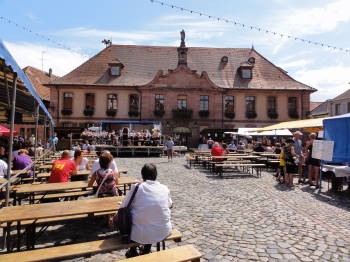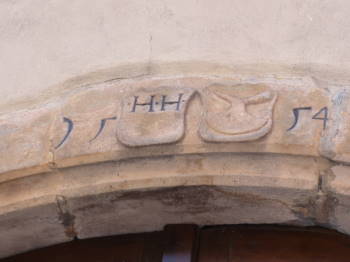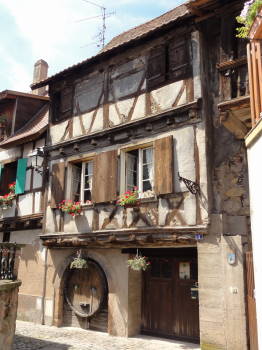 Haut-Koenigsbourg: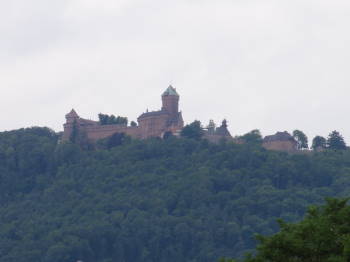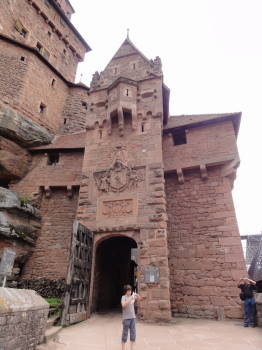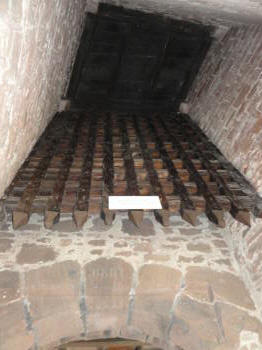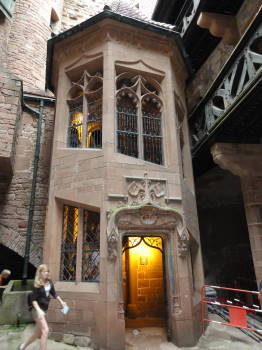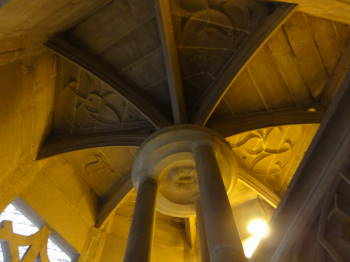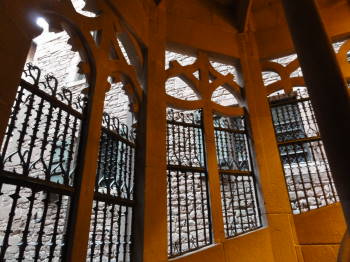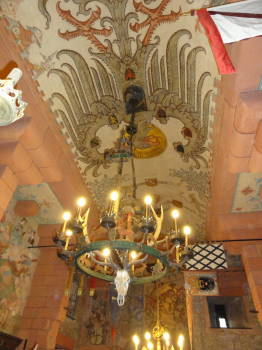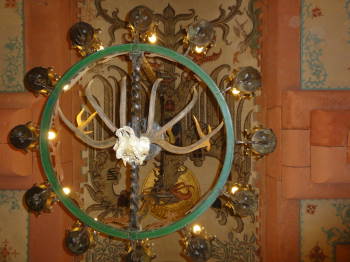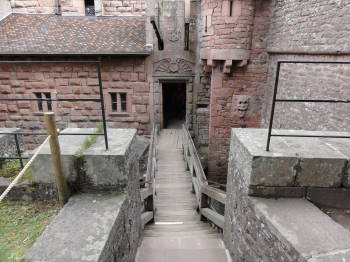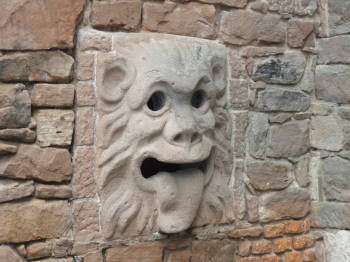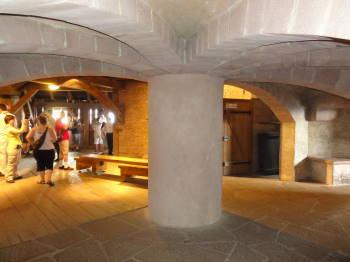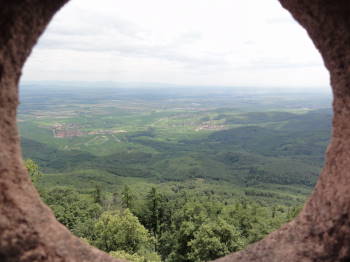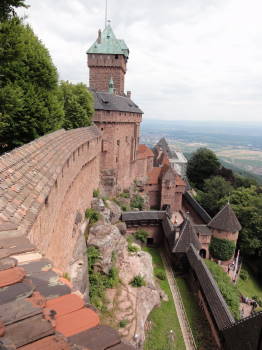 After Koenigsbourg I drove a bit of the wine route, buying some Grand Cru Frankstein in Dambach-la-Ville, then returned to a motorhome stellplatz in Chatenois to stay the night.
Next morning I awoke to rain & fog (first trip-hampering rain of this journey, though)...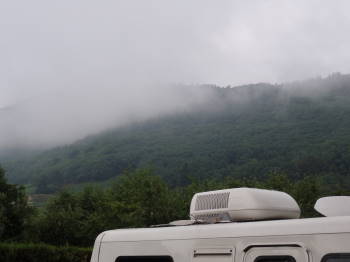 ... but continued north through Barr & Obernai, - heading then for quick deek into Deutschland , staying a few nights in Bacharach & Koln, then resting another few days in Antwerpen, before returning to Nederland & the flight home. This leg of the trip has been well covered in previous years, so I will end the pictorial here.
Bon Voyage et Gutes Reisen!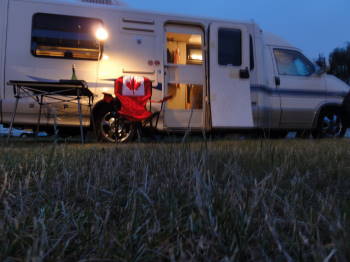 Page 1:Belgium& Nord France Page 2:Paris & South
Page 3:Le Pays d'Oc #1 Page 4:Le Pays d'Oc #2